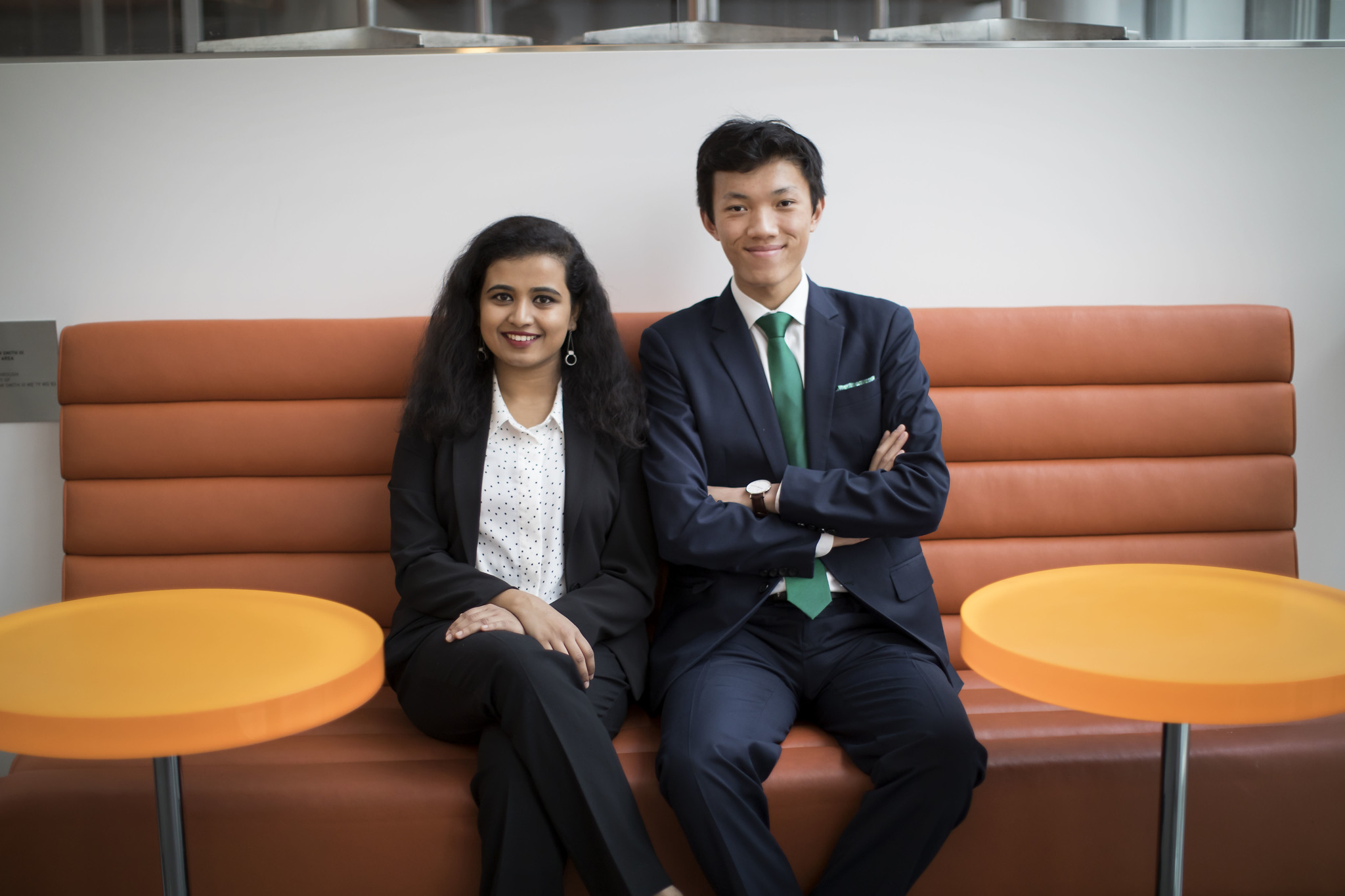 Standing atop a 30-foot-tall mountain of trash in India's Deonar garbage dump, Asia's largest landfill, Peter Wang Hjemdahl and Svanika Balasubramanian took in the view. To one side, almost as far as the eye could see, was an expanse of trash. To the other, was the booming urban skyline of Mumbai.
"We were standing there between these two sights and realizing that there is a missed connection," says Hjemdahl, who, along with Balasubramanian, is a senior in Penn's Wharton School. "There's a need to change how we generate and manage the waste that we produce on a daily basis."
Already, there are workers in Mumbai who put a dent in the waste-production pipeline. Known as kabadiwalas, they operate as entrepreneurs, often going door-to-door to purchase recyclable waste, then expertly sorting it into different types before selling it to larger recycling operations for a profit.
Kabadiwalas, though providing a valuable service, are often stigmatized for their work. Their respiratory health can suffer from handling waste in confined spaces, and, by working alone, they lack bargaining power to earn higher margins for their materials from larger recycling companies. Daily income for these workers averages less than $7.
Enter rePurpose. The start-up company founded by Balasubramanian and Hjemdahl aims to connect kabadiwalas to a larger market to boost incomes and increase recycling rates. And now they have funding to fully develop their project, thanks to recognition by Penn President Amy Gutmann as 2018 President's Engagement Prize winners. With the prize's $100,000 for project-implementation expenses as well as stipends of $50,000 each, Balasubramanian and Hjemdahl, along with business partner Aditya Siroya, a junior in Wharton and the College of Arts and Sciences, will be rolling out their digital marketplace in Mumbai this summer, starting with 1,500 households, 10 recyclers, and 150 kabadiwalas across the city.
"If you're building a marketplace, you can't start small, you have to start with some scale," Balasubramanian says. "We estimate that in our first year we will divert 5,400 tons of waste away from landfills and generate an additional $400,000 in income for the kabadiwalas."
Intersecting Paths
For two people with very different backgrounds, Hjemdahl and Balasubramanian share a similar path to Penn, Wharton, and an interest in social entrepreneurship. 
Born in Shanghai, Hjemdahl moved to Kristiansand, Norway, at the age of 10. In high school, he became involved in political and human-rights activism, and he came to Penn interested in pursuing studies that melded business, economics, and political science.
Balasubramanian, too, possesses close connections to two countries. Her family moved from India, where she was born, to Muscat, Oman, where she was raised, when she was a young girl. Inspired by her grandparents, who were active in the Indian independence movement and in advocating for refugee rights, she became involved in immigrant and human-rights work while in high school. 
Both Hjemdahl and Balasubramanian attended International Baccalaureate programs in high school, concentrating in the same subjects. Both were drawn to Penn for the opportunity to attend a first-class business school while also gaining access to expertise in political science and international relations. They share a major. And both became members of the Joseph Wharton Scholars program, which emphasizes scholarly research in the liberal arts as a framework for a business education.
It wasn't until last fall, however, that the two got to know each other when they were paired in a thesis-writing class, asked to critique each other's work. Hjemdahl had been formulating the idea for rePurpose since 2015. The concept had earned him a position as a regional finalist for the Hult Prize, a social-entrepreneurship competition that prompts students to generate start-ups that sustainably address the world's most pressing problems.
In the class, Balasubramanian was immediately interested in the concept and proved a worthy partner for Hjemdahl, offering feedback and critiques.
"She went over my proposal once and was able to point out every flaw," Hjemdahl. "I was like, I have to work with this person."
For Balasubramanian, rePurpose represented an opportunity to apply the business acumen she's developed during her time at Penn to give back to a developing nation where she has a personal connection.
"I've worked in consulting, I've worked on Wall Street, I've worked with start-up incubators, and ultimately, I think this is where I'm happiest," she says. "We're incredibly lucky to have this kind of opportunity to use our talents and skillsets in doing something that's meaningful to us and that we care so much about."
Forging Connections 
Soon after connecting, Hjemdahl and Balasubramanian, along with Siroya, who was raised in Bangalore and shares a passion for social entrepreneurship, began putting in long hours, fielding 2 a.m. and 3 a.m. calls with industry experts in India and reaching out to dozens of Penn professors to glean advice. 
"I feel more like an entrepreneur than a student," Hjemdahl says. Balasubramanian agrees: "It's basically 80 percent of our lives at this point." 
Robert Jensen, the David B. Ford Professor of Business Economics and Public Policy at Wharton, serves as mentor to the rePurpose team. With expertise on the microeconomics of international policy and specific experience analyzing an informal industry in India, Jensen has and will continue to offer valuable insights to the team as they move ahead with their venture. 
Hjemdahl, Balasubramanian, and Siroya have also worked with two friends studying engineering at Penn, seniors Akash Subramanian and Wai Wu, to create the company's prototype mobile app.
At its core, rePurpose aims to solve two overarching problems: ameliorating the poverty kabadiwalas face and reducing the quantity of unrecycled waste that winds up in landfills, an issue that also has social implications, as the Deonar landfill borders some of Mumbai's slums. 
The solution comprises a digital marketplace, accessed through a smartphone app, that allows individual kabadiwalas to identify conveniently located suppliers of waste, perform the sorting on their own, and then aggregate with other kabadiwalas to organize bulk deliveries to recyclers. By joining forces, the kabadiwalas increase their bargaining power and can charge higher rates per kilogram for their recyclables. rePurpose also allots funding to subsidize the kabadiwalas' health care and stipends for their children's schooling.
Partnerships are helping rePurpose hit the ground running. The Green Communities Fund provides access to buildings generating dry waste, RaddiConnect offers an established network of kabadiwalas, and the Acorn Foundation helps manage relationships with 10 large recyclers in Mumbai.
'High Hopes'
Knowing that a proof-of-concept would make their Engagement Prize application stand out, the rePurpose team spent a month in Mumbai in January piloting their project with 10 kabadiwalas and two recyclers in the Dharavi neighborhood. "We wanted to make sure our model was soundproof," Balasubramanian says. 
Foremost, they wanted to test two assumptions: that the kabadiwalas would in fact use the rePurpose platform, and that using it would increase their incomes. 
"We got the value-add we were looking for," Hjemdahl says. "The 10 kabadiwalas sorted and delivered 1.2 tons of waste, and got a 40 percent increase in their margins."
Though the company is designed to be fully sustainable at its initial size, the Penn students have an ambitious five-year plan to scale up their efforts to other cities, partnering with multi-national organizations. "We have high hopes for rePurpose," Balasubramanian says.
In spite of their tireless work and attention to the tiniest details of their project, the reality of what these students are taking on is still sinking in. When they received the call letting them know they were selected for an Engagement Prize, Hjemdahl and Balasubramanian rejoiced in relative isolation; their families, located across an ocean, were sound asleep. Siroya couldn't believe that they had won. Only a screenshot of their phones convinced him they had received a call from Gutmann.
"It was overwhelming realizing that all these hours, the countless hours we'd put in, it paid off," says Balasubramanian. "The excitement lasted for the first 20 minutes…then we realized the enormous responsibility. There are people out there who can benefit tremendously from what we are doing and we have the responsibility now not to waste it, to actually do real good with it."
"As entrepreneurs, we talk about doing good, we talk about making an impact," says Hjemdahl. "Now is the time to act. Getting the funding is a big milestone. But it's not the last milestone."