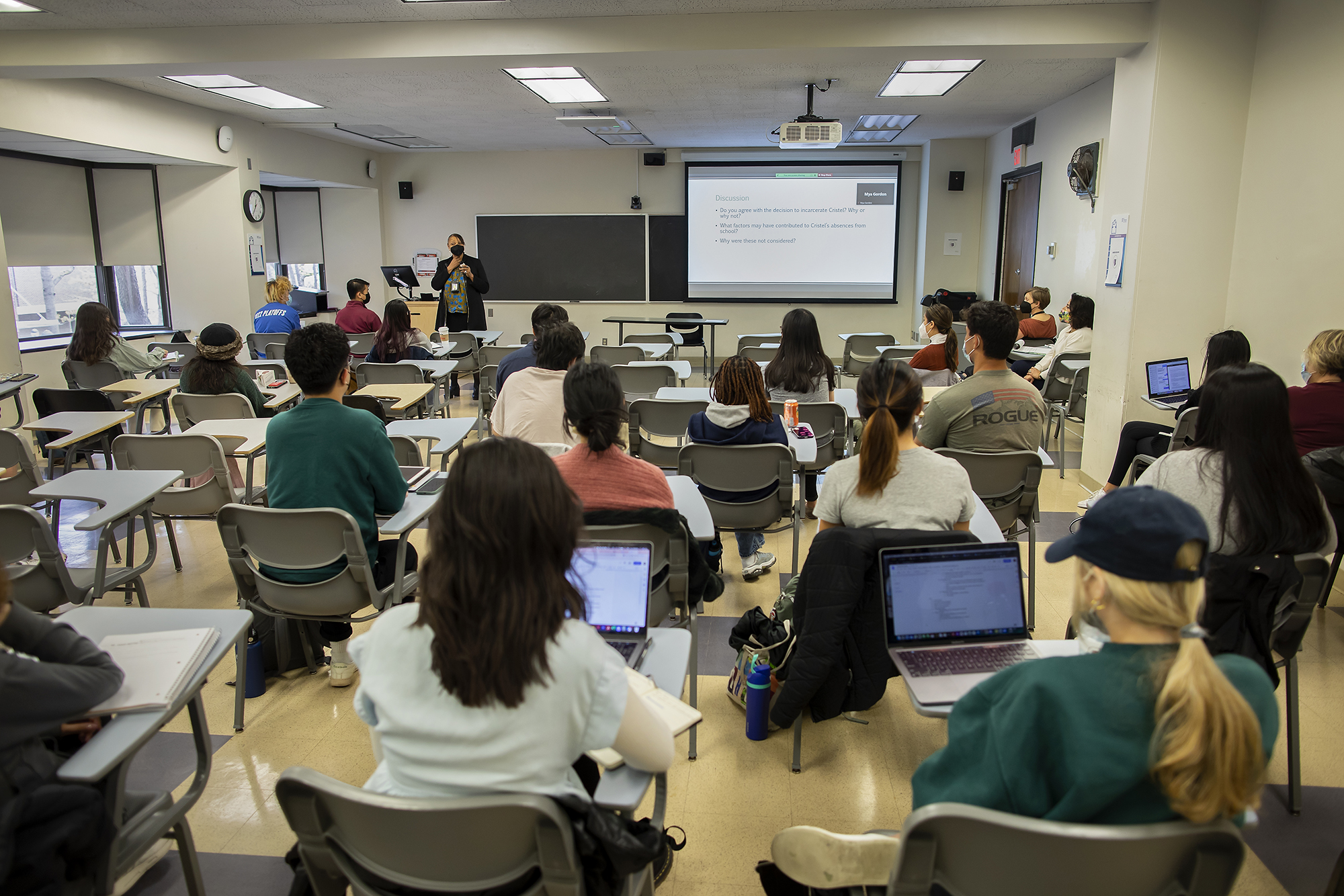 As heated discourse and targeted legislation take hold across the United States on issues from critical race theory, abortion access, and the rights of LGBTQ+ youth, the mere act of talking about subjects such as race, ethnicity, and gender has become a social and political flashpoint during the past year.
This spring, as part of a Stavros Niarchos Foundation (SNF) Paideia Program course, students in American Race: A Philadelphia Story embraced these complex, intersectional conversations. Taught by Fariha Khan, co-director of the Asian American Studies Program, the course examined race intellectually and civically through a broad, multidisciplinary lens, with students engaging in this topic with directed readings, guest speaker presentations, and in-depth conversations with their classmates about the city of Philadelphia.
Race and Philadelphia through a scholarly lens
After joining Penn Global's task force to support Asian and Asian American students last spring, Khan became motivated to develop a course that would empower students to think about how race impacts multiple communities. At the same time, Khan wanted to provide students with an opportunity to learn more about Philadelphia and Penn's neighbors and neighborhoods.
"American Race: A Philadelphia Story is simultaneously an academic, scholarly approach with a multidisciplinary look at race but also a very intimate look at the city in which we all live," says Khan. "It's been a long process because I've been really thinking about it for over a year, and it's very exciting finally to be able to teach it."
Every week, students learned about the intersection of race and racism in fields such as law, education, health care, media, housing, and migration. Along with reading assignments, which Khan says are designed to push students to see the impacts of racism both historically and in the current day, speakers whose work connects to that week's theme also shared their perspectives during guest lectures.
For Khan, this format allowed the guest speakers, which included Dean John L. Jackson Jr. from the Annenberg School for Communication, Dean Antonia Villarruel from the School of Nursing, and Jessie Harper, assistant dean of faculty affairs and diversity in the Graduate School of Education, to showcase their work. It also provided an opportunity for students of color to hear about the speaker's personal experiences and challenges they faced.
"The readings are hard to digest week after week, and some of it can feel really oppressive, particularly for my students of color," says Khan about the design of the course. "But then you have these amazing people who are actually doing the work we are talking about in Philadelphia. You get to hear about how this work is being tackled and how people are engaging with these questions; they are the way to be inspired."
A space for sharing, reflecting, and asking questions
Another key element of the course was to provide a safe space for conversation, says Khan. During discussion periods, the class gathered their desks in a circle and shared their personal perspectives and what they took away from the readings and the guest speakers. "The class is really powerful in the fact that students are so willing to share their own personal experiences with race, and the vulnerability and openness is really astounding," Khan says.
Mya Gordon, a sophomore urban studies major and SNF Paideia advisory board student member from Lake Oswego, Oregon, enjoyed the conversational style of this course and their ability as a class and as individuals to engage with the speakers directly. "We'll ask the speakers questions about their work pertaining to things that we learned about and have a dialogue. Then as a class we'll reflect on what they talked about and what we got away from it," she says.
Lily Coady, a sophomore anthropology major from Hollis, New Hampshire, says that the candid and informal nature of the class has been "really refreshing." "We're talking about real life things that affect us every day that other classes may not get to work with," she says.
Anthony Wong, a San Francisco Bay Area freshman who intends to major in urban studies, says that, because many of the speakers also have a Penn connection as alumni or faculty, the course has helped him better understand how to most effectively engage with local organizations working toward social change. "It's great that we're able to center ourselves around how to make meaning out of our Penn education and how to best use it in a way that can benefit others," says Wong.
Another goal of the course has been to empower students to finish the semester with more questions than answers, says Khan. "When we started, I told the class that I hope whatever ideas you have about race, by the time you leave in May you're actually more confused about what race is," she says. "I hope that they will continue to question things that they've taken for granted, that they'll be uncomfortable, and that the discomfort spurs them into action."
A Wharton School senior from Dubai, Ria Chinchankar, who graduated in May with a major in behavioral economics and business analytics, says that this focus has made for "a really incredible experience that gives us the power to name our own questions" about race. "We can really be in charge of our own learning, not just take whatever we're told, but have a guided exploration of the world we live in and people who can try to help us answer questions of how we do something better.
Momentum moving forward
Gordon is already thinking about how to embed what she's learned into research on how Penn can more effectively engage with local communities that she will be conducting this summer. "This style of class is the most valuable format of learning that I've ever had, and I always come out of class with valuable knowledge that I don't think anyone could have predicted," she says. "It's about challenging your own perspectives and working with your classmates to figure out how should we be thinking about this."
Coady is hopeful that she and her classmates can take the course's momentum forward towards developing solutions. "There's a lot of work to be done, and the fact that solutions are yet to be explored for our generation is a little bit discomforting, but the fact that we all know what the problem is, that we have a unique perspective as young people of color, and that we all have the mind power to come up with potential solutions, is comforting," she says.
Wong says that this course "makes you think about yourself and who you are" and recommends it for those who are ready to dive deep into this challenging topic in a very personal way. "These concepts require you to do a lot of self-reflection—understanding race, understanding your identity in a lot of different aspects, understanding what it means to be a Penn student, and how all of your identities connect and form who you are as a person," says Wong. "I'm definitely ending the class with a lot of things on my mind."
Chinchankar adds that this course has been a "great opportunity" to hear from experts in a large number of fields while broadening her horizons. "When else in your life are you going to get so many like-minded students around you to explore these things with, to get this array of experts to talk to, and be able to have someone tie it all together?" Chinchankar says.
"American Race: A Philadelphia Story" is part of the Stavros Niarchos Foundation (SNF) Paideia Program, which serves as a hub for civic dialogue in undergraduate education at Penn. SNF Paideia courses examine the theory and practice of dialogue across differences from diverse disciplinary and interdisciplinary perspectives.
This course builds upon last academic year's Racism and Anti-Racism in Contemporary America preceptorial, a non-credit seminar designed to provide a broad overview of the causes and consequences of racism in the United States. The complete schedule, along with video recordings, can be found on the SNF Paideia program website at https://snfpaideia.upenn.edu/courses/racism-and-anti-racism-in-contemporary-america/.