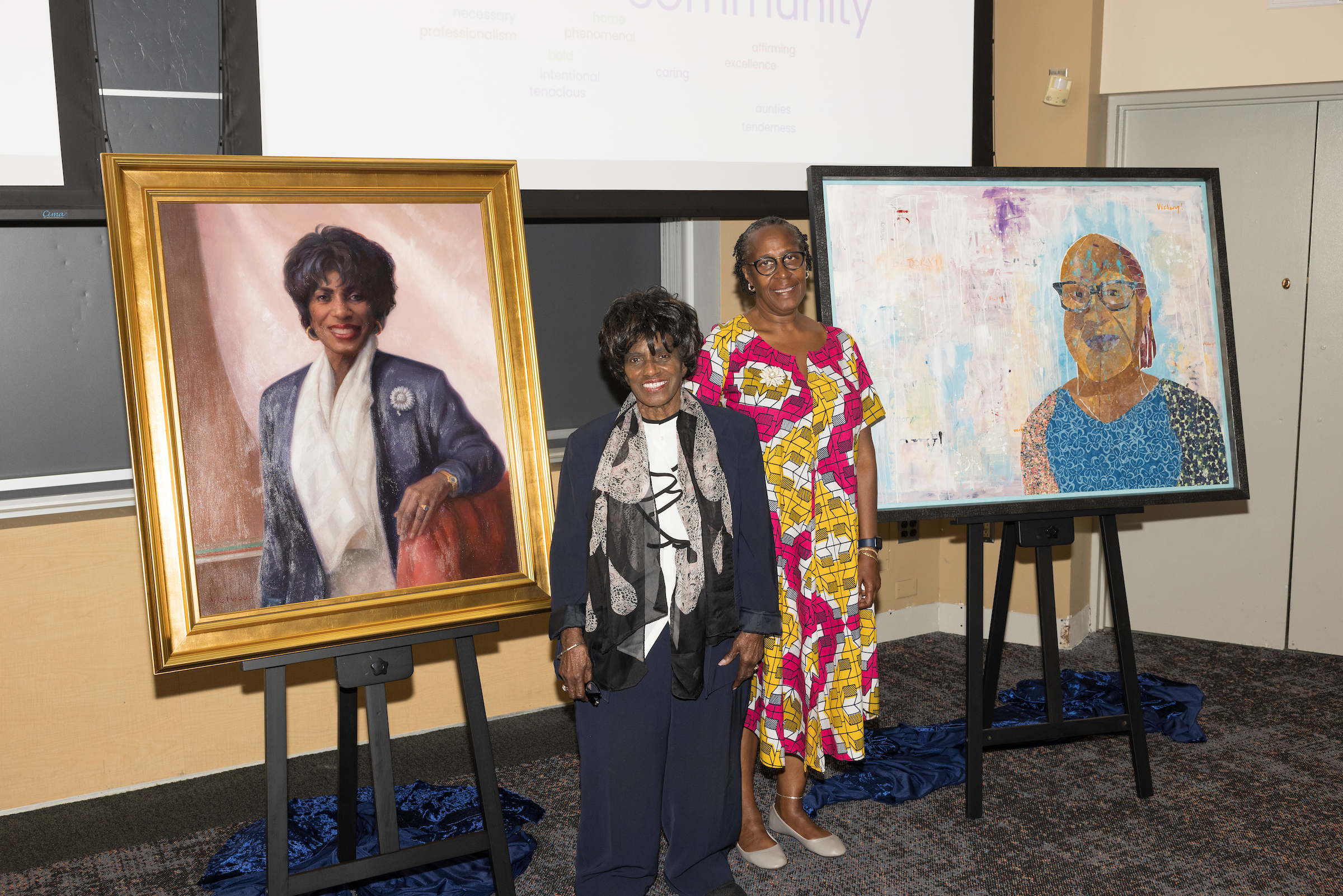 In the 1970s, the United States found itself trying to untangle from the tumult of the previous decade. Despite the civil rights marches, anti-war protests, and social rebellions of the 1960s, progress was seemingly stalled, in particular, progress towards racial equality.
Amidst this backdrop, leadership at the University of Pennsylvania was stirred into action, says Charles Wardlaw of the chemical engineering Class of 1975.
"Dean Arthur E. Humphrey saw a need for increasing minority representation in Penn's School of Engineering and Applied Science," Wardlaw says. "Concurrently, Joseph Bordogna, the then-associate dean of Penn Engineering, was motivated by a national commitment from the National Academy of Engineering to uplift underrepresented minority students. Together, they envisioned a place where intellectual and personal growth for marginalized students could prosper."
Wardlaw says that this is around the time when two African American women, Cora Ingrum and Donna Hampton, embarked on a lifelong mission to create a sanctuary that would later be known as the Office of Diversity, Equity, and Inclusion (ODEI) at Penn Engineering.
Two women, one mission
Wardlaw recounts the encouragement Ingrum would impart to him when he first arrived at Penn. "Cora was one of my main sources of support throughout my undergraduate degree," he says. "She would always make time to just listen to me and helped keep me stay connected with other Black engineers who had preceded me, which were far and few in the early '70s."
In his fourth year at Penn, Wardlaw worked with Ingrum and others in Engineering to establish Penn's chapter of the National Society of Black Engineers (NSBE). He would return to Penn a year after graduation to work alongside Ingrum and Hampton, who joined sometime later, to shape the development of the ODEI. "At the time, it was the Office of Minority Affairs, and there were very few structures in place to support the growing population of Black engineers," Wardlaw says.
"This isn't an indictment of the University, or any other universities at the time. This was a wholly new paradigm we were all operating in. There were a lot of smart people coming, really good students, but guiding them through the University and showing them how to maneuver when there wasn't much in place to facilitate was tricky."
Wardlaw says his six months at what was then known as the Office of Minority Affairs "was one of the most difficult and challenging assignments." The main goal was retention and that they wanted to make sure that the students were getting through their programs, but above all, "we needed to make sure they were staying in school," he says. "Cora and I were trying to create a 'home field advantage' for the students who might otherwise feel isolated when they entered an unfamiliar environment where most of the people don't look like them."
He says he believes Ingrum had a unique understanding in that making a space for the students was integral to their success. "When you look at Penn Engineering now," he says, "you see that Cora's wisdom has been transferred to the others who've worked with her and now serve the ODEI."
Wardlaw recalls meeting Laura Stubbs, the current director of ODEI, saying "she was one of the engineering students we had helped support in my early days at the office, and she was one of the initial members of the National Society of Black Engineers, so it's incredible to see her pick up Cora's torch and support the next generation of students."
Wardlaw still regularly contacts Ingrum and Hampton, remains an active member of the Penn Engineering community, and attends NSBE banquets at Penn. He says that taking a step back and reflecting on the decades of work people like Ingrum, Hampton, Stubbs, and many others have done provides "a feeling of tremendous fulfilment and sense of warmth and encouragement.
"It truly all boils down to Cora's early words of encouragement. 'You can do it,' she'd say, 'You've got this,' or her famous 'Keep up the good work.' They may sound simple, but the power with which she would utter those words put into motion great changes to countless lives."
The next generation
Yulanda Essoka, the associate director of the very office Ingrum and Hampton nurtured, recounts how the two women transformed her professional and academic life, as well as provided support on a personal level.
"I was just 16 when I first met Ms. Ingrum and Ms. Hampton. They're inseparable in my mind, two halves of a powerful whole," Essoka says. "During my senior year of high school, as I scouted for colleges, they had this incredible ability to make me and all the other students feel truly seen, which really motivated me to start my academic career at Penn."
Essoka recalls Ingrum and Hampton offering support and a semblance of home during a particularly challenging time in her life. "I just lost my father and grandfather early into my undergrad," she says. "Couple this grief with an overwhelming electrical engineering course load, and I thought there was no way I'd be OK. But Ms. Ingrum and Ms. Hampton were there for me when I needed a shoulder to cry on. They told me I could do it, that I deserved to be here and could do anything I set my mind on."
Essoka would later change her major to Africana studies in the College of Arts & Sciences, but Ingrum and Hampton still regularly checked in on her and supported her on her academic journey, which eventually culminated in Essoka earning her doctorate from Penn's Graduate School of Education.
"When I talk to Ms. Ingrum, because I still talk to her all the time, I think she's been most happy with the number of students she's gotten through not only a bachelor's but advanced degrees," Essoka says. "She really led the charge on helping to get Black students—who were often the first in their families to go to college—onto a Ph.D. track. And to earn a Ph.D. takes an enormous amount of time. But Ms. Ingrum's iconic 'keep up the good work' was enough to get me through."
Recognition and ongoing legacy
In May, Essoka proposed and led an initiative wherein Ingrum and Hampton, who retired from their roles as director and administrative assistant were recognized for their decades of service, more than 90 collective years. Essoka had commissioned artists and had their painted portraits added to Penn Engineering's permanent collection, making them the first women of color and staff members to receive the honor.
At a celebration commemorating the event, Penn Engineering dean Vijay Kumar welcomed the honorees and the room filled with generations of the students whose lives were touched by their work.
"Ms. Ingrum and Ms. Hampton have both created a vibrant support network and a home away from home for so many in this school," Kumar said. "And in doing so, you truly made a difference, not only for Penn Engineering but Penn as a university and, if I may add, for engineering as a profession."
Without their transformative work, the department would not have the solid foundation for today's Office of Diversity, Equity, and Inclusion to carry on their legacy, Kumar said during his opening remarks at the unveiling of the portraits.
"Countless engineers, researchers, entrepreneurs, and individuals have found success in so many professions, not just in engineering, because of you both," Kumar said. "These portraits honor not only your tremendous energy and selflessness but also the hope and encouragement that you gave to the students during their time here. It's our wish that these portraits continue to represent the hope and encouragement for so many yet to come to Penn."
What followed were heartwarming speeches delivered by students Ingrum and Hampton had supported throughout their tenure and some closing remarks from the honorees.
Hampton delivered a characteristically brief six-word speech thanking all the speakers and those in attendance, to which Ingrum added, "for Donna and me, the students always came first, especially the minority students. Why minority students? Because they had limited presence in the School of Engineering and their needs were often overlooked."
Ingrum noted that when she came to Penn in 1960, there were no Black students and virtually no Black staff. "It was me and an African American man who worked in operations. So, the term 'minority' was considerably inaccurate. Try 'nonexistent'," Ingrum joked.
"The school has changed greatly over the years, but many of the issues still remain, namely we need more Black faculty, more Black students, and more Black free-thinking members of staff in positions of power. These are issues Vijay and I have communicated extensively about over the years, and I'm confident he'll be able to address them."
In recounting the source of her successes as a mentor throughout her more than 55-year-long tenure at Penn, Ingrum said, "I always knew God and my trusted assistant, Ms. Hampton, were always there when there were barriers to face and no clear answers. Ms. Hampton and I were a team, and that's truly what you need, not only here in Engineering but University wide. We need to work as teams because when you work in teams you come out better off as one."
In closing her speech, Ingrum, thanked all the attendees and delivered a phrase each of the students who'd spoken that day lovingly referenced. "Keep up the good work," she said.