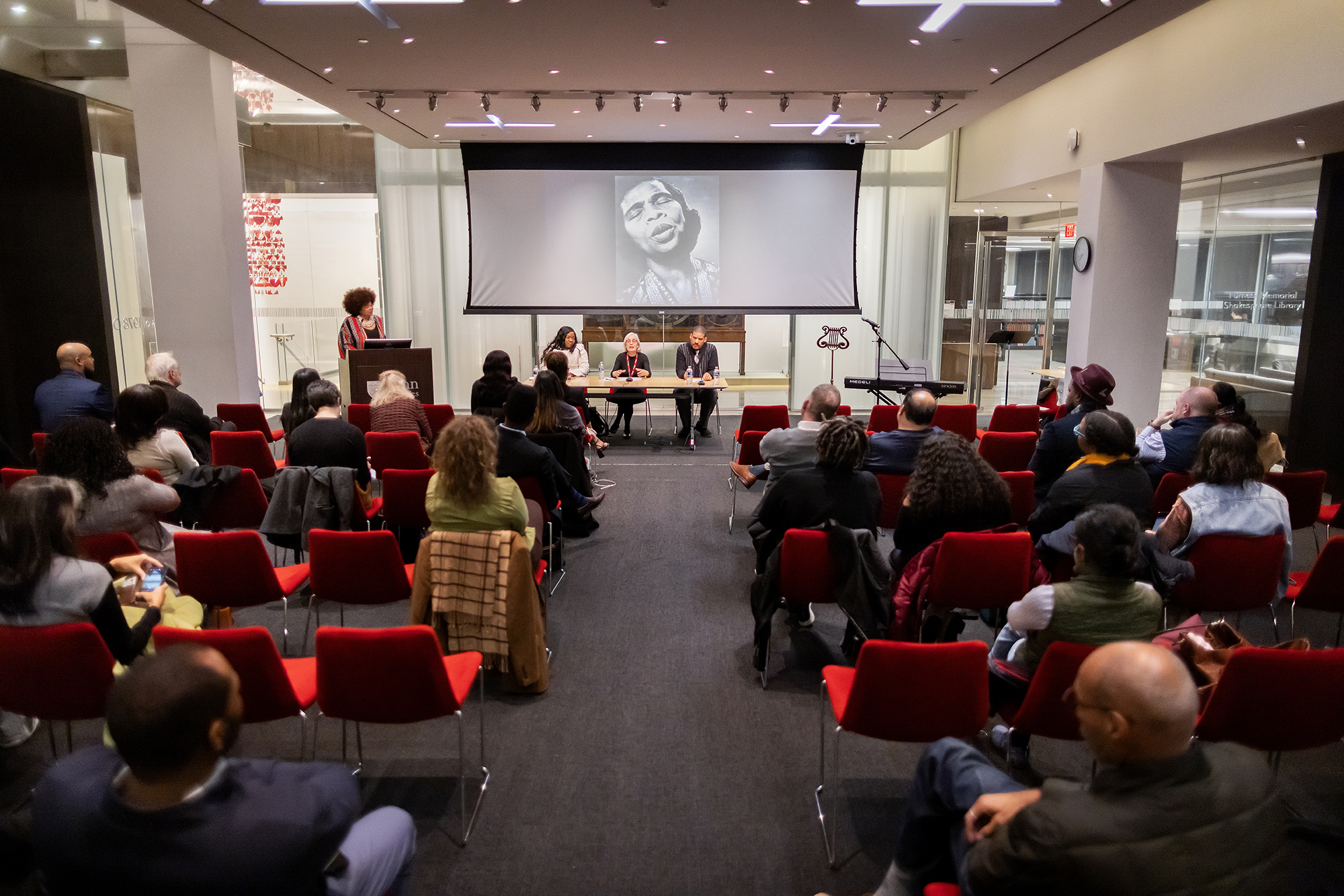 Before a hushed audience on the sixth floor of the Penn Libraries, Jillian Patricia Pirtle, CEO of the Marian Anderson Historical Society, walked up to Anderson's music stand and began singing "My Soul's Been Anchored in the Lord," accompanied by musician, composer, and teacher Jay Fluellen.
The piece, as arranged by Florence B. Price, was part of Anderson's repertoire for many years. The manuscript of the sheet music is housed just around the corner from the event space, in the Kislak Center for Special Collections, Rare Books and Manuscripts, also on the sixth floor of Van Pelt-Dietrich Library Center, noted senior curator Lynne Farrington.
Introducing Pirtle—who also gave a brief lecture on Anderson's life—at the Nov. 15 event, "The Art of Song and Protest," was vocalist and composer Ruth Naomi Floyd. Floyd sang with Anderson in 1987 at the iconic singer's 90th birthday at the historic Union Baptist Church of South Philadelphia, where they were both members. "That day, it really felt like an anointing," said Floyd.
The event, sponsored by the Office of Social Equity & Community (SEC) and the Libraries, was the first in a four-part series honoring "the life, artistry, activism, and legacy of the great contralto, Marian Anderson."
Floyd is one of two inaugural scholars in the Office of SEC's new Equity in Action Visiting Scholars program (EAV Scholars), which brings in Philadelphia-based activists and community organizers to each hold four events and engage in research throughout the academic year. The other scholar this year is Shane Claiborne, a Kensington-based anti-war activist, death penalty opponent, and advocate for people who are unhoused.
"The Equity in Action Visiting Scholars program focuses on using the arts and creativity as a vehicle to talk about issues of justice and equity," says Tia Gaines, associate director of the Office of SEC. She says their lectures and panel discussions, demonstrations, and other interactions with students all lead to a call to action. "We really want to empower the broader community to identify areas of justice, but also feel like they have some steps to move forward," she says. 
The office connects people at Penn and the broader West Philadelphia community around issues of equity and social justice. Its other initiatives include the Projects for Progress seed fund, SEC Fellows Program for undergrads, and Campaign for Community.
"Penn, as an institution, embodies a genuine heart, passion, and a resolute commitment to advancing justice, and this initiative is truly aligned with that overarching mission and dedication," Gaines says. The Office of SEC sought scholars from diverse backgrounds and disciplines, she adds, and they are selected by expertise in areas such as community engagement, criminal justice reform, and gun violence prevention.
"We have so much brilliance on campus, but there's so much brilliance and wisdom in the community as well," University Chaplain and Office of SEC Vice President Charles "Chaz" Howard said in introducing Floyd at the first event. "These aren't just concerts. They aren't just experiences either. They're chances for our souls to sing."
The Philly-based performing arts nonprofit Intercultural Journeys has commissioned Floyd to create a three-song cycle for voice and cello to honor the legacy of Marian Anderson. Floyd plans to use the Marian Anderson Collection at the Libraries to expand the three-song cycle. Her next event is a lecture on the power of art and activism at 7 p.m. on Nov. 28 at the Platt Student Performing Arts House. Floyd says she believes the act of creating is to protest all that is dark in the world.
Next semester she is presenting a lecture on April 24 at the Libraries on the voice and spirit of enslaved Africans in America, the day before giving a performance presented by Penn Live Arts at the Philadelphia Episcopal Cathedral. The concert is a ticketed event.
Claiborne, founder of The Simple Way and Red Letter Christians, will hold the first event in his series—which has the theme "Another World is Possible"—at 7 p.m. on Nov. 29. The second event, "Jesus, Bombs, and Ice Cream," will be held on Jan. 24. A 90-minute variety show with Ben & Jerry's co-founder Ben Cohen, it will focus on military spending and peacemaking.
Claiborne's Feb. 15 event is a blacksmithing demonstration and lecture about gun violence, stemming from a project he began more than a decade ago turning donated guns into garden tools. His final event, on March 19, will focus on restorative justice, featuring a panel of people impacted by the death penalty and criminal justice system, alongside Stations of the Cross artwork painted by men facing the death penalty in Tennessee.
"They're both activists and they're both known for the work that they've done in Philly and abroad," Gaines says of Floyd and Claiborne. "They're also really committed to being a good neighbor, to West Philly and to Philadelphia as a whole."
A full schedule with event descriptions can be found here.