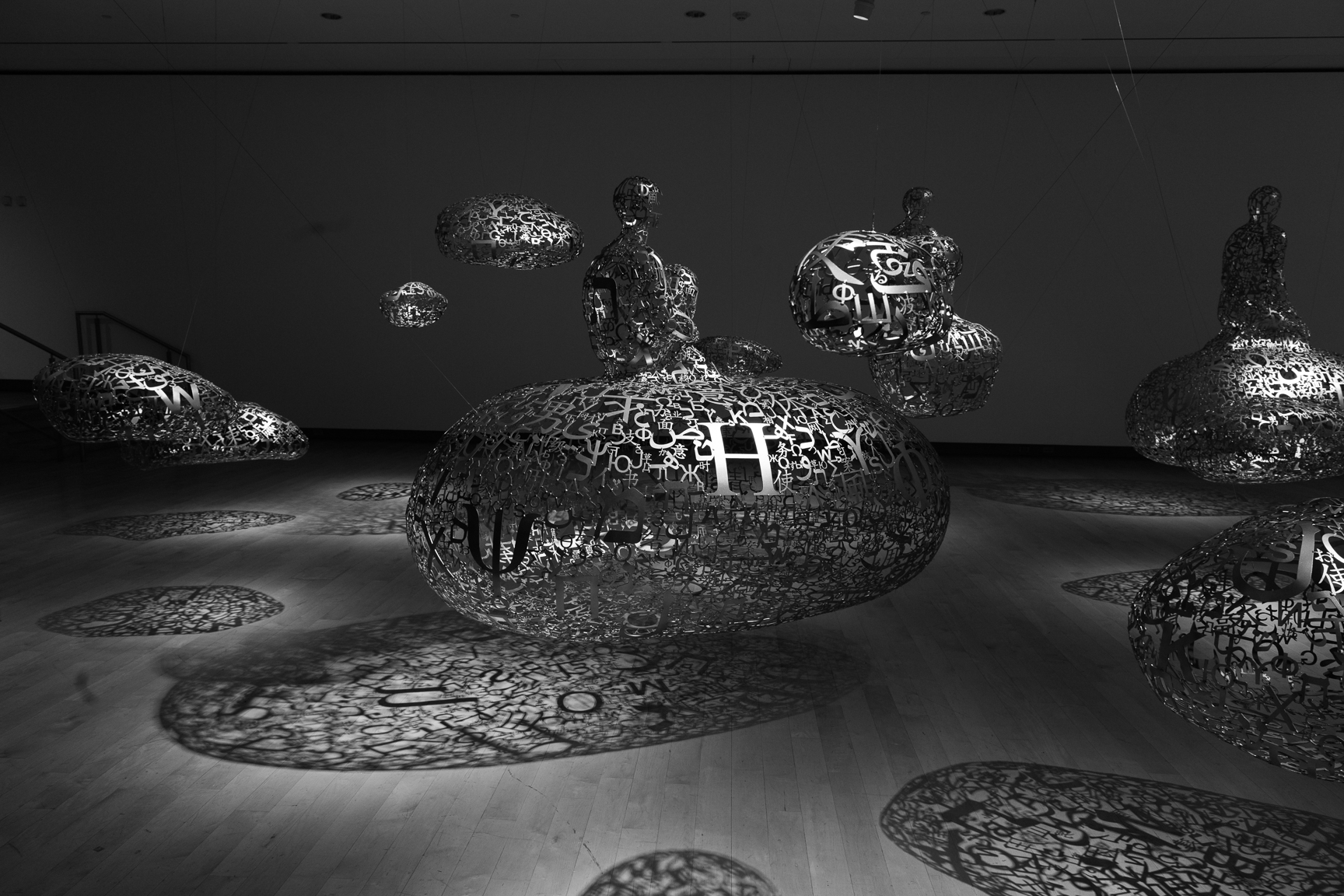 As fall sweeps in, it brings with it a torrent of arts and culture offerings—and that's especially true at Penn. Galleries clear out for new installations, new performers grace the stage at the Annenberg Center for the Performing Arts, and Penn artists lend their talents to some of the city's most compelling art experiments.
Below, peruse just some of the happenings that will have the campus arts community abuzz through the season. 
The future is now in this new exhibit from the Philadelphia Museum of Art, partly curated with the consulting of Orkan Telhan, an interdisciplinary designer and associate professor of fine arts at the Weitzman School of Design. 
 
The exhibit, opening Oct. 22, is a years-in-the-making, open-ended interpretation of designs that could exist in the future, with a heavy focus on technology and new ideas. One such design, says Telhan, is a "cricket shelter" that grows crickets as a food supply.
 
"There's also a bunch of provocative pieces," Telhan teases, such as one that shows a steak made of human cells.
 
The exhibit, located in the main building of the museum, features 80 pieces and as many or more designers. Pieces included are designed to be able to speak for themselves, with some written context from the curators. 
 
Some pieces are notably critical of technology. 
 
"Since there hasn't been a major design show that critically interrogated our visions toward 'future' for years," Telhan explains, "we wanted to put together one that exposes a diverse set of scenarios, celebrating not just the good parts of technology but also what alternative ways it may help us imagine our lives to overcome major challenges such as pollution, income inequality, or social justice." 
 
The pieces are a collection of objects, videos, full-scale models, prototypes, and real products. Many are not science-fiction, but rather previews of what's to come. 
 
"There are some critical pieces that are not necessarily ready yet today, but something people will see in the next five or 10 years as they move from prototype to production phase," he adds. 
 
Telhan will display a piece commissioned for the exhibition, titled "Breakfast Before Extinction." That piece imagines new ways of preparing food, asking viewers to consider, "How will we eat in the face of scarcity, overpopulation, or extinction?" There will be an accompanying essay.
 
Additional Penn contributors to the exhibit include other faculty, such as Simon Kim and Mark Yim from the Weitzman School of Design and the School of Engineering and Applied Science, and companies started by Penn alumni such as Lia Diagnostics, Allevi, and Ghost Robotics.
Connecting continents is the theme of this traveling exhibition from esteemed Spanish sculptor Jaume Plensa, coming to the Arthur Ross Gallery on Sept. 27.
The exhibit stems from a talk Plensa gave at Penn in 2017, and a conversation Arthur Ross Gallery Executive Director Lynn Marsden-Atlass had with one of Plensa's New York representatives in a gallery soon after.
"I heard about this exhibition, 'Talking Continents,' which is an incredibly powerful installation," Marsden-Atlass says. "[Plensa] is one of the foremost living sculptors and he's known for large-scale public works all around the world, and his meditative and intimate installations that aim to unify individuals of spiritual and collective memory."
The exhibit brings together 19 different sculptures united by theme. Each is made up of letters from eight alphabets around the world—Japanese, English, Chinese, and others. These are abstract metal sculptures in shape and size. The Arthur Ross Gallery is only the third venue to host the exhibition. 
To celebrate, a reception will be held Sept. 27 from 5 to 7:30 p.m. at the gallery. Programming around the exhibit—including, as one example, a dance company that will perform an interpretive routine—will happen through the run of the exhibition, and Plensa will revisit campus in October to deliver a talk. 
The Latin American and Latino Studies Program presents this art exhibit that, in the upper ambulatory space of the Annenberg Center for the Performing Arts, consists of approximately 75 pieces from 45 Norristown, Pennsylvania, community members who are active with the nonprofit Center for Culture, Art, Training, and Education. That center works with Latinx families to create art about the difficult experiences of migration by applying scholarship as well as personal experience to the art-making process.
The exhibit features paintings and photography, but other pieces are large paper maché animals and designs, as well as piñatas. "The Difficult Art of Migrating" is a traveling exhibit that previously lived at a New Hope art gallery and predominantly discusses the Mexican migration.
This exhibit is further supported by The Sachs Program for Arts Innovation, the Department of the History of Art, the Office of the Provost, and the Department of Hispanic Studies and Portuguese Studies. An opening reception will be held to celebrate the art on Oct. 2; the exhibit will remain at the Center through winter.
As International House Philadelphia prepares to close, so too will the Lightbox Film Center in its current location. For now, that means the 13th and final presentation of the "Exhumed Films 24-Hour Horror-thon" on Oct. 26 in the 3701 Chestnut St. theater—a tradition of watching 24 uninterrupted, convivial hours of horror films just ahead of Halloween.
As always, the films are kept top secret until the screening takes place, but expect a mixture of popular and—true to the Lightbox ethos—lesser-known movies. Films and clips are projected on 16mm or 35mm film. 
Don't forget to bring snacks. 
Part of Slought's ongoing Photographies of Conflict series, in partnership with the Center for Media at Risk, "The Potemkin Project"—named after infamous propaganda-spreader Grigory Potemkin—uses art to convey the influence of media events and the history of disinformation.
"The exhibit explores the malleability of reality, and the potential of media to both undermine and enable civic belonging and integrity," says Aaron Levy, senior lecturer in the Department of English and the History of Art, and executive director of Slought. "The exhibit features work by artists and non-governmental organizations that are addressing the power of media today to shape our social and political lives."
The multimedia exhibition includes photographs, multimedia projections, and archived materials by Witness, Bellingcat, and Global Voices—organizations committed to using civic media to raise awareness about and protect human rights. It also features work by Ivan Sigal, media artist and executive director of Global Voices, and artist and activist Robin Bell. An opening reception will be hosted in October, but see the works starting Sept. 18.
A special one-night performance at the Annenberg Center for the Performing Arts on Sept. 19, Jordanian Palestinian band 47SOUL will play their unique take on Palestinian street music, fusing traditional folk-dance "Dabka" with funk, hip-hop, rock, and electronic production. 
47SOUL is a four-person band formed in 2013, consisting of Tareq Abu Kwaik on vocals; Ramzy Suleiman on vocals, synthesizer, and keyboard; Hamza Arnaout on guitar; and Walaa Sbeit on vocals and bass drum.
Concert attendees are invited to the Center's beer garden before the performance, open two hours before all evening performances in September. It's one of many diverse, global-minded performances happening at the Annenberg Center in its new 2019-20 season.
The Wolf Humanities Center, in the spirit of its Year of Kinship theme, brings artist and UCLA anthropology professor Jason de León to campus for "Hostile Terrain 94," a political art installation that will see the installment of a 20-foot map at the Penn Museum from Sept. 23-24, and on display Sept. 25-27. The map will include 3,200 handwritten toe tags with information on migrants who died while crossing the desert border of Arizona and Mexico. 
At Lightbox Film Center, Wolf Humanities Center will also show "Border South," a documentary film directed by Raul O. Paz Pastrana about the North-American Migrant Trail. The screening follows a talk by De Leon about his studies of the MS-13 transnational gang and its recent involvement in human smuggling in Latin America. 
A collaboration between Friends of the Rail Park, Mural Arts Philadelphia, and the American Composers Forum, "Site/Sound: Revealing the Rail Park" is a series of projects that celebrates the past, present, and future of the Reading Railroad rail corridor. 
 
Part of that effort is the October demonstration of "Moon Viewing Platform," a viewing garden inspired by the karesansui—a dry landscape also known as a zen garden or Japanese rock garden. A collaboration between Nadia Hironaka, Matthew Suib, and Eugene Lew, a lecturer in the Department of Music, it occupies more than 20,000 square feet of former railway section known as "The Cut" at 469 N. 18th St., and is viewable from a bridge that overlooks it. Of note, they're the only team, out of the artists involved in the project, working on a site actually on a section of the proposed extension of the envisioned Rail Park.
 
The project's central feature is a dry landscape garden consisting of gravel and other materials. Designers and keepers of these gardens, traditionally adjacent to temples, often create patterns and arrangements suggesting rivers or mountains. The public is not able to walk around in them—as is the case with this garden. 
 
Vegetation in the garden is primarily what already grew there, says Lew—only shaped. He also adds that their project is inspired by karesansui, but does not consider it to be one.
 
"Part of that decision was because we wanted to learn about it ourselves," he explains. "We have too much respect for the tradition of the dry landscape garden."
 
A series of video vignettes shot on site will be projected throughout the month after sunset. In general, he imagines it as a space that does not become a destination, but is instead something discovered by passersby.
 
The space will, however, be activated for the first three Saturday evenings in October. ASA-CHANG & Junray, a trio from Tokyo, will perform on Oct. 19, making their Philadelphia debut.
On Nov. 16, the Penn Museum will unveil its Africa Galleries, consisting of 300 objects that are placed in context to confront colonial mentalities and illustrate the continent's impact on the world. The curation team was led by Tukufu Zuberi, the Lasry Family Professor of Race Relations and a professor of sociology and Africana studies.
 
Also opening is the Mexico and Central America Gallery. Curated by anthropologist Simon Martin, it showcases similarities and tells universal stories across distinct civilizations through 260 artifacts, including four breathtaking Mayan monuments.
 
As part of the New Penn Museum Opening Weekend Celebration, held Nov. 16-17, Global Guides, whom are refugees and immigrants from Africa, Mexico, and Central America, will bring new perspective to objects through their own experiences.
 
The weekend also welcomes the Museum's 12.5-ton red granite unofficial mascot—the Egyptian Sphinx—into the limelight in a new Sphinx Gallery, and sees the reopening of Harrison Auditorium and the Main Entrance.