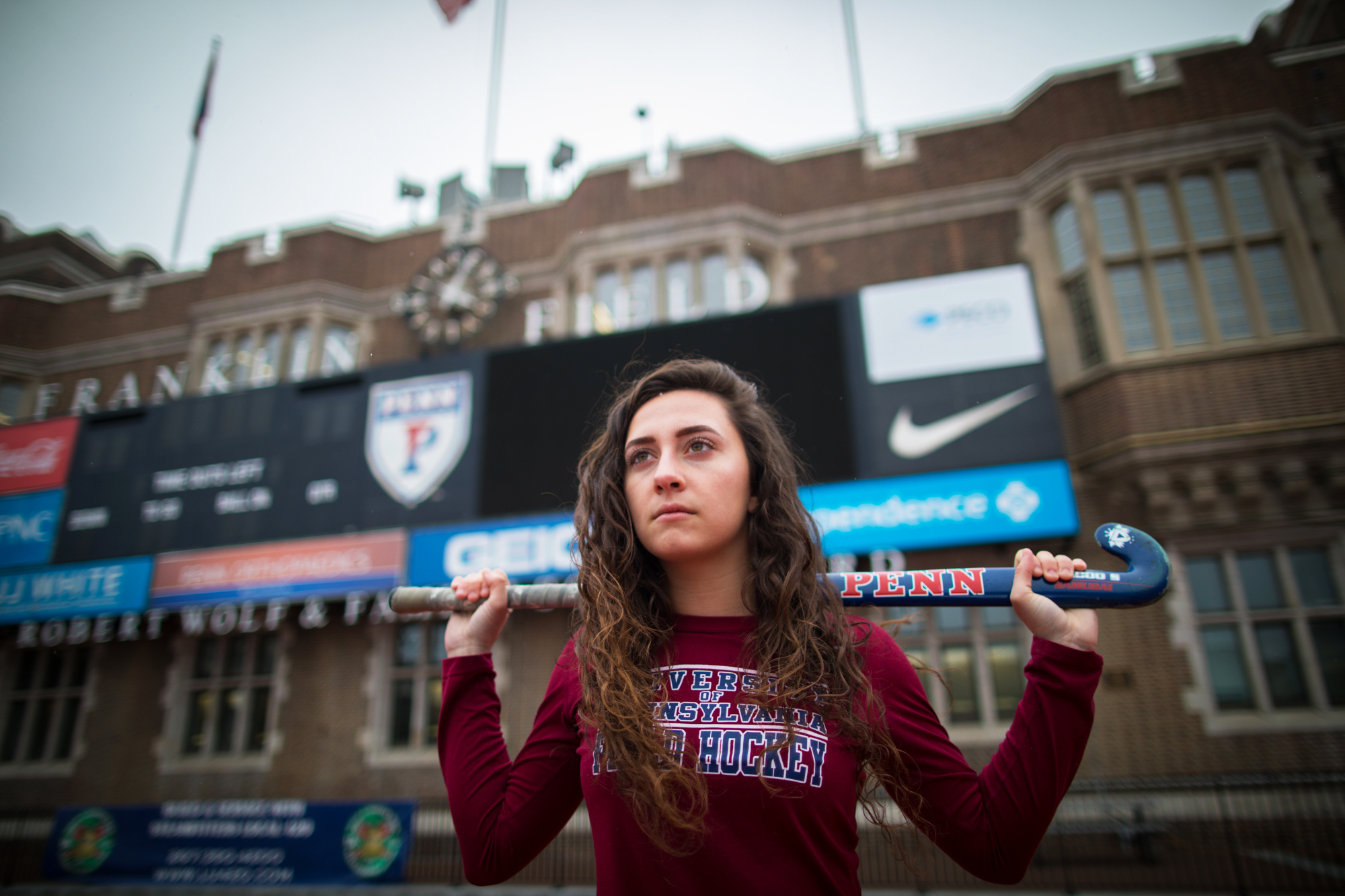 Soon after she concluded her record-breaking field hockey career at Penn, senior forward Alexa Hoover took a moment in the fall to reflect upon her extraordinary athletic achievements. The cognitive science major was on an award tour throughout her four seasons, and her track record's longer than a DC-20 aircraft.  
A four-year starter. Four straight All-Ivy First-Team selections, the first Penn field hockey player to be so honored.
Four consecutive National Field Hockey Coaches Association (NFHCA) All-Region selections. 
Sixty-eight career goals and 163 points—both Penn field hockey records, which place her fourth all-time in Ivy League history in both categories. She is also the school record-holder for goals (27) and points (63) in a season.
2014 Ivy League scoring leader. 2014 Ivy League Rookie of the Year. 2015 Ivy League scoring leader. 2015 NFHCA Second-Team All-American. 2016 NFHCA Second-Team All-American. 2017 team leader in shots, shots on goal, points, goals, assists, and game-winning goals. 2017 NFHCA Senior All-Star.
"It's weird that it's over already because I feel l like I was just a freshman like yesterday," said Hoover, while conversing in Weightman Hall. "I know every senior says that, but it really does fly by really fast.
"I think it's definitely hit me," she said of the end of her Penn career. "It's such a proud and amazing feeling to not only represent Penn, but also, on a personal level, looking at the record books and the articles and seeing my name. I feel like a lot of times when I'm playing in-season, because I'm so focused on the next game, I didn't always really completely have time to just be like, 'I did that. That's cool.'"
An accidental field hockey star
From Collegeville, Pa., Hoover began playing field hockey at age 4—by accident, she says. Her mother took her to the YMCA to sign her up for soccer, but soccer was full, so her mom, who played field hockey in high school, signed her up for field hockey instead.
The first field hockey game she attended was at Penn's Franklin Field when she was 7. She says she was captivated by the University's mix of metropolitan and pastoral living. 
"When we were leaving, I was like, 'Mom, Dad, I want to go here when I'm older,' because it was so cool," she says. "It was like my first college experience. And here I am."
From the instant she started playing, her parents immersed themselves in all the field hockey information they could find.  
"My dad knows like every rule in the book," Hoover says. "I'm pretty sure he's read the rule book like three times."
Her father also built a field hockey net in their front yard so Alexa and her younger sister, Olivia, who also plays field hockey, could work on their game.
Hoover wore No. 7 throughout her youth and college career in honor of her father and grandfather, who wore the number during their sports-playing days.
Fast hands and impeccable timing
Penn Field Hockey Head Coach Colleen Fink first met Hoover when she was around 12 years old and playing for the Vipers, a club organization in Montgomery County where Fink was a coach. Katelyn O'Brien, now an assistant Penn field hockey coach, was then coaching Hoover on the Vipers' U-12 team and approached Fink during a break in action and told her she needed to come watch Hoover play.
"I kind of laughed and said, 'OK Kate, I'm not recruiting a kid who's on an under-12 team,'" Fink says. 
O'Brien was adamant, though, so Fink went to see one of Hoover's games. She says she could tell Hoover was a special player from the first time she saw her play. 
"You knew then," Fink says. "She had really good hand-eye coordination, fast hands, impeccable timing, and she was even a natural goal scorer back them. She probably had like a quadruple hat trick in this tournament. I think she's always been a special player ever since she picked up a stick."
Fink says Hoover's "level of intensity at all times" when she's on the field makes her such an outstanding player.
"She brings the same level of passion and intensity every day, whether training or in a more competitive environment," she says. "I think that's what has really propelled her toward success."
'The girl with the neon headband'
Since she was 14, Hoover has donned a lime green neon headband while playing on the field hockey pitch. She wore it for the first time at the regional tournament for the National Futures Championship in order to get noticed and picked for the game.
"Everyone had on a dark blue shirt and I thought, 'What can I do to stand out?' So I wore the neon headband," she says. 
To players and coaches at the tournament, she became known as "the girl with the neon headband." She was selected for the Futures Championship and has been wearing the headband ever since.
"I have so many of them," she says. "I think I have like eight because they've all faded over the years."
Her sister has followed in her footsteps and sports a rainbow headband. She also wears Alexa's No. 7.
Love of the game
Hoover says she enjoys the fast pace of field hockey, and the mental and physical aspects of the game.
"Even if you're not necessarily on the ball, there's so much off-ball movement and communication that is involved," she says. "It's a very mental game as well, which I really like. Overall, I just think it's really fun."
She says her game grew tremendously during her Penn career. She makes fewer mistakes than she did when she was a freshman, her shots and dodges are more creative and more accurate, and she is unafraid to take shots she was scared to take four years ago.
But one thing that hasn't changed, she says, is her drive to score. When she was a sophomore, she scored five goals in a 7-3 win over Saint Joseph's, breaking a school record that had stood for 35 years. During her junior year, she became Penn's all-time leading scorer. 
Her scoring drive, she says, is "a little bit innate." 
"Some people just have it in them that all they can focus on is, 'How can I get the ball in the net?'" Hoover says. "Some people focus on how they can keep the ball from getting in the net. That's how these amazing defenders come about because they're very tactical and smart with what they do defensively."
Fink says Hoover takes pride in being a team player even though she is known for being a prolific scorer.
"She has definitely developed her passing game, her deceptiveness in terms of her distribution skills, so I think that's something she really prides herself on," Fink says. "She doesn't want to be known as the traditional ball hog, cherry-picking type of player. That's not what she does. She definitely earns her goals, whether it's through playing good defense or whether it's through developing the play up-field. I think that's something I've really seen her develop over time."
Thanks for the memories
Hoover says her most memorable game from her four-year Penn career was the 3-2 victory over 10th-ranked Syracuse this past season.
"Scoring early on them was huge for us in terms of momentum, for the game, and setting the pace where we wanted it to be set," she says. "I had two assists and the game-winning goal. Beating a Top 10 team was something that we've wanted to do, and we finally got to do it. Everyone played so well that day. They played together, and they just didn't let up."
Playing for Penn and with her teammates is what Hoover says she will miss the most about her college-playing days.
"I loved being able to go out every weekend and have that name across my chest on the jersey, and just knowing that everything that we're doing is representing our school and our program," she says. "I love the team a lot. They're my best friends in the entire world."
Onward toward 2024
With the culmination of her Penn field hockey career, Hoover set her sights on the U.S. National Development Squad, which trains and practices with the U.S. National Team. Athletes on the development squad could potentially be called up to the Senior Women's National Team and play in the Olympics.  
"From what I've done so far, I've set my mind to things and been able to achieve them," Hoover said in November. "I'm hoping that my drive helps me get this, too."
In January, Hoover was one of 35 players from around the country who tried out for the development squad. Over three days in Lancaster, Pa., the top field hockey players in America scrimmaged and participated in hours-long skill, ability, and speed testing and training.
"It was definitely high-intensity and gave us a good taste of what they expect from us," Hoover says. "I definitely left sore, that's for sure."
Following the tryout, Hoover was one of the 21 players selected for the team.
"I had to reread the email like five times to make sure I actually was reading it right," she says. "Since I was little, it's something that I've always wanted to do. There is no professional league for field hockey so the national level is the highest we can get." 
Training sessions for the squad are held twice a month on weekends through mid-July.
Hoover is training with the team while finishing up her degree at Penn. She lifts weights three times a week and practices with her stick in her hand three times a week, with hopes of being selected for a tour in Chile in mid-May, and eventually the 2024 Summer Olympics.
"It's honestly an insane feeling," she says. "I'm definitely on cloud nine."