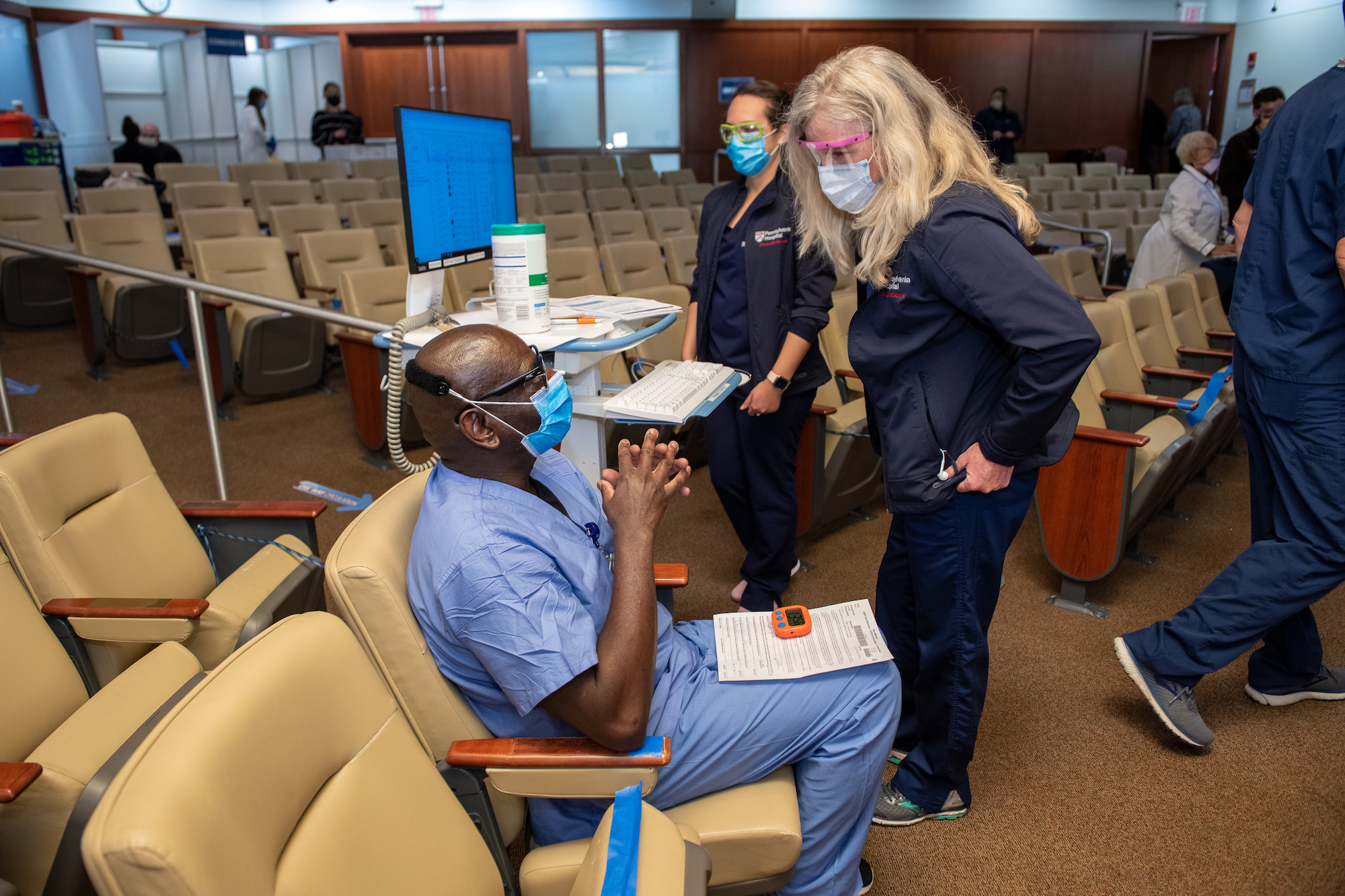 There's a notable pause in the Pennsylvania Hospital auditorium after Emergency Department nurse Eric Young receives his COVID-19 vaccine at 6:15 a.m. on Wednesday morning. The room falls silent except for the flashing of photographers' cameras.
That's because, by most accounts, the two-second shot to Young's arm is not particularly momentous. "Felt like any other vaccine," he says.
Then, as if coming to a collective realization about the occasion's gravity, the 20 or so onlookers in the room break into applause. 
"Eric and I went to nursing school together!" shouts the nurse administering the vaccine, Joanne Ruggiero, clinical director for Women's Health and Behavioral Health at Pennsylvania Hospital. "We were study partners."
"Poor Eric!" a colleague shouts back. Everyone laughs. The tension, broken.
The moment, though over in an instant, is a historic one for Penn Medicine and the 264-year-old hospital: Young is the first to receive the COVID vaccine at the health system, marking what many experts are calling the "beginning of the end" of an unprecedented health crisis that has infected close to 17 million nationwide and killed 13,000 Pennsylvanians. 
Notably, it was mRNA research conducted at Penn—by Drew Weissman, a professor of Infectious Diseases, and Katalin Karikó, an adjunct associate professor—that helped pave the way for the development of the Pfizer-BioNTech and Moderna COVID vaccines. 
"It is fitting that the nation's first hospital was the first to lead Penn Medicine to this new era in the fight against COVID," says PJ Brennan, chief medical officer of the University of Pennsylvania Health System. "The development and distribution of this vaccine will go down in history as one of the world's most significant biomedical achievements and beginning to deploy the vaccine to protect our own workforce is a thrilling milestone."
By week's end, the health system expects to receive about 9,275 doses of the Pfizer vaccine for its frontline teams. The vaccines have been distributed under an Emergency Use Authorization, an authority granted to the Food and Drug Administration (FDA) to supply unapproved medical products during a health crisis.  
In accordance with local, state, and federal agency recommendations, Penn Medicine has developed a prioritization rubric to guide how COVID-19 vaccines will be distributed within the health system. Vaccines will be offered first to frontline staff who work directly with patients in emergency situations and to those with a higher risk of exposure to patients of unknown COVID-19 status. As greater supplies of the vaccine become available following FDA approval, the health system will begin administering it to more staff, and eventually, to patients outside of the Penn Medicine workforce.
At Pennsylvania Hospital, Chief Human Resources Officer Christine Tierney quickly put out a "call to duty" to administrative and other non-clinical nurses to staff the hospital's COVID-19 vaccine clinic. Within one hour, she received more than 100 responses. Among those who answered the call was Ruggerio, who woke at 3:30 a.m. on Wednesday feeling like it was Christmas morning.
"I almost didn't need my alarm," she says. "I thought there would be a lot of uncertainty and ambiguity here today, but so far, people have been asking to take selfies with them, and they're clapping and cheering. It's all excitement."
The vaccines arrived at Pennsylvania Hospital at 2 p.m. on Tuesday afternoon, where CEO Theresa Larivee and Daniel Wilson, vice president for operations, waited to greet the truck. The vials must be kept at ultra-low temperatures (-112° to -76° Fahrenheit), but can survive in a refrigerator for five days. When delivered to Penn on Tuesday, the vials were already thawed—so the clock began ticking—giving the hospital exactly five days to vaccinate 510 people. 
Across Penn Medicine, similar processes were set to unfold at all five other hospital entities. The first doses of vaccine arrived at the Hospital of the University of Pennsylvania on Wednesday morning, with vaccines from that delivery then transported to Penn Presbyterian Medical Center. Chester County Hospital, Penn Medicine Lancaster General Hospital, and Penn Medicine Princeton Health are also slated to receive deliveries this week.
Back at Pennsylvania Hospital on Wednesday morning, pharmacist Shadaria Shuler is also up against the clock, as she retrieves the vaccine vials from the refrigerator and begins prepping them for administration. Each vial must be kept at room temperature for 30 minutes, then carefully inverted 10 times, diluted with a saline solution, and inverted another 10 times before doses are drawn up into syringes. Diluted vaccines can last at room temperature for only six hours, while undiluted doses expire after two, so Shuler needs to time the process just right.
"We draw up meds all the time, so this was nothing new," Shuler says.
As employees begin lining up inside the lobby of Pennsylvania Hospital to receive their vaccine on Wednesday, the scene inside Zubrow Auditorium is energetic but organized, as each station is tended to by staff members who understood their roles in the assembly line.
Employees enter through the side of the auditorium, check in with registration, get directed to sign a consent form, then walk on stage to receive their shot. After, they schedule their appointment for the second vaccine dose—21 to 28 days after the first—and are handed a timer. Then, they are instructed to sit in a chair and wait for 15 minutes, during which they are monitored by a nurse for any symptoms or poor reactions to the vaccine. Over the next three weeks, they will continue to receive text message check-ins from the health system. 
"I feel great. It hurt less than the flu shot," says Michael Ireland, a nurse in the Crisis Response Center. 
For most of the nurses, doctors, and other essential workers receiving the vaccine on Wednesday, the message they want to send to the public is simple: "If I did it, you should too."
Chris Lee, an internal medicine resident originally from Cork, Ireland, says he called his family earlier that morning to tell them the good news. He hopes that getting the vaccine will encourage his family members—and Philadelphians—to do the same. "I think we're ambassadors for the whole population to go ahead and get it. All the residents have genuinely been reviewing the vaccine studies, looking at the side effects, and trying to understand the data," Lee says. "It certainly seems safe."
For Christine Preblick, the decision to get the vaccine is less clear-cut—the Emergency Department physician received a kidney transplant two years ago at the Hospital of the University of Pennsylvania, and she was unsure whether the COVID-19 vaccine would be safe for her. But earlier this week, her transplant team gave her the go-ahead. 
The risk of contracting the coronavirus is greater than the risk of vaccine side effects, she believes. She's looking forward to resuming her normal life again—and knows the vaccine is a key part of ensuring the whole world can do the same. "For transplant patients, there's uncertainty, for sure," she says. "But it's a leap of faith that you take."
Story by Lauren Ingeno. Read more at Penn Medicine News.