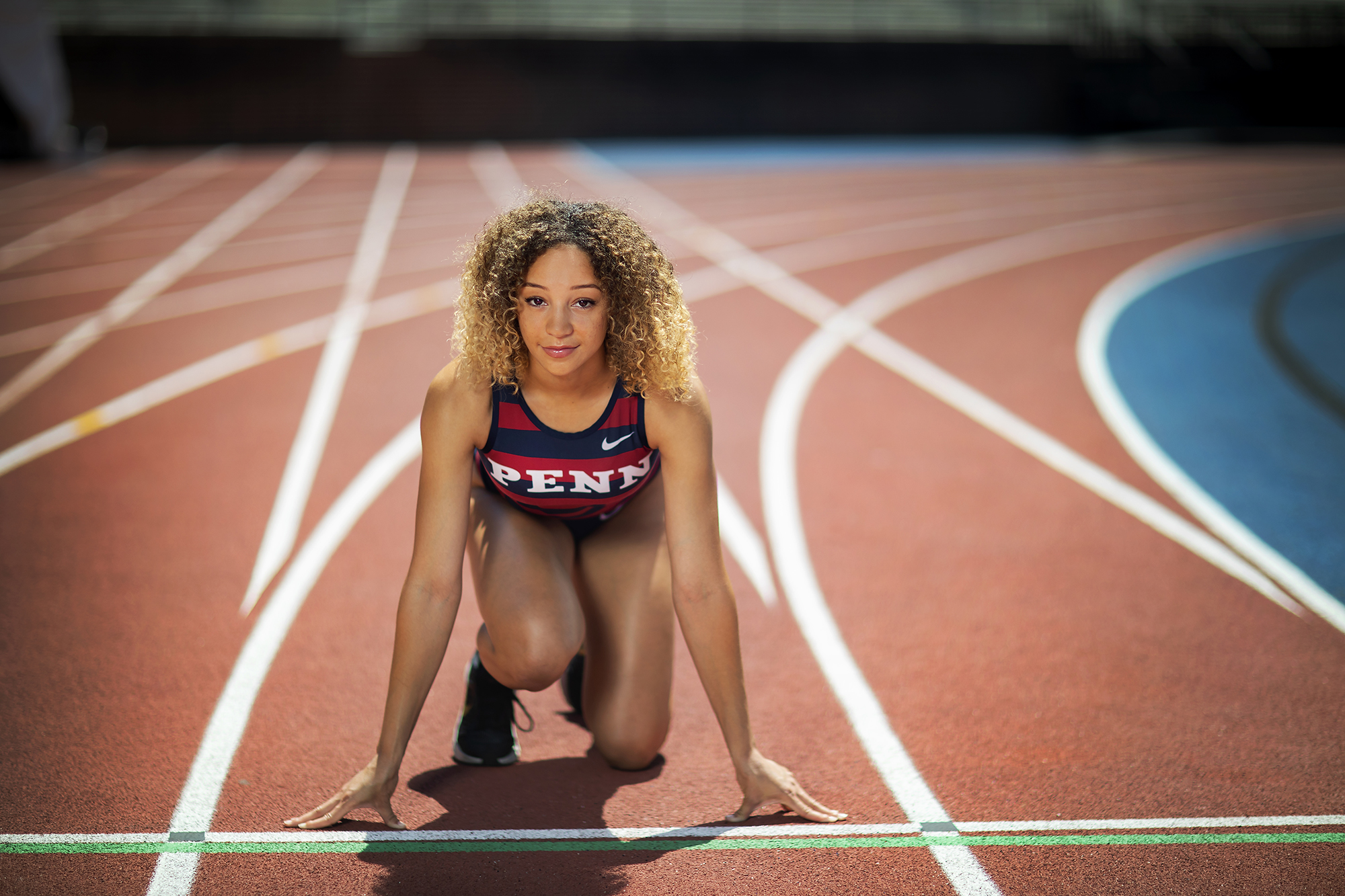 When she was younger, 2022 graduate Skyla Wilson wanted to be an astronaut.
But instead of flying through space at 17,500 miles per hour, she pivoted to rocketing around the track like a comet raging around the sun.
Born in Philadelphia but raised in Susquehanna, Pennsylvania, Wilson graduated in May with school track and field records in the indoor 60m hurdles (8.29), outdoor 100m hurdles (13.45), outdoor 200m (23.54), and outdoor 400m hurdles (58.26), and she was a part of two record-breaking relays teams, the indoor 4x400m relay (3:35.19) and the outdoor 4x400m relay (3:32.12).
Track, you could say, runs through Wilson's veins. Her mother was a track star at Temple (like her daughter, she excelled in the hurdles) and her father competed in the 400m. She says her two younger brothers are fast as well.
"My brother keeps asking me to race, but I haven't raced him yet," Wilson says. "I'm just waiting for the right time."
Wilson's track career at Penn got off to a fast start. As a freshman in 2019, she won the 400m hurdles at the Penn Challenge and the Rider Invitational. At the Outdoor Ivy Heps, she finished second in the 400m hurdles and—along with Elena Brown-Soler, Cecil Ene, and Uchechi Nwogwugwu—first in the 4x400 relay.
With a time of 3:32.12, a program record, Wilson, Ene, Nwogwugwu, and Nia Akins won the 4x400 at the 2019 NCAA East Preliminaries and earned a spot in the NCAA Championships, becoming the first relay team in school history to do so.
The coronavirus gobbled up Wilson's 2020 outdoor season, 2021 indoor season, and almost her entire 2021 outdoor season, but she returned this past season still putting up impressive numbers.
She was a First-Team All-Ivy selection in the 200m and 4x400 relay, and advanced to the NCAA East Region Preliminaries in the 100m hurdles, 400m hurdles, and 4x400 relay. She qualified for the quarterfinals in the 100m hurdles and finished fourth, missing the NCAA Championships by the blink of an eye.
Penn Today caught up with Wilson to discuss her track career, what she enjoys about racing, her favorite event, the rhythm involved in hurdling, her advice for underclassmen, and her plans for the future.
When did you start running track? I think it was in the beginning of middle school. I had run cross country and pretty much everyone who did cross country did track, too. My mom was really pushing for me to try the short hurdles like she did. But when I tried them in middle school, I was really bad, so I stopped doing them for a while. I tried them again in high school and I was a little better.
When was the first time you realized you were fast? When I started cross country, I was good at cross country. I didn't get into shorter sprints until high school when our team didn't really have that many short sprinters.
How did you go from being a novice sprinter to excelling at sprinting? It was really gradual. I think just practice. My area in general wasn't that good at track so I was able to keep working at shorter sprints. But at the end of my sophomore year, I started to get better at it. I also stopped doing cross country, so I think that also helped.
Did your parents give you tips along the way? Yes. My mom would give me tips on how to not be scared when I'm running. When my dad would give me tips, he focused more on trying to get me to relax and not take it too seriously.
What do you enjoy about competing in track meets? I like the competition aspect. I really like competing. I also really like running relays and running for a team more directly.
Were there track athletes that you looked up to when you were younger? I definitely always looked up to Allyson Felix just because she's great at everything. I also looked up to Nia Ali. She's a short hurdler and she has children, but she still competes on an Olympic level. And when my mom was in college, she competed after she had me, so I definitely always looked up to her, too.
Do you have a favorite event? The 100m hurdles. I just like how intense it is. I like hurdling better than just sprinting. I feel like sprinting would get boring.
Do you approach short hurdles and long hurdles differently? Absolutely. I think for the short hurdles, I get more nervous about the execution and the start of the race, but for the most part, it's a more fun event for me. It's not technically my main event like the long hurdles, so I feel like when I'm doing the long hurdles, there's a bit more pressure. And also, the long hurdles require a lot more rhythm.
That's interesting, can you talk about that a little bit, the rhythm involved in hurdling? I feel like every long hurdler has a certain number of steps that they're supposed to take in between each set of hurdles, and if it gets messed up—like if you're too fast or too slow—then at the end of your race, you might not be going over the hurdle with the right leg, and that can really mess you up. I'm not good at hurdling with both of my legs so that can really mess me up.
What sort of advice or guidance would you give to underclassmen? My guidance would be to not take track performances too seriously, and to just use track as a source of fun. I think it's really easy to get caught up in the stress of it because life outside of track can be very stressful, so I think it's important to use going to track practice as a way to have fun in your day. I feel like everyone is always putting in the actual work at practice, so they don't need to worry about what their actual times are.
When you were a freshman, you ran with superstar upperclassmen like Cecil Ene, Uchechi Nwogwugwu, and Nia Akins. Did they give you any wisdom or advice that you found helpful? They definitely had a lot of wisdom to give. They always had pre-meet talks with us. They were really helpful my freshman year, just helping me to not feel stressed out about everything.
You majored in the Neuroscience Program, formerly called Biological Basis of Behavior. Why did you choose BBB as a major? I was originally a health and societies major but I took an intro class for BBB and I felt like I was more interested in the actual material than the humanities classes that I was taking at the time. I also wanted to be premed, so a lot of the requirements were matching up.
Was it difficult being on the premed track and also competing for the track and field team? Definitely, yes. I think it's just hard to get sleep.
How many hours did you get a night? It really depends. Sometimes, I'd get eight hours, but sometimes it was zero.
Literally zero? Yes. But I think computer science is even worse than premed.
What are your plans for the future? I'm going to the University of Miami to do a master's in biochemistry and molecular biology, and I will still be doing track.