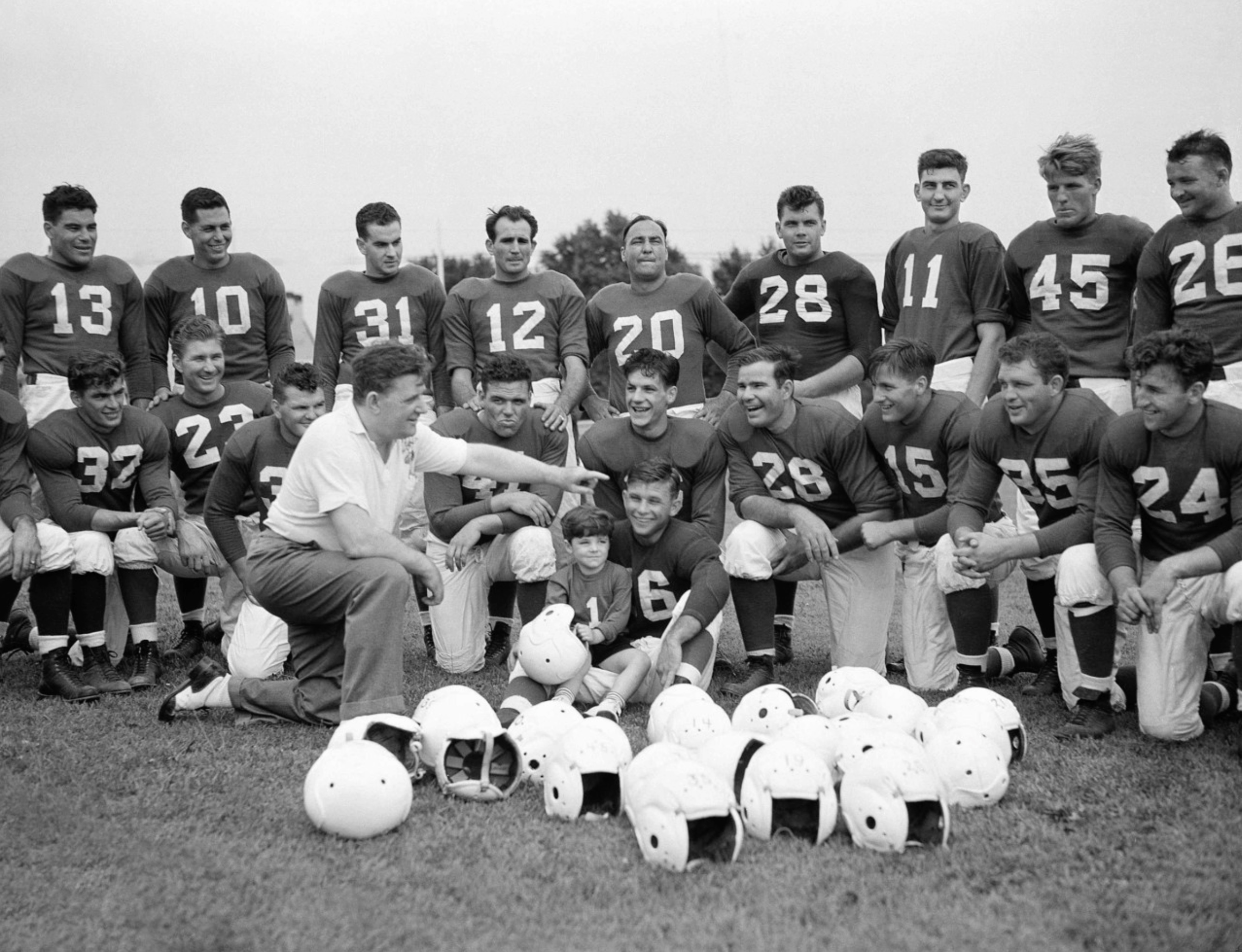 Strolling around Center City in 1933, on the day he purchased an NFL franchise, Bert Bell approached the corner of Broad and Chestnut streets. He looked skyward and saw a billboard advertising President Franklin Roosevelt's National Recovery Administration, which was embossed with a bald eagle. Then and there, Bell conceived the name of his new football team: the Philadelphia Eagles.
Born into privilege in Philadelphia on Feb. 25, 1894, Bell was the youngest son of venerated lawyer John C. Bell, a Penn Law School alumnus who served as district attorney from 1902-07 and attorney general of the Commonwealth from 1911-15.
Fleurette, Bell's mother, was a wealthy socialite who came from an aristocratic and renowned family.
Christened de Benneville at birth, Bell grew up in a Horace Trumbauer-designed mansion near Rittenhouse Square, complete with maids, butlers, nannies, and servants.
While he was of wealth, Bell shunned his affluent upbringing and his patrician-sounding name. Any classmate who called him de Benneville was met with fisticuffs. He insisted they call him Bert.
'He'll go to Penn or he'll go to hell!'
Penn and football bellowed through the Bell family. John C. Bell played on the Quaker football team and was a member of the 1884 squad that defeated Harvard for the first time by a score of 4-0 during his senior year. He later became chairman of the University's football committee and a Penn Trustee.
In tandem with Walter Camp of Yale, John C. Bell served on the rules committee of the Intercollegiate Athletic Association—the forerunner to the NCAA—which set the rules for the game of football. He was also one of the organizers of the NCAA, which was founded in 1906 to help make football safer.
As a trustee, John C. Bell negotiated the acquisition of the River Fields from the City of Philadelphia in 1910, land that now encompasses the soccer, field hockey, and throwing fields.
A successful real estate entrepreneur, too, John C. Bell once owned Philadelphia's Ritz Carlton and St. James hotels.
John C. Bell, Jr., Bert's older brother, also attended Penn, although he was a tennis and soccer athlete and did not play football. The junior Bell graduated from the College and Penn Law, and went on to serve as assistant city solicitor, assistant district attorney, lieutenant governor, governor (for 19 days) and on the Pennsylvania Supreme Court.
Bert Bell's earliest memories of football were attending Penn football games in 1899, when he was 6 years old. He was the team's unofficial miniature mascot, donning a leather helmet, cleats, and a red sweater with a large blue "P." He first started playing the game with his friends at a city park near 24th and Pine streets. For practice, he would tackle the family butlers.
"Watch out for little de Benneville," his mother would warn the servants. "He'll throw you for a loss if you're not careful."
Bell attended high school at The Haverford School and excelled at football, basketball, and baseball.
When it was time to choose a college, his father gave him only one choice.
"He'll go to Penn or he'll go to hell!" he said.
Dear old Penn
Throughout his collegiate days at Penn, Bell was more athlete than student. His teammates once remarked that he "never came to class if the weather was bad outside."
But on the gridiron, he showed his acumen.
Bell enrolled at Penn in 1914 and after playing a year of freshman ball, he became the Quakers' starting quarterback during his sophomore season under Head Coach Bob Folwell. Bell, who stood around 5 feet 8 inches and weighed 155 pounds, also punted, returned punts, kicked field goals, and played defense.
The Quakers started the 1915 season 3-0—but those were the only victories of the season. The finished the year with a 3-5-2 record.
In 1916, the Red & Blue were a national powerhouse. They finished the regular season with a 7-2-1 record, with wins over Penn State (15-0) and Michigan in Ann Arbor (10-7.) The Quakers were selected to participate in the Rose Bowl in Pasadena, California, where they took on the upstart Oregon Webfoots. In front 26,000 people, one of the largest crowds to ever watch a football game on the West Coast, Penn lost 14-0.
The train ride to California took four-and-a-half days because the team got snowed in in Buffalo, New York. When they reached Albuquerque, Bell ran through some plays with his teammates on the train platform.
Penn finished 9-2 in 1917 and beat Michigan for the second straight year (16-0), this time at Franklin Field.
Bell volunteered for service during World War I and missed the 1918 season. He returned to the team in 1919 as captain and led the Quakers to a 6-2-1 record.
In February of 1920, Bell withdrew from Penn without receiving his degree—but he was back at the University that same year, this time as an employee. New Head Coach John Heisman hired Bell as a running backs coach. He remained on the Penn staff until 1928. From 1931-33, he was backfield coach at Temple University.
John Titzel, who played left tackle on the Quakers with Bell, recalled in a 1984 interview that Bell had a great ability to pump up his teammates.
"He surely wasn't the most talented player, although he was a pretty good drop kicker," Titzel said. "But he always knew how to get us in the right frame of mind. He had this deep, raspy voice, and when he talked, everyone paid attention. What do you call that? Leadership. He bonded us together as a team."
Bert's better half
Bell spent his 30s in the 1920s living a life of excess and vice. He drank a lot, stayed out late partying with Philadelphia's most affluent, and, according to author John Eisenberg, "gambled on everything from cards to horse racing to boxing matches and football games."
He would cover his gambling losses by running to his father, who always bailed him out—until he got fed up with his son and cut him off.
The breaking point struck when Bell's father offered him $100,000 (around $1.5 million in 2019) to settle down and marry the daughter of a friend. Bell agreed, but then took the money and lost it all at the racetrack in New York.
Not until he met musical comedy actress Frances Upton in 1932 did Bell change his untamed ways. In the course of his courtship of her, she gave him an ultimatum: give up drinking or she was gone. He agreed, and never had a drink again. They married in 1934.
Like Bell, Upton was a fan of football. The duo frequently attended Penn football games together.
For sale was the Frankford Yellow Jackets, an NFL team in Philadelphia that began playing in 1924. The team suffered from poor play and heavy financial losses at the tail end of the Roaring Twenties and folded in 1931.
Using money borrowed from Upton, Bell and investors paid $2,500 (around $50,000 in 2019) for the Yellow Jackets.
He was back in the football game.
The newly named Philadelphia Eagles officially joined the NFL on July 8, 1933.
From Eagles owner to Commissioner
Under Bell's ownership, the Eagles were not a successful franchise. They finished 3-5-1 in their inaugural season, 4-7 in 1934, 2-9 in 1935, and 1-11 in 1936. Their most successful season from 1933-1940 was a 5-6 finish in 1938.
The team was also hemorrhaging money. In 1936, the team lost more than $90,000 (around $1.6 million in 2019) and was put up for sale at a public auction. The only offer came from Bell himself, who bid $4,500 (around $84,000 in 2019) and became the team's sole owner.
1936 was also the year the NFL instituted the first NFL Draft, which was the brainchild of Bell. A bidding war was being fought between owners for the best college football players. This was having a detrimental effect on the lower-tiered teams, such as the Eagles, who were routinely outbid by the more successful franchises like the Green Bay Packers and Chicago Bears. The draft, Bell surmised, would keep wages in check and produce parity.
Bell's original proposal is very similar to how the NFL Draft functions 83 years later. The teams with the worst record the preceding season pick first and the best teams pick last, and teams hold the exclusive rights to the players they select. The Eagles, who had the first pick in the 1936 Draft, selected Heisman Trophy-winner Jay Berwanger, a halfback from the University of Chicago, although he never played for the team (Berwanger asked for $1,000 a game and Bell offered $150).
At the same time as the Eagles were losing money in Philadelphia, Pittsburgh's Steelers were losing money in the western part of the Commonwealth. In 1940, Bell and Steelers owner Art Rooney merged their two franchises. Rooney purchased half the Eagles and sold the Steelers to steel heir Alexis Thompson.
Thompson later moved his team to Philadelphia and Bell and Rooney moved their squad to Pittsburgh.
NFL owners gathered in 1946 in New York City to decide if they should renew the contract of Commissioner Elmer Layden. With the support of Chicago Bears owner George Halas and Washington Redskins owner George Preston Marshall, Bell was chosen as the new commissioner. He sold his interest in the Steelers and took over as the NFL's top man.
Commissioner Bell made more than a few innovations that revolutionized the NFL and helped transform the league into the widely successful behemoth that it is today.
His contributions include playing night games, establishing long-term television deals, creating sudden death overtime, recognizing the NFL Players Association as the bargaining unit for the players, adding the Pro Bowl, eradicating gambling among players and personnel, and instituting the NFL blackout rule, which forbid home games from being televised locally if the game was not sold out.
"I'm a great believer in TV," Bell said, "but I don't feel there is any honesty in selling a person a ticket and then, after you've taken his money, put the game on television, where he could have seen it for free."
Bell also fought off a challenge from the upstart All-American Football Conference (AAFC), and later absorbed the AAFC's Cleveland Browns, San Francisco 49ers, and Baltimore Colts into the NFL.
"Before Bert Bell, the NFL operated out of a closet, almost," said former Philadelphia Eagles Head Coach Dick Vermeil. "Most of what you associate with pro football today began with Bert Bell."
A football man
On Oct. 11, 1959, with two minutes left in the fourth quarter of the Eagles versus Steelers game at Franklin Field, Bell collapsed in the south end zone stands and died of a heart attack. He was 65.
Representatives from every NFL team came to his funeral to pay their respects. Halas, Rooney, and Marshall were among the honorary pallbearers.
A year before his death, a physician told Bell that he should not attend football games because of a heart condition.
"I'd rather die watching football than in my bed with my boots off," he said.
Bell was posthumously inducted into the inaugural class of the Pro Football Hall of Fame on Sept. 7, 1963. He was inducted by Rooney.
Each year, the Maxwell Football Club presents the Bert Bell Award to the professional football player of the year, as voted on by NFL coaching staffs and football personnel, members of the Maxwell Football Club and the Pro Writers of America Association, and local media. The 2018 Bert Bell Award winner was Patrick Mahomes, quarterback for the Kansas City Chiefs, who was also named the NFL MVP.
Homepage photo: The 1916 Penn football team. Bell sits bottom row, first from left. The team finished 7-2-1 and advanced to the Rose Bowl. (Image: Penn Archives)