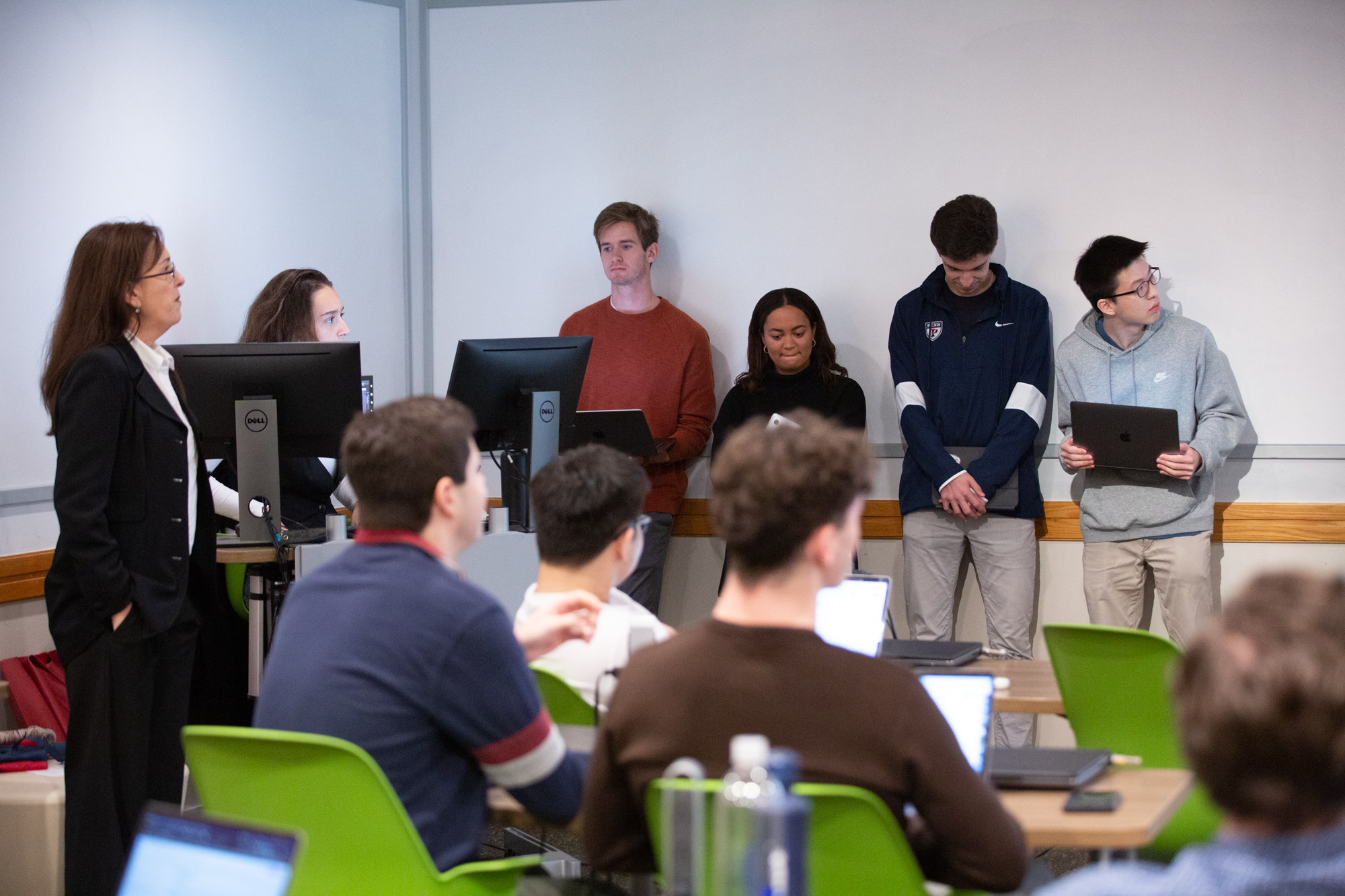 From Reaganism to the Tea Party to the rise of Donald Trump, American conservatism has transformed over the decades. More recently, the Jan. 6 riot deepened divisions within the current GOP. What does this all mean for the future of conservatism in the United States?
A group of undergraduate students tackled this question last fall in a one-of-a-kind political science and Stavros Niarchos Foundation (SNF) Paideia designated course taught by Deirdre Martinez, executive director of Penn in Washington program in the School of Arts & Sciences, and Evan McMullin, a Utah independent and Wharton School alum who was running for the Senate during the course of the class. 
McMullin, a former CIA officer who was a Republican until 2016, offered students an insider's view on the 2022 midterms, and his and Martinez's connections in the Beltway enabled the course to feature a number of high-profile conservatives to discuss the current state of conservatism and where it might be headed. The more-than-a-dozen speakers who zoomed in each week included former Republican National Committee Chairman Michael Steele, former Illinois congressman-turned-talk-radio-host Joe Walsh, former Democratic presidential candidate Andrew Yang, and former GOP House Rep. and Jan. 6 committee member Adam Kinzinger.
While many of the speakers were conservatives opposed to the direction the Republican Party has taken, they also disagreed with each other on other topics, like appropriate levels of spending, abortion, or immigration, Martinez says. Students cited the guest speakers as the highlight of the course, offering a chance to hear their take on the current political situation and an opportunity for undergrads to ask questions.
"I'm not sure I knew what I was expecting from the class, but I know what I got was a very intimate atmosphere, and that was very much based on the guest speakers," says Brandon Brodwater, a third-year majoring in political science from Wilmington, North Carolina. "It was probably one of the coolest experiences I've had at Penn, mainly on the basis of the guest speakers, who took the time out of their busy lives to talk to us and were so lucky to have these extremely qualified and very cool people come in."
In the late 1990s, Martinez was legislative director to then-U.S. Rep. Xavier Becerra of California, now secretary of the Department of Health and Human Services. At the time, she says the "Republican Revolution" was in full swing, and she was able to watch it unfold in real time. 
"I have been an observer of American politics for a long time," she says. "While we have all been witness to the long decline of bipartisanship, with the rise of Donald Trump it was clear that overt racism, misogyny, and vitriol had found a place in the Republican Party. I found myself not truly understanding the scope and scale of the problem, and I thought, if that was true, that must be true for students, too."
So, she came up with the idea of a class looking at the past, present, and future of conservatism, to help students understand that a lot of what's happening on Capitol Hill today doesn't accurately represent conservative philosophy or the views of many Republicans, she says.
"I needed a co-teacher, and I immediately thought of Evan McMullin, who I met more than a decade ago when he was a senior staff member for the House Foreign Affairs committee," Martinez says. Since then, McMullin has worked for Republican House leadership, run for president as an independent in 2016, started a leading anti-Trump organization, and run for the Senate against the Trump-aligned Mike Lee.
The class is an SNF Paideia-designated course at Penn: classes that examine the theory and practice of dialogue across difference. "SNF Paideia designated courses are eclectic in the way they approach dialogue," says SNF Paideia executive director Leah Anderson. "The Future of Conservatism integrates dialogue into the course by making exchanges with and among guest speakers a central text for learning. Students encounter diverse political perspectives and, through this experience, strengthen their skills for engaging in meaningful dialogue even in the midst of disagreements or different views."
Martinez and McMullin taught it first in the fall of 2021, and the duo will be offering the course again next fall. 
Martinez wants students to take away that the default political gamification—that Republicans and Democrats all view each other as bad and wrong—might be easy to do in the current climate, but a lot of complexity is lost with that inaccurate line of thinking.
"It doesn't really matter what your major is. As someone who wants to be an informed citizen and member of this democracy, this is really important stuff," she says. "We are in a historic moment and potentially a very dangerous moment. I can't think of a student who wouldn't benefit from understanding what's happening and appreciating the nuance a little bit, so that we're not just dividing into these two tribes, because I don't think that's done us any good."
The class is centered around dialogue. Students speak to each other in small groups, they ask questions of speakers, they develop and present ideas, and they offer solutions. Martinez and McMullin created a reading list of leading conservative scholars, politicians, and activists, so that students aren't reading about conservatism; they are reading works by conservatives. The class takes time pulling apart the different factions in the Republican Party, how those have changed over time, and discusses things like how even a small faction, like the Freedom Caucus can wield a great deal of power. 
Brodwater, says he enrolled in the course because being Republican is an important part of his identity.
"But," he says, "an equally important part of my identity is being an anti-Trump Republican, which is something that's very pertinent today. I saw this class as an opportunity to link with other Republicans at Penn and discuss the future of the party in a safe atmosphere and educational environment to try to figure out what is going on and why things have gotten so crazy. Jan. 6 was very scary, and I and a lot of Republicans I know want to prevent anything like that from happening again."
As for the political bent of the students in the class, Martinez says it was not intended to make clear or discuss where they all stand. "The course is designed to have conversations and to not have the flags up all the time," she says.
Brodwater also appreciated that about the course. 
"What I love about the class—and honestly about Penn as a whole—is that people are very respectful of diverse opinions," he says. 
Ballina Prishtina, a fourth-year studying political science and history, from Pristina, Kosovo, was the teaching assistant in the course this fall. She participated in Penn in Washington in the fall of 2021, landing an internship at the Senate Foreign Relations Committee, working under Chairman Bob Menendez (D-N.J.).
"I would highly encourage people to take the class because politics surrounds us every moment," she says. "It's something worth talking about and looking at. It affects everyone, whether we like it or not."
Sophia Powell, a second-year from McLean, Virginia, also studying political science, says one of the main reasons she signed up for the class was that McMullin was co-teaching it.
"When else and where else am I going to have the opportunity to take a class from someone who is running for Senate in Utah? Someone who actually stood a really good chance and had funding and support? That was just a really great opportunity, and he would give us updates about how the election was going and where polling stood, which was something that was really cool," she says.
Though she doesn't identify as conservative, she thought it would be a great chance to learn more about the history of the conservative movement and where it's headed from those deeply involved, especially since millions of Americans see themselves as part of that group.
"I've learned that the conservative movement and the Republican Party are a lot more complex and nuanced than I originally thought," she says.
As for the future of conservatism, Martinez and the students have varied viewpoints.
"I'm not at all sure about conservatism's future," Martinez says. "We may be on the verge of seeing two very different political parties, and that's OK. That's part of our history, too. We are one country, and we are a complicated bunch, and we have a lot of different political viewpoints. If it's a democracy, they need to all be represented, at least as well as we can."
Brodwater says he has faith that there will be a return to normality for conservatism. 
"There is a path back to moderation, and I think that goes for both sides," he says. "I think the majority of Americans are pretty middle of the road, pretty moderate. There is a way back to a political environment in a Congress where bipartisanship is possible, where reaching across the aisle isn't unheard of. I think we'll be back to that.It might be a decade or two, but it's not impossible."
Alfie Arun, a fourth-year political science major from St. Louis, Missouri, says he's not a conservative, but he comes from a very conservative part of the country. Arun says he was interested in the origins and ideologies behind the conservative movement and wanted to find out why things have become so extreme lately.
Like other students, he found the speakers to be the most rewarding part of the class, especially since he'd been interested in politics since early high school, and these were people he'd read about, only to get a chance to talk to them and ask them questions in person. 
He says he came into the class with an antagonistic view of conservatives, but he's not leaving with the same mindset.
"Now, I think there is a significant portion of conservatives in our country who are very reasonable. They believe in democracy. They believe in the values that most of us hold, like free speech, freedom of religion, freedom of press, all those things," Arun says. "That's the biggest takeaway. While there may be extremes, the majority of us can all coalesce around those shared ideas."