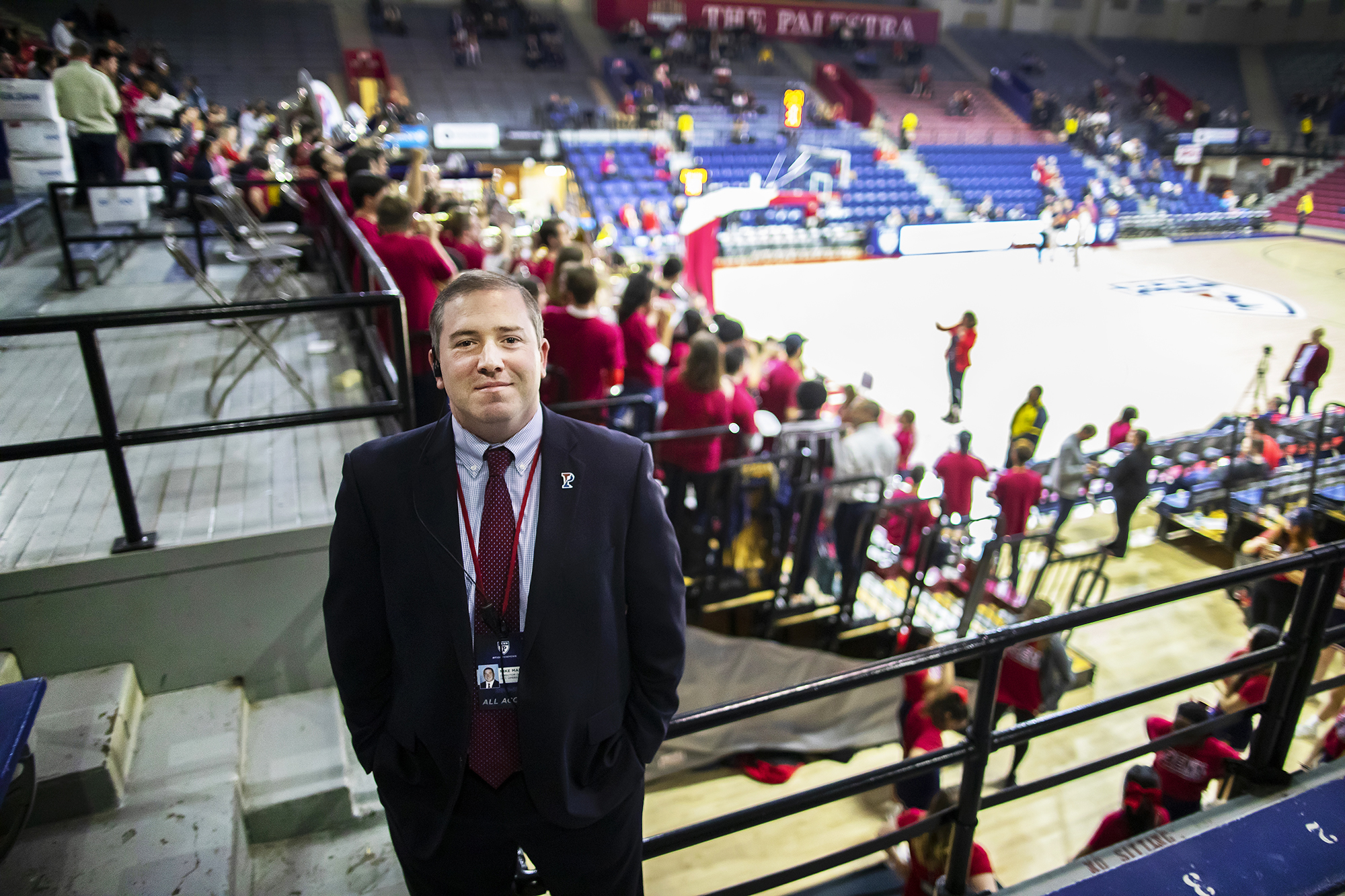 Hosting an athletic contest at one of Penn's facilities is a massive undertaking with many moving parts, necessitating congenial collaboration from a hodgepodge of personnel, both inside and outside of the University. 
Concession and merchandise stands must be built, activity zones have to be installed, barricades need to be erected, ticketing has to be organized, parking must be coordinated, security is required to be on hand, courts or fields must be game-ready, fans have to be seated, officials must be on site, announcers are necessary, lockers rooms need to be well-presented, and coaches, student-athletes, and visiting teams must be at ease.
Planning for the two-to-three-hour contests is the responsibility of Mike Martin, director of gameday operations of Penn Athletics, and his team, and takes about a week to prepare. Timing and communication, he says, are key.
Martin, who grew up in Berwyn, Pa., joined Penn Athletics as an intern in 2010 and worked his way up to his current position. He says he enjoys the fast-paced aspect of the job. 
"You get to work with a lot of people," says Martin. "It's exciting; it's almost like you're part of the game itself. You're not playing, you're not coaching, but you feel as if you're an integral part of the success of the event because you put a lot of time and effort into making sure everything goes right. It means more when we win and when we lose."
Penn Today sat down with Martin to chat about game time at the University of Pennsylvania.
Who are some of the people you work with to host an athletic event at Penn? We work with a bunch of different departments such as [Penn Athletics] communications, ticketing, and marketing, the Penn Sports Network, Penn Parking and Penn Police, and also with some of our third-party groups like CSC security and Aramark, just to name the major ones.
What happens on an actual gameday? What is the first thing that you do? On gameday, depending on the event, we come in about four hours prior to an event and we get our parking situation set. Then we move over to where the event is being held and make sure that the field is properly set for the game. We greet visiting teams, we greet officials, we get our security set, make sure everything that we did during the week is following the timeline that we've created for that weekend so we can lead up to tipoff or kickoff and nothing is going to go wrong.
What type of things could go wrong? If something doesn't happen at the right time, it can throw off something that's supposed to happen five minutes after that, and that gets pushed back. Maybe the team doesn't come out of the tunnel at the right time for television, because television has hard time starts. We try to get all of our activities in prior to the television start so everything is ready to go. We meet a few times throughout the week to make sure that everyone's timing is nailed down before we start the gameday sequence.
Does the fact that Penn has antique facilities such as Franklin Field and the Palestra make it more challenging to prepare for a game in those locations? It does, but at the same time, I don't know how much I would change the actual facility because of the historic nature of both. I think it's a cool aspect to have that type of history. I wouldn't say it's a challenge.
When are some of your busiest times? There will be some weekends here where we'll have a football game at Franklin Field and we'll have a field hockey/women's soccer/men's soccer tripleheader at River Fields, a men's and women's basketball scrimmage in the Palestra, and a volleyball match at night—all in the same day, between the hours of like 1 p.m. and 7 p.m. That type of weekend happens at least once a fall, and then probably once a spring when you're talking about baseball, softball, tennis, men's and women's lacrosse, and basketball. Those are the most hectic weekends.
Do you also plan outside events like Big 5 games or the Philadelphia Catholic League playoffs? We do. Those events go through the business development office, which is part of the operations office. They bring in the rentals and we work with the business development team to produce those events as well. That also includes marketing, communications, concessions. All have to be involved because it's happening in our places. We all have institutional knowledge. A group can't just come in and run an event without us telling them basically how it works and how things work in our buildings. [Recently] we had Temple versus Drexel at 1 and St. Joe's versus Loyola of Chicago at 5. Two different games, one on television, one not on television. We have to clear the house in-between games, put down decals in 45 minutes, change over hospitality rooms. That's one of those days where there's going to be constant movement and making sure that the timing that we put together is correct.
The first two Ivy League Tournaments were held at the Palestra. How was the process of planning for those games? It's a three-day tournament. It starts on Friday with the practices, and Saturday with games and Sunday with games. It's a great event. I'm really sad that it's not going to be here this year. I feel like we made some good strides from first year to second year, trying to make it a better event. It ended with a great win by the Penn Quakers over Harvard, and it was just a great atmosphere that day in the Palestra, which I had hoped would happen again this year. That's a long planning process between all the Ivy League schools and their operations departments, and athletic directors, and ticket offices, and communications and marketing people that starts in September that goes up until March, weekly conference calls to make sure that everything is going smoothly before the event. The actual weekend was a great weekend, trying to turn the Palestra into a place that wasn't the Palestra for the weekend, with the Ivy League trying to cover everything up that said Penn—but we all know it was the Palestra. It was a fun event, a lot of coordination, a lot of different teams coming up, jockeying things around all weekend, locker rooms, practice times, different needs for each team and coaching staffs, and fans and students of other teams coming in that are accustomed to things at their places and trying to give them that same experience here. It was a fun event, and I hope it comes back at some point in the future.
You plan for the Penn Relays as well. How is it setting up for the Relays? It's very busy. It starts on the Sunday prior, basically, getting a lot of our ordered items in—barricades, tables, chairs, tents, those types of items all come in that Monday morning. We start building on Monday, Tuesday, and Wednesday. We have a bomb sweep on Wednesday night at like 3 in the morning by the Penn Police and that takes a few hours, and then we're ready to go at 8 a.m. on Thursday. It's basically nonstop from 8 a.m. Thursday to about 8 p.m. on Saturday. I'm here at like 5 a.m. each day and I'm probably out of here at 11 or 12 each night. I've been fortunate enough to get a hotel room the last two years. I go and take a nap and come right back.