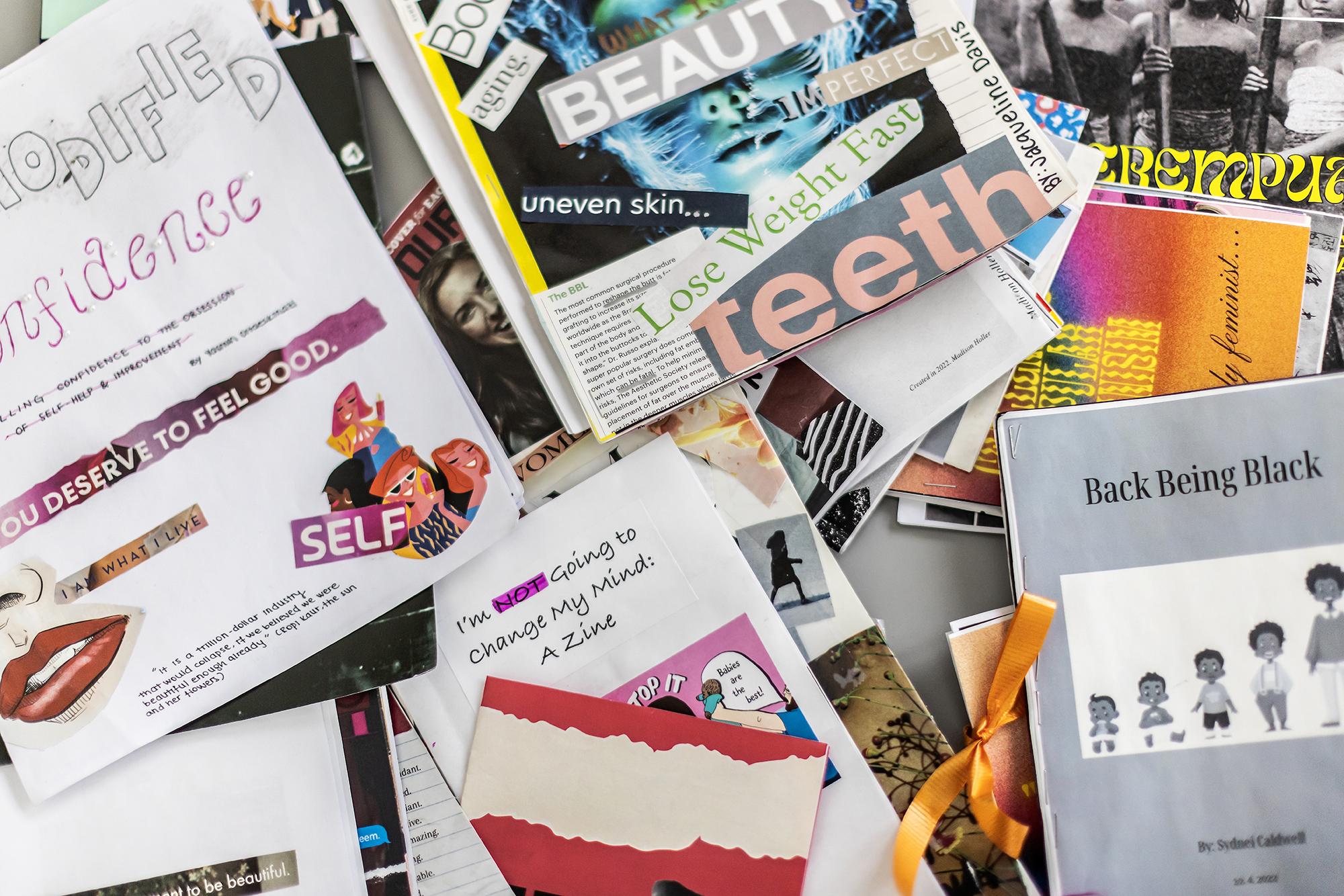 A group of students cluster in Van Pelt library, sharing scissors and glue, cutting out snippets from magazines, advertisements and online articles, and gluing them onto booklets. Some students add their own art, drawing and embellishing, or write comments above, among, and between the printed text.
"No uterus, no opinion."
"Men can be girly too?!"
"My body belongs to me???"
"You deserve to feel good."
"Are you sure you want to eat that? Do you have any self-respect?"
This is Sarah Banet-Weiser's undergraduate course, Gender and Media. The assignment is to create a zine using any topic discussed in the course.  
Banet-Weiser is the Distinguished Professor of Communication at the Annenberg School for Communication at the University of Pennsylvania, with an appointment at the Program of Gender, Sexuality, and Women's Studies. She is also professor of communication at the Annenberg School for Communication and Journalism at the University of Southern California. 
As a professor teaching courses on gender and media studies for more than 20 years, Banet-Weiser has a front-row seat to society's perceptions of the feminist movement. It has gone from an unpopular moniker, "feminism was the f-word," she says, to a concept embraced by capitalist popular culture, with celebrities such people as Emma Watson and Beyoncé embracing the word and making it part of their image.
This transition started happening in 2012, Banet-Weiser says. "For the first time, there were feminist messages everywhere, like in Dove commercials." But the visible feminist messages were always the ones that were profitable and "not too threatening," she says. They were affirmative and cheery, "you know, love-your-body discourse, be confident, all that kind of stuff," she says. "Even if you used the word 'patriarchy,' it was like, 'Smash the patriarchy!'"
In the post-#MeToo era, Banet-Weiser says, she has seen an explosion of media products centered on sexual violence. But she questions if those are problems "actually addressing the structural problem of sexual violence? Does popular feminism address the structural problem of gender inequality? Or is it like, 'Buy the T-shirt?'"
Banet-Weiser says, "I have the T-shirts; I'm not even critical about the T-shirts. It's just we can't stop there." She says she wants to teach her students how to question the messages they're engaging with in through movies and television, advertisements, and influencers.
"There's this contradiction between be confident in your body, love the body you have, all the inclusivity, and then at the same time we've got an industry that is creating, practically every day, a new app for you to shave off, to Photoshop fat, to face tune, to curate your image," Banet-Weiser says. "The class, in part, is about navigating that contradiction."
Max Cass, a third-year philosophy, politics, and economics major from Haddonfield, New Jersey, did his zine on heteronormativity—"the constant messaging of a certain type of sexual romance that you should have," he says. Even if this messaging is subliminal, it's a constant barrage of assumptions and expectations, he says, "whether or not it's from your parents or talking to people who ask, 'Oh, do you have a girlfriend yet?'"
Heteronormativity is "something that everyone experiences," Cass says. But, because of his sexual orientation and where he grew up, "it always just piqued my interest."
Each student chose a topic that was interesting or personal to them. One student did her zine on the evolution of women in athletics from the pinup models of Sports Illustrated to the United States women's championship soccer team. Another created a folded zine in the shape of a double-door, side-by-side fridge. "I'm hangry. Please let me eat," it says.
Nimra Munawar, a third-year exchange student from London majoring in film studies, has been thinking a lot about the protests in Iran and France. In Iran, women are protesting against the hijab mandate. In France, there are women are advocating for the right to wear hijab in response to a proposed ban. Both protests, Munawar says, are reactions to "policing women's bodies."
For inspiration, many students thought about what kind of media messaging makes them angry. "Zines are supposed to a space for you to say something that's like kind of countercultural," says Hannah Wassermann, a third-year criminology major from Columbia, South Carolina. "It's a space for marginalized people."
Jacqueline Davis, a second-year communications major from San Antonio, Texas, went about her project backwards, she says. Rather than diving in with a topic in mind, she pulled out a stash of women's magazines and thought, "Let's see if we can find a pattern." Flipping through magazines, Davis saw page after page of straight noses, styled hair, clear skin, flat stomachs, and curvy buttocks. She started thinking about beauty standards: What's considered attractive and why? Who makes the rules?
One of the magazines, Davis says, "went on and on about all these medical procedures that women do to their bodies to be more beautiful," including before-and-after pictures. In the back of the magazine, she says, was a list of doctors to consult on a litany of beautifying procedures. 
"You flip to a new magazine, and it shows all of these successful women who looked the way the after photos looked, kind of equating these looks to success," Davis says.
Davis cut out photos of plastic surgeons—mainly white males, she says—along with pricing lists and images of women. "Who's benefiting off of these procedures?" she asks. "I cut and pasted the things that I that stuck out to me and put them together."
For Florell Leimena, a fourth-year international exchange student in the College of Liberal and Professional Studies, she says that media messages vary by country. "Back in Indonesia, TikTok is more of a comedic app," she says. Humor is the norm. In the U.S., it's more personal, says Leimena, with people sharing their day-to-day lives and often, trying to get viewers to purchase the products they use. There are "definitely a lot more influencers, like serious, pretty influencers," she says.
Leimena, an international relations major who has been in the U.S. for two months, says that "from the very beginning, the idea of taking this class has always been super intriguing." In Indonesia, she didn't have access to taking classes on gender, especially the idea of gender and media, she says. "One of my main motivations in taking this course is getting to see, from a broader perspective, how the lens of media actually influenced these constructions of our perceptions of gender."
For Banet-Weiser, that's exactly the point. While her Ph.D. is in communication, she was trained as a feminist theorist and brings that lens to her work. "I really do believe that popular culture and media culture is a place where we struggle to find ourselves and a representation of who we are," she says. "If we can't recognize ourselves, we feel like we don't matter." 
In part, Banet-Weiser want the media to be more complex, less reliant on simplistic stereotypes, she says. This pertains to anything from race, gender, religion, and sexual orientation to aptitude and desire. 
"I am drawn to culture as the site where we work through and challenge and perform our identities," says Banet-Weiser. "Culture is the place where we find a lot of our hopes; it also is a place where we find a lot of our fears."