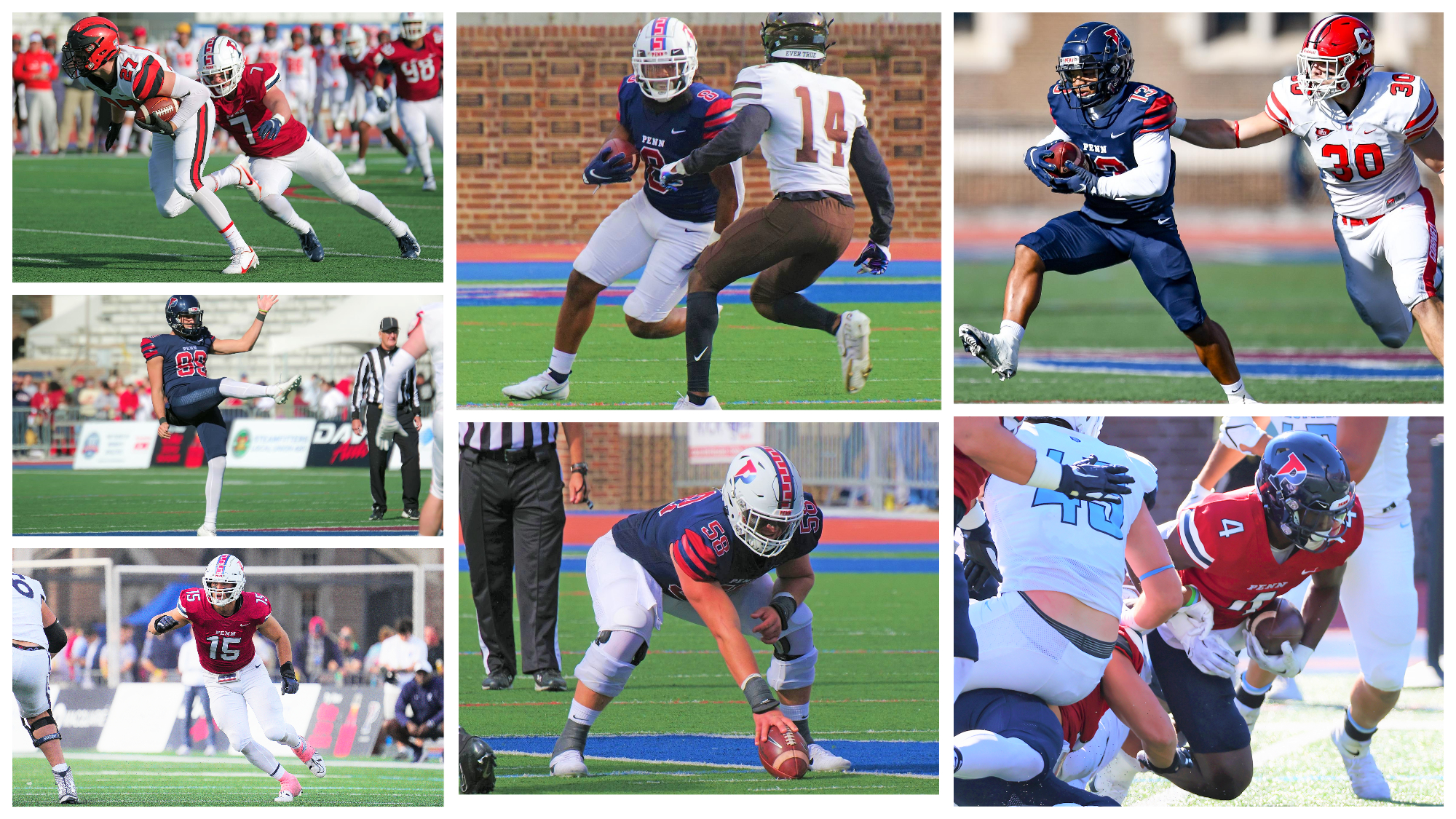 Subsequent to a season that saw the Quakers finish second in the Ivy League and win their most games since 2010, seven members of the football team have earned First-Team All-Ivy acclaim: fourth-year offensive lineman Trevor Radosevich, fifth-year running back Trey Flowers, fourth-year defensive lineman Jake Heimlicher, fourth-year linebacker Garrett Morris, fourth-year defensive back Kendren Smith, fourth-year punter Ben Krimm, and second-year return specialist Julien Stokes.
Radosevich, from Englishtown, New Jersey, was a key cog on an offensive line that helped the Red & Blue average 26.6 points per game, fourth in the conference, and 251.5 passing yards per game, second in the conference.
Flowers, who was limited to seven games because of injury, was the seventh-leading rusher in the conference, totaling 509 yards. His 72.7 yards per game were third-best in the league. The Miami native also scored seven rushing touchdowns and averaged 4.4 yards per carry. Versus Georgetown on Oct. 8, he rushed for a season-high 149 yards and scored two touchdowns in Penn's 59-28 win.
Heimlicher, from Aurora, Colorado, led the Ivy League in sacks with nine and tied for first in the conference with 13.0 tackles for loss. He had a season-high 2.5 sacks in a 34-31 loss to Brown on Oct. 29 and a season-high 13 tackles in a 23-17 overtime win over Dartmouth on Sept. 30. He also had a team-high 10 quarterback hurries on the season and ranked fifth on the team with 47.0 tackles.
Morris, from Auburn, Alabama, was the team leader in tackles with 71, seventh highest in the Ivy League. Thirty-seven were solo tackles, 34 were assisted, and 9.5 were tackles for loss. He also had two sacks, one interception, three pass breakups, and two quarterback hurries. He had a season-high 15 tackles against Brown.
Smith, from Charlotte, North Carolina, finished the year with 41.0 tackles (33 solo), 4.0 tackles for loss, one sack, one interception, seven pass breakups, one quarterback hurry, two forced fumbles, and two fumble recoveries.
Krimm, from Columbus, Ohio, was the conference's top punter. He punted 44 times for 1,829 yards, averaging a league-leading 41.6 yards per punt. Eleven of his punts were more than 50 yards, including a 60-yarder in a 34-14 win over Columbia on Oct. 15, and 12 dropped inside the 20-yard line.
Stokes, from Newbury Park, California, was the leading kick returner in the league. He had 10 returns for 296 yards, equaling 29.6 yards per return. His longest was a 97-yard touchdown return against Brown. A wide receiver as well, he caught 25 passes for 244 yards and three touchdowns.
Penn and Princeton tied for the most First-Team selections with seven each. Players were selected followed following a vote from the league's eight coaches.