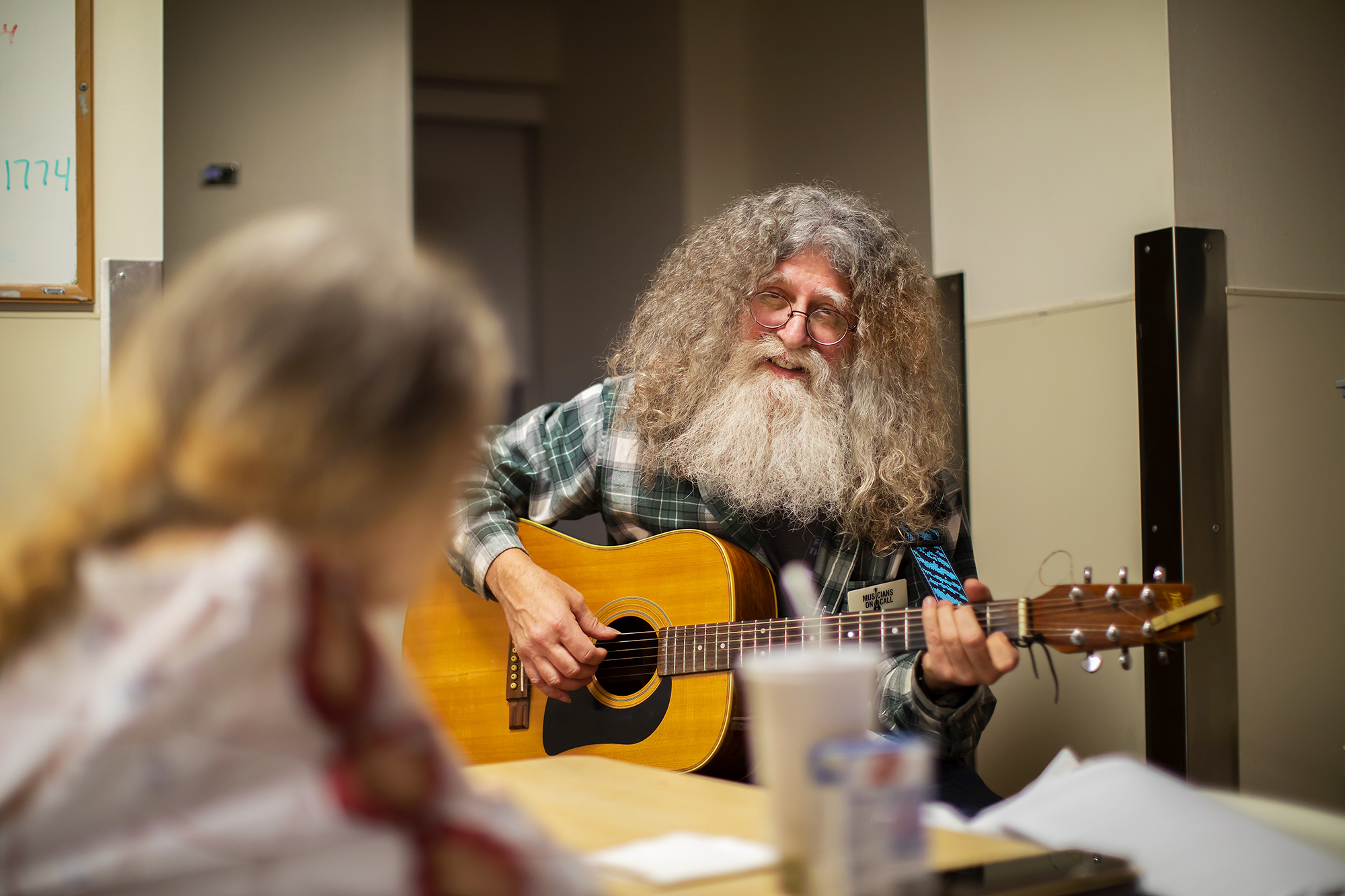 Lost in the thrum of the guitar, Monica Trent forgot herself. 
And she was grateful for it.
"I forgot I was sick," she says. "In a good way."
Outside her patient room in the Hospital of the University of Pennsylvania (HUP), all the usual elements of a hospital environment strummed—the singsong sound of nurses checking in, carts rolling through the hall, the white noise of television sets announcing themselves as the closest thing otherwise to musicality.
The impromptu bedside performance of "Can't Find My Way Home," then, is a reminder of her humanity.
"It's about the patient," says Elizabeth Shaw, who, since 2006, has volunteered with Musicians On Call (MOC), a national organization with a Philadelphia arm operated in partnership with WXPN. Among other volunteer-based music programs, MOC brings musicians to patients' bedside—at HUP and elsewhere in the region and country—with a mission of healing, whether through pain reduction or mitigating the effects of depression.
When she retired in 2006, Shaw says she immediately knew she wanted to apply to volunteer; she's stuck with it ever since, volunteering at HUP and making the hour-and-a-half drive from central New Jersey on Tuesdays, all to spend two hours ushering music and its accompanying joy to hospital rooms.
Shaw, in short, accompanies a musician—vetted and trained by MOC—to make rounds in the hospital, going floor to floor and room to room, asking nurses for advice on who might like to hear music, or sometimes door-stepping and approaching patients herself—sure to avoid rooms with signs that amount to a "Do Not Disturb." She's armed with a loose script that's provided by the national MOC, which celebrated its 20th anniversary last year.
Observing this in action, it's an uplifting and organized sweep of hospital floors where some patients, admittedly, are too exhausted or dazed to want a musician by their side, but many more exhibit sheer delight.
"There's almost always a reaction when you go in, and sometimes people want us to stay and visit with them for [longer]," Shaw says. "There's not a night I do this that I don't drive home and [think about] one patient that stays with you, something special that transpired in the room. And sometimes it's more obvious, you can put your finger on it, and other times it's very subtle but you know the energy changed and something good happened.
"I love it," she says.
Benefits for patients—and musicians alike
The passion shows in the program's staying power: Philadelphia is the longest-running partnership MOC has in the country, and WXPN last year celebrated its 15th year operating the program in the region's hospitals.
"It gives patients a minute to step out of themselves," says Helen Leicht, WXPN spokesperson for the Philadelphia program and host of "XPN Middays with Helen Leicht."
Leicht first encountered MOC in 2004 when it still was in its infancy, in a New York City hospital alongside WXPN General Manager Roger LaMay and Marketing Director Kim Winnick. They were, she says, "blown away" by what they experienced. She fondly recalls several memories of patients reacting in extraordinary ways to music—in one case, a young boy, unconscious, demonstrating a reaction to the music on nearby monitors.
They were sold.
In 2004, they made the announcement that Philadelphia would be the first city outside of New York to take on the program, with HUP and the Children's Hospital of Philadelphia as the first two hospitals.
But the power of the program isn't just about the patients, either, she notes. She says there is a benefit for participating musicians, as well.
"Musicians do want to pay it forward and not just think about themselves all the time, and it helps them be better writers because now they're writing from a different point of view," she explains, adding that volunteering musicians seldom drop off from the program once they start. "They can look from the outside."
The songs played in the hospital rooms are more spontaneous and request-based than pre-selected—though there does exist a list of songs approved for play or with some lyrical edits to keep spirits high. On the whole, however, David Falcone, one of those longstanding musician volunteers, says it's about the vibe of the room.
"There's a feel. The lights might be low, there might be three people in the room, someone might be watching a cartoon, there's all this stuff that feeds a sense of where they're at," says Falcone, a fingerstyle acoustic guitarist.
"When you're sitting bedside and it's just that space where the music is the relationship between the people in the room, it's just a very human thing," he adds emphatically. "And maybe that's healing. It's warm. It's a way of being together for a short time."
The program's Penn roots
MOC's national organization was co-founded by Vivek Tiwary, a Penn alumnus, and Michael Solomon. Both had lost loved ones and were friends working in the music industry; they felt the itch to organize something to help people through music and piloted the program by having musicians play in the lobby of Sloan Kettering Hospital in New York City. They later moved it to patient rooms to accommodate people who couldn't physically leave their spaces—and the rest is history.
"At Penn and Wharton, I learned the power of applying passion and persistence to education, and the glorious possibilities of the independent path—all of which gave me the confidence to start Musicians On Call and realize my nonprofit dreams, long before my 'for-profit' life had any stability," says Tiwary. "I'll always be grateful to my alma mater for that."
Since 2004, musicians have played for 139,000 people in Philadelphia-area hospitals. Nationally, MOC has played for 790,000.
"We were fortunate with XPN that they had a couple things that really helped us get off the ground," says MOC President and CEO Pete Griffin, reflecting on 15 years of the partnership. "For one thing, they had a radio platform and could talk about Musicians On Call and get listeners interested in what the program was about. We saw they had a lot of people wanting to support us, to volunteer, to donate money to fund the programs, and as they continued to do that, we started to see community support for our programs, which is what allowed us to grow from one hospital to nine."
What's special about MOC, he adds—and consistent with what WXPN proudly touts—is that there's such a low-turnover rate of volunteers in their program. This is because, he says, so many "walk out feeling like they got so much more in return."
Looking ahead, MOC plans to, this year, test a new model that will give hospitals and facilities the resources to become MOC "partner hospitals."
"We'll create onboarding infrastructure for volunteers all around the country to do an official onboarding to be a volunteer," Griffin says. "The tech will allow hospitals and volunteers to start to connect with each other directly. We're taking ourselves out of the way and creating infrastructure that hospitals can train volunteers around the country. We hope this will level the playing field whether you're in Philadelphia or a hospital with 10 beds, you're going to have access to train musicians and the same benefits of this program."
That technology will start to roll out this year. But in the meantime, WXPN and its team of volunteers will continue beaming into rooms to brighten the evenings of patients in hospitals like HUP, introducing an element of surprise, filling a need some patients hardly know is there.
"During the course of the song," adds Shaw, "you sometimes see them transform, because in the beginning people might be like, 'What is this?' and then, 'Oh, I never listened to this before?' and then by the end it's, 'Thank you so much for coming in.'
"And we know we did our job."
Homepage photo: A HUP patient listens as David Falcone, a frequent performer at World Cafe Live and volunteer with WXPN Musicians On Call, performs an uplifting acoustic song.