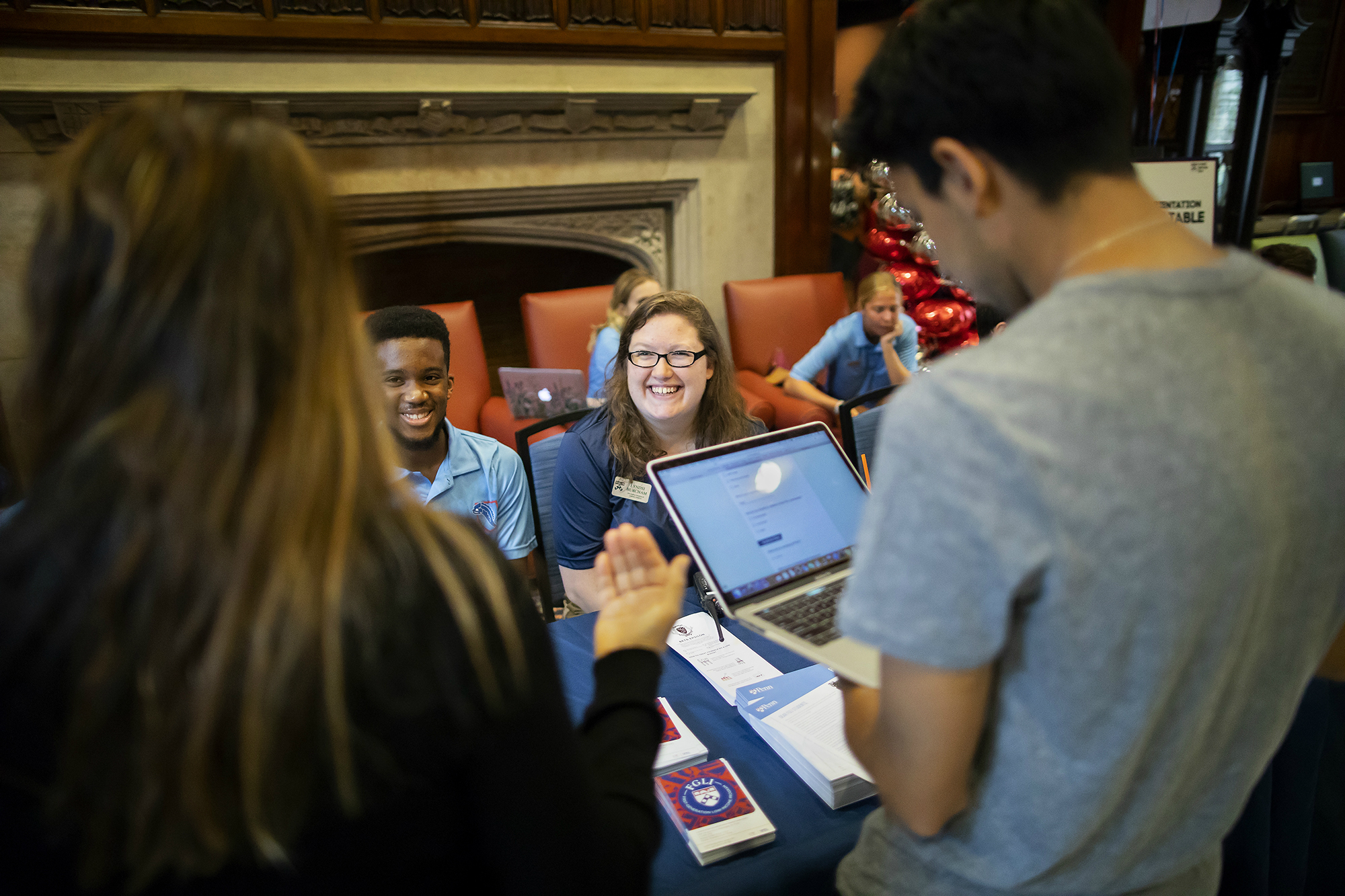 At the University of Pennsylvania, one in seven members of the Class of 2022 identifies as a first-generation, high-need student. 
Tailored activities designed for these students have been incorporated into New Student Orientation (NSO), which helps all 2,552 undergraduates get acclimated to campus life. 
As the NSO team coordinator, rising senior Lyndsi Burcham, a psychology major in the School of Arts and Sciences, from Kansas City, Mo., who identifies as a FGLI (first-generation, low-income) student, started planning for this programming back in March. 
Along with help from full-time staff members, and five other first-generation Peers Helping Incoming Students (PHINS) coordinators, Burcham spent the summer developing programming for specific populations, such as international, transfer, exchange students, and first-generation, high-need students.
"We prepare all summer for a week's worth of events because there is a lot that goes into it," says Burcham, who also serves as the 2018-2019 advocacy chair for Penn First, a student-run organization designed to support and strengthen the first-generation, high-need community.
Special activities for the first-generation, high-need students and their families included a "Welcome Barbecue" at International House. Penn President Amy Gutmann spent time with guests before addressing the room, speaking about the importance of this student population within the community, and discussing Penn's progress in welcoming first-generation and high-need students to campus. 
Valerie De Cruz, director of the Greenfield Intercultural Center, was the host for the speaking portion of the evening, which was organized by the Center along with Penn First and a large group of students who identify as FGLI. The event allowed new Quakers to meet fellow freshmen, upperclassmen, and staff members, while learning about Penn's academic and social-support programs.
A workshop during NSO, introduced the students to cultural and first-generation resources at Penn, such as the Greenfield Intercultural Center, Weingarten Learning Resources Center, CAPS: Counseling and Psychological Services, a lending library, and more.
Although NSO organizers like Burcham replicated some events that were hosted last year, they adjusted the programming, based on feedback, to better suit the needs of incoming first-generation and high need students.
"We added some new events that we think are crucial, including a Welcome Session, where we introduce new FGLI students to important resources on campus, and a shopping trip for last-minute necessities," says Burcham. 
A shopping trip traditionally held for international and exchange students this year, invited the first-generation and high need students. To help support students Burcham organized a partnership with Walmart to provide buses and a $10 gift card for the students.
The other major change, says Burcham, was encouraging first-generation and highly-aided students to move in early.
"Last year, we asked students to opt in. This year, with help from Student Financial Services and the Registrar, we identified students as first-generation and high need and automatically gave them early move-in," says Burcham, adding that arriving early helps them make a smooth transition.  
Burcham says NSO will be sending "Daily Digests" to incoming freshmen each day, outlining the details of the day's events and providing notification about any last-minute changes.
"Take advantage of all of the opportunities that Penn has to offer while you're here and beyond," she tells incoming new students. "Most of us haven't had access to this level of support ever before in our lives. Use it while you can."
NSO culminates with the annual Convocation ceremony on College Green the evening of Monday, Aug. 27. In a tradition dating back to 1910, it serves as a formal welcome for the incoming class.