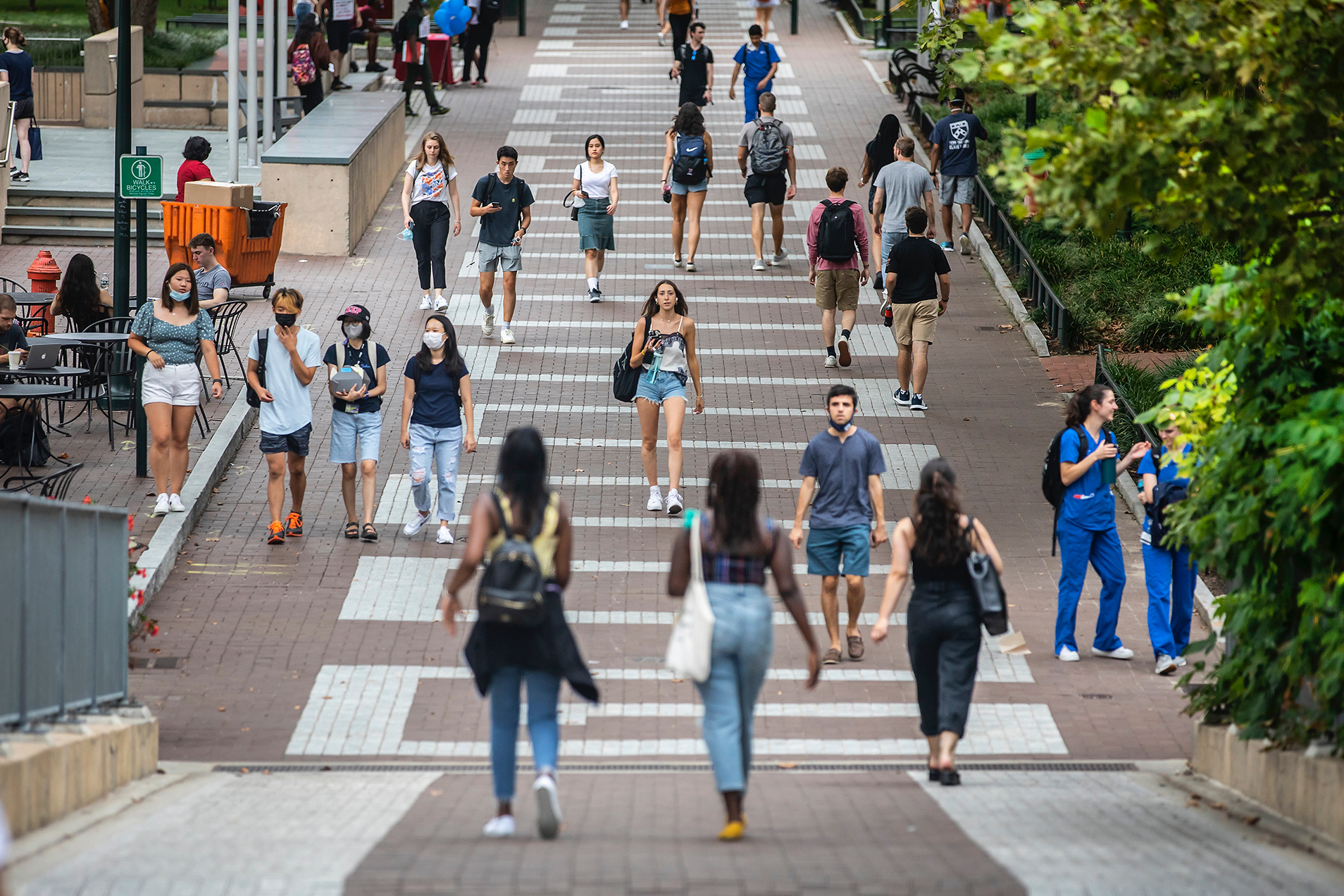 As in-person classes, activities, and events continue this semester, Penn is monitoring the COVID-19 situation and updating its public health guidance as needed. Recent updates include gateway and screening testing and vaccination requirements for faculty, staff, and postdocs, as well as for event attendees.
In addition to COVID-19 vaccines, regular testing, and mask requirements, PennOpen Pass is an essential component of the University's public health strategy. Here, Penn Today provides information on how to use the daily symptom and exposure tracker, what members of the campus community should do if they receive a Red Pass, and new platforms available for guests and visitors accessing campus spaces.
What is PennOpen Pass?
PennOpen Pass is a daily symptom tracker and exposure checker that is designed to reduce the risk of spreading COVID-19 within the University community. PennOpen Pass also provides at-risk individuals with public health guidance and clinical support.
"It's a way to survey the community and provide people with up-to-date guidance in the moment when they need it," says Krisda Chaiyachati, assistant professor at the Perelman School of Medicine and the medical director of PennOpen Pass. "It's an earnest effort to make sure that concerning symptoms are identified and managed so that we protect our community."
Who is required to use PennOpen Pass, and how does it work?
As of Aug. 25, all University faculty, staff, postdocs, and students are required to use PennOpen Pass every day, including weekends and regardless of vaccination status.
After signing in on the PennOpen Pass website using a PennKey, daily checks can be completed on a computer or mobile device. Users can also sign up for daily text message reminders by updating their PennOpen Pass profile.
It is recommended that members of the Penn community complete their symptom and exposure check an hour or two hours before the start of the work or school day; for individuals commuting to campus, this check must be completed before traveling to Penn.
As of Sept. 1, two new symptoms—new runny nose or congestion and a new sore throat—were added to PennOpen Pass. Chaiyachati says that this was because of the different ways the COVID-19 delta variant is presenting. And because these new symptoms typically appear before other "classic" symptoms, such as a cough or fever, "it's another layer to identify COVID-19 earlier," he says, "and we want to adapt to the changing epidemiology of the pandemic. Based on future evidence, these symptoms may change further."
What happens after filling out PennOpen Pass?
Members of the Penn community who report no symptoms and no recent contact with someone who may have COVID-19 will receive a Green Pass, meaning that the person is "cleared" for the day. However, individuals with a Green Pass must still wear a face covering and comply with other public health regulations on campus.
PennOpen Pass users who report symptoms or recent contact with someone who may have COVID-19 will receive a Red Pass, meaning a person is "not cleared." A Red Pass can also be generated if an individual did not complete a required screening test, a recent Penn Cares COVID-19 test turned up positive, or a person was exposed to another individual who has tested positive.
Users who receive a Red Pass due to symptoms or possible exposure will be prompted to answer additional questions to help determine if they can still be cleared. In the event that a person cannot be cleared by answering these questions, a PennOpen Pass clinician will reach out as quickly as possible, generally within one calendar day, to provide information on next steps. This includes assistance with scheduling a COVID-19 test, information on what to do after a possible exposure and clinical support in case any symptoms are concerning.

Is PennOpen Pass required to access buildings on campus?
A Green Pass is required for entry into all health care spaces on campus; this includes Penn Medicine facilities, Penn Cares testing sites, and Student Health and Counseling offices.
Across campus, individual Schools and Centers may require a Green Pass for building entry. Although it is not required to access every campus facility, all Penn students, faculty, and staff should complete PennOpen Pass daily and be prepared to show a Green Pass at any time.
What about campus guests and visitors?
All event participants, day visitors, vendors, and contractors must complete a COVID-19 screening using PennOpen Campus before arrival on campus. This screening protocol is similar to PennOpen Pass and will provide guests with either a Green or Red Pass. PennOpen Campus is not for faculty, staff, postdocs, students, or those who are asked to complete PennOpen Pass because they are on campus regularly.
Penn also requires that visitors follow public health guidelines, including mask wearing and hand washing. The PennOpen Campus platform also provides a place where users can attest their vaccination status.
What other public health recommendations and requirements are in place?
As the COVID-19 situation continues to evolve, Penn's public health guidance will be updated to reflect recommendations from the Philadelphia Department of Public Health, Pennsylvania Department of Health, and CDC as the effects of COVID-19 and its variants continue to evolve.
PennOpen Pass will remain a key component of this public health guidance as both a way to detect the virus early and to provide support to members of the Penn community. "This virus is sneaky: It changes, makes itself more infectious, and that changes how it impacts people in our community," says Chaiyachati. "We are staying up-to-date so you don't have to and providing the guidance that has been vetted by local and national experts."
Information on COVID-19 is available at https://coronavirus.upenn.edu and by following @COVIDPenn on Twitter and Instagram.