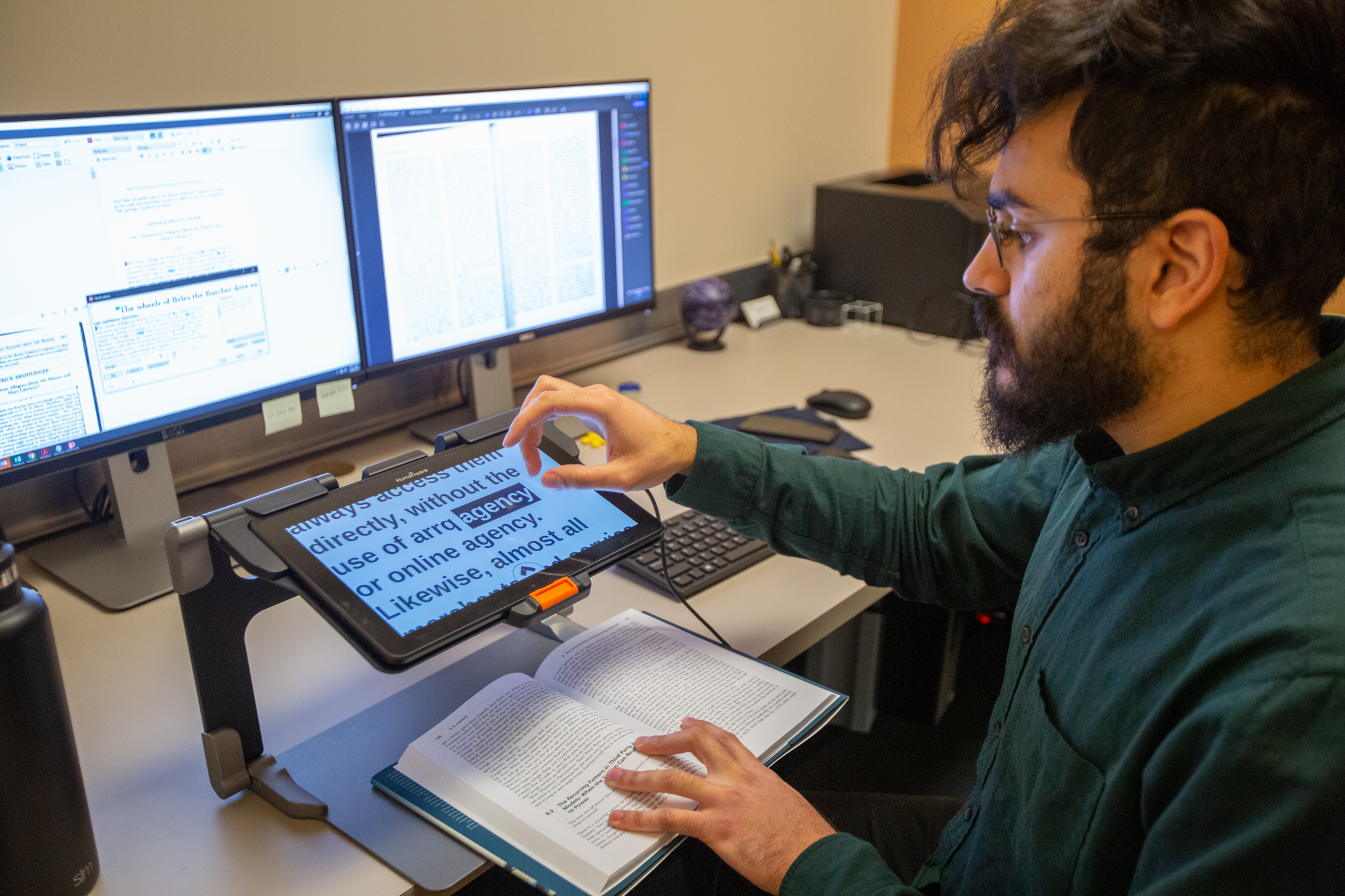 Imagine trying to study geometry without the sense of visual reference math so often asks of its scholars. For people who are blind or have low-vision, this challenge can be frustrating.
Carlos Alfonso Garcia, a freshman from Milwaukee, Wisconsin, was diagnosed with retinoblastoma at 6 months old. He is one of seven Penn students with low-vision who are aided by the University's Office of Student Disabilities Services (SDS) to gain access to and support for assistive technology resources. For Garcia, who is studying economics and political science, the help from an assistive technology specialist in SDS to utilize technology-driven tools has quite literally meant the difference between being able to study math and not. 
"I would have had to plan my life out so much further in advance [without the assistive technology tools]," Garcia says. 
Garcia uses a combination of screen readers, a refreshable braille display, and a tactile drawing board, which allow him to access course materials more easily than would have been possible even a decade ago. These all are tools that fall under the umbrella of assistive technology—items that improve the daily life of those with a disability—but could be more broadly defined to include technologies like Siri or even spellcheck. Other technology used by students with disabilities includes captioning, dictation software, text-to-speech, electronic magnifiers, large-print keyboards, smart pens, and software that converts musical scores into braille.
Especially helpful for Garcia and other Penn students with disabilities is Amrou Ibrahim, who was hired by SDS approximately two and a half years ago as the assistive technology specialist, which is still a relatively new position among private universities. Ibrahim primarily assists Garcia by creating and providing access to course materials. He converts textbooks and other materials, providing image descriptions and updating the metadata to be read by a screen reader. For math, Ibrahim applies a math markup language called MathML that gives Garcia access to equations. 
It's all a much more time-efficient and less costly alternative than, once upon a time, ordering a braille textbook, which could take months to receive. 
"[Without these resources], I would have had to start calling the people who make the textbooks and start ordering books for next semester's course right now. And maybe at the end of the semester I might think, 'Maybe this isn't the right thing for me and I don't want to take math.'" Garcia explains. "It would be a lot harder to do, versus now the book we can get online, if it remains in a similar format with HTML, and it's relatively accessible—I can use it like the rest of the students. It's made my life a lot easier."
As a specialist, Ibrahim is a point of contact for students who are blind, have low-vision, or live with a variety of learning or reading disabilities. He makes course materials accessible by providing assistive technology and teaching how to use available tools. For example, he might update metadata in a PDF to include detail descriptions about margin notes, tables, or figures that the screen reader would otherwise skip or read out of order.
"[When I receive a PDF], I make sure everything on the page is read out loud in a certain order that makes sense," Ibrahim says of the process. "Usually, textbooks have text on the margins, and if a definition is highlighted in the middle of the paragraph, [a person who is blind] won't have the visual understanding to go to the margins once they see the highlighted text. So, I'll make sure whatever is in the margins is read to them immediately after."
One tool SDS loans out to students with low vision is a CCTV (closed-circuit television), an electronic magnifier—a type of zooming tablet—equipped with a camera that magnifies text on a piece of paper. It can also, using a camera set up in the classroom before a class starts, enlarge content on a chalkboard or projector screen.
Of course, these are just isolated examples of a whole field that has emerged to increase access to education for those with disabilities.
"Because of the lack of technology, years ago, students who are blind or have low-vision, are deaf or hard of hearing, many capable students may not have even pursued higher education," says Susan Shapiro, the Jesselon Director of Student Disabilities Services. "The availability of assistive technology has enabled students at all levels to access education."
 Beyond assisting those with low vision, technology like text-to-speech software helps students with reading disorders access course materials by listening to textbooks and other printed materials.
"Text-to-speech technology enables students with reading disorders, concussions, head trauma and other conditions—including veterans who are returning to school—to access written material through listening," Shapiro says. "It gives people a much greater opportunity to compensate for the functional limitations associated with their disability."
The assistive technology field has been around for years and is growing exponentially, she says. One example is the smart pen, which assists with taking notes. Students use the pen by writing on dot matrix paper while recording a lecture. This provides access to specific moments in a lecture with a simple tap of the paper. Another technology, AIRA, enables a person who is blind or low-vision to use smart glasses and augmented reality to call an expert to identify the surroundings in front of them, find books in the library, or even locate something in a backpack.
These are emerging technologies, but all part of ongoing efforts SDS is making to provide access to students with disabilities. The SDS staff works as a team with students, Shapiro says, to identify student needs, approve accommodations, and provide assistive technology when appropriate.  
"We're very grateful to have Amrou," she says. "He's constantly doing research and communicating with experts about technology for our students, as well as supporting students to use the assistive technology. Collaboration with students, research, experience with the technology, and creativity have resulted in SDS expanding the use of assistive technology for students, and we're committed to continuing to grow in this area."
As for Ibrahim, the best part of his job, he says, is getting so much one-on-one time with students.
 
"I love all my students," he says. "I love working with all of them, and I love formatting and making things accessible, too. But it's only great because I get to meet with the students."