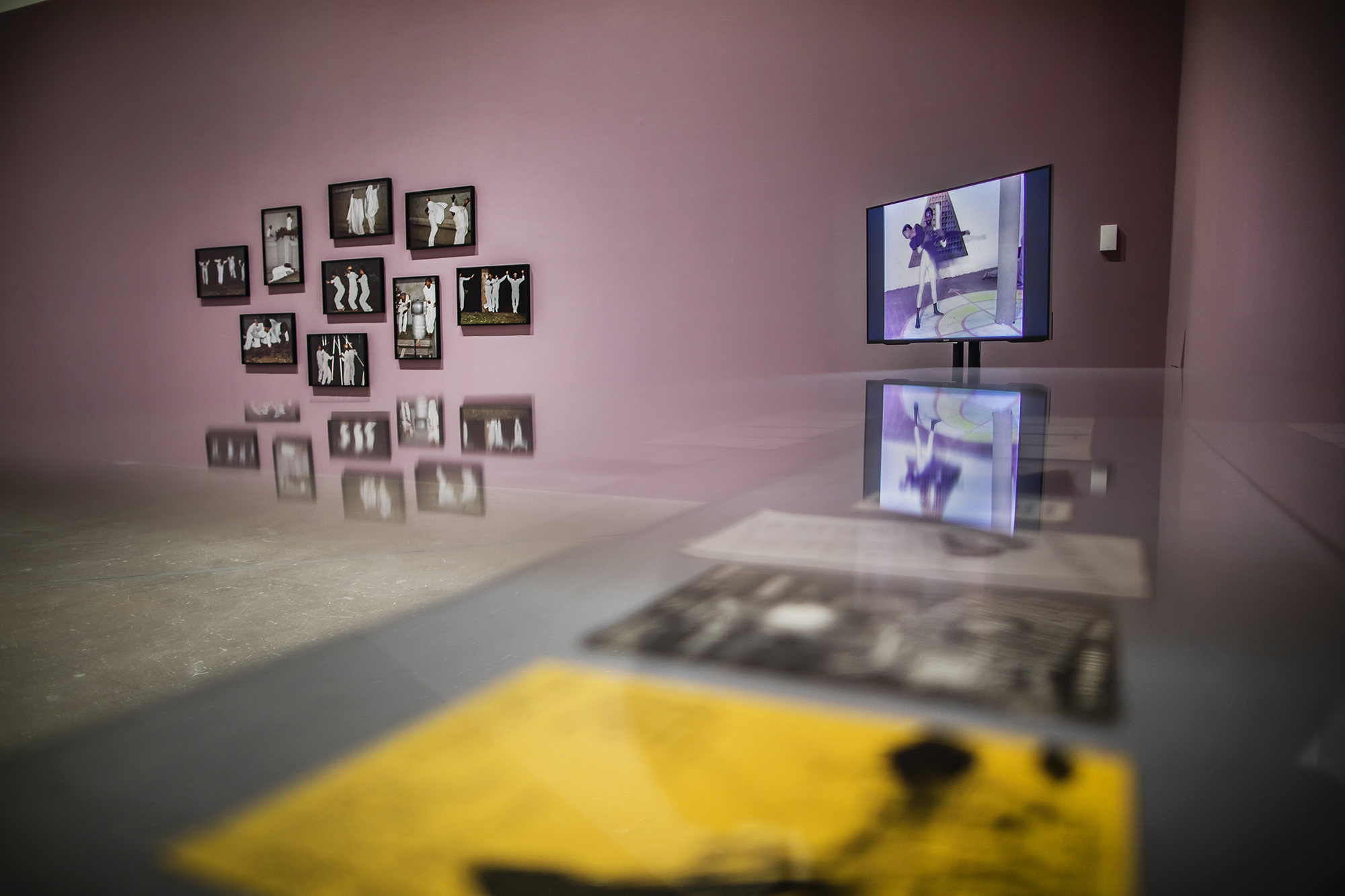 It took five decades, but Ulysses Jenkins finally has his first major retrospective.
"It's unbelievable and frustrating," says Meg Onli. But also, exciting.
Onli, the Andrea B. Laporte Associate Curator at the Institute of Contemporary Art, co-curated the exhibit for the ICA alongside Erin Christovale, associate curator at the Hammer Museum at UCLA. The project was awarded a grant from the Pew Center for Arts & Heritage in 2020, and Onli was further supported by the Warhol Foundation for the Visual Arts. While Jenkins' work as a Los Angeles painter, muralist, and video artist has been exhibited in many shows that represent a collective of contemporary artists, he's never been afforded his own show or retrospective.
The ICA addresses this with the curation of "Without Your Interpretation," a showcase of more than 20 videos that together make up nine-and-a-half hours of footage, photographs of Jenkins, an early painting, a sculpture recreated based on archival photos, plus a collection of physical ephemera like flyers and letters.
Onli was inspired to curate a retrospective after seeing Jenkins' work in the Kellie Jones-curated exhibit "Now Dig This!" at the Hammer Museum; the exhibit highlighted the legacy of African American artists working in Los Angeles from 1960 to 1980, of which Jenkins was one. Onli notes that he was the only video artist in the group, which struck her at the time and gave her cause to hold onto the idea. After encountering his work again in 2017, she followed her instinct and called Christovale—a friend—and they decided to pursue the project together.
The exhibit is three-and-a-half years in the making. The title, Onli says, stems from Jenkins' own work.
"Ulysses made a work [called 'Without Your Interpretation,' in 1983] after being frustrated with a white critic's response to a previous piece, and he just said, 'I don't need your interpretation; this is my own practice; I don't need this viewed through this white historical lens,'" Onli says. "Erin and I wanted to put those words to the forefront."
Though Jenkins' work deals with a variety of contemporary issues, ranging from the ecological to the political, much of it comments on race and gender representation in popular media. In "Mass of Images," a short piece from 1978, he uses examples in television to demonstrate how popular media has taken control of Black representation.
"'Mass of Images,' is a template for his own practice," explains Onli. "Of how he as a Black man is just a bunch of 'mass of images,' he says, 'that you've gotten to know from years and years on TV shows.' That's still topical today. He made that piece in 1979, and all those questions around media and representation are things we're asking ourselves now."
"Mass of Images" was re-digitized for the exhibit to be viewed in higher quality. Approximately nine other pieces were digitized for the first time, she says.
As part of the exhibition, and funded by the Getty Foundation, Jenkins' 1990 memoir is being republished. Previously, there had only been 20 copies of the book ever published. The exhibit is structured according to themes of the book, with four different areas to explore. These themes, in short, cover "self-imaging as self-imagining," his work in the context of Los Angeles and other Los Angeles artists, the multiculturalism and of the African diaspora, and his work as an early media artist producing work that counters mass media.
To view Jenkins' work is also to view a history of video art; Jenkins began filming at a time when access to equipment, especially for someone of color, was not easy to come by and sometimes accounted for long gaps in his work output. It's also, Onli notes, a time that saw the rise of MTV.
"That's something I hadn't thought of much until recently—all of it was brand new," she says. "There's a lot of work in his practice where I'm like, 'This kind of is a music video,' but these things weren't there before. And there's a lot of dance and choreography in his work as well. The early ideas of video are happening there that you're seeing expanded today [on platforms like TikTok]."
ICA Director Zoë Ryan adds that the exhibit is "long overdue."
"This exhibition continues ICA's deep commitment to supporting under-recognized artists and is an opportunity to understand in depth Jenkins' unparalleled and inspiring body of work," Ryan says.
Onli encourages visitors to not be intimidated by the sheer volume of work present.

"We had to think through what were the best works that could really exemplify Ulysses' entire career, and like with all artists, you can't show all their work, but with a video artist you have to think about, 'What bandwidth do people have?" she says. "When you see the show, I hope people don't feel inundated by a lot of video at the same time. I want people to feel it's considered and you're moving throughout."
In fact, she stresses that it's OK for attendees to spend a few minutes—or even just a few seconds—with a piece.
"The majority of videos are under 20 minutes. However, I think it is important that viewers not get caught up in the lengths of the works. Viewing them—for however long—will still make an impression on our visitors," says Onli.
"Without Your Interpretation" is on view through Dec. 30. A special conversation between Ulysses Jenkins, Meg Onli, and Erin Christovale will premiere online on Sept. 17 at 7 p.m.