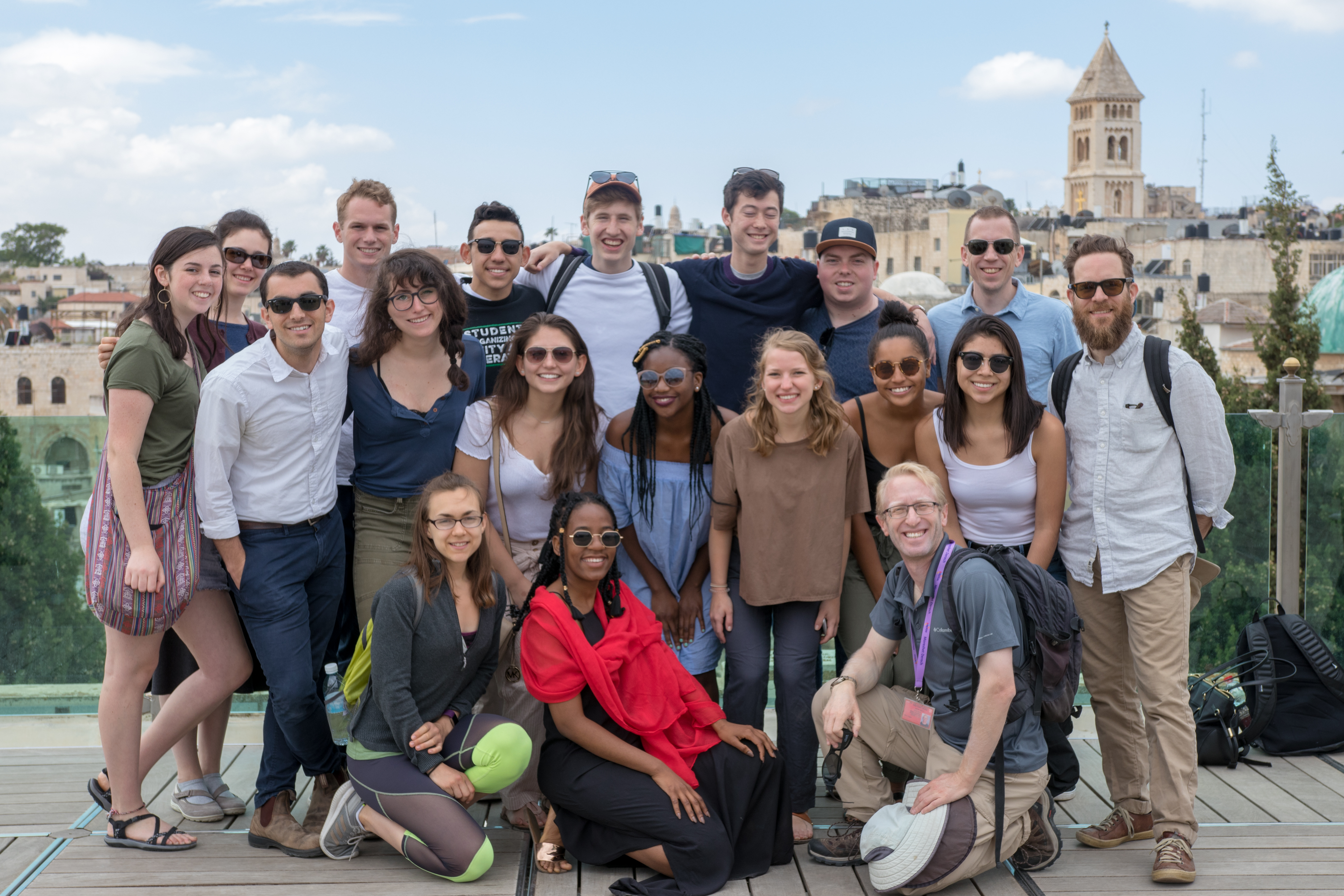 As she finished her last final exam of her freshman year at Penn, instead of rushing home to Massachusetts for summer break, Sia-Linda Lebbie packed her bags for Israel. She'd spend the next week in Jerusalem, at a kibbutz by the Sea of Galilee, and in Tel Aviv.
Part of Encompass, a new fellowship program sponsored by and run out of Penn Hillel, Lebbie, now back stateside, says the trip—with 15 other Penn undergraduates—was nothing short of an adventure, as well as a true, immersive learning experience. 
"There were so many narratives I was exposed to," she says. "It is such a beautiful place, with beautiful people. There are so many facets to Israel, and I'm so glad I got to learn about it by physically being there and speaking to the people."
The inaugural trip, meant to mesh students of diverse religious and ethnic backgrounds, was led by Rabbi Josh Bolton, director of the Jewish Renaissance Project at Penn Hillel, and Stephen Kocher, Penn's associate chaplain. The idea, Bolton says, was to "build bridges" between groups that are not often in direct dialogue, and to gain a deeper understanding of the real complexities of the Israeli-Palestinian conflict.
"The goal from my end was not to enable students to reach some conclusion about who's right or who is wrong," says Bolton. "The goal of the trip itself was to expose students to a much more complex constellation of narratives than we tend to be exposed to here in the American context of the discourse."
Exploring Jerusalem, the group spent time in the ancient, sacred areas of the city, and also visited the contemporary layer—including East and West Jerusalem, and discovered the reality of life that exists in the West Bank. They visited the Church of the Nativity in Bethlehem and a number of Jewish settlements. 
Led by a guide, they also toured the Syrian border on the Israeli side of the Golan Heights. 
"We were just miles from the Syrian conflict, listening to a resident and security expert talk about the complexities of that conflict there," says Bolton.
"We had such great discussions with various thought leaders within the Jewish and Arab communities," says Dylan Milligan, a rising junior at Wharton. "It was one of the coolest experiences of my lifetime to be there."
A highlight, Milligan says, was experiencing Jerusalem Day, which commemorates the reunification of Jerusalem in the aftermath of the June 1967 Six-Day War.
"It was a surreal sight to see," he says. "Especially in contrast to the serenity atop Temple Mount, which we visited the same day."
Just about every day, the Penn group would convene for a discussion—debriefing on their experiences, what they thought, and what they learned. It was always a fruitful interaction, says Bolton, describing students who "wanted to talk about what they experienced and how it has impacted who they are, considering where they've come from."
During conversations with each other, as well as the people they met along the way, the students were never afraid to "question, and ask, and probe," says Lebbie, "taking away just what we wanted from this experience." 
Lebbie, who is thinking about majoring in communications, says the trip "revived" her passion for international relations. She's now planning to try to take more classes that speak toward contemporary world issues and wars, and also more religious studies courses.
For two months leading up to the trip, which took place from May 9-18, the students met weekly on campus, getting to know each other while studying Israel's history, as well as its current state.
Now that the students are back, Kocher says he hopes the group can "build on this experience together. 
"The hope is that the students will find a way to continue to have this sort of dialogue, this sort of open engagement, and make it part of their Penn experience," he says. "Even if it's not about these specific set of issues, in a general sense, I want them to engage, hear, and understand people who are coming at an issue, conflict, or set of questions differently."
With a successful first trip, Bolton says Penn Hillel is looking forward to hosting another next year—perhaps around spring break. 
Lebbie says she'd "a thousand percent" recommend students to go.