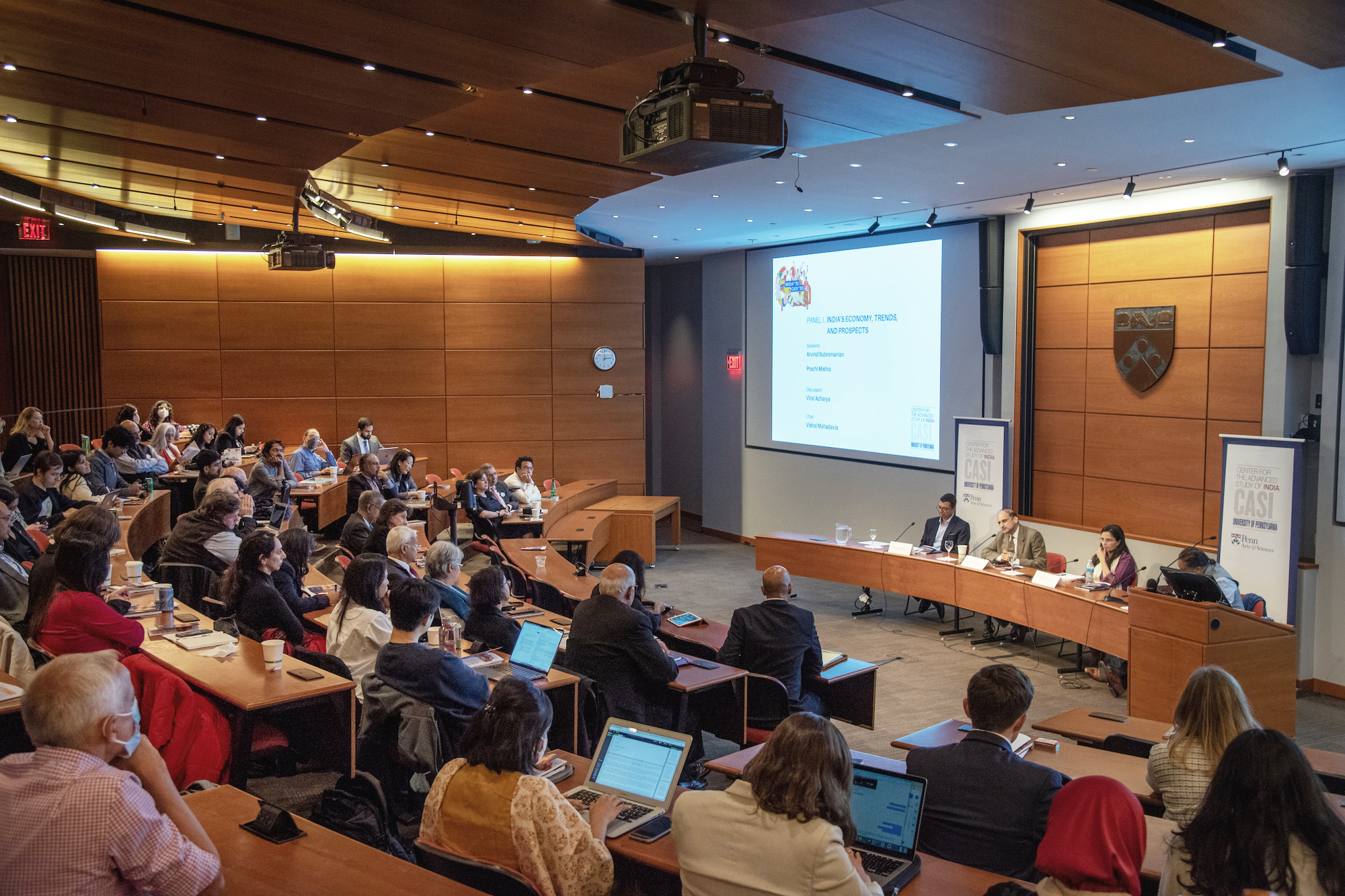 The Center for the Advanced Study of India (CASI), the first research institution in the United States dedicated to the study of contemporary India, is turning 30 this year. CASI marked the occasion with a symposium that also highlighted the 75th anniversary of India's independence.
"Connecting rigorous research with on-the-ground engagement, joining scholarship with social, cultural, and political understanding: 30 years in the making, Penn's Center for the Advanced Study of India is as important as ever," President Liz Magill said in a video tribute to kick off "India at 75, CASI at 30" symposium at the University of Pennsylvania Carey Law School, held on Oct. 13.
Founded in 1992 and housed in the School of Arts & Sciences (SAS), CASI is dedicated to cultivating scholars across various academic disciplines and providing a collaborative forum—through seminars, conferences, publications, and outreach—for dialogue, debate, and discussion as India undergoes rapid changes in its society, politics, and economy.
"As independent India turns 75, it is home to approximately 1.4 billion people, a population that is four times more literate than it was at independence and one whose per capita GDP has increased sevenfold in six decades, yet also a country that still struggles to combat child malnourishment or produce formal sector employment," said Tariq Thachil, director of CASI, professor of political science, and Madan Lal Sobti Professor for the Study of Contemporary India at Penn. "India's future will be inevitably marked by further transformations and challenges. Two in particular that CASI will focus on are urbanization and climate change."
In addition to hosting current faculty and students, attendants included past deans affiliated with the Center, former staff and visiting scholars, Penn alumni, CASI's International Advisory Board members, and a range of public figures, journalists, and practitioners, many with connections to CASI that have been built during three decades of bringing together communities interested in India.
The symposium was divided into three panels: India's economy, trends, and prospects; India's domestic politics; and India in the world.
"The world looks east to India," Arvind Subramanian, former chief economic advisor to the Government of India, said. "It's very much the flavor du jour." However, even as some opportunities are expanding, Subramanian noted that in order to have a more robust economy, India needs policy stability, social cohesion, data integrity and transparency, inclusive decision-making, and a level playing field for all investors.
It can be difficult to understand India as an outsider or an insider and, despite decades of progress, much work and effort remains, said Viral V. Acharya, New York University Stern School of Business professor and former deputy governor, Reserve Bank of India. He pointed to India's entrepreneurship, foreign development investment in young firms, and the financial depth of Indian equity markets as successes.
"India at 75, true to our history: We are replete with contradictions, brimming with opportunities, but remain burdened with substantial challenges," he said.
Shivshankar Menon, former foreign secretary, former national security advisor, and former ambassador of India to Israel, Sri Lanka, China, and Pakistan, discussed the practical application of India's foreign policy, saying that Indo-U.S. relations have always been complex, difficult, even fractured, but have been transformed by two decades of work by the two governments.
"If there's one common thread running through the 75 years of India's independence, to my mind, it's been the quest for strategic autonomy," he said. "India is at its best when it is at peace with the world."
The symposium was followed by a reception in the Great Hall at Penn Carey Law, highlighted by remarks from Steven J. Fluharty, dean and Thomas S. Gates Jr. Professor of Psychology, Pharmacology, and Neuroscience, who attested to the importance of Penn's relationship with India and the role CASI has played. "It is safe to say that Penn's relationship to India and its reputation as a leader in global inquiry would not be what it is today without 30 years of CASI scholarship," he said. "CASI's energy, vision, intellectual resources, and network have grown into a research institution of international excellence. I am eager to see all that CASI accomplishes in the next 30."
CASI's historic day of reflection, discussion, and celebration concluded with a dinner on Penn's campus in which guests were treated to a surprise performance by Penn Masala, a University student a capella group.
"India at 75, CASI at 30," CASI's 30th anniversary Symposium was co-hosted by the Penn Carey Law and made possible with support from CASI's Nand & Jeet Khemka Distinguished Lecture Series and the Nand & Jeet Khemka Foundation, alumnus Vishal K. Mahadevia and the Warburg Pincus Foundation, CASI International Advisory Board, Andrea Mitchell Center for the Study of Democracy, South Asia Center, and School of Arts & Sciences.