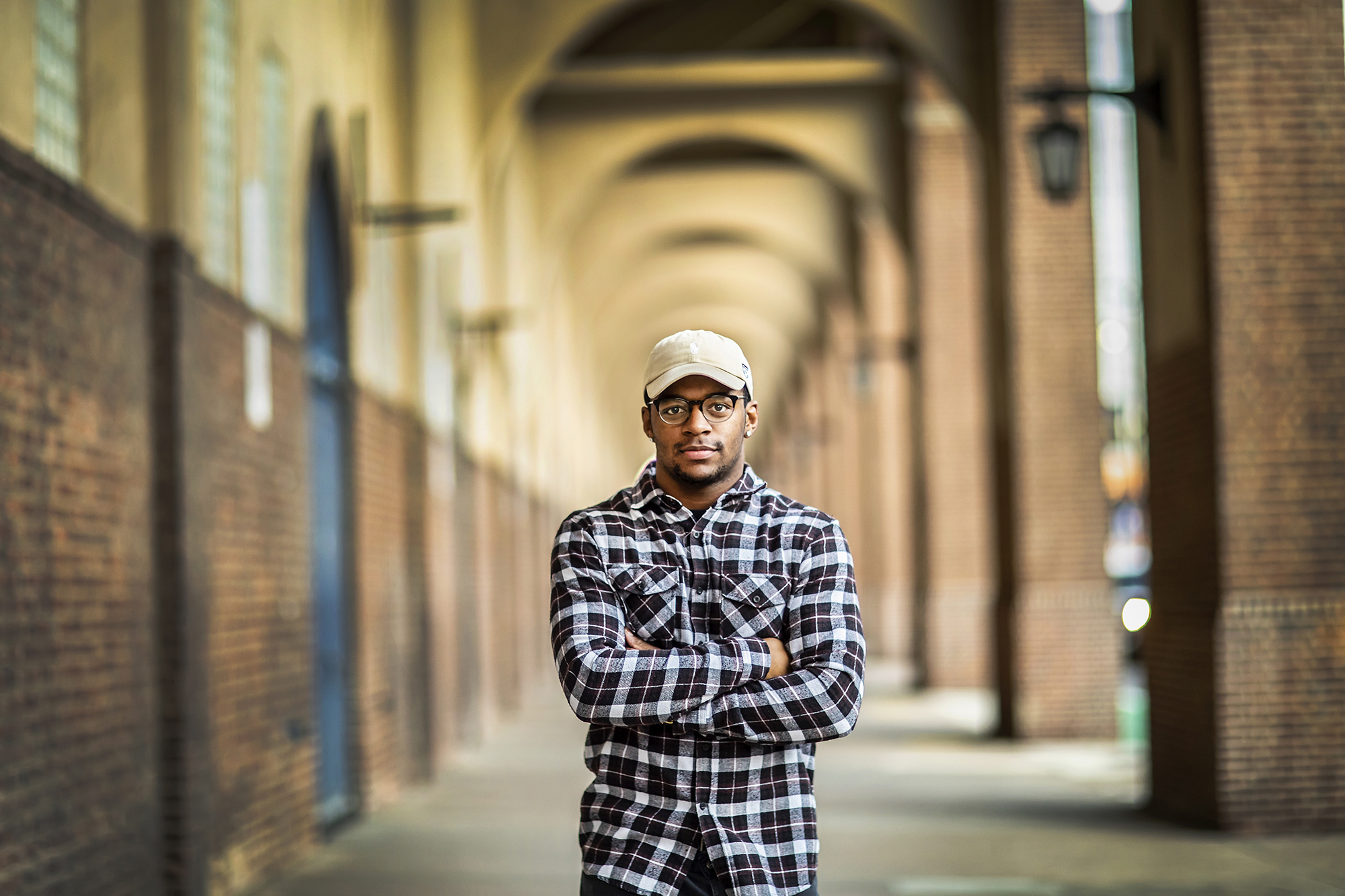 The job of an inside linebacker, says Nick Miller of the Penn football team, is, very broadly, to "run around and make as many tackles as possible."
"Just be wherever my team needs me to be," he says, "be in whatever gap my team needs to be in and make sure I'm taking care of my job to be able to make plays."
Miller, a senior cognitive science major from New Market, Md., excelled at inside linebacker the past two seasons, leading the Quakers in tackles. He racked up 104 tackles (66 solo), three sacks, two interceptions, and three forced fumbles in 2017, and was a First-Team All-Ivy selection and a finalist for Ivy League Defensive Player of the Year. 
This year, he accumulated 87 tackles (48 solo), six sacks, and three forced fumbles, was a unanimous First-Team All-Ivy selection, and is a finalist for FCS Defensive Player of the Year.   
Penn Today met up with Miller at Franklin Field to chat about how wrestling has helped his football career, the keys to being a successful linebacker, his Cowboys fandom, his interest in cognitive science, and his plans for the future.
You were a successful wrestler in high school, as well as a football player. Why did you choose football over wrestling? I started wrestling my freshman year just to kind of help me with football, help me with tackling and everything, and then I fell in love with it, but football was my first love so I went with that.
Did wrestling help you with football? One hundred percent. It made me a ten times better linebacker than I could have dreamed of being.
How so? It helped with technique and knowing how to use your leverage, and the type of work ethic you put behind it as well.
What do you enjoy about football? I think it has a mix of everything, from the team aspects to the man-on-man aspect, just beating the man across from you, just making sure that you take care of what you have to take care of. If everyone does that, then you always come up with the W.
What are some of the keys to being a successful linebacker? Play fast and trust your reads. As soon as you get the slightest hint and you get your instincts going telling you to go one way, just trust it and go for it.
You're from Maryland. Are you a Ravens fan? I've been a Cowboys fan since the day I was born.
How'd that happen? My dad is from Louisiana and the Saints always sucked so he became a Cowboys fan and just passed it down.
Why did you choose cognitive science as a major? I always loved thoughts and the brain, and I thought cognitive science would connect the science side of it to the more philosophical side of it because I'm also a philosophy minor. So making that connection was pretty cool. Then I just fell in love with it because of all the small nuances and intricacies of neuroscience in general.
Have you conducted any research? I actually have two jobs right now. I'm in two labs. They're both neuroscience-related. One deals with value-based decision making, the other with neurodegenerative diseases.
Football, school, work. Sounds like you had a busy fall. I try to stay busy. Idle time is when I start to get lazy so I just try to stay busy, stay moving.
Do you know what you want to do when you graduate? It's still up in the air. I'm definitely leaning towards taking a gap year and joining a lab, and then hopefully one day pursuing my Ph.D. in neuroscience.
Have you considered trying out for the NFL? One hundred percent. I'm working on that as well. I'll definitely see where that takes me and keep working towards that, and just give myself as many options as possible.