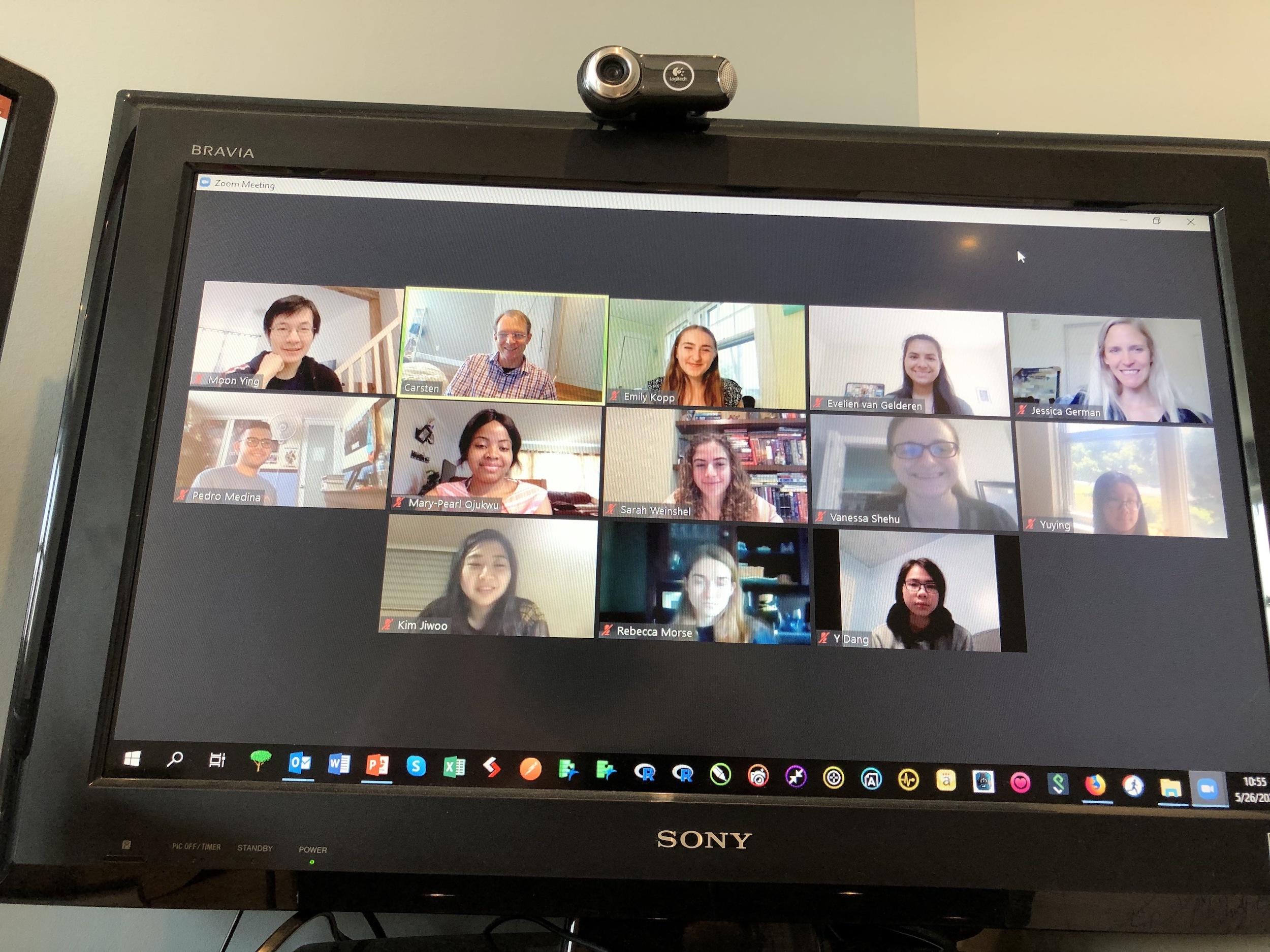 A typical workday this summer will find Mary-Pearl Ojukwu, a rising junior at Lincoln University, using a customized app to analyze pictures of the heart's chambers to assess blood flow. Her research, conducted as part of the lab of Julio Chirinos of Penn's Perelman School of Medicine, is especially amenable to the remote nature of this year's Translational Research Internship Program (TRIP), in which Ojukwu is a participant.
"It's actually really convenient for me to do it online," says Ojukwu, who is originally from Nigeria and has been doing her internship remotely from New Jersey.
Offered by the Institute for Translational Medicine and Therapeutics (ITMAT) Education Programs, under the direction of Emma Meagher for more than a decade, this is the first year that TRIP has been run as an online-only initiative, owing to the COVID-19 pandemic. Sponsored by the National Institutes of Health's Clinical and Translational Science Awards and led by director Carsten Skarke and education coordinator Jessica German, the program is providing undergraduates with a mentored research experience that—in spite of the pandemic—remains a valuable training opportunity for students interested in bench-to-clinic science.
"From the very beginning we pursued complete transparency with our students, and I think it has paid off in every aspect," says Skarke. "We were very vocal that we didn't have a template, that we were doing this on the fly and didn't know how it would evolve but that we wanted to try it. After communicating that, everybody was on board."
"We know from past years how life-changing the internship can be," says German. "Many past participants have continued to pursue graduate studies and medical school. So, it was important to us that the program continue if at all possible."
TRIP is a competitive internship that draws a diverse pool of undergraduates, mainly rising juniors and seniors, from seven colleges and universities. Selected by a committee of faculty from Penn Medicine's ITMAT, students are paired with translational researchers to complete a 10-week independent project. It's one of several research-internship programs at Penn that made the shift to an all-virtual mode this summer.
The application process for this year's iteration of TRIP was already well underway when the pandemic emerged. As early as February, ITMAT Education's leadership committed to ensuring the program would continue, even if in a remote capacity.
After it became clear that TRIP would occur in a virtual environment, Skarke and German reached out to the students to confirm their continued interest and worked with faculty mentors to identify research projects that the students could pursue from their homes. Beyond that, German drew from her involvement in moving ITMAT's educational offerings, such as classes in the Master of Science in Translational Research program, online during the spring semester.
"I think that knowledge and lessons learned from how we shifted to online learning was helpful to inform what we ended up doing this summer," says German.
Among those lessons was being transparent about the challenges students and faculty were facing. In the first week of the program, she and Skarke front-loaded video conference calls that encouraged honest reflection about students' expectations, concerns, and hopes for the program. 
"During those three days we spent maybe six hours with the students," says Skarke, "I think that set the tone with the students in a beautiful way."
Seminars have been peppered throughout each week of the program, offering perspectives from Penn and Children's Hospital of Philadelphia faculty pursuing translational research about both their science and their career paths. To bolster the students' professional development, Skarke and German added a workshop on biostatistics this year, since so many of the internship projects involved computational biology, along with professional development workshops on communicating science and conducting literature reviews. 
Online social events helped build trust and enabled the students to get to know one other better. A "community check-in" engaged the students to share their scientific progress but also describe hurdles they encountered. This was followed by rounds of interactive virtual games such as Kahoot or Pictionary. The students also present their work at three points during the summer, culminating in a symposium, to be held later this week. And when students ran into obstacles, Skarke and German arranged one-on-one sessions to talk through challenges. 
"In this virtual environment, we wanted to make sure the students felt connected," says German. 
The majority of participants' time, of course, was dedicated to conducting science. Ojukwu was able to get up to speed quickly after starting in May, checking in frequently with the head of the lab, Chirinos, as well as two research assistants to further her project aimed at studying arterial stiffness in patients who have an elevated risk of heart disease using pulse-wave-velocity measurements. 
"I'm planning to go to pharmacy school," Ojukwu says, "and I appreciated how this internship and others I've done have helped me see where I'm comfortable and what I'm interested in."
Like Ojukwu, Pedro Medina, fellow TRIP participant and a rising senior at the University of Puerto Rico at Arecibo majoring in medical microbiology, is hoping to pursue a career in medicine. "I aspire to become a physician-scientist with a specialty in infectious disease," he says. "I was looking for an opportunity that could give me more exposure to the clinical aspects of research, to help me find direct connections between my work and medicine."
Medina was paired with mentor Iliana Kohler, associate director of Penn's Population Studies Center and a research assistant professor in population studies, to examine the impact of COVID-19 on sub-Saharan Africa. The qualitative research, conducted using electronic surveys, is helping elucidate how the pandemic is affecting people, particularly health care workers, in Malawi. 
"I've been working on assembling a database with studies on COVID-19 as well as polishing the surveys we're getting together," Medina says. "I'd never worked in population studies before, and my project has provided me with a deeper and more diverse understanding of the human conditions in many underserved communities." 
For Emily Kopp, a rising junior at Penn, TRIP is serving as an entry point into a research experience she plans to continue through the academic year. Working with David Irwin, an assistant professor, and attending cognitive neurologist at Penn Medicine, Kopp has been analyzing digital images of brain tissue from patients with frontotemporal dementia from her home computer in Scarsdale, New York. "I'm looking at autopsy brain tissue under a microscope to see if there are structural differences between patients with different malformed proteins," she says. "Right now, doctors can't determine what protein is causing a patient's dementia while they are alive. This research may lead to better diagnoses and more specialized treatments."
A pre-med student majoring in neuroscience and economics, Kopp was excited to explore an area connected to patients. She's planning to continue the research as part of the lab once the school year starts and perhaps even shadow Irwin in the clinic.
From Irwin's perspective, Kopp's contributions to the lab have been significant, despite the fact that the two of them have never met in person.
"Emily has been fantastic," Irwin says. "She has accelerated a whole area of the lab that I've been wanting to work on for a long time, really getting this program running off the ground. We're glad that she's going to be a part of the lab this fall."
To get feedback on the virtual TRIP experience this year, Skarke and German will be collecting evaluations from all the students as well as, for the first time, from mentors. 
"We want formalized feedback from all those involved," Skarke says. "That way we can really reflect on lessons learned and keep improving on this program in the years ahead, whatever the circumstances in which it runs." 
The students participating in this year's Translational Research Internship Program are Y Dang (Franklin & Marshall College), Evelien van Gelderen (Swarthmore College), Jiwoo Kim (Bryn Mawr College), Emily Kopp (University of Pennsylvania), Pedro Medina (University of Puerto Rico at Arecibo), Rebecca Morse (University of Pennsylvania), Mary-Pearl Ojukwu (Lincoln University), Yuying Rong (Haverford College), Vanessa Shehu (Bryn Mawr College), Sarah Weinshel (Swarthmore College), and Yue Ying (Franklin & Marshall College). The mentors this year were principal investigators Mary Boland, Sanjeev Chawla, Julio Chirinos, Amelia Eisch, Rebecca Ganetzky, David Irwin, Iliana Kohler, Ian Krantz, Deanne Taylor, Aalim Weljie, and Sharon Xie.
Jessica German is an education coordinator for the Institute for Translational Medicine and Therapeutics Education Programs at the University of Pennsylvania Perelman School of Medicine.
Carsten Skarke is a research assistant professor of medicine, the Robert L. McNeil Jr. Fellow in Translational Medicine, and director of the Translational Research Internship Program in the Institute for Translational Medicine and Therapeutics Education Programs at the University of Pennsylvania Perelman School of Medicine.
The Institute for Translational Medicine and Therapeutics Education Programs at the University of Pennsylvania Perelman School of Medicine is directed by Emma A. Meagher, professor of medicine and pharmacology.