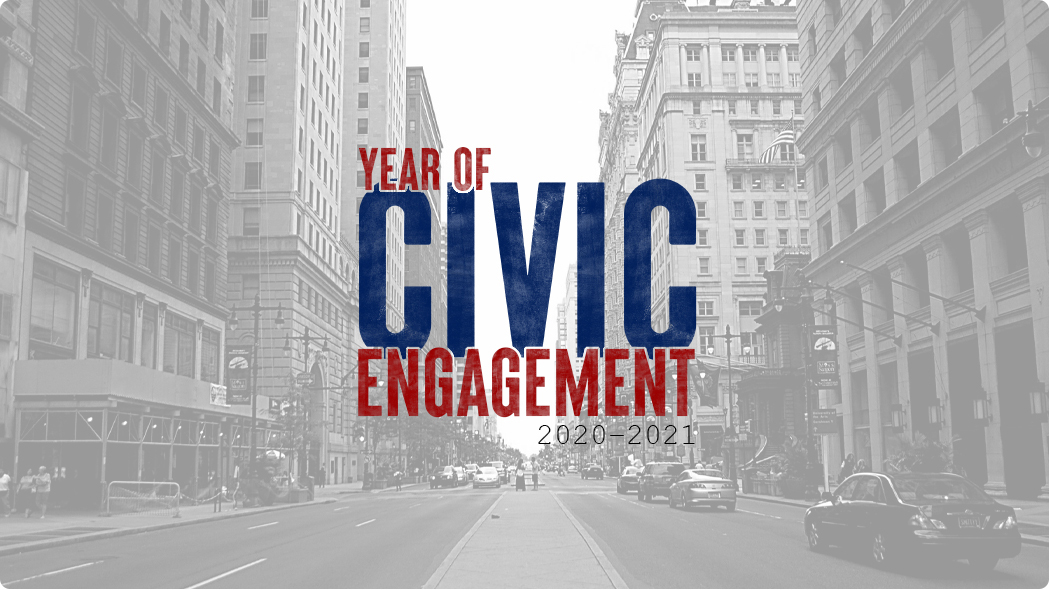 For all the stressful events 2020 may be identified with as a year, the University hopes it—and 2021—will also be remembered by how we chose to use this moment as an opportunity to engage. 
Acknowledging this, New Student Orientation (NSO), President Amy Gutmann, and Provost Wendell Pritchett announced in the spring, at the onset of the pandemic, that Penn's 2020-21 academic theme year would be the Year of Civic Engagement—a shift from the previously announced Year of Jazz. What will ensue is a year of programming and activity that encourages the entire campus community to consider what community engagement is and how we can foster it.
"This year is like no other. The pandemic, a national movement against racial injustice, and a presidential election combine to make this clear," says Gutmann. "How fitting it is for Penn to be embarking on the most urgent and unique discussion in the history of this program."
She adds: "The civic engagement of Penn students, faculty, and staff makes us a more inclusive, a more innovative, and a more impactful university."
The shift to the Year of Civic Engagement was described as a natural one, in light of all these converging and historic happenings.
"During the Spring, it became clearer, of course, that COVID restrictions would continue into the school year, requiring social distance protocols," says David Fox, director of NSO and the Penn Reading Project. "I think this really emphasizes the need to find new and innovative ways to connect with people and our communities. I've seen this response from so many students at Penn who have already been working in civic engagements projects. They recognize that we all feel more fragile right now—and that more than ever, meaningful connections are necessary."
The Year of Civic Engagement hopes to provide springboards and nourish a culture to make those connections. This is the 14th theme year, which started with the Year of Food in 2007-08. The theme year itself evolved from the Penn Reading Project, which this year celebrates its 30th birthday. The first text, in 1990, was Euripedes' "The Bacchae."
  
Piloting this theme year are faculty members from three centers actively involved with civic engagement: the Netter Center for Community Partnerships, Civic House, and the SNF Paideia Program at Penn. The first product of the Year of Civic Engagement is the Penn Reading Project, which occurred last week and had its reading list curated by faculty affiliated with the three centers. First-year students were automatically looped into the project, which consisted of a series of discussions on Canvas and Zoom. As a first, those sessions were facilitated by volunteers made up of faculty, staff, graduate students, and upper-level undergraduates.
The centers and NSO collaborated to decide on four short texts for the Penn Reading Project: "My Dungeon Shook (A Letter to My Nephew)," by James Baldwin; "Proposals Relating to the Education of Youth in Pennsylvania," by Benjamin Franklin; "The Purpose of Education," by Martin Luther King, Jr.; and "Home (from The Source of Self-Regard)," by Toni Morrison.
Herman Beavers, faculty director of Civic House and professor of English and Africana Studies, says Baldwin in particular was selected because his writing has come up often since the death of George Floyd. Baldwin addresses white privilege and white supremacy in a way that "seems tailored for this moment" of racial justice, Beavers explains. Franklin's work, meanwhile, speaks to the long-standing roots of civic engagement at Penn and the idea of cross-sectional engagement, while King's speech speaks to the value of education in truth-seeking and critical thinking. Morrison's "Home" was selected to challenge students to think about what it means to be inclusive.
"Part of what Morrison wants us to think about," says Beavers, a scholar of Morrison, "is that we need to take seriously the idea of shareable space. And that's a hard thing for some people to get to, because when you think about the fear immigration elicits in some people, the idea of sharing space becomes a really unthinkable thing, a zero-sum game of 'Well, if they get benefits and opportunities that's taking away from my own.' That's not how it works, but some people think of it that way, and when it happens, that's the circumstance Toni tries to lay out for us."
At large, Beavers hopes the reading list will be a jump-off point for additional reading, education, and—most importantly—engagement. The further hope: that students who do not arrive to Penn equipped with tools to engage with the West Philadelphia community will put in the work to do so in a positive way, demonstrate patience and a willingness to listen during confrontations ("When you say 'I'm a Penn student,' there might be some pushback," he says, frankly), and push forward through discomfort to find common ground. 
"Partnerships are hybrid agendas," Beavers says. "You can't prescribe to each other what you want to do and then try to coerce them to do these things. Instead, you say, 'We're going to slow down a bit and figure out our common purpose."
Atypical of the usual Penn Reading Project is the inclusion of the 30-minute documentary "Song of Parkland," directed by Amy Schatz. It's only the second time a film has been used as part of the project. 
"Parkland, for students, it's history but very much in their own experience, as well as one that took place in a high school, very much in their area," says Fox. "It's a very powerful documentary, a difficult thing to watch at times. There's no violence in the film itself but the emotion is very powerful. We wanted people to connect to the idea of thinking about civic engagement—it's not a particular time or context; it's many contexts."
Programming specifically for the Year of Civic Engagement will develop as the semester progresses, but the Netter Center, Civic House, and Paideia all emphasize that much civic engagement work happens at Penn regularly—the goal, then, being to more broadly include the campus in these efforts. The Netter Center, for example, has 70 courses annually that enroll more than 1,700 graduates and undergraduates, plus more than 300 community service work-study students and over 300 volunteers working in schools in West Philadelphia in areas related to health, arts, education, and the environment. This work has continued during the pandemic, virtually.
 "I think what's empowering about the theme this year is that it's for everybody," says Ira Harkavy, founding director of the Netter Center. "The hope is it will involve the whole campus. … We're working on common concerns, common problems, and making a difference, and developing our own civic, ethical, and democratic skills, and that's important for everyone—not just first-year students.
 
Harkavy notes that Penn alumni have been engaged in the Penn Reading Project through facilitators. He also adds that the collaboration with Civic House and SNF Paideia has been crucial.  
"It is a genuine team effort, in which the whole is much greater than the sum of its parts," Harkavy emphasizes.
The Netter Center, Civic House, and Paideia, for example, put together a curated list of civic engagement opportunities to serve as an entry point to learn more about how to get involved with the Philadelphia community through existing programming and partnerships. All of the activities have been adapted for virtual engagement.
SNF Paideia, which helps students integrate academics and professional interests while developing frameworks for being engaged community members, will be promoting Penn's get-out-the-vote efforts for the Nov. 3 presidential election. But, says Leah Anderson, executive director of Paideia, part of the program's larger message is that community engagement extends beyond voting.
"We hope to help students cultivate a broad sense of civic engagement that could involve a variety ways of thinking about, connecting to, learning about, and supporting their communities," says Anderson. "SNF Paideia creates opportunities for students to develop the values and skills for dialogue and wellness that undergird effective civic engagement whether students plan to participate in protests, engage in the work of local community organizations, or staff the phone banks for political candidates prior to the election. 
"In the fall," she emphasizes, "we'll be partnering with Penn Leads the Vote and encouraging students who are eligible to do that as one example of civic engagement."
"Our ultimate goal," adds Michael X. Delli Carpini, faculty director of SNF Paideia, "is to integrate students' civic development into their personal and professional development in ways that contribute to both individual and community wellness."
Derek Nhieu, a sophomore in the Wharton School and a inaugural SNF Paideia fellow, from The Villages, Florida, made it a goal to be involved on campus and take on leadership positions when he arrived last year. He's now the Class Executive Board president for the Class of 2023, the district governor for the Pennsylvania District of Circle K International, and participates in social impact initiatives, community service, and fundraisers.
Still, he sees a large part of his role as simply being a good role model, a mentor, and one of many emerging and impassioned speakers for a new generation. 
"I think this theme year is more important than ever, because students, as leaders of not just tomorrow [but today], we really need to have these conversations about what's important to us and start taking action," he says. "I think this is a great way to take motivations and frustrations from the past couple months and make them productive."