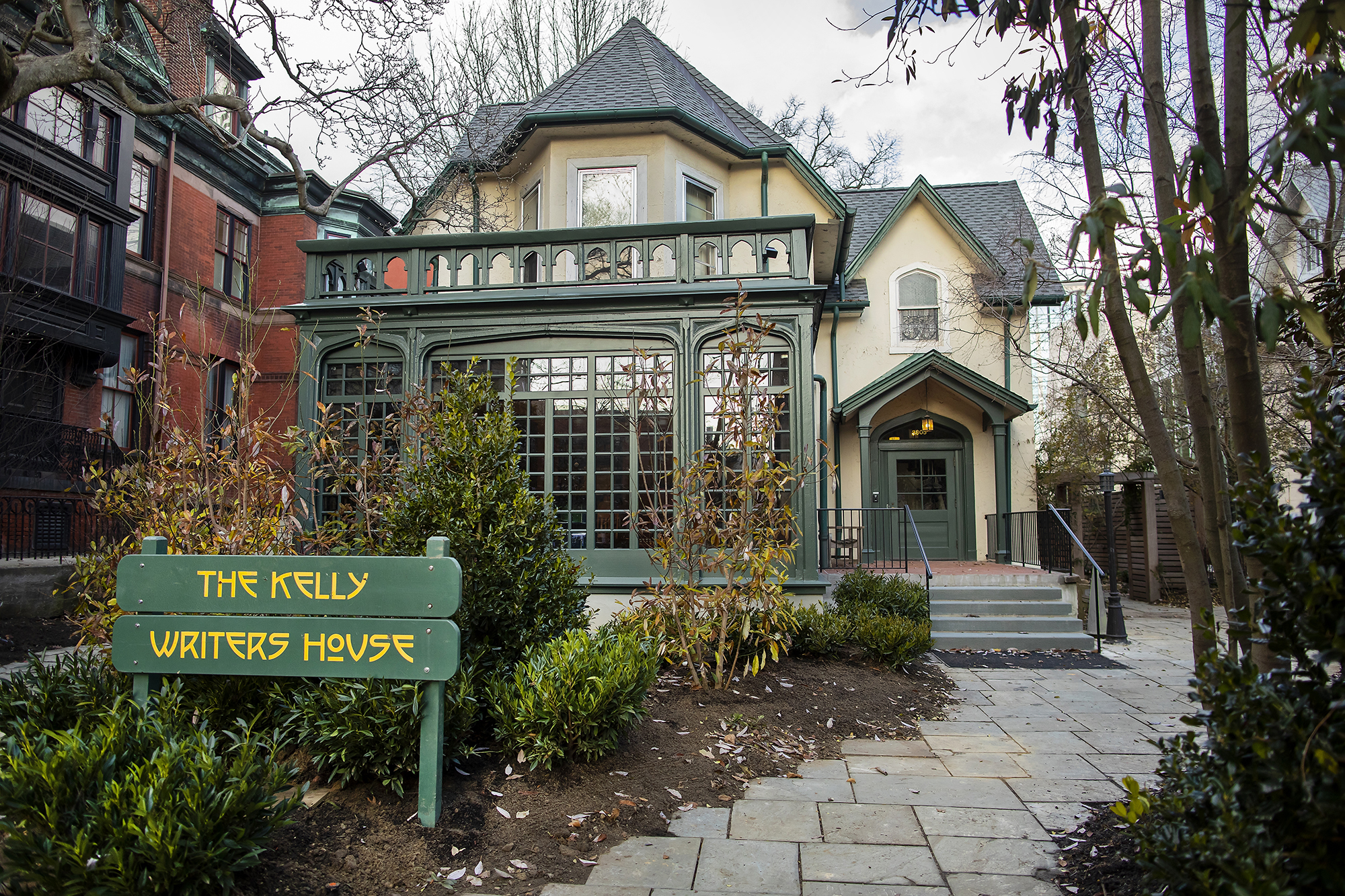 Kelly Writers House, at 3805 Locust Walk, is one of the oldest buildings on campus, built in 1851—when America had 31 states and Millard Fillmore was president.
For many years, it was the residence of the University chaplain. Writers House was founded in 1995-96, and a gift from alumnus Paul Kelly and family in 1997 transformed and renamed the quaint cottage into the peerless Kelly Writers House, a 13-room, three-story villa that functions as a center and incubator for writers at Penn and the greater Philadelphia community.
The most prominent and frequently used space in Writers House is the front parlor known as the Arts Cafe, where many readings and public events are staged. Beginning last summer and continuing through December 2018, the Arts Cafe has been revitalized and expanded to make it more usable and technologically friendly.
"Obviously, the house was never built to house the amount of activity that occurs in it," says University Architect Mark Kocent. "With [Writers House Faculty Director Al Filreis'] leadership, they've been so successful that [the Arts Cafe] continued to sort of push its capacity, and sometimes they would have to have an alternative location in the building with a video feed."
To create more space and increase seating room, Kocent says the architects and designers extended the Arts Cafe to include the porch that was formerly facing Locust Walk.
The Provost Center-sponsored, Penn Connects 3.0 project was primarily funded by alumnus David Gross-Loh, one of Filreis' former students, and his wife Christine.
Filreis, who is also the Kelly Professor of English in the School of Arts and Sciences, says the primary reason for the renovation was that after 23 years of hosting programs, the 167-year-old parlor had become inadequate to Writers House's 21st-century needs.
"It was great, everybody loved the room, it was always very intimate, but the acoustics were terrible and the space was too small," he says. "We've been dreaming of this for years, and now we've done it."
Aside from the Arts Cafe, the front of the House has been landscaped, the accessibility ramp has moved from the side of the building to the garden, and the living room is in the process of being remodeled with a new floor and door.
What's more, a significant investment in audio-visual technology has been made to enrich the House's webcasting capabilities. Writers House has been one of the pioneers at Penn in interactive webcasting, livestreaming, and creating audio and video archival recordings, which staff has been doing since 1998.  
Before the overhauls to the Arts Cafe, Filreis says it took up to two hours to set up for a webcast. Now, he says they can get ready in 15 or 20 minutes. The technological upgrades will also allow for theatrical-style work and TV studio-style production.
 "It means we have incredible flexibility, and that's just a huge thing for us," Filreis says.
Writers House previously underwent renovations in 1997. Both the late-20th century and 2018 revamps have maintained the antique lodge's historic integrity and Gothic aura.
"We created what looks like a classic West Philadelphia porch, kind of a closed-in porch with lots of glass, but otherwise the colors are original," Filreis says.
One of the hallmarks of the Arts Cafe has been the old, mismatched, somewhat uncomfortable wooden chairs. Filreis says they had the option of buying new, fancy, conference-room like chairs, but they decided to stick with the old wooden chairs.
"In fact, because we have more space now, we need some more chairs, but instead of buying new chairs, we put out a call to our people and we said, 'Find a new old chair,' so people have been donating old, uncomfortable wooden chairs," he says. "So when people come into the room, even though it's obviously new and different, one of the things they say is, 'It feels like the old Arts Cafe.' And that's amazing considering what a total transformation it's been."
Homepage photo: The popular Arts Café in Writers House, where many readings and public events are staged.