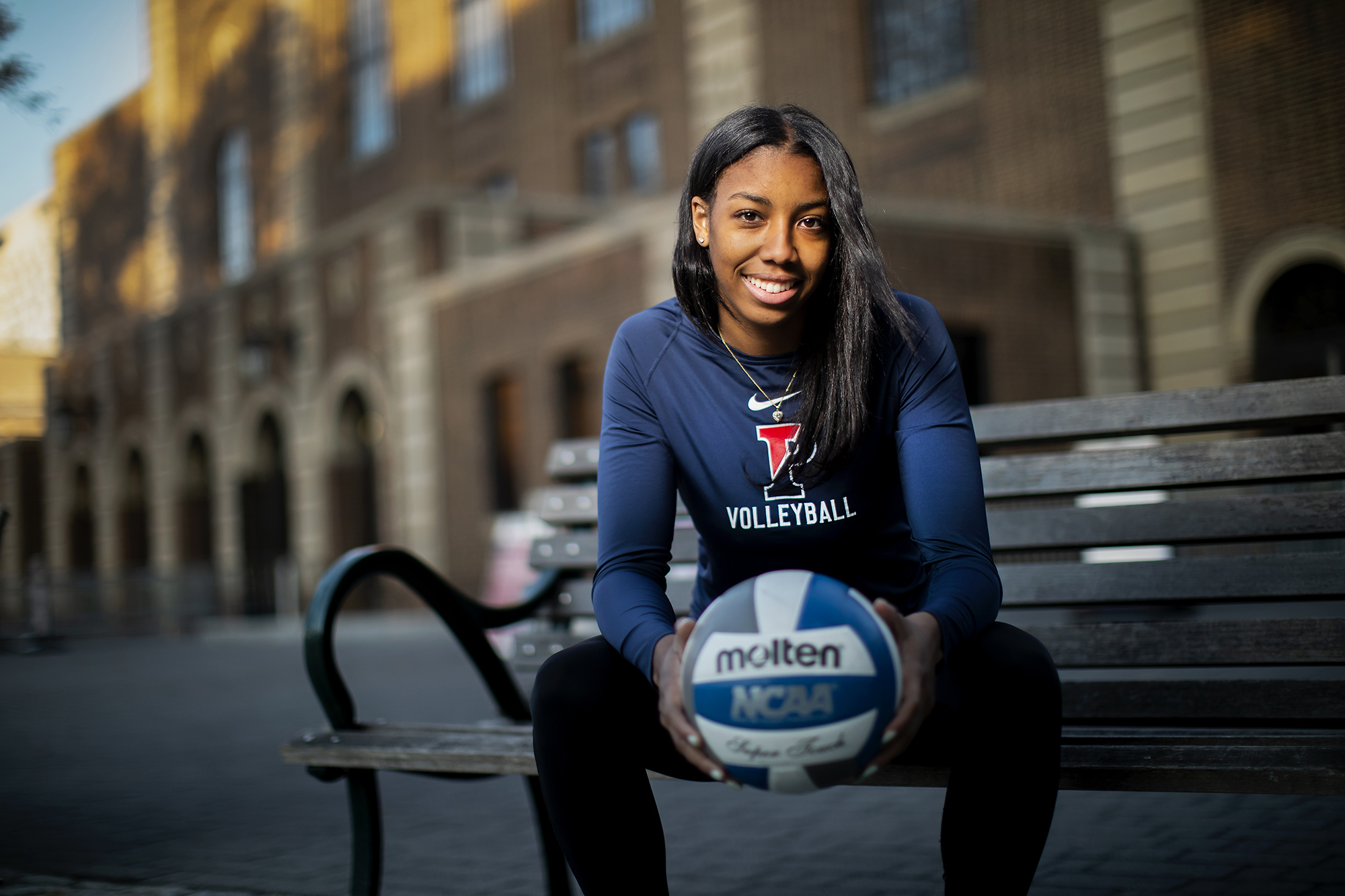 Autumn Leak, a co-captain and outside hitter on the volleyball team, recently concluded her junior campaign as the third-leading scorer in the Ivy League, accruing 334.5 points. She also ranked third in average points per set (3.94), kills (314), and kills per set (3.69).
Against Temple on Sept. 18, she had a career-high 24 kills, the second-highest total in the conference this season. On Senior Night at the Palestra on Nov. 13, she had a team-high 12 kills and helped the Quakers sweep Columbia and end the season on a two-game winning streak.
A political science major from Englewood, New Jersey, Leak has been playing volleyball since she was 11 years old. The comradery is what she loves about the game, competing on a team and playing with her friends.
"It's super fun knowing that it's not an individual thing," she says. "I can't score unless the setter gives me a good set and the libero gives her a good pass. You really can't win by yourself. I like that you have to rely on your teammates. It builds a lot of trust."
Penn Today caught up with Leak on Locust Walk to chat about the role of an outside hitter, the art of the volleyball kill, overcoming anxiety, competing against her sister, and her plans for the offseason.
What are your responsibilities as an outside hitter? My responsibility as an outside hitter is to put the ball away. I'm supposed to be our team's main point of offense. When we're in tough situations, usually the outside hitter gets most of the balls, and their job is to either get a kill or put the other team in a tough spot to give our team another opportunity to score.
What is the art or key of the kill? Is it about timing? It depends. There are multiple ways to get a kill, there are multiple sets. The setter can set to the outside, she can set a go, she can set a rip. These are different offensive runs or offensive plays. Usually for me, I'll start my approach when the ball is at the highest point. Once the ball is at the highest point, you take your approach and then you can hit different shots. You can roll shot, tip, you have sharp line, deep line, use the blocker's hands. There are multiple ways to score from the outside because there are multiple different spots on the other team's side of the court. You just have to see where the other team's defense is not and try to put the ball there.
What sort of training is involved with volleyball? Do you lift weights? We lift twice a week with Coach Weeks. He's our strength coach; he's really good. We lift more in the spring. We do a lot of recovery stuff, like foam rolling, especially in season. We've been really focusing on strengthening our legs and shoulders, so we'll do a lot of bench presses, a lot of hip hinges, squats, and a lot of resistance band work.
Is there a part of your body that is the most sore after a game? Since I do a lot of jumping, I have really bad shin splints, so my knees are always in a lot of pain, even when I'm not playing. My shoulder also, because I take a lot of swings. Those are key things that I need to rest and heal in the offseason and when I'm not playing.
I read an article in the Daily Pennsylvanian where you talked about the anxiety you experienced before games as a freshman and how you had to overcome it. Can you talk about that a little bit and how you improved mentally as a player? I was a freshman and then I immediately jumped to being a captain as a junior. Since we didn't have a sophomore season, I had to step into that leadership role. Freshman year before games, I would be really anxious and I didn't want to let the upperclassmen on my team down if I didn't perform well. But now, as a captain, I've been looking at it from a different perspective. I know the other girls look up to me so when I come into the game or when I step on the court, I have to be more confident and I have to trust myself. I have to be very mindful about how I'm playing, and what I'm saying, and my body language because obviously the underclassmen are looking at that. I think this year I've been more self-aware, and I think, because of that, my play has improved because I'm more intentional about the stuff that I do on the court and also how I speak to my teammates.
Was there someone or something that helped you with that transition, or was it something you just felt that you had to do? I think it's something that I felt like I had to do, but there are a bunch of upperclassmen on the team who really helped. Margaret Planek and Carmina Raquel are both senior captains and they have been very helpful. I've kind of looked up to them since I was a freshman. Margaret was a captain as a sophomore and she's taken that leadership role on tremendously. I've kind of looked up to her and watched how she's handled things, and that's how I've taken my own approach to the sport and leadership.
Your sister Audrey plays for Yale's volleyball team. How is it competing against your sister? It's really fun. She's an opposite and I'm an outside hitter so we basically face each other at the net. For the games, we don't make eye contact because obviously it's gametime, but it's really fun. After the game, we always talk about it. The first time we played Yale, she blocked me, and the last time we played them, I blocked her. It's very competitive between us but that's what makes it fun.
Did your parents go to the games? Yes, they come to the Yale/Penn matches. The first time, my mom wore Penn gear and my dad wore Yale gear. The second time, my dad wore Penn gear and my mom couldn't go. They love it. They like watching us play. When we're not playing each other, my dad will watch one game on ESPN and my mom will watch the other, and they'll be texting each other with updates about what's going on.
What are your plans for the offseason? Relax. [laughs] Train. When we go home, me and my sister will play at our old club. I lift. I do physical therapy. I do recovery and try to rest my muscles, but also try to get better at a few skills. This year, I sometimes played all around, I sometimes just played front row, but my goal for senior year is to be a six-rotation outside, meaning I don't step off the court, I'm always in the game. To do that, I really need to improve my passing and serving skills, so that's what I'm going to work on in the offseason.