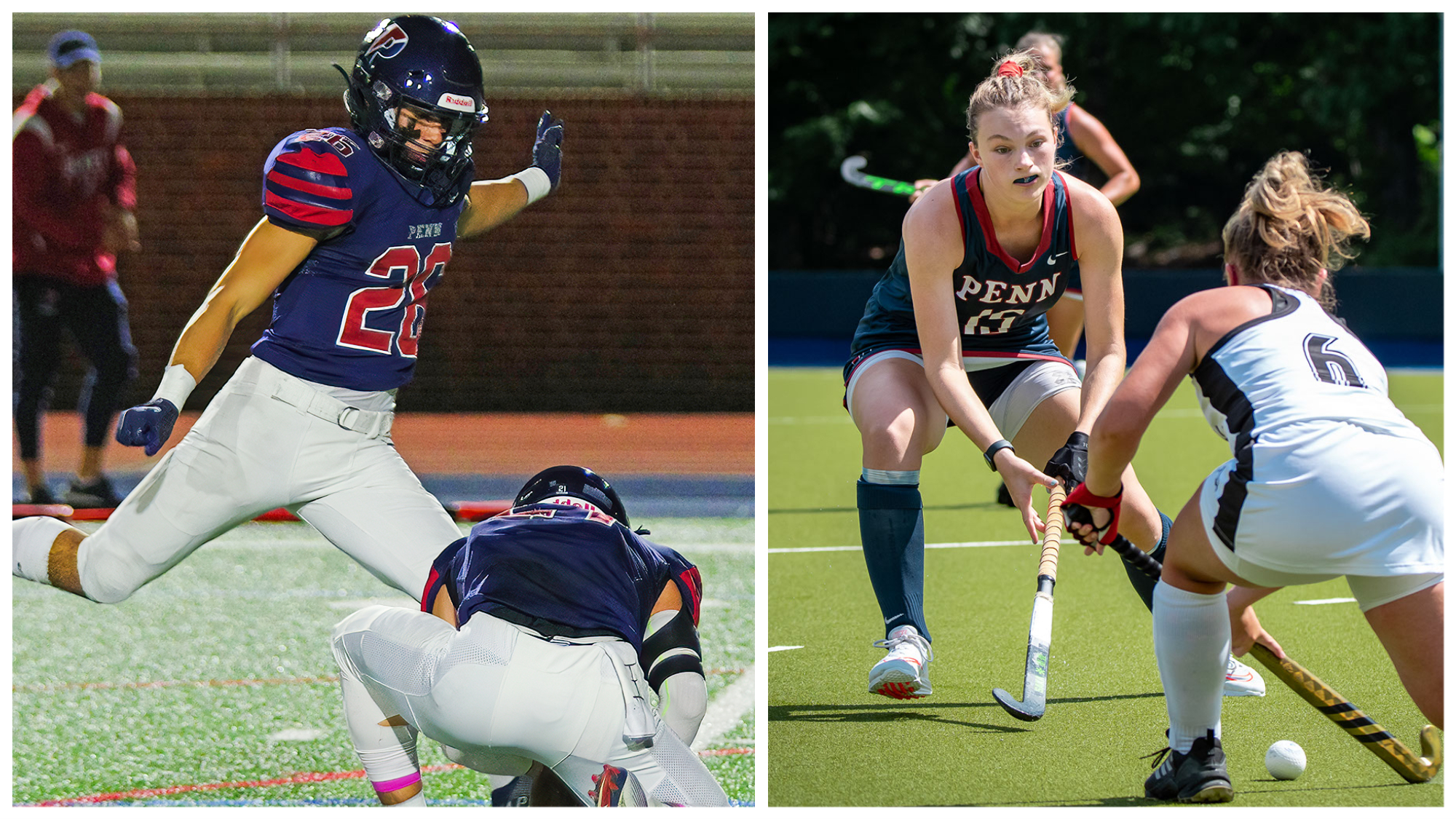 Third-year forward Allison Kuzyk scored three goals in the field hockey team's 7-2 win over Columbia on Friday—only the sixth hat trick in program history and the first since 2015. For her feat, she has earned her second Ivy League Offensive Player of the Week award in the past three weeks.
Each of Kuzyk's goals against the Lions came in the first half. One was a solo shot; second-year midfielder Sophie Freedman and fourth-year midfielder Sydney Huang assisted on the two others.
From Vancouver, British Columbia, Kuzyk has started 13 of 16 games. She ranks second on the team in points (13), goals (six), shots (28), and shots on goal (13).
Second-year kicker Adrian Montemayor of the sprint football team has been selected Collegiate Sprint Football League Special Teams Player of the Week.
In Penn's 27-24 loss to Mansfield on Friday, Montemayor averaged 40.5 yards on six punts and was 1-1 on field goals and 3-3 on extra points. He also had three tackles and two pass breakups on defense and returned a fumble 44 yards for a touchdown.

For the season, Montemayor punted 32 times for 1,139 yards, a 35.59-yard average. His longest punt was 50 yards and four landed inside the 20-yard line. He was a perfect 4-4 on field goals, with a long of 33 yards. His 14 kickoffs averaged 44.4 yards per attempt.
On the defensive side of the ball, Montemayor finished fifth on the team with 32 tackles (17 solo). In addition, he had one tackle for loss, two interceptions, five pass breakups, one forced fumble, and one fumble recovery.
The field hockey team wraps up its season on Saturday, Nov. 5, at Dartmouth in New Hampshire. The sprint football team has concluded play.