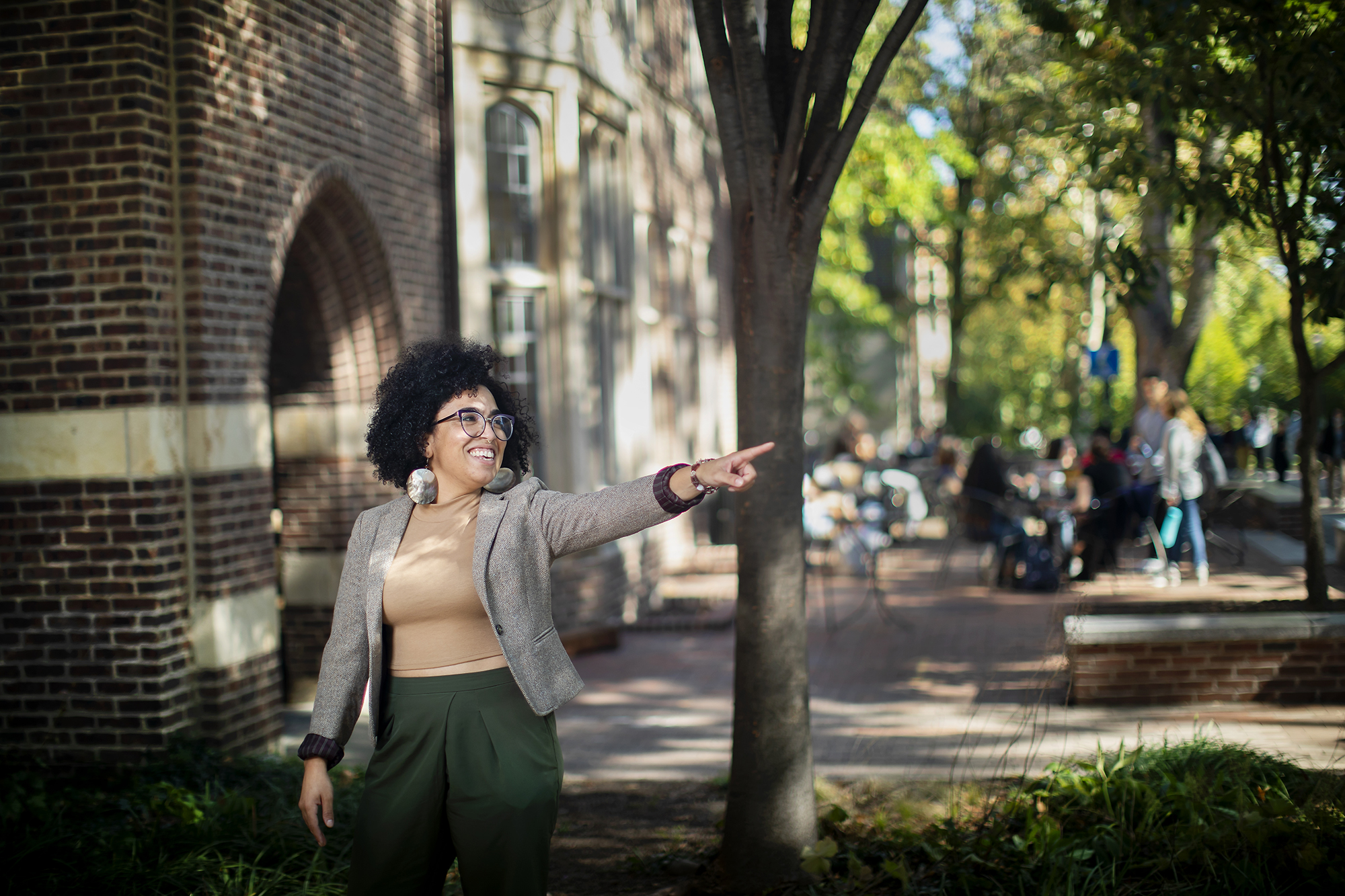 Walking into Krista L. Cortes' home, visitors might be hit by the smell of sofrito, that cornerstone of Caribbean cooking, and see her children helping in the kitchen. "Sofrito is like a labor of love; it takes a lot of time," Cortes says. "And since my oldest son was about 2 years old, he's always helped me." The food she makes for her family—plantains, rice and beans—helps connect them to their culture. For Puerto Rican Cortes and her Cuban husband, rooting their children in Afro-Latinx identity also means having bilingual and Spanish-language books, watching movies with Black protagonists, and having pictures of family, "which runs the gamut in color," Cortes says, as well as artwork featuring orishas hung on the walls. Cortes and her husband practice Santería and the orishas are important intermediaries between humanity and divinity. "You walk into my house and the first thing you see are guerreros [warriors]: Eleggúa, Oggún, or Ochosi. That, to me, is an artifact of our Blackness."
Cortes, who earned two master's degrees from Penn's Graduate School of Education and a Ph.D. in education from the University of California, Berkeley, is bringing this sense of Blackness home to La Casa Latina, one of six cultural resource centers at Penn. Cortes uses the term "Latinidades," instead of the traditional "Latinidad," to refer to the plurality inherent in all the different people, cultures, races, and languages that comprise Latin heritage. It's not just one thing, she says, and in America that often gets lost in translation.
"Case in point, Hispanic Heritage Month," Cortes says. "A particular image gets put across your screen to tell you this is what Latinidad is. It's sometimes a brown person but most often a person that can kind of pass white, that has a little salsa, right? So they might have red lipstick. The person doesn't look like me, I can tell you that.
"There's a white-washing of Latinidad that happens in popular media," Cortes says. One of the opportunities to counter this is within the university setting. For the 10th annual Dolores de la Huerta lecture, Cortes invited two Haitian women, Maika and Maritza Moulite, to present. "That was intentional," she says. "We love to talk about Latin America and the Caribbean and think about the Caribbean in its entirety when it suits us," but non-Spanish-speaking countries often get left out, she says. "People forget that Haiti and the Dominican Republic are actually one island; two countries share that space." Inviting Haitian speakers "was a way that I'm trying to show folks that this is an issue that's important to the Latinx community."
For an annual procession of flags, Cortes invited the Caribbean American Student Association to participate in the procession and made sure to order Haitian flags, along with flags from other Caribbean countries that weren't represented. A student asked her why La Casa would include those flags when people from those countries don't necessarily identify as Latinx. "That's a great question, but it kind of feels besides the point," Cortes says. "We share space; we're a community. You don't have to identify as Latinx to have a shared struggle."
One way for Student Affairs to continue to be innovative and deliver on student experience is through academic practice, Cortes says. "We need to be doing our own research about our practice in order to continue to do better to meet student needs." Cortes is interested in partnering with local Latinx community organizations to create residency programs at La Casa, and she piloted a program last spring focused on holding space for graduate students who identify as women of color.
The program, called Healing, Empowerment, and Love (HEAL) was a seven-week workshop where an outside facilitator guided students through processing their academic and personal experiences. Cortes is applying for funding to do a second round of workshops in 2022 and hopes to offer the program annually. "That to me is part of doing research here. What we're really trying to understand is, How do you design an environment where we can allow students to start that process of healing? How do you create an environment that is rooted in care?"
For Jay Arzu, a first-year Ph.D. student studying highway removal in the City and Regional Planning program in the Stuart Weitzman School of Design, having this space is essential. Arzu is Puerto Rican and Honduran and identifies as Afro-Latinx on both sides of his family, as his Honduran family are Garifuna, a people of African and Arawak origin who fought against the British in the Black Carib Wars. "My people were ethnically cleansed off the island of St. Vincent and removed. It affects how I go about my day, how I walk into a room," he says. "I am my ancestors' wildest dreams."
Arzu visits La Casa once or twice a week "to say hello to Krista, to chillax in there, to find people who look like me, who speak like me," he says. "These grounding conversations when you feel like you can take down your force field and relax a little bit is important."
Ashley Blanco, a junior at the School of Arts & Sciences, goes to La Casa every day. Two days out of the week are fulfilling her work study requirements, the rest are just to find sanctuary. "As a student, I think that it gives us a sense of belonging," she says, especially given the way Cortes centers Blackness. Blanco, who is from New York City, identifies as a Dominican Afro-Latina and hopes to find a marketing job in the fashion or beauty industries after graduation. "Coming from a diverse background, I would definitely bring in that perspective of seeing the beauty in uniqueness," she says, "bringing something different to the mainstream."
The cultural resource centers are "an essential part of this campus," Cortes says, helping students navigate the Penn environment as well as helping them to envision possible futures. "The work we do is really in service of all of the work that other folks are doing: the academic piece, the wellness piece, the residential life piece. Our work sits at the nexus of all of those things," she says, noting that cultural resource center directors often teach, write books, and are involved in academic life in addition to their work with students.
"You don't start learning only when you enter the classroom," Cortes says. She studied this while writing her dissertation about how Black Latinx mothers create environments for their children to learn about Blackness. "There's something for us to learn from these people in a grassroots kind of way," she says.
"We're talking about Blackness and its multiplicity. What does this look like? How do other people express their Blackness?" Cortes asks. When students walk into La Casa, Cortes wants them to feel a sense of Black-affirming wholeness, just as she's created in her home. "I want them to always know that Black is powerful, Black is good, Black could be anything."
There's a prominent mosaic on the wall of La Casa. It features Dolores de la Huerta, César Chávez, and other prominent Latinx leaders. There are a few Black faces, like the poet Julia de Burgos and major league baseball player Roberto Clemente. Just like in her home, Cortes added more art to the walls. She wants everyone reflected.