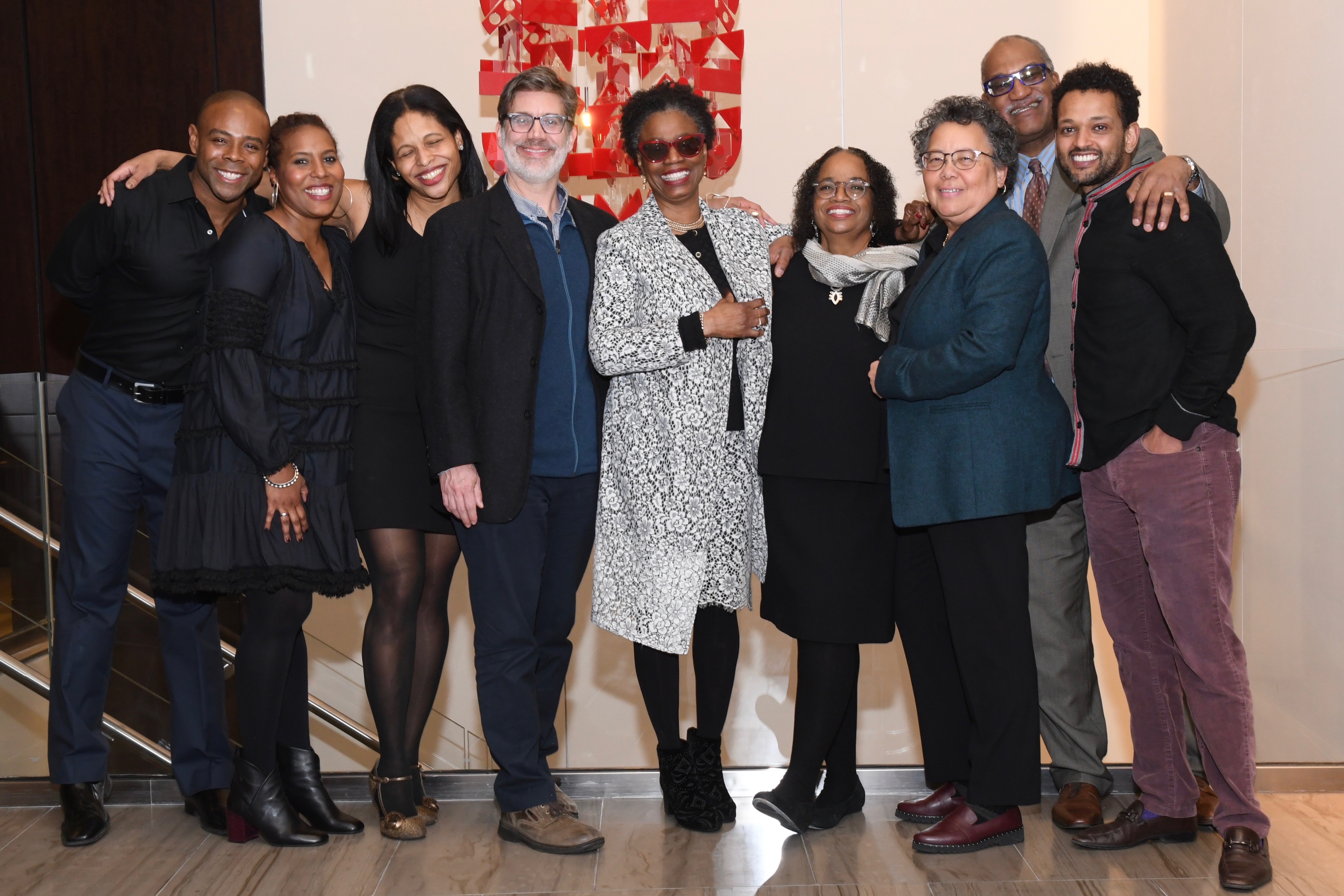 Chosen for her expertise in African-American and Southern literature, author and poet Thadious Davis was one of the first professors recruited by Penn President Amy Gutmann.
On March 16, Davis was honored by Gutmann and her colleagues at a symposium, "Imagining the Raced Space of Freedom," which included panels of scholars from Penn and a dozen other universities who discussed her work at a Perry World House event. 
"Thad's work has led us all to new understandings of how artists faced with race-based societal constraints envision spatial freedom to create and produce their art," Gutmann said in a letter read by Joann Mitchell, Penn's senior vice president for institutional affairs and chief diversity officer, at a March 15 evening reception. 
"This notion of space, and in particular of finding a place safe and sacred to creativity, leads us to a deeper understanding of freedom," Gutmann continued. "It is an understanding of freedom that emerges, in her own words, 'out of the ability to imagine and to create something new.'"
As the Geraldine R. Segal Professor of American Social Thought at Penn, Davis's teaching areas included African-American and Southern literature with an emphasis on issues of race, region, and gender. She taught at Penn from 2005 to 2016.
On the search committee to hire Davis was Barbara Savage, a Penn professor of Africana studies who said she admired Davis's modern, Southern, African-American voice and expertise in authors Nella Larsen and William Faulkner. 
"My respect for her as a scholar was already in place when she came to Philadelphia," says Savage. "What I learned also was what an extraordinarily dedicated teacher and mentor she was to students, and to me as well."
And to Salamishah Tillet, associate professor of English and Africana studies, who says Davis has been an important mentor, "shaping her intellectual trajectory" at Penn, starting by reading her dissertation.
"It was beautiful to have her with me to think about not just myself but my students and fellow colleagues and how we can navigate and negotiate in spaces that weren't meant for us," Tillet says, noting that only 1 percent of full-time professors in the United States is African-American women. "The gift of strategy, as a black woman, to navigate the space we are not supposed to be in, I cherish forever."
English Department Chair Jed Esty said he read Davis's work as a student, and remembers the impact of her words on his academic pursuits.
"She is a modernist scholar of really lasting significance," Esty said, adding that she has been a "steadfast, admired, and difference-making colleague." 
Penn Professor Herman Beavers said Davis chose his first poem for publication in a journal, giving him confidence to continue writing. "In many ways, I would not be here if it weren't for Thadious," he said.  
Davis is the author of Southscapes: Geographies of Race, Region, and Literature (2011), Games of Property: Law, Race, Gender, and Faulkner's Go Down, Moses (2003), Nella Larsen, Novelist of the Harlem Renaissance (1994), and Faulkner's "Negro": Art and the Southern Context (1982).
"It was the Larsen book that first taught me that Thad is a really fine historian," says Savage, the Geraldine R. Segal Professor of American Social Thought. "The detective work and interpretive genius and learnedness in that book make it a work of brilliance."
It resides on the right side of her desk. "That book sits there, not unlike the Bible, a book treated with reverence because every time you thumb through it you find something new and instructive and powerful."
Davis also served as the University's ombudsman, says Vice Provost Anita Allen, adding that she was "not only a wonderful teacher and scholar but also a really sensible administrator." 
Spearheading an effort to recruit African-American faculty and graduate students is the legacy Davis said she is most proud of, "quite a marvelous achievement for all, and the University as a whole." 
Now retired, Davis lives in Nashville. "My biggest hope," Davis says, "is that the positive forward movement will continue as that makes all our lives—in the academy and out—so much better and brighter."