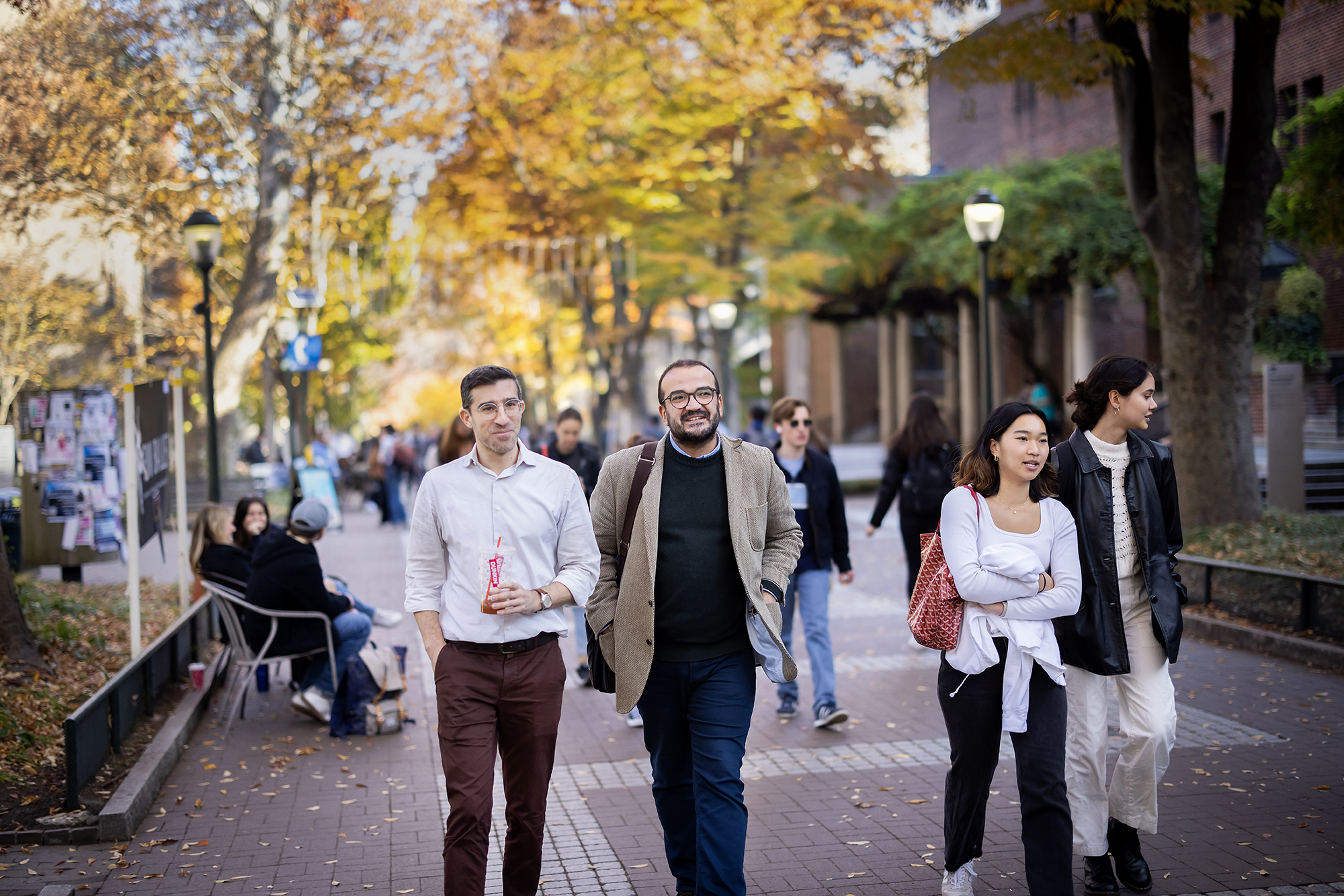 On an unseasonably warm Thursday afternoon, a week before Thanksgiving, Locust Walk was bustling. At tables along the historic walkway, some students were touting their clubs and upcoming performances while others were selling donuts and raising money for charities. Amid the throngs were two men walking and talking. From a distance, it looked like an impromptu chat, but their stroll was actually a weekly effort at creating connection and bridging differences at an emotionally fraught time.
Harun Küçük, faculty director of the Middle East Center, and Joshua Teplitsky, director of the Jewish Studies Program, started their walks together in late October as an act of campus diplomacy in the wake of the violence in Israel and Gaza. The two typically meet up in front of the LOVE statue and take it from there.
"When we run into people, we say 'hi' and introduce each other," says Küçük, an associate professor in the Department of History and Sociology of Science. "It is our belief that if we can talk and get along, maybe everyone else can, too."
During the half-hour walks they stop and chat with a range of people on campus: undergraduates, grad students, faculty, and staff members. "We really don't even say more than "Do you know my colleague?' We don't walk together to resolve campus issues or issues in the Middle East. We just walk as each other's colleague and as a way to get to know each other better," says Teplitsky, an associate professor of history.
As they embarked on their walk last week, the two ran into Teplitsky's colleague Simcha Gross, a specialist in ancient and early medieval Jewish history, with a focus on the contextual study of the rabbis and rabbinic literature in their Persian and Islamic contexts. Teplitsky introduced Küçük, who remembered he and Gross had once been together on a Zoom call about the Foreign Language & Area Studies (FLAS) Fellowships.
Gross says the duo's efforts are an important addition to their shared mission of educating students.
"They're embodying that shared mission in practice by finding ways forward to dialogue, despite disagreements and differences, if and when they arise. And so, I think it's very important what they're doing," he says.
It's valuable to create spaces and opportunities to talk, but in times like this there should also be spaces and opportunities to not talk, to not go right into the intensity of things, Teplitsky says. "Sometimes we are just quiet as we walk, and there's a value in being present with each other in a space that isn't necessarily one that's filled with words. I feel like it strengthens our trust with each other and that makes so much else possible, just the familiarity and comfort with each other," he says.
They passed by Penn Hillel, where people were handing out free loaves of challah. Teplitsky introduced himself and Küçük, who then chatted with a Penn parent about a Turkish bread recipe that's similar to challah.
As the walk wrapped up, Küçük told Teplitsky he was set to join a video conference in Crete later that afternoon, which was focused on Ottoman notions about the supernatural. He described the paper he was presenting on the astronomical sources used in Marifetname, a mid-18th century religious text in Turkish, which elicited a fist pump and an enthusiastic "Yes!" from Teplitsky. 
The two knew of each other previously, both being historians, but they never really had a chance to collaborate. Now that they are taking these walks, they've discovered how much their research areas overlap, they say. 
Teplitsky is a historian of Jewish life in Central Europe during the period of 1500 to 1800. He's working on his second book project about Jews and epidemic disease by reconstructing the facets of a single plague epidemic in 1713 Prague.
"This brings me into the exciting circuits that Harun has been in for some time in the history and sociology of science," he says. "My project intersects with some of those questions by exploring histories of medicine and healing—including religious and ritual means of coping—and histories of knowledge and the transmission of expert knowledge among ordinary people, as well as histories of patients, neighbors, conflict, and coexistence in the midst of a ravaging plague."
Küçük's work focuses on science in the Ottoman Empire in the 17th and 18th centuries. "I also did some research on medicine, but insofar as it is a science. So, if you look from afar and squint, Josh and I are doing practically the same thing," he says. "Historians who work on science and medicine in the earlier periods should have each other's back."
Having a chance to get to know one another better inspires them to keep their walks going, in the hopes of creating more campus connections.
"Now is a really good time for all of us to rediscover our community," Küçük says. "We just came out of the pandemic, where we got used to not seeing each other, not talking to each other. That put us on a bad path. But we can come out of that by embracing students and faculty."
Teplitsky agrees.
"There's a lot of pain and there is a lot of anger but there's also a lot of love on campus," Teplitsky says. "I've talked to students who had no affiliation or connection to any party in the Middle East, and they would say things like, 'My friends are hurting and I want to be there for them. What can I do?' No mention of any sides. I was touched by that. That recenters me. It's a very large campus full of caring people."