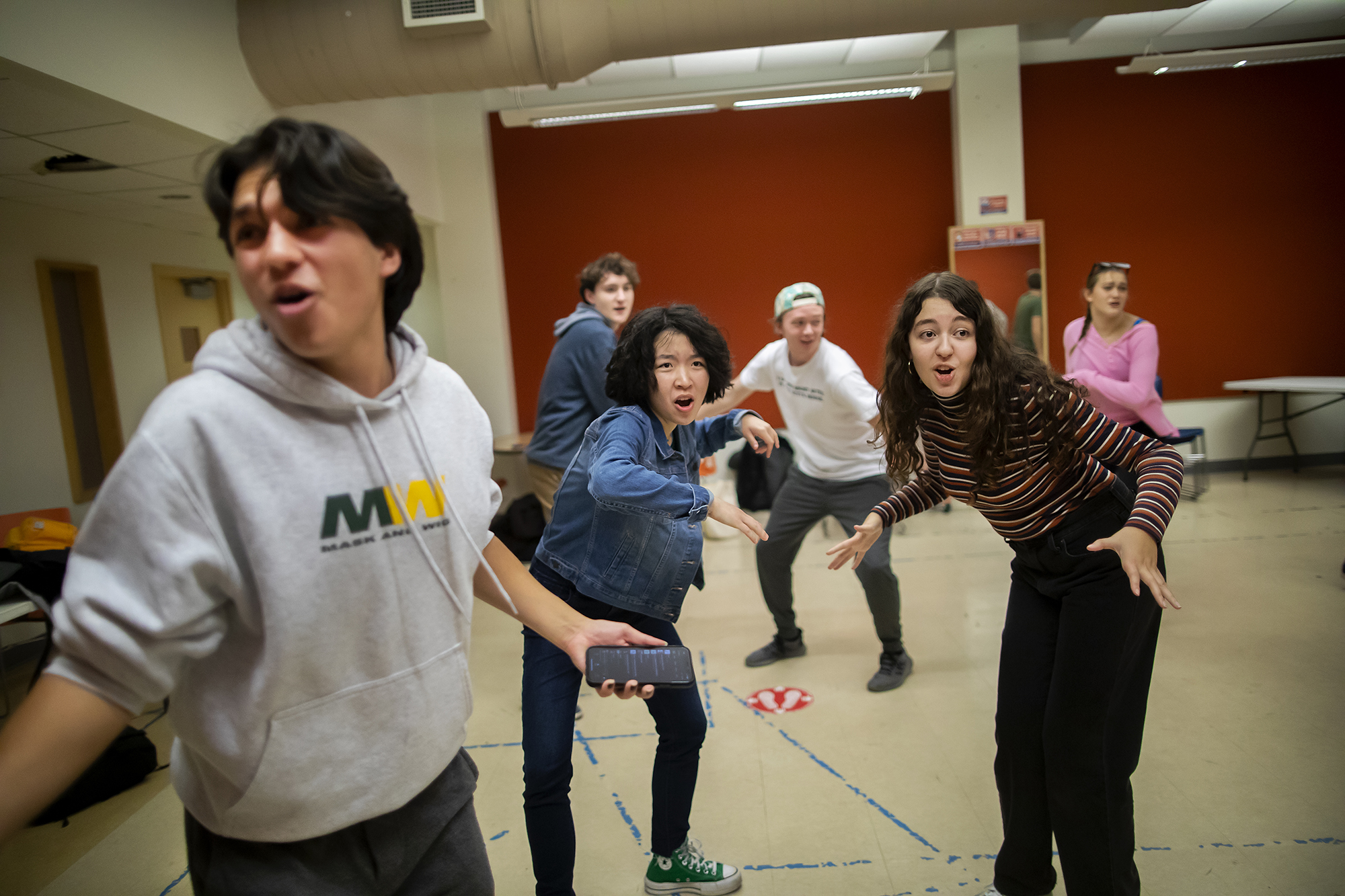 Even before Lauren Cho started her first year at University of Pennsylvania this fall, she had seen the musical comedy troupe Mask and Wig perform twice and decided she wanted to be part of the 133-year-old club.
"I love sketch comedy and I love musical theater and I love writing, so I thought it would be the perfect group to try out for," says Cho, a soprano from New York City who has been involved in theater since middle school.
Until September, it would have been impossible for her to audition. Since its founding at Penn in 1889, Mask and Wig has been an all-male group. In 2021 the club's membership, which includes both undergraduates and alumni, voted to become gender-inclusive, with auditions open to all undergraduates for the first time this fall.
Those auditions resulted in 20 new members, 14 of them female-identifying, making up a third of the club's current 47 members in the cast, band, stage crew, and business staff.
When the troupe takes the stage at the Iron Gate Theater on Oct. 12-15 to perform its fall show, "Better Call Y'all," a farm-themed sketch comedy, it will be making history for Mask and Wig and for Penn performing arts.
"The heart of what we do is to put on a show. It will make our shows better," says Tom Fanelli, Mask and Wig undergraduate chair, about going gender-inclusive. By removing the restriction, the group can pull from a larger talent pool and make the club more equitable, says the fourth-year from Kings Park, New York, who plays piano in the club's band.
"I personally don't think we lost anything at all by going gender-inclusive," says Fanelli, a computer science major in the School of Engineering and Applied Science. "We had a lot to gain. And as the year has started with these new members, I haven't had any doubts about that."
Mask and Wig stages two all-original shows each year. The fall performance is a sketch comedy, with original musical numbers performed over a weekend. The annual production is a professionally produced, designed, and directed musical comedy, written by undergraduate members, performed throughout the spring semester. The group also goes on a performance tour to major cities during spring break.
"It's incredibly exciting to join a group that has such a rich history and traditions and be a part of the first year of acknowledging those old traditions but also creating new ones," says Cho, who is planning to double major in English and theatre arts in the College of Arts and Sciences. "And it's really exciting to see how the group will evolve."
A yearlong review
Mask and Wig is unique among Penn's performing arts groups, a nonprofit with a membership that includes about 50 undergraduates and around 400 alumni involved in myriad ways, including hiring professionals for the annual musical production.
The all-volunteer Board of Governors oversees the club's activities, including managing its Clubhouse, a historic building at 310 S. Quince St. that Mask and Wig has owned since 1894 and where the group holds rehearsals and performs its spring show.
David Simon, a 1986 graduate, was elected to his current role as board president shortly after the pandemic hit in 2020. With performances canceled, he says, the board decided to use the time to conduct a comprehensive organization review of the club, including its finances, the building, the productions, and its membership.
The undergraduates had a "strong interest" in removing the all-male restriction to membership and making Mask and Wig gender-inclusive, a question that had come up periodically since the University became fully co-ed in 1974, Simon says.
The club surveyed the members, compiled the information, and had "very orderly, respectful, open discussions," he says, with members ranging in age from late teens to late 80s. The full membership voted in September 2021 and "overwhelmingly supported" the removal of gender as a condition of membership, Simon says.
"We ended up with a great outcome, with a lot of recommendations that set us up for subsequent work, but a lot of things that will put Mask and Wig in a much, much stronger position going forward," Simon says.
A year of preparation
Once the decision had been made, the Platt Student Performing Arts House leaders, who advise and train students interested in the performing arts at Penn, set out directives designed to help educate the Mask and Wig membership on what it means to be truly gender-inclusive, says Laurie McCall, Platt House director.
Mask and Wig launched an "undergraduate experience review," creating teams to examine the fall show, annual musical, social traditions, social culture, and club and board interactions. "We wanted to be sure that when we do this, we do it right, and when we bring in non-male-identifying members they can feel welcomed and included," Fanelli says. "We want to continue to foster a safe and fun and inclusive environment."
The undergraduate members attended diversity, equity, and inclusion (DEI) sensitivity training and created a DEI committee, participated in hazing-prevention and violence-prevention training, and met with Malik Muhammed of the LGBT Center. They hired Jennifer Childs, producing artistic director of 1812 Productions, to work with them on new approaches to writing and performing.
"When it comes to casting for roles, people are used to seeing Mask and Wig productions with men in wigs playing female characters. That's not going away," Fanelli says. "When we make casting decisions, we're going to be selecting the best people for the role. So, whether that's a woman playing a man or a man playing a woman, whoever's the best person for the role, whoever's the funniest, that's how we're going make those casting decisions."
An important directive was to have discussions with Bloomers Comedy, founded at Penn in 1978 as a musical-comedy troupe for women specifically as an alternative to the all-male Mask and Wig. Bloomers is now open to "genders underrepresented in comedy," or "anyone but cis-gender men," although its band is open to all genders. 
The two groups worked with Restorative Practices@Penn to discuss how they could coexist fairly in campus performing arts. "I was impressed with all the work they did. It was very thoughtful," McCall says.
Mask and Wig met all the directive requirements, and in April the student-led Performing Arts Council approved the change in the club's mission to include all genders in its membership. "Platt House staff will continue to check in with Mask and Wig to support all the members and to help provide a consistent focus on issues of equity and inclusion," McCall says.
Auditions
The club then turned its attention to ensuring students showed up for auditions, holding events and performances and directly contacting students who signed up for information at activities fairs. During New Student Orientation, Mask and Wig and Bloomers staged a free performance together, filling the Zellerbach Theatre at Penn Live Arts.
Over Labor Day weekend, the undergraduate members and the professionals hired for the spring show, including the producers, the director, choreographer, and the vocal coach, conducted the auditions.
Simon came back to campus to observe and to reinforce the full club's support and commitment to gender inclusion, he says. "The turnout was tremendous," Simon says. "That was the biggest question, honestly, going into this school year. We had decided to be gender-inclusive, but we didn't know what the response would be from the Penn community."
Of the 20 new members, eight are in the cast, five in the crew, four on the business staff, and three in the band. "It was a great success," Fanelli says. "The class is super talented."
New members
Cho knew all about the club and even lives in the Mask and Wig dormitory in The Quad, but Idil Secil, a first-year student from Izmir, Turkey, didn't know much about it, even that it had been an all-male troupe, before she auditioned.
Secil is interested in business, planning an economics major in the College, and she shared her contact information with dozens of groups during the student activities fair. She received a text encouraging her to come to Mask and Wig tryouts, so she did.
She became one of the four new members, all women, who joined the business staff, which creates and sells ads for the show program, sells tickets, and handles marketing. She has been working on content production for the club's social media account.
"I haven't felt excluded for one second because of my gender," says Secil, who is also involved in Wharton Women, Penn Blockchain, and "F-Word Magazine," a student-run feminist publication. "We are such a tight-knit community, always hanging out. It's super fun. I can't imagine my life without Wig right now. I feel so lucky to be a part of this first gender-inclusive year."
Natalie Schaumburger, a third-year from West Hartford, Connecticut, says she is perhaps the first member of Mask and Wig from the School of Nursing. She had played the clarinet in the Penn Band her first two years, but says she wanted to do something different. Watching the free comedy show with Mask and Wig and Bloomers, she says, sparked her desire to get back into music.
Schaumburger is the only female member of the band, playing the alto saxophone, which is "really fun" for her, an experience with "a lot of humor" she says. "I do feel very proud to be one of the first female members of Mask and Wig. It's just a great opportunity," says Schaumburger, who is also a member of XCTF, the cross-country track and field club. "These are people I would have never otherwise crossed paths with."
Second-year David Hess-Dunlop, an English major in the College from West Philadelphia, says he joined the Mask and Wig stage crew because he loves making things with his hands to channel his extra energy. "One of the reasons that I love being on the crew is because it teaches me new skills in a way that is highly optimal for my ADHD (attention-deficit/hyperactivity disorder)," he says. "It's a refreshing experience, coming from years of education in spaces that were not conducive to having a learning disability." He's been helping build a barn and 12-foot silo for the fall show set.
"I'm doing a lot of constructing with wood and nails, and papier-mâché and paint," he says. "We are building this beautiful, wonderful thing all on our own. That gives us so much responsibility, which makes me feel very confident in myself in my academic life."
Hess-Dunlop says he wanted to become part of a community on campus, and the club opening auditions to all genders was important to him. "It definitely made me a lot more excited about joining," he says. "Being non-gender-inclusive didn't sit right with me."
Cho, who is also in the Stimulus Children's Theater, says she has already become involved in writing and pitching the comedy bits, and performing them for other cast members. "It's so fun. It's just being silly with people you love," says Cho, who wants a career in theater performance and writing. "We're all one family. It doesn't seem like a hard transition at all."
A new chapter
Mask and Wig was founded in 1889 by Clayton Fotterall McMichael as a troupe to produce humorous theatrical pieces. Colleges at the time were all-male, and so was the club. In an era when burlesque was popular, "overblown characterizations, loose plotting, musical interludes, and parody of high art made the style perfect for a group of young, well-educated, amateur men," including dressing in drag, according to the history on the Mask and Wig website.
The group performed the first production, "Lurline," at the Chestnut Street Opera House in Philadelphia on June 4, 1889, for one night only, starting the tradition of annual shows. The club prospered, and in 1908 even built a dormitory in The Quad, which still bears the name Mask and Wig. Particularly popular in the 1950s, the group performed in big Center City theaters and traveled across the country in its own Pennsylvania Railroad car.
Television and changing tastes had an impact on popularity and performances. The production in 1961 introduced a satirical revue format in a cabaret atmosphere. The 1992 production revived the student-written book musical, which continues to this day.
Becoming gender-inclusive is "another evolution in the history and the life of the club to continue to be successful," says Simon, who was on the stage crew and stage manager when he was a Penn Engineering student. Mask and Wig's primary purpose has been and continues to be, he says, "Justice to the stage; credit to the University."
"Ultimately what we realized is the 'brotherhood,' as people call it, that you get from a group like this does not depend on the gender makeup of the group," Fanelli says. "You get that from working closely together, putting your all into a production that is a big-time commitment, and having a lot of fun doing it."
Tickets for Mask and Wig's show "Better Call Y'all," Oct. 12-15 at the Iron Gate Theater are available at www.maskandwig.com/tickets.