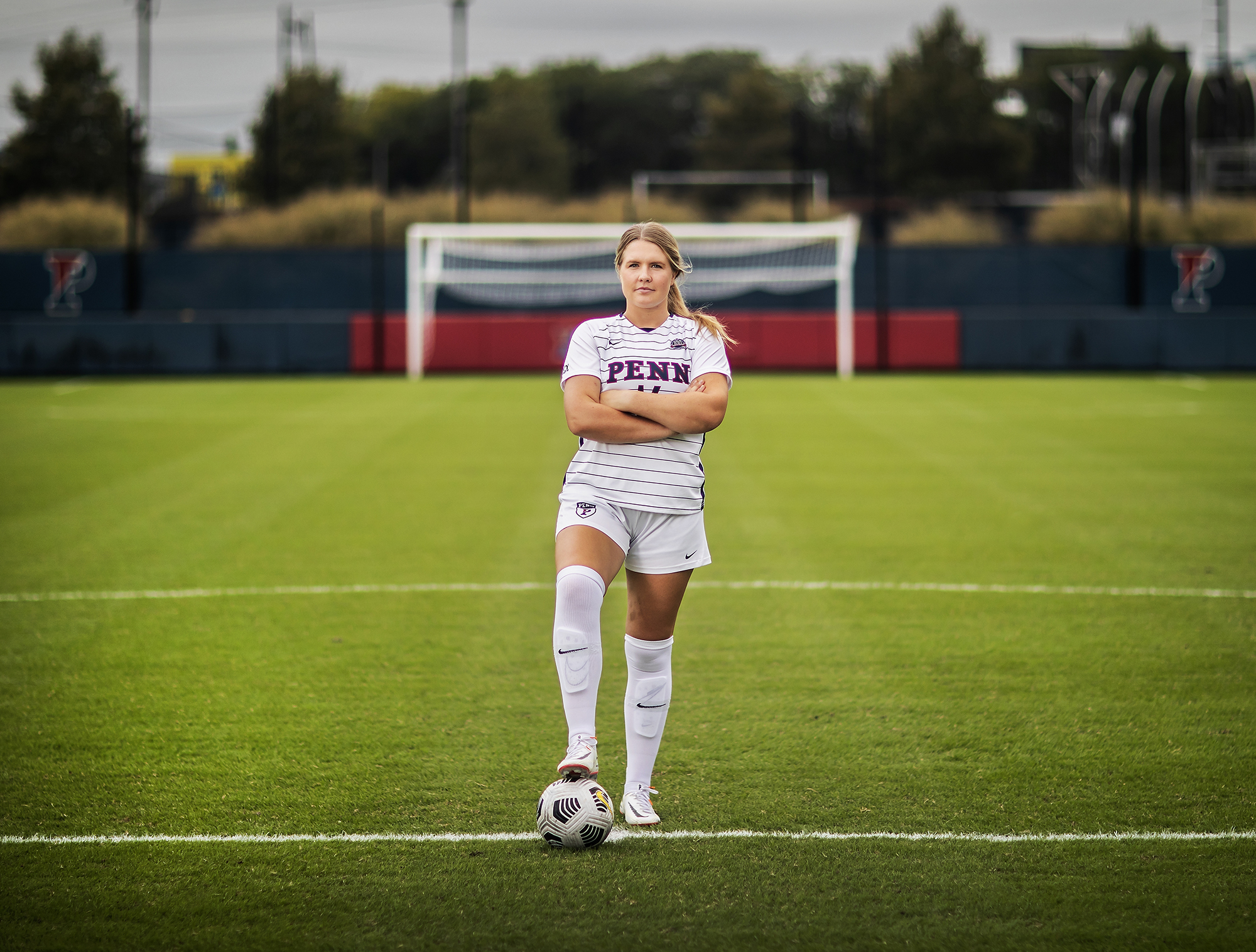 The 9-3-2 women's soccer team is on a roll, winners of three straight games, four of their last five, and all nine games at Rhodes Field. At present, they are tied with Harvard for third in the Ivy League with a 3-2 conference record. Clashes with 5-0 Brown in Rhode Island on Oct. 30 and 4-1 Princeton at home on Nov. 6 close out the regular season.
Shining bright for the Quakers has been Mia Shenk, a forward from Woodside, California, and one of only six seniors on the sophomore- and junior-laden team. The economics major has a team-high six goals and 15 points, which place her seventh and ninth in the Ivy League, respectively.
Two of Shenk's goals have been game-winners. In the home opener against George Mason on Aug. 29, she scored a goal in the 70th minute to lift the Red & Blue to a 2-1 victory and give Casey Brown, the Douglas N. Brush Head Coach, her first win as Penn's coach.
Facing George Washington on Sept. 12 at Rhodes Field, Shenk scored the first three goals—the first two came 33 seconds apart—in the Quakers' 4-0 shutout, only the 15th hat trick in program history and the first in a decade.
Penn Today parleyed with Shenk at Penn Park to chat about what she enjoys about soccer, her responsibilities as a forward, her young but talented team, how she has grown as a player, and her plans for the future.
You have been playing soccer since you were a small child. What do you enjoy about the sport? I just enjoy the competitive nature of it. I've always played a bunch of different sports. Through high school, I played basketball and volleyball and ran some track, so I always just loved the competitive aspect of sports. That's definitely been my favorite part. I also enjoy being on a team. I've always loved team environments.
Has soccer always been your best sport? Yes, I'd say soccer and basketball were close. Going into my sophomore year of high school, I was trying to figure out which one I was going to do because in California they are in the same season. They're both winter sports. And I ended up playing soccer.
 Why did you choose soccer over basketball? I just liked the game more. I found it was more enjoyable. I liked the larger team, that there were more people on the field. But I definitely have always loved basketball. We actually have an intramural basketball team that's made up of our soccer team. A bunch of girls come out and we all play basketball together in the spring, which is super fun.
What are your responsibilities as a forward on the women's soccer team? To score. I'd say that's the main one. To score and put goals away. Also, working with the [midfielders], working with the defense, and making sure that we're able to move the ball up the field and ultimately put it away and win games.
 The women's soccer team is currently in the hunt for the Ivy title. You were a member of the Ivy League championship team in 2018. What did you learn from being a part of that team? That was awesome. We were on a run the whole season, just winning game after game. It was amazing. It was also my freshman year, so it was kind of my welcome to the Ivy League. I even ended up scoring in the Brown game. My first career goal was scoring in the Brown game. We beat them 2-1 and that's what secured us a share of the Ivy League Championship. It was just a really great experience. It was really awesome to see how much of a team effort it was and how much the little details truly matter. It was just a really great year to play college soccer.
You are one of six seniors out of 29 players on the women's soccer team. Is this the first time you have played with so many underclassmen, and have you had to take on more of a leadership role? Yes. It's also different because of COVID. Everyone missed out on a whole year, year and a half, so we were almost kind of thrusted from being sophomores to seniors, which was definitely kind of crazy because we didn't necessarily know a lot of the things so we were kind of winging it as well. And then we also got a new amazing coaching staff, so it was definitely a year of transition and growth for our whole team. It was really important for my grade especially to stay together to try to figure things out and really come at it from a collective, all-of-us-together approach.
How have you seen yourself grow as a player, being thrusted, as you said, from being a sophomore to a senior? My skills have definitely evolved, but I think also just being a member of the team kind of changes every year. As you go from freshman, to sophomore, to junior, to senior, you get more responsibilities and people look up to you and look to you for what to do and your experience. It's definitely been great to personally grow and also be able to talk to other people on the team and help them make decisions and grow as well.
You are involved with the Penn Athletics Wharton Leadership Academy. What is one thing that you have learned or taken away from the program? Just how important it is to really know your teammates. What they really drive is how relationships are super important in order to be successful, and the importance of building those relationships on and off the field.
Do you know what you are going to do when you graduate? Yes, I'm working at Cowen. It's an investment banking firm in New York City. I'm going to be going there after graduation. I was there all summer, which was fun. It was awesome.