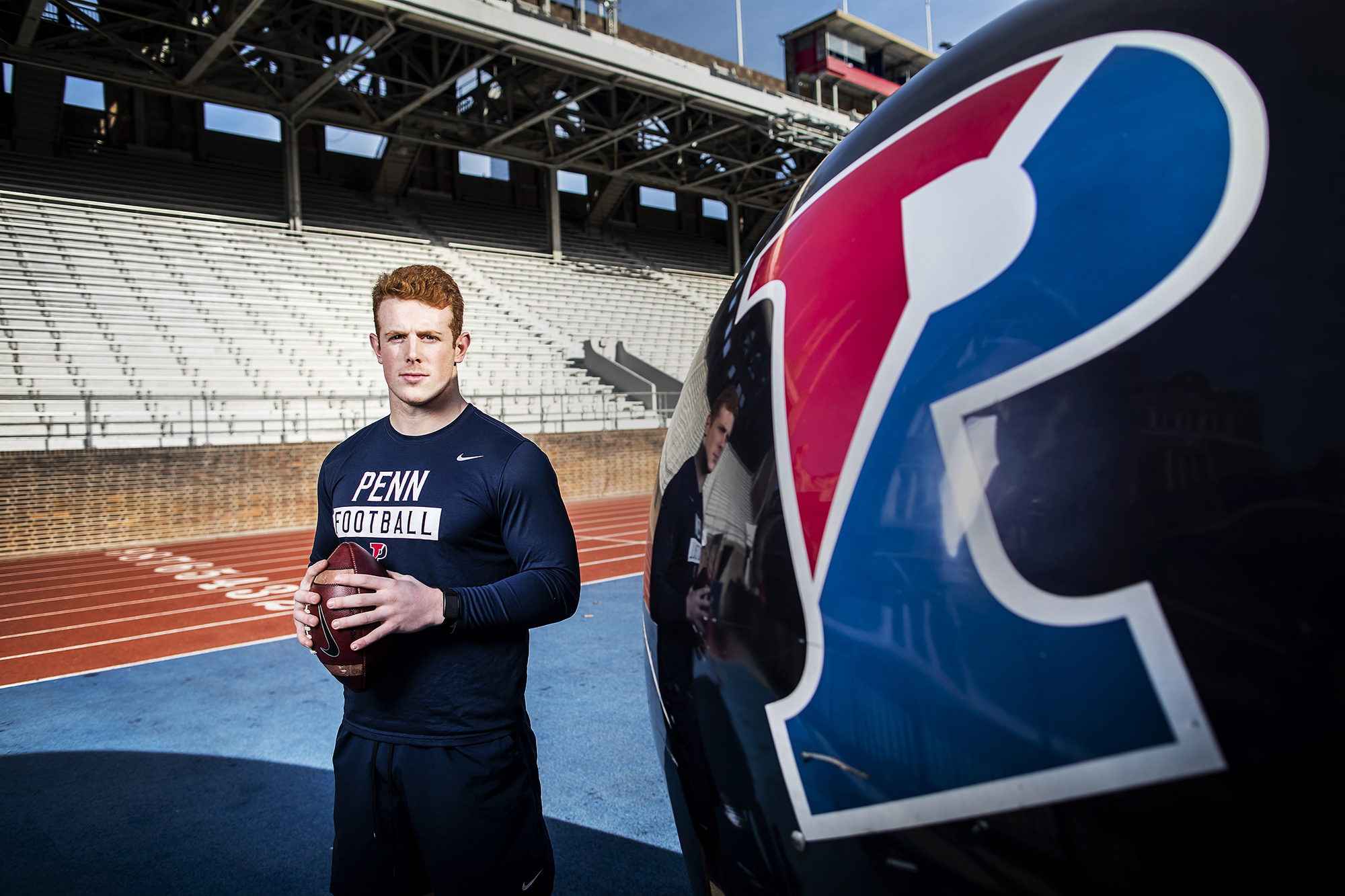 Middle linebacker Brian O'Neill of the football team, a fifth-year senior from Roseland, New Jersey, is a First-Team All-Ivy awardee after finishing the season tied for seventh in the league in total tackles and solo tackles.
A silver lining to the football team's less-than-stellar season was the play of its defense. Co-captained by O'Neill, the Quakers ranked second in the conference in passing yards allowed per game (194.3), third in red zone scoring percentage (75.8), and fourth in points allowed per game (21.5). 
With 59 each, O'Neill and junior defensive back Jaden Key tied for the team lead in total tackles. Thirty-seven of O'Neill's tackles were solo, and he also had 4.5 tackles for loss, one interception, one fumble recovery, three quarterback hurries, and one pass breakup.
A Philosophy, Politics, and Economics major in the School of Arts & Sciences and consumer psychology minor, O'Neill earned All-Ivy recognition in 2019 as well. His 58 tackles, 12.5 tackles for loss, four sacks, three interceptions, and one fumble recovery garnered Second-Team honors.
Penn Today hit the gap with O'Neill to discuss his career as a Quaker, the importance of watching film, takeaways from the past season, his plans for the future, and his pick for Monday's national championship game.
The middle linebacker is sometimes referred to as the quarterback of the defense. Is that how you see it, or how you approach the position? Yes, I have a bunch of responsibilities. I have to do my job, my coverage responsibility, my gap scheme. I have to set the d-line. I have to talk to the safeties about the coverage and make sure everyone is aligned right and has the call. I have to make sure everyone is set and ready to go when they're about to hike the ball.
How much time, on average, do you spend in the film room during the season? Throughout this season, it was probably an hour and a half, two hours a day. I only had one class last semester, so it was very nice being able to just focus on football and commit most of my time to that.
In what ways does watching film help you on the field? It can help you see tendencies or cues that tip off a certain play. For example, if the running back is deep in the backfield as opposed to lined up with the shotgun QB, that could be a tendency for inside zone. The split of the tight end or wide receiver could determine if they're running a screen or a screen and go. After watching a lot of film, you can pick up small things, small patterns that give you a little bit of an advantage before the play starts on gameday.
Can you talk a little bit about the season? I'm sure you would have liked to have had a better record. What are some positives you took away from the season? We definitely wish we could have won the championship, but sometimes things don't go your way. But I would say the positives are we had a lot of underclassmen really step up. Guys like [junior] Chris Rankins, [junior] Jaden Key, and Micah Morris really stepped up and made big plays. Going forward, with the game exposure they had, I think that experience is going to pay dividends.
I read an interview you did with NFL Draft Diamonds where you said your biggest failure was your freshman year of college. You said the combination of academics and football really hit you hard. Can you expand on that a little bit? It was a big adjustment going from being a high school senior where you're living with mom and dad, to transitioning to a place I've never lived with roommates I've never lived with, with a 40-hour, if not more, class week, plus football. It's definitely a difference experience; it's a different whole world. You really have to understand how you're going to get through it and manage your time. Going from senior year to freshman in college was just a huge learning curve, academically, socially, and sports related. That was probably my biggest wake-up call, I would say, to really get into the groove of things and transition into the success that I have had as a student-athlete.
Was there something that helped you with the transition? One of the biggest things that really helped me get through was leaning on the guys before me that had gone through it already, the upperclassmen before me, the seniors, the captains. They've been in my shoes and, through their experiences, they've had insights on how to do things well and how to be successful, so I leaned on them a lot, and that really helped me going forward. Now that I'm the senior and I'm the captain, I'm trying to do the same thing to all underclassmen so they know that I've been in their shoes and I'm here to help them out in any way I can.
Is there one key piece of advice that you give them? I would say enjoy your time. That's pretty cliché, but I would say enjoy your time and make everything count. You don't want to be that person that says, 'I wish I did that, I wish I did this.' You only have so many days and so many years doing what you love, so make the most of it and enjoy every second of it.
When I was growing up, Lawrence Taylor of the New York Giants was the quintessential linebacker. Who is that person for you or your generation? Recently, I'd probably say Devin White of the Tampa Bay Bucs. He's all over the field. He's dynamic, he's fast, he's physical. I'd probably say him and Micah Parsons right now is just unreal. He can play any position on the defensive side of the ball, maybe even offensive. He's making the case right now to be Defensive Player of the Year as a rookie. Micah Parsons and Devin White are two special players that any team is lucky to have.
Is your football career over? Have you played your last game? That's a question I ask myself every day. I don't really know the answer to that. I'm in the process of trying to figure out what's best for me and what's best for my family. I am going to talk to them and figure out the next step. Hopefully, it's not over, but if it is, I can say that I gave it my all and I tried to make Penn as best as I could.
Am I correct that you would like to work in the sports business whenever your playing days are over? Definitely. After football is done, whenever that may be, I have a passion for sports, I have a passion for competition. I really see myself in some realm of the sports world.
Who do you got in the national championship game? It's hard to not say 'Roll Tide,' but 'Roll Tide,' I would say. That Georgia d-line is nasty, that Georgia whole front seven is nasty. I think it will be a dogfight for the championship.