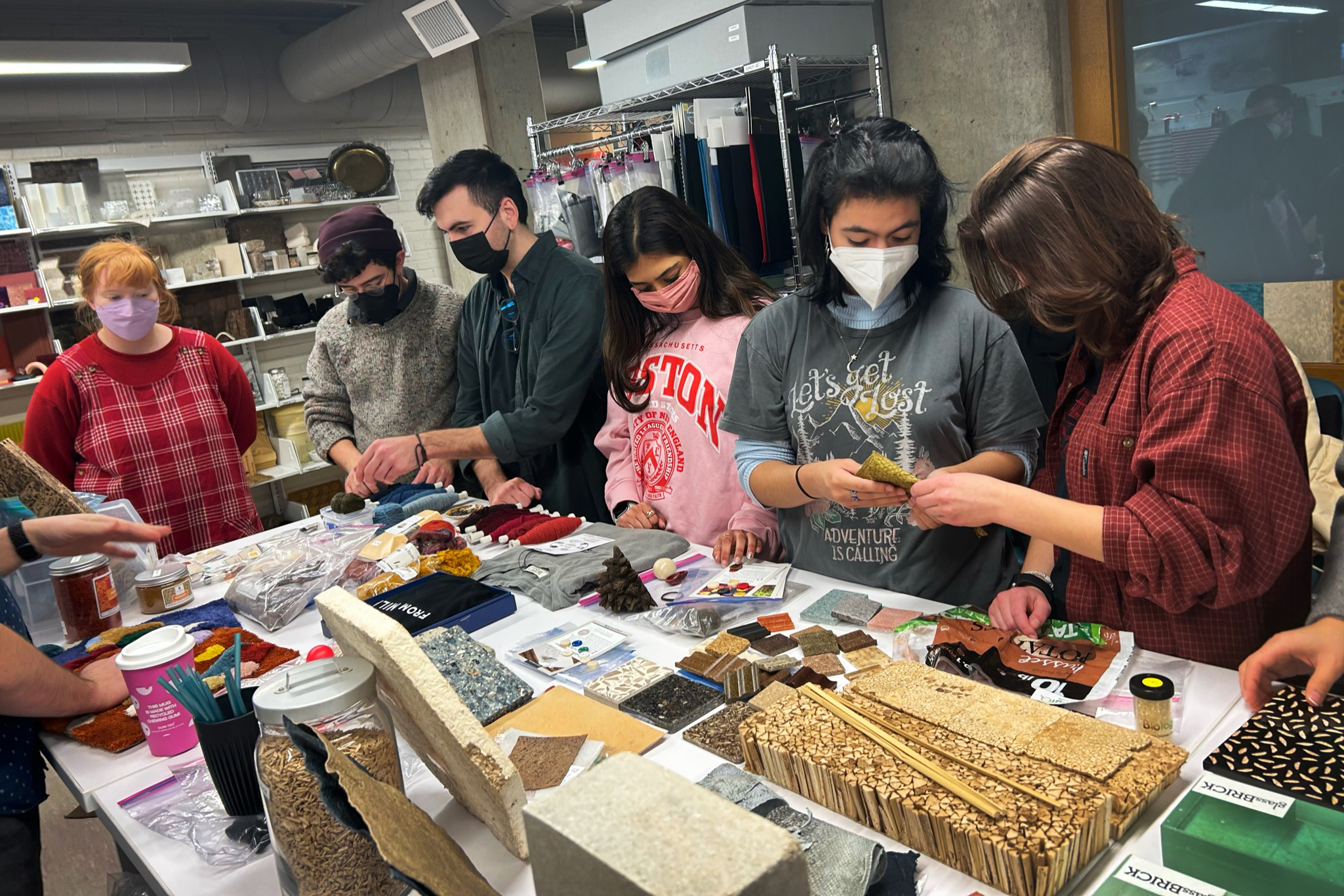 Zuha Nasim, a rising fourth-year majoring in fine arts, is used to working in traditional studio settings. Her preferred medium? Paint. For years, she sourced her preferred pigments from typical art supply stores and didn't think much about where they came from.
But after meeting a pigment expert in their studio in New York City this spring, as part of the course MATTERS: Connecting Arts + Design to Materials, and Materials to Labor + Land, she had a new thought: "'Oh,'" she remembers thinking, "'this is sourced from this community that has a difficult history, and these workers are being exploited.'"
"You begin thinking about the journey of it from start to finish, and it hit me then that every one of these paints we use starts from a community of the world at some point and takes a journey to get to you," she says. "And so, even though the art you're making is art, so are the materials, in a way."
The course, listed in the Stuart Weitzman School of Design, was funded by The Sachs Program for Arts Innovation and designed by Kaitlin Pomerantz, a lecturer and interdisciplinary artist. Nasim is one of 14 students who enrolled in the course, and one of many different backgrounds: Students hail from not just the Fine Arts Department, but Landscape Architecture, Public Health, and beyond. Nasim is also a pre-med student who intends to have a lifelong art practice and is especially interested in henna.
"It's a really special material for me, culturally, and throughout my life I've grown close to it, and it's helped me connect to other people and my community," she says, in explaining a series of oral history videos she made for her final project for the course that explores henna as a material and plant through interviews and her personal relationship with it. "I think to learn more about the science behind it and its actual origins has been really interesting, since it's always been part of my life, but people don't always hear the hard facts associated with it."
Questioning materials
What has struck Pomerantz in recent years, as an artist who works with multiple materials, is how decentered the subject of materials and sustainability can be in arts discourse and education. When she worked on a project for Monument Lab in 2017, she created a piece that used stoops salvaged from demolished rowhouses, reconstructing the stoops to talk about site-specific histories in the city. Pomerantz was interested in how wastefully materials are discarded into landfills—in this case, stone steps from quarries that can no longer be extracted from.
"I've been teaching for over a decade and working in higher ed for five years, and I noticed with my college and graduate students at a number of schools across the city that many of them have a really strong interest in environmental issues, in environmental justice as social justice, and that a lot of those issues are not really considered in traditional arts pedagogy," Pomerantz says. "For many years, I've known I would want to teach a class that operates really differently from what I learned as an art student, and what I've witnessed working in a number of art and design schools."
The mission: to explore, alongside students and field experts, how materials used by artists and designers relate to land and labor issues—not as a secondary component of instruction, but as the focus and the "place we start as artists and designers," Pomerantz says.
To accomplish that, she structured the course as a site-focused and hands-on experience, with many field trips and projects. A few places they've gone: Historic Rittenhouse Town, North America's first paper mill; RAIR, an artist residency situated in a waste management facility in northeast Philadelphia; New York City, for a visit with color material specialist Julia Norton; Asian Arts Initiative to see the "Eco/Systems" exhibition and the living sculptures of Narendra Haynes; and a sand mining and marine aquaculture region in South Jersey where students visited U.S. Silica and the Bayshore Center to consider materials like glass and cement. Another excursion was right outside their classroom in Addams Hall, traversing campus for plant materials—like garlic mustard—that could be turned into ink with Philadelphia natural materials artist Nicole Dupree.
"Coming out of the quarantine years, it's helpful for students to be able to learn through touching things, seeing them, smelling them, and talking to people without looking at a screen," Pomerantz says. "Especially when what we're talking about is materially focused and has to do with land and social conditions."
Pomerantz had been developing the MATTERS curriculum through a grant at Harvard's Graduate School of Education, and was thrilled to receive support from The Sachs Program to pilot this curricular project.
"MATTERS is the first course of its kind at Penn," says Chloe Reison, associate director of The Sachs Program. "By looking at materiality and sustainability across disciplines and departments, it gives students the opportunity for on-the-ground learning about the life cycle of materials and their impact on the environment at a time when that couldn't be more important. It's really a class that all programs and departments centered around making and materiality should embrace so that students in every discipline can be more informed and intentional makers moving forward."
In planning the course with Pomerantz, Victoria Megens, who was one of two teaching assistants for the course along with Rain Gideon, says a general theme that emerged was one of prompting questions. They wanted to explore the fundamentals of what materials are, during a contemporary time when deliveries can happen overnight or even in a few hours—and how what appear to be raw materials, like canvases or pencils, have complex origin stories.
"There's been emotional highs and lows in the class for me, personally, because to question these things you have to confront a lot of subjects and realities that feel beyond the individual, and sometimes feel insurmountable, as the amount of waste we as humans create is a bit overwhelming" Megens says. "There's a lot of discussion about what to do, and I think it's less about finding one answer to why materials matter, and how they can matter more, but instead about being conscious of it and questioning.
"I think being aware of and open to questioning one's own process and the greater scales of manufacturing is the key to not having to feel like you have to answer all the questions. Just asking them is a really good place to start."
Exhibiting the questions
Students in the class, for their final projects, were asked to conduct research and create artwork related to materials of interest to them. They were on display at Addams Hall in May, along with a collaborative class booklet of terms from the overlapping fields of art and sustainability designed and printed primarily by the Megens and Gideon.
For student projects, one student (a fine arts graduate) opted to create collages using the discarded materials of her painting practice like rubber gloves and settled pigments in turpentine; another made a tie-dye sweatshirt using plant-based dye, featuring screen-printed statistics about the truths of fast fashion; and yet another pieced together stools using discarded materials collected from the architecture studios of the Weitzman School, inviting viewers to contemplate academic labor and waste.
Daniel McGovern, who graduated in May as a Master of Landscape Architecture, decided to create a "recipe" poster and "kitchen"—cheekily including Ina Garten at the center of it—that included the raw materials sourced from around the world that make up standard potting soil found in home improvement stores.
"People tend to think of it as a natural substance out in the world that's dug up and put in a bag, but the more I learned about it, the more I learned it's an artificial, manufactured thing, where they collect different products from around the world, bring them to a factory, and mix them together," says McGovern. "It's much more constructed than I think people realize, and it's tied to this global system of extraction and manufacturing, with problems associated with it for all those materials."
The coconut industry is one example, he says. That industry has documented problems with working conditions on its plantations, not to mention the land cleared to make the plantations in the first place.
The course was valuable, he says, as an opportunity to devote time to thinking about these subjects—made more engaging by the variety of disciplines represented in the course, he says. Often in landscape architecture, he adds, the materials portion of the job gets subcontracted out and items show up fully formed. This was a chance to get a closer look.
"One of the big takeaways was just taking time to have the attention span to have appreciation and gratitude for material," McGovern says. "You're often moving so fast and buying so fast, and it's all around you and you don't have time or attention to pause and think about where things come from.
"But this class was a reminder that everything comes from somewhere."