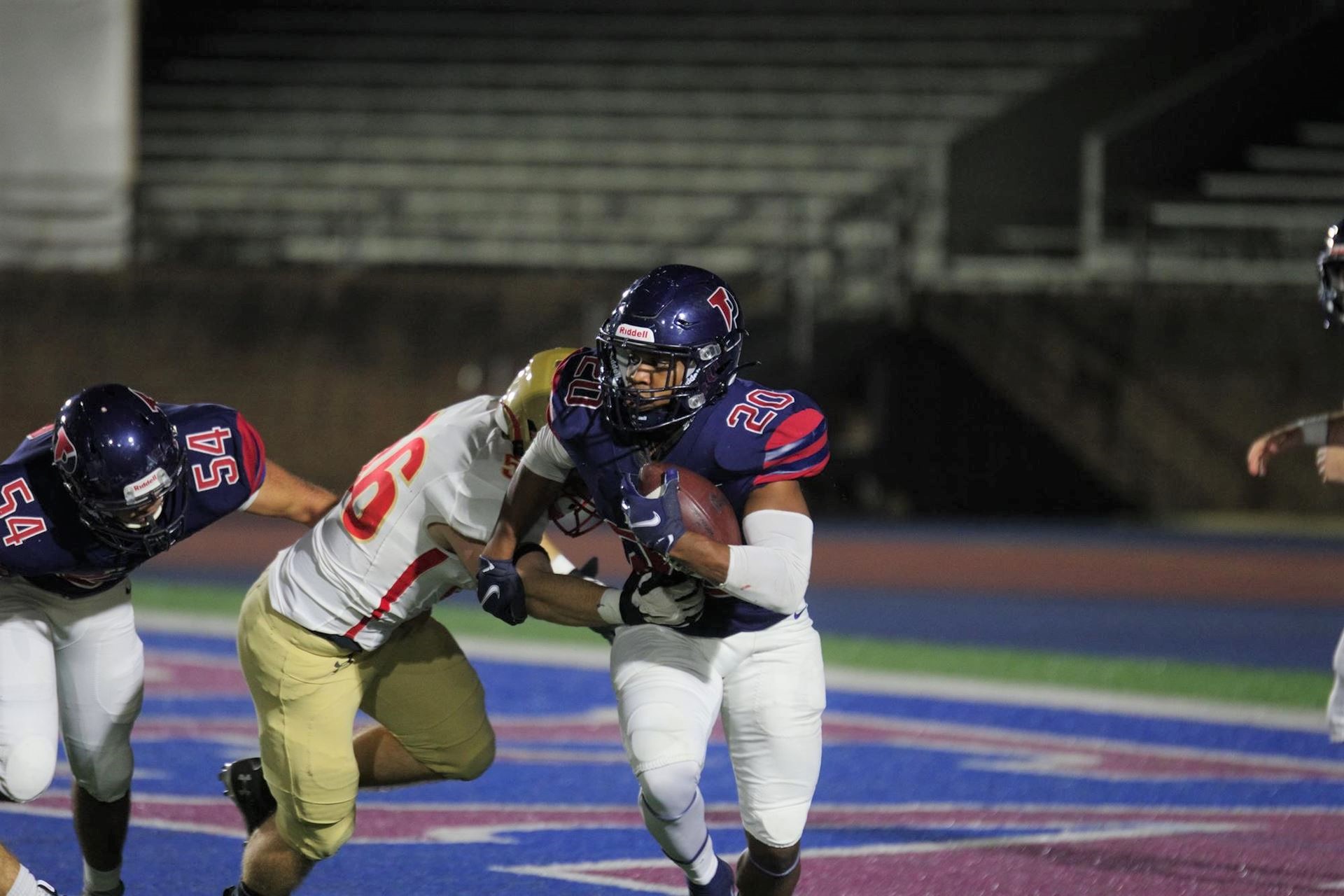 Laquan McKever, a senior running back on the sprint football team, did his best Derrick Henry impression on Friday in Penn's 40-10 thrashing of Caldwell at Franklin Field, accumulating 146 total yards—122 on the ground and 24 receiving—and three touchdowns.
The Quakers, who have never lost to the Cougars, fell behind 7-0 in the first quarter after a botched punt set Caldwell up at Penn's 11-yard line.
Senior wide receiver Brian McCaffery fielded the ensuing kickoff at the one-yard line and returned it 80 yards to the Caldwell 19. On first-and-10, junior quarterback Andrew Paolini connected with freshman wide receiver/tight end Jake Wang on an 11-yard pass. On third-and-goal, Paolini found senior tight end Ben Klaus for a 13-yard score to even the game up at 7-7
McKever scored his first touchdown of the contest with 10:51 on the clock in the second quarter. On second-and-four, he scampered 44 yards to paydirt.
On the Red & Blue's next drive, Paolini hit McCaffery for a 48-yard completion on first-and-10 from their own 17, which put the Quakers in business at the Caldwell 35. Facemask and pass interference calls moved Penn to the five-yard line; Paolini thence connected with freshman running back Tom Rebstock for a five-yard touchdown. Caldwell hit a field goal in the closing seconds of the half and the Quakers entered intermission ahead 21-10.
Caldwell received the second-half kickoff and then proceeded to fumble on their first two plays from scrimmage. Senior defensive back Sam Mintz recovered the second one to give the Quakers the ball at the Cougars' 33-yard line. McKever rushed for 14 yards down to the 19-yard line, followed by a Paolini pass to Wang down to the 10. Paolini scored on a seven-yard run two plays later. (The extra point was unsuccessful.)
A pair of touchdowns by McKever closed out the game: a 13-yard reception with 8:49 left in the third, and a one-yard run at the 10:33 mark in the fourth. He finished with 17 carries for 122 yards and two touchdowns, and two receptions for 24 yards and a touchdown. For his performance, he has been named Collegiate Sprint Football League Co-Offensive Player of the Week.
Paolini was 12-19 for 159 yards and three touchdowns, and also rushed 15 times for 25 yards and a score. Klaus had a team-high four receptions for 41 yards and a touchdown. Junior linebacker Lewis Evans had eight tackles, two tackles for loss, a sack, a forced fumble, and a fumble recovery. Freshman linebacker Matt McKillop had two of the Quakers' season-high six sacks.
Penn (4-1) is on a four-game winning streak headed into Friday's bout with winless Alderson Broaddus (0-6) in West Virginia.