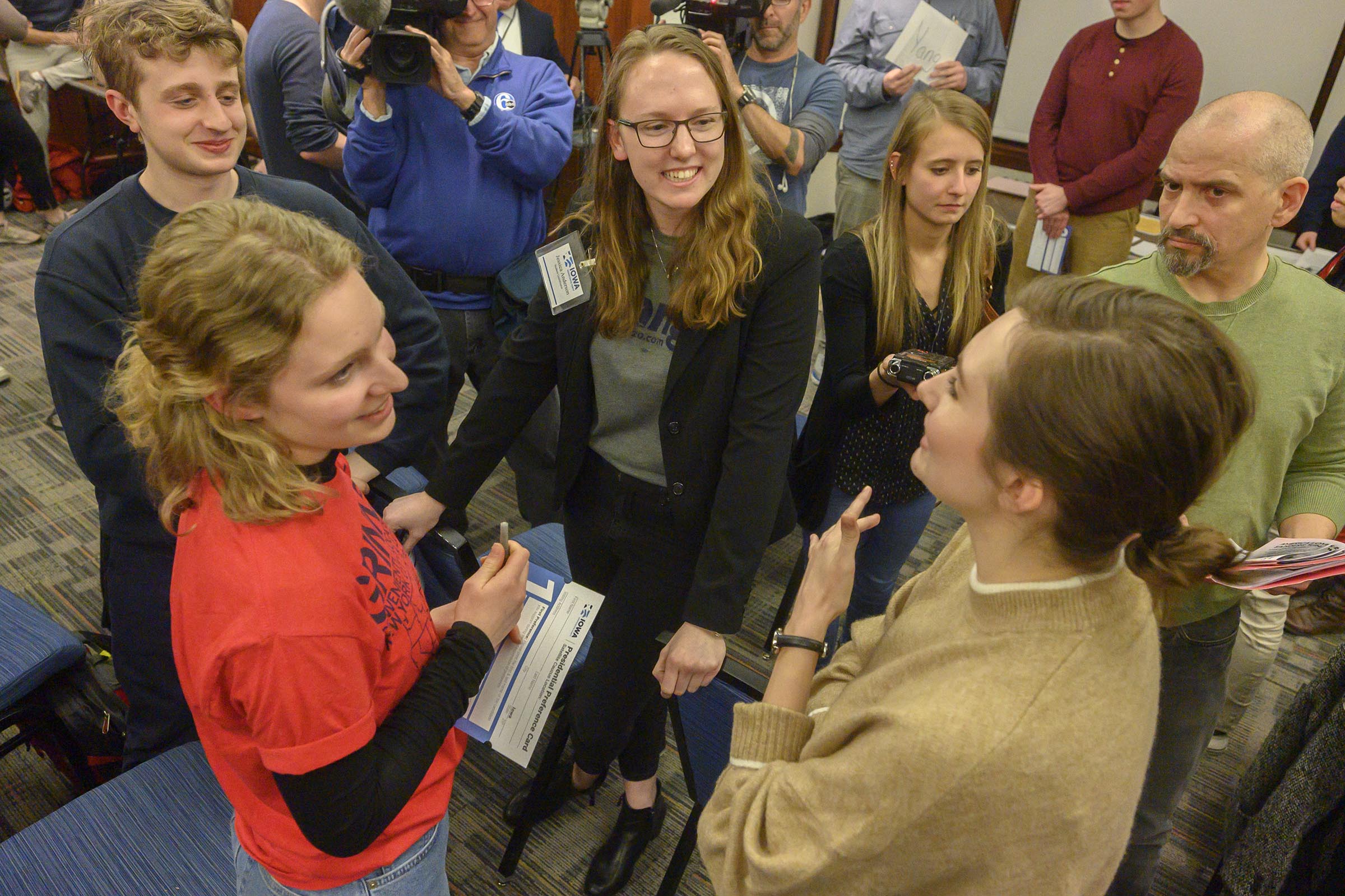 On the second floor of Houston Hall, in the Ben Franklin Room, 14 registered voters from Iowa sit in three rows of blue cloth chairs. At 8 p.m., Penn junior EJ Carlson calls the room to order, starting one of more than 90 satellite caucuses being held across the country and world.
Carlson reads a set of rules and a note from the Iowa Democratic Party chair, then asks if anyone wants to speak on behalf of a candidate. Penn junior Jessica Anderson, originally from the small town of Titonka, gets up to lobby for Andrew Yang. Representatives from the campaigns and caucus participants speak about Amy Klobuchar, Bernie Sanders, Elizabeth Warren, Joe Biden, and Pete Buttigieg, then voters get 15 minutes to decide their presidential preference. 
At the end of the night, these caucus-goers aren't divvying up Iowa state delegates. Rather, they're deciding who gets state-delegate equivalents—for this caucus, there are four—and those ultimately determine who gets actual state delegates. Anderson organized the event because she had missed the chance to caucus four years prior. 
"I had tried to participate in the 2016 caucuses when I was a high school student in Iowa. There was a mishap around who could caucus, and I was turned away," she says. "I hadn't gotten to voice my opinion, and it really struck me as an injustice, so I decided next time this opportunity presents itself I want to be included. I want to be part of it, even if I'm out of state." 
After some assistance and gentle goading from several campaigns, in November 2019, Anderson applied to bring a satellite caucus to Philadelphia. In early December, she learned it was approved. Since then, it's been a whirlwind for Anderson, who admits this isn't her typical wheelhouse. "I'm not a policy wonk. I am not hard core," she says. "Everything that I do in my life really centers around biology, and I like it that way." 
Despite the recent spotlight trained on Anderson because of the caucus, her passion is science, which comes through in conversations with her, with her mentor, and with the scientist who runs the lab where she's worked for three years. She's always envisioned research as the backbone of any future career. But she says after experiencing the care her mother received during her battle with liver disease, she decided she wants to see patients, too. 
"Originally, I had strictly wanted to do research because I didn't want to be involved in the complexity and messiness of patient care," she says. "That particular focus changed after my mom passed away the winter break of my freshman year." 
The local physician who had treated her mother's liver disease had known her grandparents and parents for years. He was straightforward and careful in his care but also provided comfort to Anderson's family, helping them work through the process as peacefully as possible. "I found that aspect of being a physician incredibly moving," Anderson says. "I adjusted my direction slightly. Clearly, my major is still biology and I'm interested in research—I conduct it at the Children's Hospital of Philadelphia—but I decided I want to also practice medicine."  
Anderson's ambitious plans don't surprise Ishmail Abdus-Saboor, who taught her in a molecular biology and genetics class when she was a sophomore. 
"She definitely stood out amongst the crowd, not just because she did exceedingly well on the exams but because she's very bright and inquisitive," he says. "She would stay to speak with me after almost every class about something I hadn't discussed, as a follow-up to topics we were covering. She wanted to know more than textbook-level knowledge." 
Though Abdus-Saboor is not currently Anderson's professor, he's remained a close counselor as a co-mentor for her work in the lab of CHOP's Robert Heuckeroth, who focuses on the enteric nervous system, or the nervous system in the gut. Specifically, Anderson is studying a rare gastrointestinal disorder called Hirschsprung disease, which is characterized by an absence of neurons in the distal colon. Children born with the condition have a distended gut and, in many cases, aren't able to pass meconium, their earliest stool. Undiagnosed, it can lead to serious complications. 
Anderson is also working with an M.D./Ph.D. student in the lab on a new mouse model related to chronic intestinal pseudo-obstruction, another rare GI ailment that results in a dilated bowel. "Jessica has been involved in a lot of physiology experiments to understand how the bowel contracts and relaxes and what's happening with these animals," Heuckeroth says. "Most of the studies are focused on a molecule or gene, but we're also learning more broadly how the body works. Jessica is helping us put together pieces of this puzzle." 
Both Heuckeroth and Abdus-Saboor praise Anderson's stick-to-itiveness, her ability to ask interesting, probing questions. She's working at the same level as some graduate students, presenting data, coming up with new research directions independently. Some of that drive is innate, expressed through outlets like athleticism as a competitive swimmer, something she hasn't done since high school. Some of it derives from her life experience. 
She's a first-generation college student and says she doesn't see herself as the typical Penn student. "Neither of my parents went to college, so neither of them understands what I study. That's really shaped how I perceive my time at Penn," she says. "Just the fact that I am here is, in and of itself, astounding." 
In the coming months, she'll solidify her next steps: Possibly a gap year or two filled with research in another area—she's considering epigenetics—before applying to M.D./Ph.D. programs to train to be a physician-scientist. 
For now, she's expressing her right as an Iowan and a registered Democrat to contribute her individual voice to the collective. "I'm always interested in politics, but I like policy more than I like party politics," Anderson says. That said, "I'm really glad I was able to help make the satellite caucus happen." She says she'd happily do it again. 
As the second round of conversations winds down in Houston Hall, six voters back Sanders, four each back Warren and Buttigieg. That translates to two delegate-equivalents for Sanders and one each for the other two candidates. This information will be shared with the Iowa State Democratic Party, added to what will come from roughly 1,700 Iowa precincts and satellite locations.
Much like with the science she conducts, Anderson got to dissect and participate in a process she was curious about, broadening her own understanding and perspective and exposing Philadelphia to an Iowa caucus for the first time.