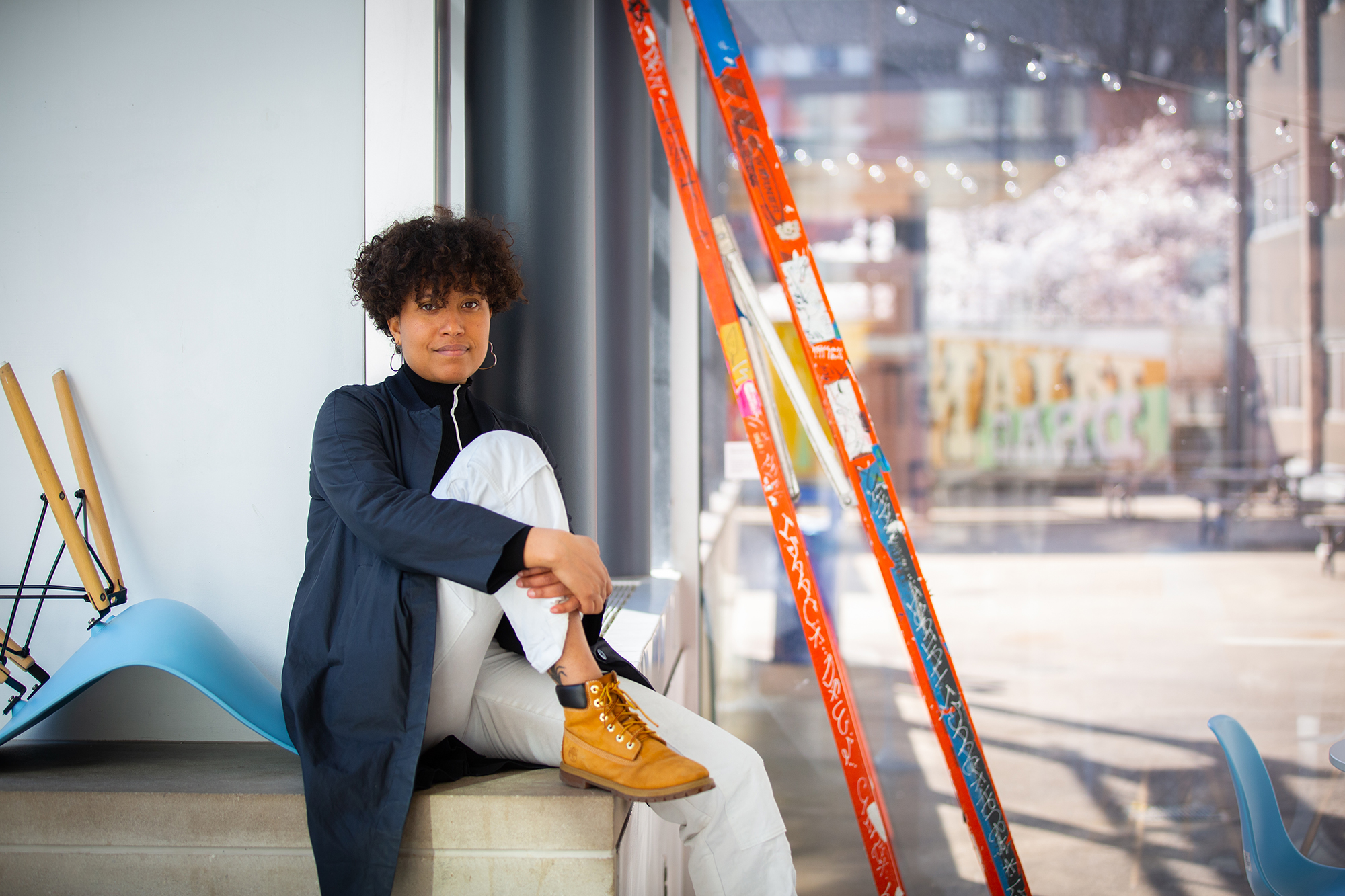 Carolyn Lazard's path to the art world was not, even they admit, an especially interesting path—one paved by supportive parents and access to art education. But then they explain the childhood beginnings of their art career, and the retelling is suddenly both dizzying and dazzling, not only because of the sheer diversity of their interests, but because of their impressive follow-through since.
Not every child artist's story culminates with a piece in the Whitney Biennial.
"I have always been interested in art, since I was a kid," Lazard, who will contribute an installation to the 2019 Whitney Biennial, says—recalling that they first started working with art when they were about 5 years old. "When I was younger, I was interested in other forms: I danced a lot—I was a big dancer—and I also was really into ceramics. And I was a very serious cinephile from a young age, which carried through [to my current work].
"I was mostly dancing and making pottery," they add, "but the thing I knew I wanted to do since I was young was become a filmmaker—but I didn't end up becoming a filmmaker, I became more of a video artist, which is a little bit different."
While most young artists are hard at work mastering the stick figure in between pickings of their nose (as is their prerogative), Lazard was wiling away at art projects that helped shape them as a sculptor and video artist today. The first exhibit of their work, they half-jokingly assert, was "probably in my parents' living room," but that early work snowballed to them obtaining a bachelor's degree in film, electronic arts, and anthropology from Bard College in 2010, and this spring they will earn their MFA from the Fine Arts Department.
Lazard is one of 75 people of all ages and backgrounds from across the country selected to represent what American artists are working on right now in the 2019 Whitney Biennial. The exhibition is meant to, lofty a goal as it may be, encompass the big-picture collective of U.S. art in one exhibition, taking "the pulse of the contemporary artistic moment," according to the museum's website. It's the longest-running exhibition in the country that deals with the developing art world, dating to 1932.
 
"It's the preeminent metric for getting the sense of contemporary art," says Ken Lum, professor and chair of the Fine Arts Department. "I don't think there's any comparable large-scale, museum-sited exhibition of that ambition in the United States, outside of the Whitney. And it's looked upon by other curators in other countries as a model."
Regarding Lazard, Lum describes them as a "hard-working, super-talented artist" who has a remarkable degree of focus on their work, which addresses—among other topics—discourses of health, care, dependency, and the body's relationship to capitalism.
"They have this way of being able to look at what they do as a long game, and not just for the immediate gain," Lum adds. "And so, they see their work as a kind of path, and that's rare as well."
Lazard's piece for the Whitney is, plainly put, inspired by hospital rooms.
"It's a video installation and a sculpture, and I'm making a piece that uses a hospital TV monitor and a hospital TV mount—the kinds of personal TVs you would find inside a chemotherapy infusion suite—and I'm having the museum wire itself for cable TV, and developing a program that will allow the TV to surf channels autonomously," they explain.
The idea, they say, is for museum patrons to consider cable as infrastructure in a city that simultaneously connects them to people inside of hospitals across New York City. And to provide a place of respite inside of the gallery space.
"What I love is the fact that you would go to a museum, an institution which defines what art is, and then be presented with a television and a place to sit," Lazard says.
They continue: "Whatever you're watching on TV in the museum at any given moment is the exact same thing as someone who is getting a chemotherapeutic infusion is also watching at the same time. [The work is] trying to privilege other experiences of viewership outside the museum, to say, 'You know, there are lots of different ways of existing in relationship to art and media.'"
Their works can vary in theme, but recently, they often relate in some way with disability justice. 
Lazard is chronically ill, and illness informs their art practice. After initially carrying around a 16mm Bolex camera with a hand-crank, traveling, they needed to rethink their work process—how and where they made art. And also, what that art would be about.
"I think becoming sick forced me to reevaluate the ways I was making art, and instead of seeing that experience as a negative, getting invested in that subjectivity, getting invested in what it means to make art from that positionality," they say. "My strategies necessarily had to change, so I really started making work from the material conditions of how I was living, instead of a projected idea of how artists are supposed to move and function in the world."
In their early work, this meant capturing hospitals they spent time in, using the environment of their doctor's appointments as a sort of muse. They would photograph paintings in medical buildings and then organize them into grids, as one example. 
In another case, they developed a performance piece, "Support System," in which they set up visiting hours inside a house and the cost of admission to the performance—in 30-minute increments, where they might talk about anything—was a bouquet of flowers that was assembled with the collective group of bouquets as a collaborative sculpture. The larger point, they say, was to think about convalescing, the infrastructure of support, and the labor of care.
In other works, they explore the radical potential of disability, thinking about the many forms disability can take — and, too, its fluidity as an identity. 
Lazard is grateful to be selected for the Whitney Biennial and honored to be a part of an exciting and impressive list of artists.
"Historically, in the Biennial but also art institutions at-large, most of the resources go to supporting cis white men. What I love about this show is there seems to be a de-emphasis on that," they say.
The 2019 Whitney Biennial runs from May 17 to Sept. 22 at the Whitney Museum of American Art in New York City. The Institute of Contemporary Art will also display Lazard's work as part of the three-part exhibition "Colored People Time," re-examining the relationship between blackness and time.