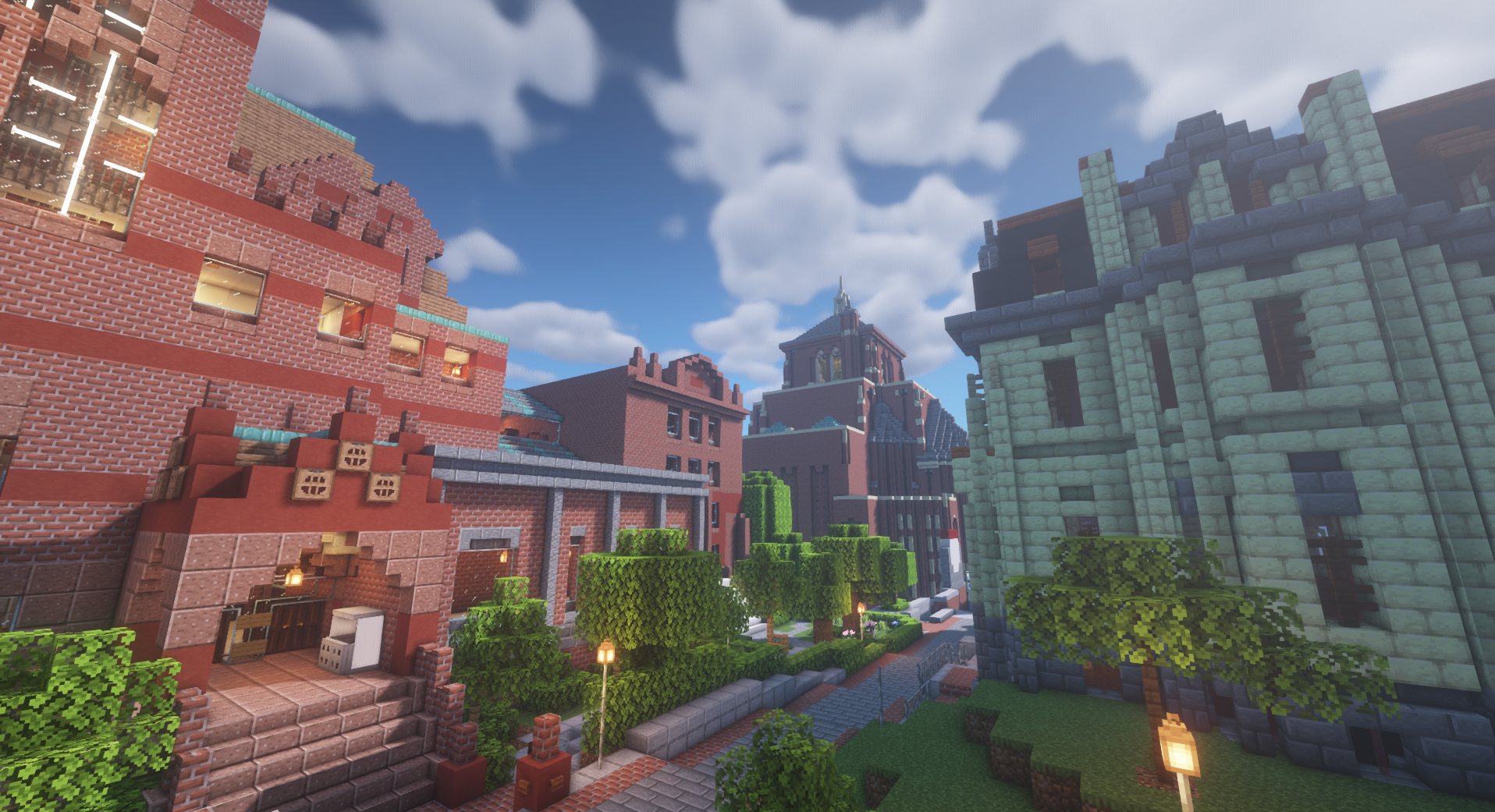 In March, before it was announced Commencement will be held virtually, Andrew Guo browsed a Reddit thread highlighting a Japanese elementary school that held their graduation ceremony in Minecraft—a video game released in 2010 that has endured and evolved as a sort of digital maker's space. 
Inspired by the students who recreated parts of their school, Guo, a junior math major from Chicago, toyed with the idea of creating a digital version of Penn—"Penncraft"—in the game. 
"I thought, 'Huh,'" he says, emphasizing his intrigue. "I was actually thinking about Hey Day, mostly, because I was looking forward to that. Then I thought, 'Why don't we create parts of campus like Locust Walk?'" 
So, starting March 16, he got to work, soliciting help from other Penn students he met on Facebook. That quickly escalated into an effort to rebuild the entire campus in the game, after completing most of Locust Walk. 
Minecraft, developed by Swedish company Mojang but purchased by Microsoft in 2014 for $2.5 billion, encourages players to explore a block-based world that allows them to "mine" resources and create new structures and terrain. There were more than 112 million monthly active users as of 2019—even more than Fortnite. 
Today, Guo says there are anywhere from 15 to 20 active users building Penncraft at a given time. 
"We currently have lots of parts of campus done, but still some buildings [like high rises and frat houses] need finishing. My friend and I are going to be working on the Annenberg Center and the whole plaza," Guo says, explaining that many buildings crafted have been drawn with guidance from Google Maps and Streetview, as well as archival floor plans and photos from Penn Libraries. "But spectacular buildings like Fisher Fine Arts, Van Pelt-Dietrich, Huntsman Hall, those are all already basically done—the exteriors." 
Guo has an especially long history with Minecraft: he began playing it 11 years ago when it was still in an alpha stage of production. He says he's been playing it "off and on" since. Others helping with the Minecraft campus, like Michael Willhoit, have also been playing the game for years—but, in Willhoit's case, he goes a step further to cite it as one motivator for his career as an architect.
"I've been playing since high school and have always loved it," Willhoit, an incoming Master of Architecture student in the Stuart Weitzman School of Design, from Catawissa, Pennsylvania, explains. "My hobby before that was playing with Legos, and Minecraft is [similar] … I think it's one of the reasons why I'm in the career path I'm in. These spatial hobbies and games where I can be creative in three dimensions."
His knack for reading floor plans and blueprints helped him in his effort to recreate Fisher Fine Arts Library, one of the most universally beloved and intricate buildings on campus. He's currently one of several people hard at work finishing the interior.
"As an architect, I already have an eye for reading plans and discerning where things go by looking at a picture, and that was important with Fisher Fine Arts," he says. "Looking at an inside shot, knowing the window placement specifically, how doors line up … there's an aspect of puzzle-building or -solving in your head."
Makarios Chung, a senior in the School of Engineering and Applied Science from Philadelphia, saw Guo's call for a build team on Facebook and immediately knew he wanted to get involved. He built Lauder College House while assisting on other buildings and planning the terrain. 
"In terms of dealing with the quarantine, I feel like the building of campus is cool, but the real way this project helps everyone focus [during our shelter-in-place] isn't recreating campus, but having a community to rally around and do something with," he says. "Any campus is made up of campus and community, and by chasing us off campus, the only thing left is the community. And in the 21st century with the internet, we can still have that."
Damian Owerko, a senior in Penn Engineering from Poland, largely plays an administrative role in the project, hosting the server for the digital campus and contributing tools he's been able to create using his background in software development. He also made a unique verification system to ensure the people applying who want to contribute to the project are related to the Penn community and not "griefers." ("Griefing" is a slang term used to describe vandalism in online settings.)
"Recently, we got griefed by a high schooler. He covered the whole thing in watermelons," says Guo, with a laugh. "He also built letters on the ground that read 'Princeton' … which was funny, because it turns out he was not from Princeton."
The watermelons, Guo says, were able to be undone and stricter limitations have been set on people contributing to the campus development to prevent it from happening on such a large scale again. 
Guo recalls his first interaction with the physical campus as being less "crazy and hectic" than Columbia's in New York City, which he described as "overwhelming." It was a selling point for him coming to Penn and, in addition to his favorite structures, remains an element of his fondness for campus.
"I like some of the older buildings on campus that look quite nice, especially College Hall and Fisher Fine Arts," he says. "And I like that campus is not too huge. I didn't have to take the bus anywhere or spend 30 minutes walking to class—even if it felt like it in the hot weather."
He ultimately hopes it will help people build new relationships with campus. For alumni, he can imagine them using it as a virtual way to enjoy buildings they feel nostalgia for. 
But Guo particularly wants prospective students to take advantage of it. 
"I think people like me, for example, didn't have the resources to travel to every school and look at campus, and Google Images can only give us so much," he says. "I think it will be nice for them to just hop on the server and explore campus if they can't make it to Quaker Days."
Guo adds that he's been approached by Penn Admissions about possibly doing virtual tours of the campus through Minecraft and is currently exploring that—and is open to it and other collaborations. 
The project is currently set up in three servers, he further explains: one for creating the 1:1 version of campus, one for survival (a classic mode of the game), and one that contains more than 100 modifications for people who prefer to play with mods turned on. 
The team—which continues to grow by the day, with volunteers ranging from fellow students to alumni—hopes to have most of campus exteriors finished by April 20. However, the original vision has since enlarged, with Drexel University students reaching out to add onto Penn's campus to include Drexel. All the while, other Ivy League schools—who Guo says have used an API  (application programming interfaces) to fast-track their Minecraft campuses ("I like to build things by hand," he adds)—have reached out looking to collaborate on a new faction-based server that he describes as a potential "Game of Thrones situation," where each Ivy League would be their own kingdom and factions make alliances or declare war.
He quips, lightheartedly: "The first thing I will do is declare war on Princeton."