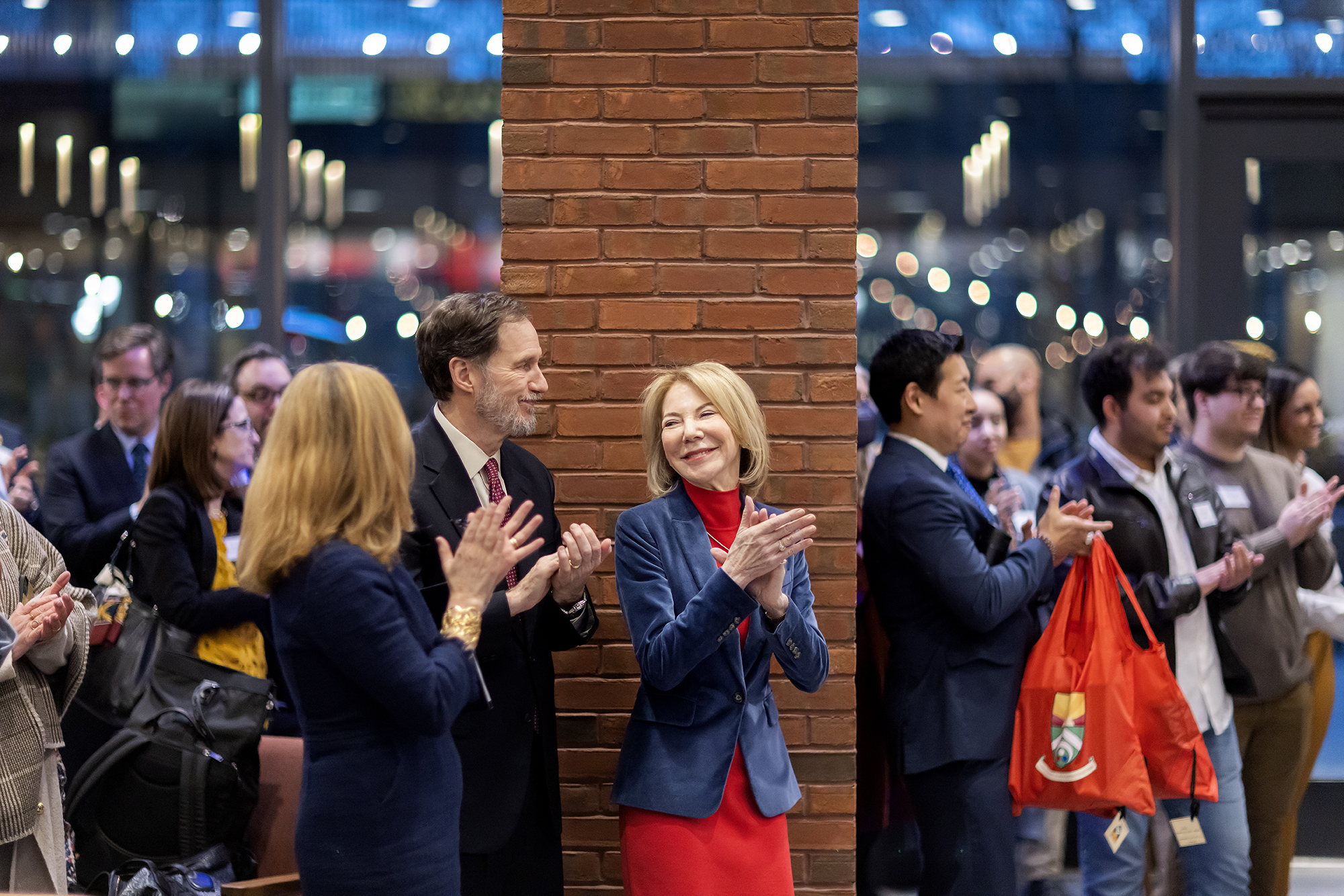 In 2018, it was announced that beginning with the Class of 2024, Penn would operate a two-year College House System, officially offering first-years and every second-year undergraduate student the opportunity to live on campus. Under the leadership of former President Amy Gutmann, who served the University for nearly 18 years and is now the U.S. Ambassador to Germany, the initiative would spearhead the speedy development of new living and learning spaces on campus to guarantee such housing—one of which now dons Gutmann's name.
To help commemorate her dedication to the project, the Board of Trustees unveiled in July 2022 that the New College House (West)—which opened in 2021—would officially be named Gutmann College House. A special celebration of the naming in the window-lined lobby of the space with Gutmann, President Liz Magill, and dozens of administrators, deans, faculty, staff, students, and friends of Penn took place the evening of Thursday, Feb. 2. 
"This is really an out-of-body experience to see this," Gutmann said graciously, eyeing a memento presented to her with the name of the building. "It's just amazing."
In her remarks, Gutmann—who has often talked of her time as a first-generation college student—noted her own story finding for the first time a "home away from home" her sophomore year of undergrad.
"I was an outsider, and I distinctively felt that way when I went to college," Gutmann said. But at her College House, at the time called South House, she said she "really felt welcomed."
"That's what I hope Gutmann College House can provide everyone: A sense of belonging, a place to come in from the cold, a home away from home," Gutmann said.
With a nod to her scholarship as well as her everyday work as an ambassador, Gutmann added that she also hopes the new College House can provide a space for even more inclusivity—"more understanding and appreciation across divides." 
"That is what diplomacy is about," she said, "and that is what this College House and College Houses are about."
College Houses launched in earnest on Penn's campus about 25 years ago, and today, the University boasts a total of 13. The College House System brings undergraduate and graduate students, faculty, and staff together in dynamic, shared living-learning communities. The idea is to focus on academic vibrancy, collaboration, diversity, and wellness. The Second Year Experience Program, which led to the recent, expanded on-campus living offerings, was a concept that grew from several student wellness task force recommendations while Gutmann was president. 
Describing College Houses today as something regarded as so intentionally "useful and important to the Penn experience," Magill explained how the system "introduces our students to this academic community, and sets the course for all that is to follow."
Magill continued: "Gutmann College House recognizes and commemorates a signal achievement in the life of this University, and a wonderful fulfillment in the lives of our students."
Gutmann College House, situated on the western edge of campus, near 40th and Walnut streets, houses about 430 sophomores, juniors, and seniors, and is led by Faculty Director Amy Stornaiuolo, College House Fellow David Amponsah, House Director Kathryn McDonald, House Coordinator Kida Thomas, and 12 student resident advisers. The space has been built to include state-of-the-art amenities, with communal study areas, common living and social spaces, seminar and music practice rooms, as well as a coffee bar, meditation room, fitness space, tinker space, and six club rooms with kitchens (including the Quaker Kitchen). 
Stornaiuolo, also an associate professor at the Penn Graduate School of Education, said she and her team have worked to establish Gutmann College House as a warm, welcoming, and open spirit, similar, she said, to that of Gutmann's tenure as president. 
"From the many open and bright community spaces for people to gather, including our very own Quaker Kitchen and multiple community kitchens all through the house, the Gutmann College House is visibly oriented toward nurturing community, both internally but also at Penn and in West Philadelphia more broadly," Stornaiuolo said. 
Just before a reception featuring food from the various kitchens, Gutmann presented custom Patagonia jackets to all residents. 
"I hope you will wear yours with pride, and a warm reminder of your College House and your home away from home at Penn," Gutmann said. "Remember when you are wearing these jackets that part of our DNA at Penn is to help everybody feel that they can come in from the cold."  
To view more photos from the celebration, visit the President's website.