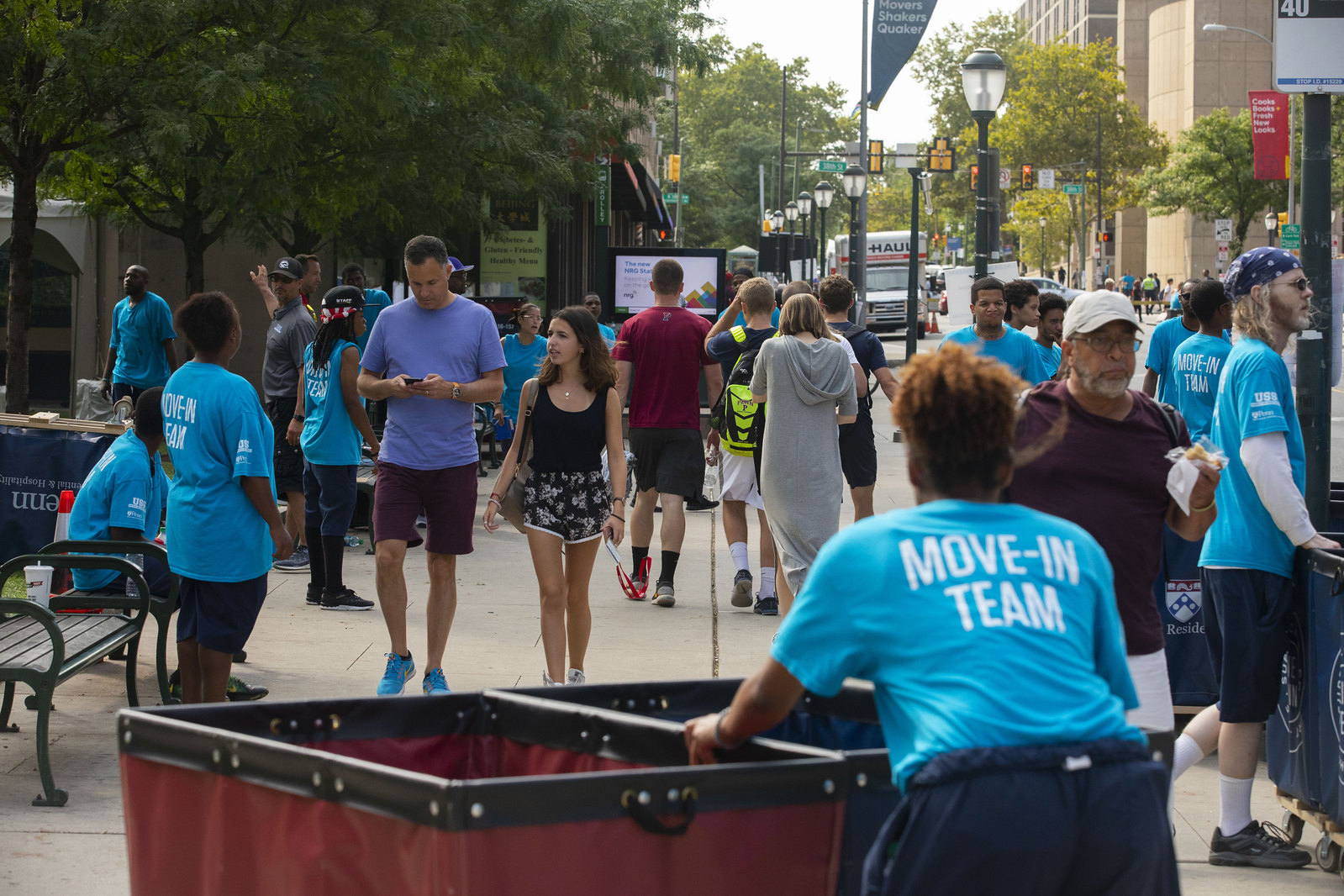 University City is a bustling vibrant place, and it is about to get a few thousand new residents. 
Move-In 2019, when Penn welcomes new and returning students to campus for the fall academic term, starts Saturday, Aug. 17, and reaches a peak on Wednesday, Aug. 21, when 2,400 first-year students, many with family in tow, pull to the curb to unpack and move into College Housing.
Leading up to Move-In there is a lot of behind-the-scenes work that is done, checked, and rechecked. 
An advance group of student volunteers, members of New Student Orientation, performing arts groups, and athletes from teams including lacrosse, baseball, basketball, rowing, track & field, and wrestling, are already back at the University planning activities to welcome the Class of 2023.
The Move-In team, led by Business Services, which includes Residential Services, Dining, Parking, Transit, PennCard, and other departments, has spent months anticipating and preparing. Working in partnership with Facilities & Real Estate Services, Public Safety, College Houses & Academic Services, New Student Orientation, and International Student & Scholar Services, every detail has been reviewed from personalized guest passes to a Move-In 2019 Spotify playlist.
Each new student is assigned an arrival time posted on Campus Express, to stagger traffic, while Penn's Division of Public Safety (DPS) plans how to get everyone here, including Penn's workforce, one of the region's largest.
It is a monumental job made especially challenging this year with PennDOT closures and ongoing construction projects. Communication and helping everyone to be prepared is key, says Maureen Rush, vice president for public safety and superintendent of Penn Police.
"We typically expect delays and closures during this period and alert the community to the fact that there will be added traffic and demand for parking in the area during Move-In," says Rush. 
"Part of our job is getting the word out, so folks can plan ahead. In addition to Spruce Street closures on Aug. 17, 20, 21, and 24, we also have the Chestnut Street Bridge currently being closed beginning at Schuylkill Avenue. Everyone traveling to and from campus should also be mindful of that and become familiar with suggested detours."
To aid in the effort, DPS has developed a webpage to help people navigate and plan ahead. The site has links to maps, public transportation sites, road closures, and detours. 
Beyond the driving routes, Philadelphia offers many choices for public transport, bike share programs, and walking paths to and from the University, says Rush. 
"There is no better time to make use of public transit where available and be prepared for delays when traveling," she says. "And if you do have to drive, sign up for DPS traffic alerts and utilize Market Street as a detour route when heading east to Center City, starting at 38th Street."
For Sally Powell, the site is a welcome resource both personally and professionally. Powell commutes to Penn from West Chester and is the operations director for Penn Vet's Ryan Hospital, which on average schedules 110-120 appointments daily, and annually sees 30,000 patients through the emergency room and clinics combined.
"The webpage and public safety announcements are critical in assuring that the hospital staff, students, and especially clients to Ryan Hospital at Penn Vet are aware of the impending road closures. We have an exceptionally good working relationship with Public Safety and Maureen Rush, which make the obstacles of the day run much more smoothly."