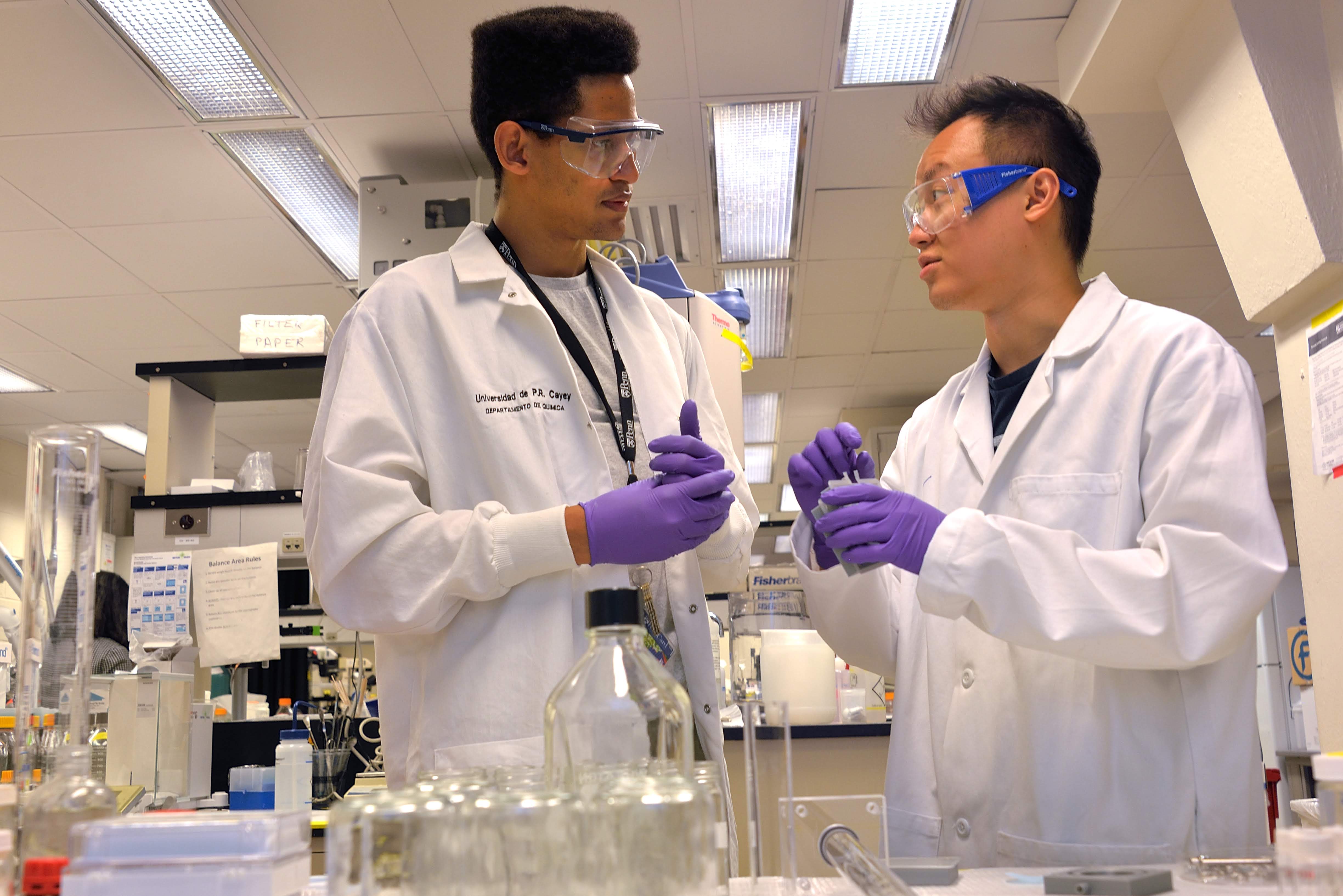 The National Science Foundation (NSF) has awarded grants to eight research teams to support partnerships that will increase diversity in cutting-edge materials research, education, and career development. One of those teams is Penn's Laboratory for Research on the Structure of Matter (LRSM) and the University of Puerto Rico (UPR), whose long-running collaboration has now received an additional six years of support.
With the goal of supporting partnerships between minority-serving educational institutions and leading materials science research centers, NSF's Partnership for Research & Education in Materials (PREM) program funds innovative research programs and provides institutional support to increase recruitment, retention, and graduation by underrepresented groups as well as providing underserved communities access to materials research and education.
'Research at the frontier'
With this PREM award, known as the Advancing Device Innovation through Inclusive Research and Education (ADIIR) program, researchers from Penn and UPR's Humacao and Cayey campuses will conduct research on the properties of novel carbon-based materials with unique properties, and will study the effects of surface modification in new classes of sensors, detectors, and purification devices.
Thanks to this collaboration of more than 20 years, both institutions have made significant scientific and educational progress aided by biannual symposia and regular pre-pandemic travel between both institutions before the pandemic, resulting in a rich portfolio of publications, conference presentations, patents, students trained, and outreach programs.
"Together we have been publishing good papers that have impact, and we've really cultivated a culture of collaboration and friendship between our institutions," says Penn's Arjun Yodh, former director of the LRSM. "Our goal is to carry out research at the frontier and, in the process, nurture promising students from Puerto Rico and Penn."
Ivan Dmochowski, a chemistry professor at Penn who has been involved with PREM for several years, says that this program has helped his group connect with experts in Puerto Rico whose skills complement his group's interests in protein engineering. Dmochowski has also hosted UPR faculty members and students in his lab and also travelled to Puerto Rico before the pandemic to participate in research symposia, seminars, and outreach events.
"I've had students who have benefitted from being a co-author on a paper or having a chance to mentor students, and the faculty we've interacted with are exceptional," Dmochowski says. "There's a lot of benefit for both me and my students, and I've enjoyed our interactions both personally and scientifically."
Penn's Daeyeon Lee, a chemical and biomolecular engineering professor who has been involved with PREM for several years, regularly hosts students and faculty from UPR while working on nanocarbon-based composite films for sensor applications. The success of this collaboration relies on unique materials made by researchers at UPR combined with a method for processing them into composite structures developed in Lee's lab.
"What I really admire about people at PREM, both faculty and students, is their passion," says Lee. "I think that's had a really positive impact on my students and postdocs who got to interact with them because they got to see the passion that the students brought."
Supporting STEM pathways
Another focus of PREM is to increase participation in STEM careers by minorities and women. "A focus on diversity of students, faculty, and partners, paired with the revitalization of under-resourced research, is the foundation of PREM and has been the source of many successful outcomes," says Debasis Majumdar, director of the PREM program. "It expands national innovation capacity and a much needed, highly trained, and diverse workforce, propelling U.S. leadership in STEM fields."
Using PREM's "pathways" approach, the Penn and UPR partnership will engage Hispanic, women, and Afro-Latin students from disadvantaged backgrounds, including low-income students, first-generation college students, and those living in rural areas, with materials science and engineering research and education. This includes coordinating outreach activities with K-12 schools, communities, and undergraduate institutions in Puerto Rico and providing mentorship and research opportunities through summer programs, including the LRSM's Research Experience for Undergraduates (REU) program.
Kevin Alicea-Torres, who completed his Ph.D. in Penn's Cell and Molecular Biology Program, will lead the science education and outreach activities in Puerto Rico as PREM's new director of education. "Throughout my career I have learned that visibility and representation matters in STEM. Our inclusive science education and outreach strategies will focus on showcasing the work of material scientists and engineers from underrepresented backgrounds as a way to provide role models to inspire and empower the next generation," says Alicea-Torres, who was the recipient of a Penn graduate student leadership award for founding Penn's Chapter of the Society for Advancement of Chicanos/Hispanics and Native Americans in Science.
One PREM alumna who benefitted from this pathways approach is Adriana Santiago-Ruiz, a current biochemistry and molecular biophysics Ph.D. student. She first became involved with PREM in high school through "experimenta con PREM" summer sessions for high school students and, while studying chemistry at UPR-Cayey, participated in two REU programs, including one at the LRSM. After completing an NIH-sponsored postbaccalaureate program, also at Penn, she is now pursuing her academic interests in biophysics while continuing to have an active role in PREM activities.
While Santiago-Ruiz was initially uncertain about what career she wanted to pursue, connecting with PREM through outreach, and later through undergraduate research, helped her gain confidence to become involved in research. "Doing the REU here at Penn helped me define more concretely what I wanted to do and pushed me to the limit, and it's why I'm here and why I enjoy what I am doing," she says. "It helped open my eyes to the options you have. The possibilities are endless, and there are also people in the programs who are there to help you."
A continued focus on fostering STEM pathways for underrepresented groups also aligns with LRSM's focus on education, outreach, and enhancing the diversity of its scholarship. "This is truly a partnership where everyone at Penn also benefits, from graduate students and postdocs to faculty and staff in general, and it is successful because everyone is committed to its goals," says Mark Licurse, director of education and outreach at the LRSM.
And as a Materials Research Science and Engineering Center (MRSEC), the LRSM is also able to connect UPR faculty and students with its state-of-the-art facilities, providing researchers from undergraduate-serving institutions with access to top-tier equipment to further their work. "We're trying to make sure that we provide pathways for students to come here, to access tools that are related to things they're interested in, and to access students and faculty who can assist them," says Eric Stach, LRSM director and co-PI of the PREM award.
Continuing fruitful collaborations
Penn and UPR researchers are excited for what the next six years of PREM will bring and are looking forward to the return of travel, lab visits, and in-person events once pandemic restrictions are lifted. "There's a flow of people back and forth that we're looking forward to rejoining in order to have exchange in information and research collaboration happen both ways," says Stach.
"We are very excited with this new NSF award and the opportunity to continue collaborating with Penn," says Idalia Ramos, professor in the Department of Physics and Electronics and principal investigator of the PREM award at UPR Humacao. "Our long partnership will be revitalized with the addition of faculty from UPR and Penn and a new program of research and education activities. Importantly, with this collaboration, we will continue attracting underrepresented students to materials research and preparing them to pursue advanced degrees in science and engineering."
Ivan Dmochowski is a professor in the Department of Chemistry in the School of Arts & Sciences at the University of Pennsylvania.
Daeyeon Lee is a professor and the Evan C Thompson Term Chair for Excellence in Teaching in the Department of Chemical and Biomolecular Engineering in Penn's School of Engineering and Applied Science.
Adriana Santiago-Ruiz is a Ph.D. student in the Biochemistry and Molecular Biophysics Graduate Group in Penn's Perelman School of Medicine.
Eric Stach is a professor in the Department of Materials Science and Engineering in Penn's School of Engineering and Applied Science. He is also the director of the Laboratory for Research on the Structure of Matter.
Arjun Yodh is the James M. Skinner Professor of Science in the Department of Physics & Astronomy in Penn's School of Arts & Sciences.
The Advancing Device Innovation through Inclusive Research and Education program, funded under U.S. National Science Foundation Grant DMR-2122102, will sustain a successful collaboration that began in 1998 under the NSF CIRE program and has continued with NSF's Partnership for Research & Education in Materials (PREM) support since 2004.
Penn's Laboratory for Research on the Structure of Matter (LRSM) was established in 1960 as one of the first interdisciplinary academic Materials Research Laboratories in the nation, with the goal of uniting work across chemistry, physics, and engineering to define and build a new field of material science and engineering. Since 1996, the LRSM has been supported by the NSF as a Materials Research Science and Engineering Center.