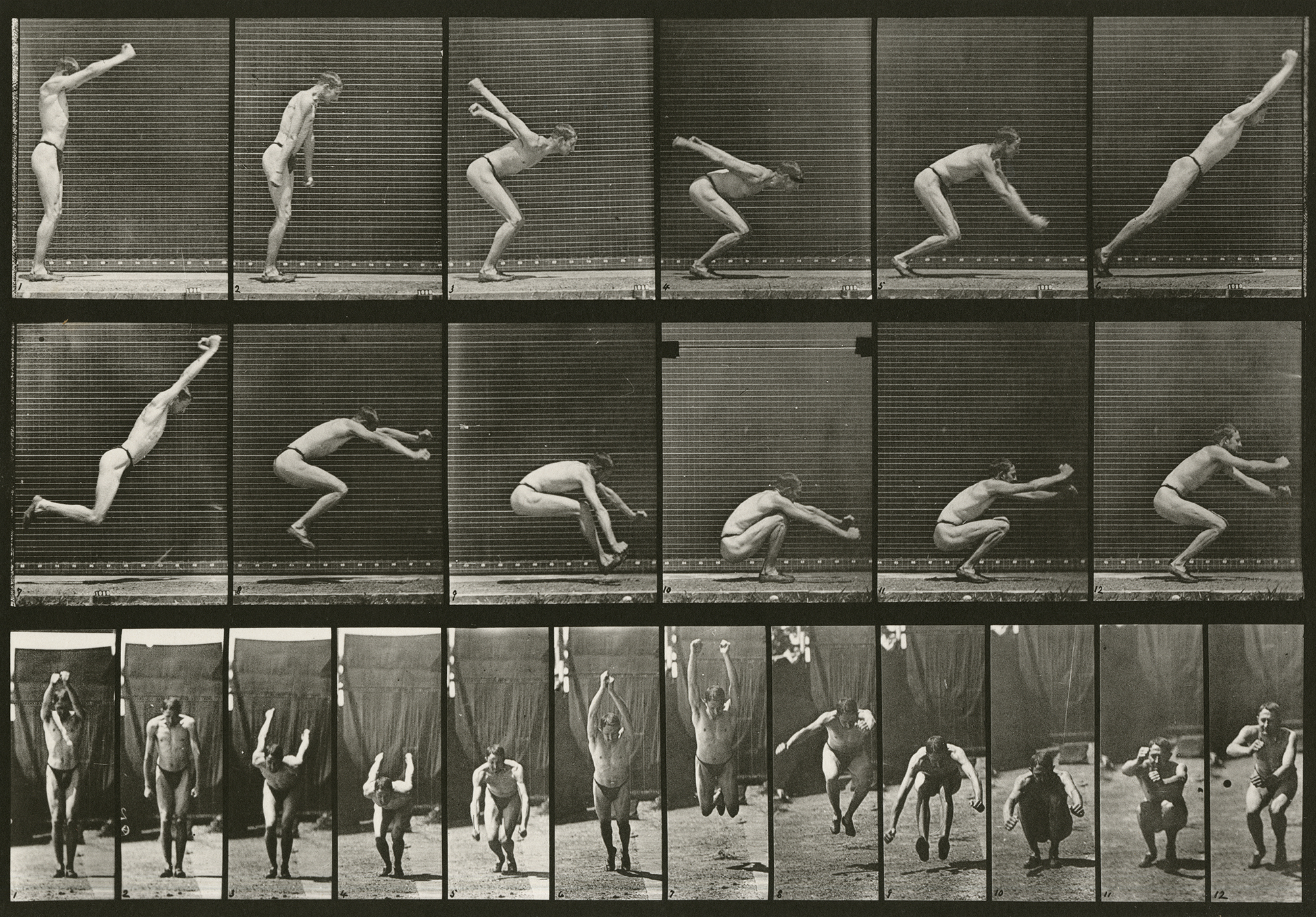 In 1872, Leland Stanford was looking to settle a bet. The businessman and racehorse owner had wagered that a horse in trot had all four legs off the ground for a brief moment in time, one that passed too quickly for the naked eye to see. Stanford sought out a well-known California-based photographer to see if this relatively new technology could help him win the wager.
The resulting work was a shift in Eadweard Muybridge's career as a landscape photographer and became the launching off point for the first scientific study of motion using photography. Through a partnership with Penn, Muybridge's "Animal Locomotion" opened up an entirely new way of thinking about photography, human and animal movement, and even the concept of time. Now, more than 130 years later, Muybridge's work is seen as both an innovation in photography and the science of movement, alongside his personal legacy as someone with an eccentric 19th century style and a dark past.
Photography pioneer
Born in 1830, Muybridge emigrated from England to the United States at the age of 20, spending time in New York City before heading west to San Francisco to start a career in publishing and bookselling. In the early 1860s, while returning to England to collect books, Muybridge was involved in a stagecoach accident that left him with severe head injuries. He spent several years recovering in England and, on the recommendation of a physician, turned to a new vocation that would allow him to spend more time outdoors: photography.
Upon his return to San Francisco in 1867, Muybridge quickly established his reputation as an adept technical and artistic photographer through his work in Yosemite Valley and the newly-acquired Alaska territory. His time-lapse images of the construction of the San Francisco mint likely attracted the attention of Stanford, and Muybridge was hired in 1872 to help with Stanford's wager. Thanks to improvements in shutter technology and Muybridge's sequential camera design, Muybridge proved that a horse in trot did have all four legs off the ground.
Muybridge later had a falling out with Stanford over credit for his work, but the photographer retained his interests in the study of movement. Thanks to his lecture at the Pennsylvania Academy of Fine Arts in 1883, coordinated by artist Thomas Eakins and Penn trustee Fairman Rogers, Muybridge's work attracted the attention of a group of Philadelphians, including Penn Provost William Pepper and the publisher J.B. Lippincott, who met with Muybridge to discuss plans for a university-sponsored scientific endeavor that would use photography to study animal and human movement.
With a $5,000 advance and a studio on the northeast corner of 36th and Pine (where the Rhoads Pavilion now sits), Muybridge used his 12-camera setup and collected images of animals from both the veterinary hospital and the Philadelphia zoo, along with a number of professors, athletes, students, patients from the Blockley Almshouse, which was next to Penn at the time, and local residents. While animals walked across a stage in the outdoor studio, human subjects were assigned a much wider variety of tasks to complete—from pole vaulting, throwing a shotput, wrestling, boxing, walking down stairs, and even dumping a bucket of water onto another person.
Over the course of three years, Muybridge and his team made more than 100,000 images. A selection of the work was published in 1887 through a subscription-based portfolio, where parties could choose 100 plates, from a diverse catalog of 781, for $100. Muybridge went on a nationwide tour to promote the work and continued lecturing until his retirement, when he returned to England and eventually passed away in 1904.
"Unique collection"
When Muybridge first came to Penn, there was no existing archive that could collect and house his images or equipment. It was due to later efforts of George E. Nitzsche, the University's first recorder, who collected and curated much of the current collection. "It's a very unique collection," says senior archivist J.J. Ahern, who adds that the Muybridge collection is as extensive as it is today because of the early efforts of Nitzsche.
Housed in both the Libraries and the Archives, the Muybridge collection includes 740 of the original 781 plates, one of the Stanford cameras, lenses and lens holders, copy cameras, images of the outdoor studio, subscription order forms, and correspondence between Muybridge, his book publishers, and parties who were interested in purchasing a subscription.
Penn students and researchers have the unique opportunity to study the wide collection of prints up close. "One of the things that's great about the collections here is that they are for use," says senior lecturer David Comberg, who teaches design and typography. "The idea that the collections are for use, not only for archiving, is very important for teaching. To show how the material is printed, to hold it in your hands or to see it on a table, makes teaching history much more real."
Postdoc fellow Gregory Vershbow in the Visual Studies program adds that being able to hold and see Muybridge's images in person helps students connect with artifacts from the past.
"We think about images as opposed to pictures: The image is the information, the composition, you can share it on devices, you can output it as a print, you can cover a shirt with it, but then the picture is a [physical] thing," Vershbow explains.
Muybridge in the classroom
While the work was originally conducted as a scientific study, much of the current focus of research and study is on the historical, artistic, and storytelling aspects of Muybridge's work.
In the Visual Narrative studio, co-taught by Comberg and senior lecturer and photographer Jamie Diamond, students learn how to tell stories using images, primarily with photography and video, and one of the first lectures is about Muybridge. "He's the master of time and space," says Comberg. "There are multiple images, arranged in a series or sequence. He's one of the first subjects we study in the class and the concepts of time and space in narrative comes up again and again."
Vershbow's Material History of Photography hybrid studio-art history course focuses on the history of photography accompanied with photographic assignments and in-class critiques. Muybridge is one of the early photographers that students learn about, which Vershbow sees as an essential starting point for storytelling through images. "Visual studies is so much about the science, culture, and the expression of seeing, and I think this idea of being able to cut time into pieces is something that's new from those pictures," he says.
Modern-day legacy
Ahern says that part of what makes Muybridge's work unique is its status as a first-of-its-kind scientific study that used photography in a new way. "You could start seeing the human body in motion. Up to then, you have to see somebody doing it in person, and you can't have somebody stop mid-pole vault to see where the muscles are," Ahern explains. "All the other photography before this had been straightforward poses, or a landscape, so being able to see someone doing physical activities allowed people to see how the body was working."
Vershbow adds that he sees Muybridge's legacy connected to both his impact on the field of photography as well as how people think about time. "There's so many innovations in image-making that changed the way that we see and visualize things. Einstein, when he talks about relativity, describes perceiving time in the form of slices as a way of comparing things from different perspectives," Vershbow says. "That metaphor for thinking about time is at least in part informed by those images. Photography has made us much more aware of the past as broken up into moments, just like the present is."
"Another interesting factor about Muybridge is his criminal history, while still productive as an artist and scientist," says Comberg, in reference to Muybridge shooting the man that his wife was having an affair with in 1874. Muybridge was acquitted on grounds of the shooting being a "justifiable homicide," and his career only experienced a brief interruption during his trial."He's a 19th century monument to eccentricity, and the fact that he murdered [Major Harry Larkyns] is a footnote to everything else." The "everything else" is Muybridge's unique photography career, his Edwardian personal style, including changing his name's spelling, and his showy, P.T. Barnum-esque style of presentation.
"This is an issue that students right now are sensitive to: Should we celebrate people who did terrible things?" says Vershbow, whose Material History of Photography students recently discussed the role of Muybridge's dark past in his legacy. "We decided that [the work] was uniquely novel and that whatever horrible things he did weren't directly in service of the work. That would be a much trickier situation if he had injured people in producing those images."
Muybridge's legacy will continue to be a subject of debate, and Penn's collection will continue to be something that helps students connect with photography from the past. Because of its subject of animal and human movement, it's easy for anyone to connect with the images or even to simply marvel at the diverse and strange array of motions that were photographed. "The thing that strikes [students] is the number: A woman lifting a vase, a man stepping over a ball, throwing a bat, it's endless. The students are left with his eccentricity and the whole weirdness of the project," says Comberg.
And what of Muybridge's role in inspiring modern-day scientific research? The School of Veterinary Medicine, which provided many of the domestic animals for the study, is now home to a state-of-the-art robotic imaging system for studying the biomechanics of horses in motion—perhaps it could be seen as a modern-day version of Muybridge's original device.
J.J. Ahern is a senior archivist at the Archives and Records Center at the University of Pennsylvania.
David Comberg is a senior lecturer in the Stuart Weitzman School of Design.
Gregory Vershbow is a post-doctoral fellow in the Visual Studies program in the School of Arts and Sciences at the University of Pennsylvania.
Homepage photo: Plate 637, with key words "Jumping a hurdle; saddle; clearing, landing and recovering," model is bay horse Daisy. (Image: University of Pennsylvania Archives)