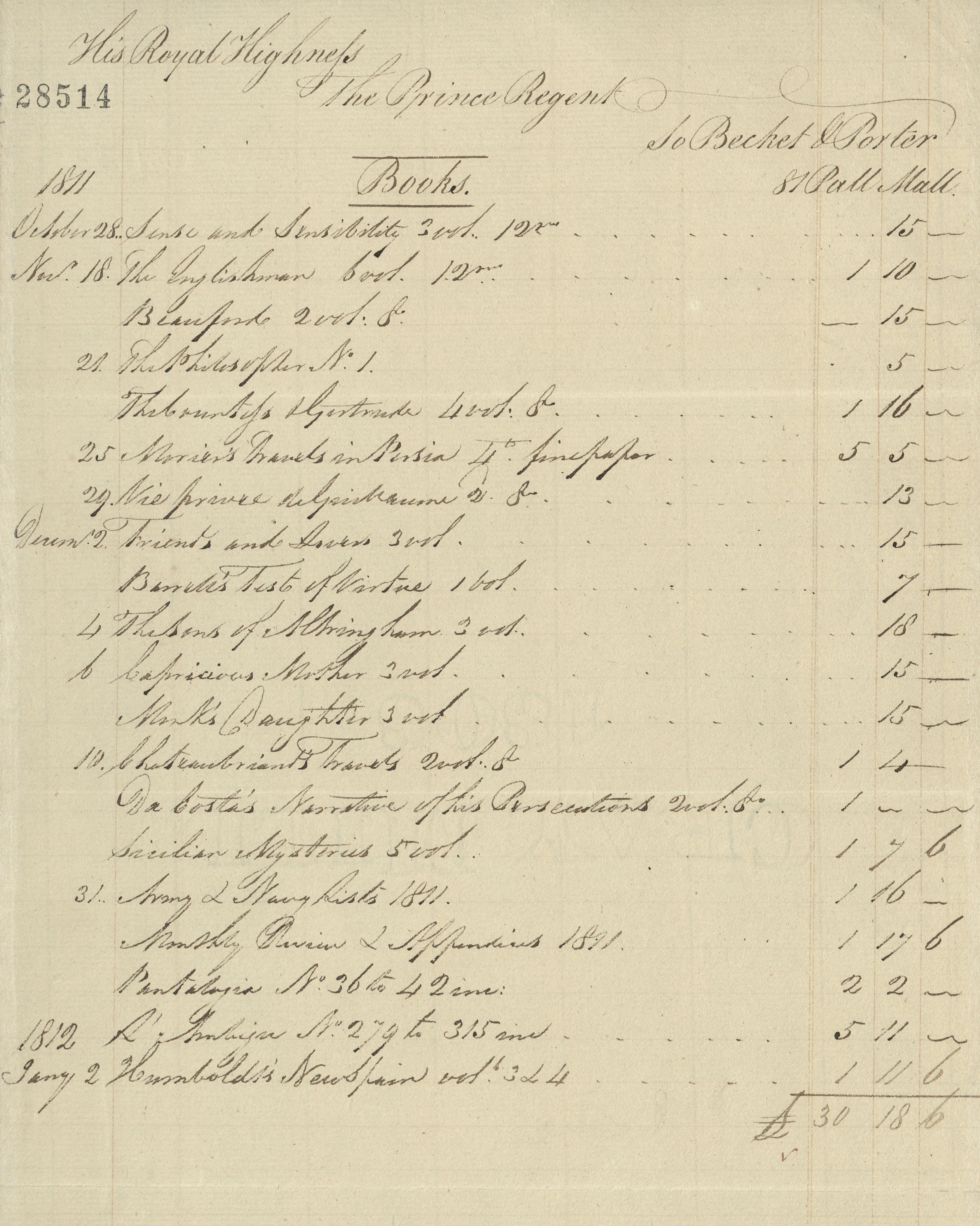 This summer, Nick Foretek, a second-year doctoral student, made a surprising discovery while digging through the Royal Archives in Windsor: The Prince Regent, the future King George IV, was the first person to purchase a copy of Jane Austen's novel, "Sense and Sensibility." It happened on Oct. 28, 1811. 
Foretek uncovered the document as an Omohundro Institute Fellow at the Royal Archives' Georgian Papers Program. In an effort to digitize and catalog its contents, the Royal Archives has opened a large number of papers concerning the royal household in the 18th and 19th centuries. The material includes private letters to members of the royal family and receipts.
According to the receipt Foretek uncovered, the Prince Regent paid the full retail price of 15 shillings.
"It opens up interesting questions concerning how he came to have a novel two days prior to its first advertisement on Oct. 30, as well as the immediate reception of Austen's first work," says Foretek. "Then there's the irony of a rake who fits the mold of a Wickham far better than a Darcy enjoying the work of Austen, in spite of her distaste for his behavior as it related to his marriage to Princess Caroline." 
Austen was not a fan of the gluttonous, scandalous national embarrassment known as the Prince Regent, but he certainly admired her, collecting several of her works over the years. 
Under coercion, Austen dedicated "Emma" to the future king, whose copy arrived in December, 1815, and remains in the Royal Library.
"It's intriguing because though the Prince knew of Austen by the time she was writing "Emma" in 1815, this receipt is for her first book in 1811," Foretek explains. "This was all the more remarkable because "Sense and Sensibility" was not immediately a hit. It took more than three months before well-known review publications began to enthuse about Austen's first publication, and the work did not sell through its first print run until the summer of 1813."
Foretek adds that this is the earliest documented purchase of a Jane Austen novel.
"Very fortunately, I found something other people found interesting," he says. 
Lots of other people were interested, in fact. Foretek's discovery has been covered in The New York Times, The Guardian, The Daily Mail, Smithsonian Magazine, and Bustle.com.
Humbly, Foretek is happy to be a footnote in the "world of Austen studies," and was thankful to "spend time in a wonderful archival collection learning how to more efficiently and effectively structure research in a thoughtful manner," he says.
As a doctoral history student in the School of Arts and Sciences, Foretek is hesitant to commit to a specific focus. He's thinking about 18th-century western European history. 
Aside from his "enormous crush" on Scottish philosopher David Hume, he says he is attracted to this timeframe because of its political debates surrounding the issues at stake within France, Great Britain, and the colonies, as well as its rich literature.
It was Foretek's love of English literature that spurred his interest in London's publishers and ignited his curiosity about the vast collection in the Royal Archives.
"As a researcher, I bring a specific expertise to bear on the documents they possess that are relevant to my areas of study," he says. "Essentially, it's detective work 200 years after the event." 
Foretek says his ultimate goal is to conduct historical research, teach, and write books that will, "in an ideal world, generate thoughtful responses from academics and non-academics alike."