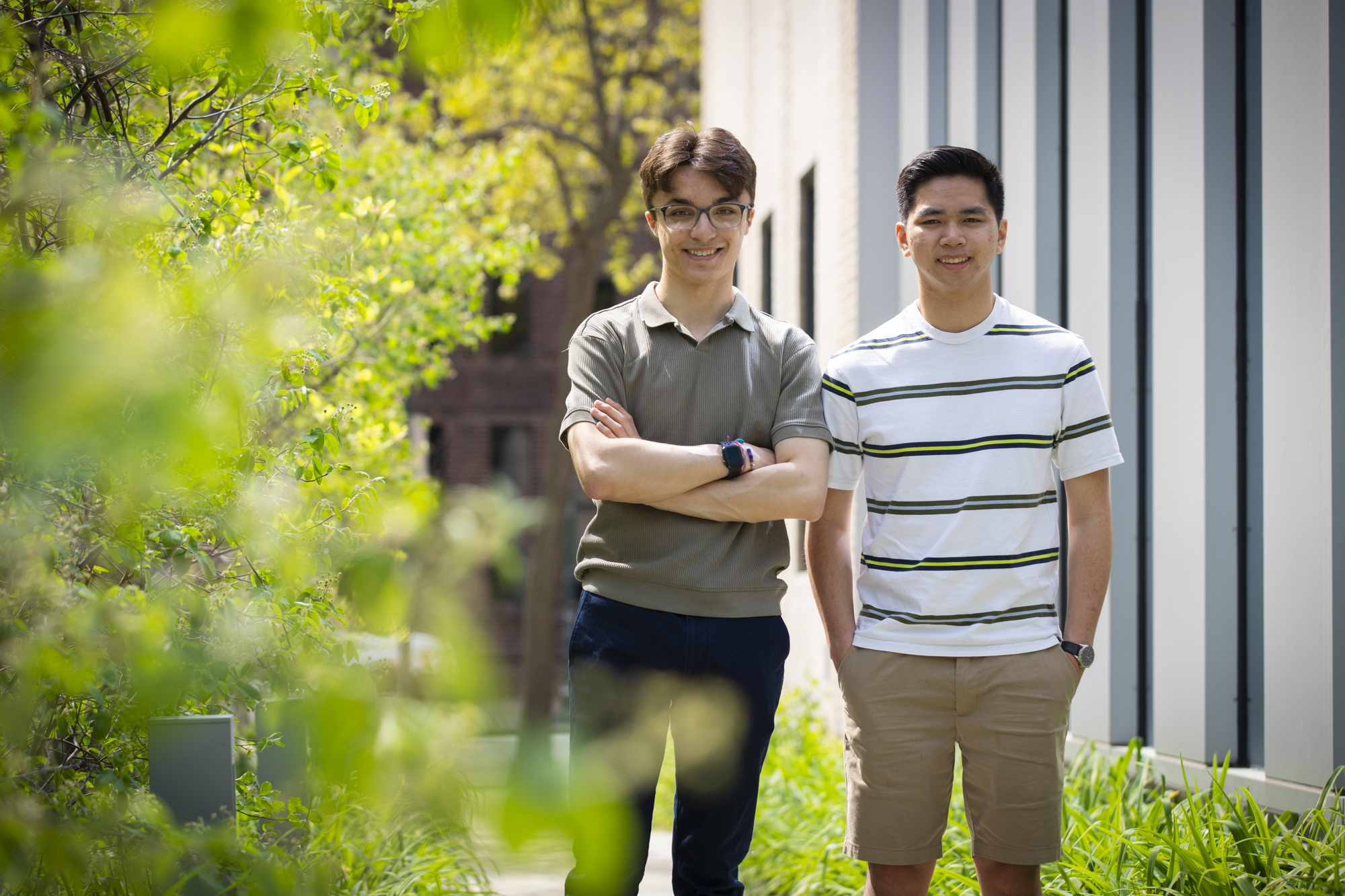 For many undergraduates, real-world use of skills learned in the classroom typically comes after graduation. But that's not the case for fellows in the Penn Program on Opinion Research and Election Studies (PORES), where students have put their data-analysis skills to work in fields from nonprofits tackling food insecurity to entities focusing on getting out the vote. Most recently, student fellows have been creating data-driven journalism as part of PORES' partnership with The Philadelphia Inquirer.
"A lot of organizations we partner with don't have designated data teams yet," says Stephanie Perry, executive director of the Robert A. Fox Leadership Program and PORES in the School of Arts & Sciences. She's also the manager for exit polls at NBC News, a team that had several PORES students working through Election Night during midterms in the fall. PORES students have helped NBC's Decision Desk since the 2016 presidential election. "Our students are able to pitch stories or projects using data as a foundation to help improve business practices, and, so far, it's worked well for the organizations and the students," Perry says. 
PORES is an undergraduate research program committed to conducting high-quality social research in the public interest on issues of national and international importance. It aims to develop a data-driven approach to understanding political outcomes in the United States through public opinion survey research and poll analysis. The program provides Penn undergraduate students with valuable training in public opinion theory and research through specialized courses, mentoring, and hands-on instruction with leading industry organizations.
"As the data science world continues to expand across different industries, it's essential that our students directly apply the skills they learn in the classroom to experiential learning opportunities in a real world setting," says John Lapinski, faculty director of the Fox Leadership Program, director of PORES, faculty director of the Fels Institute of Government, and director of elections at NBC News.
Andrew Arenge, director of operations for PORES and the Fox Leadership Program, says he thinks the work students are doing at places like The Inquirer is "a natural outgrowth of the skill sets that students are learning day to day right in our classes. It's a nice way for them to get professional experience that is very much beneficial to these organizations."
PORES is able to pay the student fellows at a time when news organizations need their data-analysis skills more than ever but might not have the hiring budget. "it's a win" for all parties, Arenge says.
Tyler Jenkins-Wong, a third-year majoring in international relations from Phoenixville, Pennsylvania, is a teaching assistant for PORES and a student fellow who worked for the NBC Decision Desk in November 2021 and last fall for the midterm elections.
Jenkins-Wong started at The Inquirer's data-driven storytelling desk, run by reporter and editor Jonathan Lai, in May 2022. It was right in the midst of the Pennsylvania Senate Republican primary, a tight race that resulted in a recount with former hedge fund CEO David McCormick narrowly losing to TV doctor Mehmet Oz. Things were extremely busy, and Jenkins-Wong hit the ground running. 
"There wasn't any time for the typical onboarding process, and it helped that I'd already had the Decision Desk experience and a domestic politics and elections background, so I could just jump right in," Jenkins-Wong says. "The first two weeks were very hectic," as they covered the primary and the ensuing recount. 
"We were the driving publication behind coverage of that recount. It was a really cool thing right off the bat to be working on stuff that played an important part in informing the public but also informing the campaigns themselves. They were relying on us to figure out where the recount stood. I played a role in it in dissuading misinformation about the recount process in general," he says.
Growing up in the Philadelphia suburbs, The Inquirer was a fixture at Jenkins-Wong's home. He says his parents still get the paper delivered, and he felt a little starstruck when he started his fellowship there. "I'd be in a Slack channel and I'd see these names I recognized my whole life from reading the paper," he says. 
After the primary, Jenkins-Wong worked on stories including the post-pandemic economic recovery in Center City, car crashes in Philadelphia, and data on the Phillies, as well as any other stories that needed data visualizations.
Jenkins-Wong says he was surprised by how much the work he did felt like a public service. "You're doing your best to take a lot of data and distill it for a general audience, almost like a translation," he says. "You take interesting stories and ensure that the public gets that information in a concise and understandable manner. It was very rewarding in that sense."
Jenkins-Wong says PORES coursework did a "phenomenal job" giving him the skills he needed to excel at The Inquirer, from coding skills to a deep understanding of elections administration and how elections work all the way down to the precinct levels.
He says his favorite piece was the story on McCormick's concession during the recount. "I'm interested in politics, but you realized that tons of people were following it closely, even nationally, and we were the only ones covering it at that level. That's a great feeling," he says.
This semester, he's participating in the Penn in Washington program, working for a public consulting firm with clients in various levels of government, from small local politicians to members of Congress, and his PORES training is coming in handy yet again, he says. He's doing everything from data analysis to conducting polls in the field to help their clients prepare for their reelection campaigns.
"It's been a nice convergence of data-analysis skills and political knowledge," he says. "It still takes a human to make all these decisions. It's like not all these jobs can just be replaced by computers, crunching numbers."
Jared Mitovich, a second-year majoring in communication from Woodcliff Lake, New Jersey, worked on The Inquirer's data-visualization team from September to December.
"I had the luck of being there at a good time for politics coverage because it was the 2022 midterms and Pennsylvania was a really important state," he says. "It was awesome to be in the newsroom during that time because there was so much coverage, and being able to quantify that was really cool."
The political coverage he worked on included a longer-term project to get precinct-level data from the Pennsylvania election results. Around a month before the election, Mitovich was tasked with finding out where each county in Pennsylvania releases its precinct-level election results. 
"I made a list of where each county stores their precinct-level data, which can be a little bit hard to find sometimes. Once we had that list, we were able to start writing code programs to pull those results from the internet and convert them into maps and charts and things that the general population can understand. We ended up doing that for all 67 counties in Pennsylvania and I helped with a good number of them," Mitovich says.
A favorite moment was being in the newsroom on Election Day and into the night. "It was really cool to be able to work with the rest of the team and we ended up helping make these really detailed maps going all the way down to the precinct level—the most granular level —showing how the senator candidates performed and how the governor candidates performed. That was very nitty gritty and awesome," he says. 
He also helped with stories including a look at mail ballot data, hospital admissions during the "tri-demic" period and wrote a story on inflation numbers in Philadelphia. "It was way beyond my expectations that The Inquirer was even an opportunity that you could get from Penn. It was fantastic," he says.
The classroom experience through PORES laid the groundwork for his success at The Inquirer, Mitovich says. "It definitely helped me prepare in terms of programming skills, interpreting data and how to make charts and graphs that aren't confusing," he says. "They taught me a lot of really critical skills that have built my interest in data journalism."
At a time when people are trying more and more to answer questions through the lens of their own biases, Mitovich, who also works at The Daily Pennsylvanian, Penn's independent student newspaper, sees data journalism as a way to help people reach an unbiased truth. "I think that data journalism is one of the best ways to answer some of those common questions in an objective, quantifiable way," he says.
Jonathan Lai, who covers voting and elections as The Inquirer's Data & Democracy reporter, in addition to leading the Data-Driven Storytelling team, says PORES students have been a "great fit" for his team, with their wide range of personal and professional interests, background in data, and interest in elections. 
"Most important, they're thoughtful, curious, ambitious, and eager to learn," he says. "Working with data requires technical skill, and the PORES students do bring that knowledge with them and are always interested in learning more. But where Tyler and Jared really excelled was in the skill that's harder to observe or measure but in many ways the most important: critical thinking."
Aseem Shukla, a data reporter and developer at The Inquirer, says Mitovich and Jenkins-Wong were an asset to the team. "Both made original contributions to our reporting and had strong, well-formed opinions about the issues we were covering," Shukla says. "I appreciated their engagement with the subject matter. We didn't have to do a lot of hand-holding beyond what you would expect of a new employee."
Lai says some of his favorite work by the students didn't come in the form of specific stories that made it into print, but rather it was thinking through with them how to approach a problem. "For example, I asked Tyler to think about multiple ways we could interpret and visualize election results in the 2022 elections; Jared later picked up where he left off," Lai says. "Their research and ideas contributed to stories last year and continue to inform our planning for this upcoming election."
To this day, the two student fellows still bring ideas to the team and participate in some of the group conversations. "Working with Tyler and Jared was a great experience, and I'm so glad we were able to bring them into the team," Lai says. "They've set the bar high; future PORES interns have big shoes to fill."