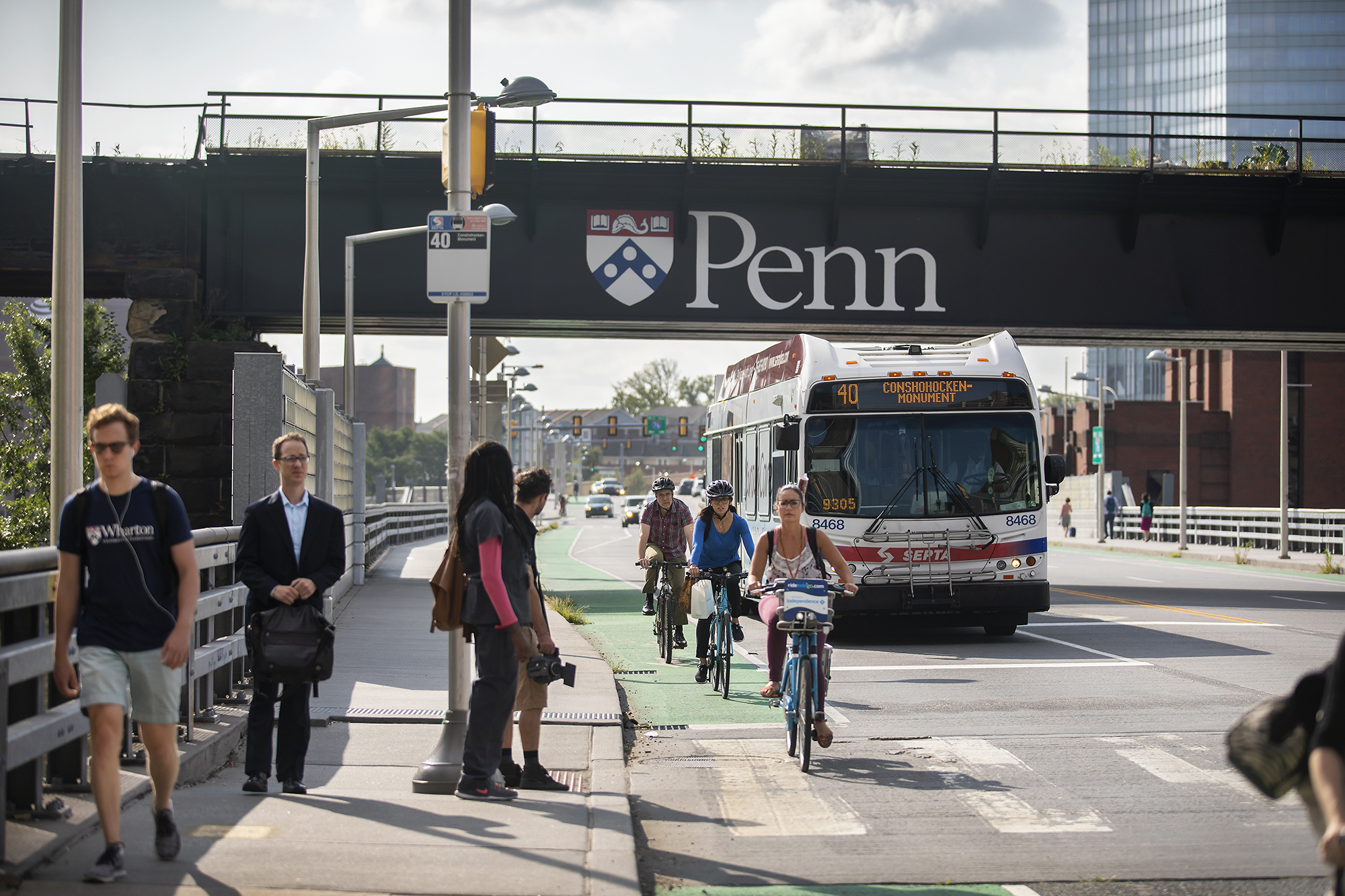 To combat the search for parking, traffic, and paying for gas, the University of Pennsylvania has sweetened the deal for local and regional transit commuters further, with an increase in its commuter benefit offering. The newly enhanced commuter discount complements Penn's existing Commuter Card, its commuter expense reimbursement plan for bicyclists, and Penn Transit's electric vehicles, all part of Penn's push for sustainable transportation for the community. It also provides a more flexible and affordable option for commuters who occasionally work remotely by offering increased value to those who come to campus at least three days a week.
The commuter benefits program is tailored to meet the varying needs and movements throughout the region. For a staff member crossing the Ben Franklin Bridge on a bike, or a postdoctoral researcher from Delaware or Bryn Mawr, the array of services and discounts is a result of extensive surveys that explore the transit patterns and habits of commuters.
This fall, Penn introduced an increase in the commuter discount on monthly passes for SEPTA, PATCO, NJ Transit, and Amtrak 10-trip tickets. The new commuter discount is 50% off monthly passes, 10-trip tickets, and the PATCO Freedom Card. The benefit has a maximum limit of $105 per person per month and is offered via payroll deduction on a pre-tax basis, providing additional cost-savings for participants. The benefit is hosted by a new easy-to-use platform and service provider, Jawnt. These benefits extend to Penn's full-time, benefits-eligible faculty and staff along with postdoctoral researchers and fellows.
The existing Commuter Card benefits is not changing, and remains accessible on the Health Equity platform at a pre-tax 5% discount. Commuters may take advantage of the discounts offered for the Commuter Card and the monthly passes, provided that the combined discounts do not exceed the $105 limit.
Members of the Penn community who previously registered for transit programs with SEPTA, PATCO, NJ Transit, or Amtrak will need to register for an increased discount via the newly implemented Penn Commuter Benefits transit portal by logging in with a PennKey.
"Offering convenient, affordable commuting options in ways that encourage sustainable transit is core to the mission of the Commuter Benefits Program," says Joe Russo, senior director of Business Services, who oversees parking and commuter services. "The change in commuting that has occurred post-pandemic, in particular the shift toward hybrid work schedules, as well as new technologies that were introduced shortly before the pandemic (such as SEPTA's Key Card) have provided an opportunity to evaluate the program with an eye toward increasing its value to commuters."
"The increase in the Commuter discount also encourages commuters who are able to do so to choose more sustainable commuting options," Russo adds.
Courtney Dombroski, director of strategic initiatives and planning for Residential and Hospitality Services, says she was excited to hear about the increased commuter discount. "I had been driving, but with this new discount I turned in my parking permit and started using SEPTA as it saves me money and I like that is a more sustainable option."
Currently, approximately 4,000 individuals are participating in the program. Commuters who ride transit at least three days per week are likely to find the discount to be an economical option.
Investments in sustainable transit initiatives have increased over the years at Penn. In 2022, Penn Transit Services launched its first fleet of electric passenger vans. Additionally, for those who commute via bicycle, the Penn Bike Commuter Expense Reimbursement Program offers reimbursements on bike purchases, maintenance, improvements, accessories, and safety gear. The program is funded by Business Services in support of the University's Climate and Sustainability Action Plan. Those interested must first register their bike in order to enroll.
"I am really happy with the new Jawnt site and increased commuter benefit. My hybrid schedule helps me stay connected to the Penn community and campus and the commuter benefit makes it very cost-effective," says Gina Campellone, a specialist at the Penn Employee Solution Center. "When my PATCO trains goes past all those cars sitting on the Ben Franklin Bridge, I appreciate the commuter benefit even more. Jawnt was easy to set up the first time and this month when I updated my election, it was just as easy."
For more information, including how to sign up for benefits, visit the Penn Commuter Benefits Enrollment Guide.