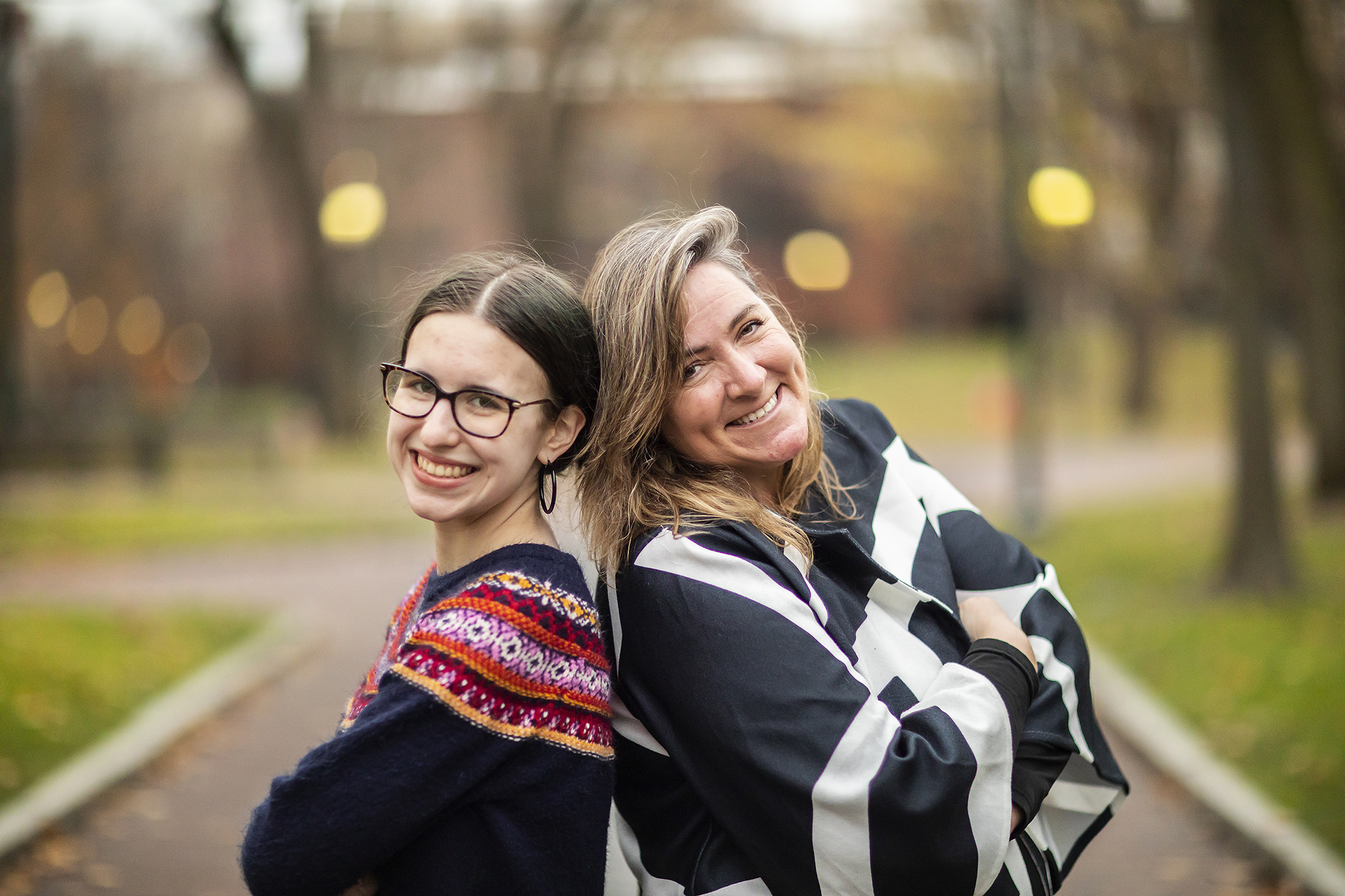 In middle school as part of a class assignment, Rachel Swym wrote that her goal was to go to an Ivy League university. It was an ambitious aim, especially since she says no one from her rural Ohio high school had ever done so, as far as she knew.
Swym is from Farmdale, an unincorporated area close to the border of Pennsylvania. She was the valedictorian of her graduating class of 65 at Badger High in Kinsman, where her mother and father and younger brother also went.
Her parents have associate degrees from local trade and business colleges; however, Swym says no one in her family had experience applying to private universities. At first it seemed like the Ivy League would be financially out of reach, but eventually she learned more about financial aid and realized the possibilities.
"I did not have the familial institutional knowledge about how to apply to college, how to evaluate if a college is good for you, how to apply for scholarships. That was very, very self-directed for me," she says. "It was kind of a miraculous notion to me, that an Ivy League college would cover my costs. I remember having to explain it to my mother multiple times. I told her that we are going to be able to do this, if I get in."
She did. Now a senior at Penn, she is an English major pursuing minors in consumer psychology and environmental humanities in the College of Arts and Sciences. She has been exploring the type of writing she would like most to pursue, trying fiction, nonfiction, and lately podcasting.
"I'm interested in media creation and storytelling. I'm interested in communicating," Swym says. "I know I want to be involved in some kind of writing."
She is also now considering nonprofit work after a summer internship with Minds Matter, an educational nonprofit that supports students from low income families, co-founded by Leanne Huebner, a 1990 graduate of the Wharton School, who serves as national board co-chair with Ashish Shah, a 1992 Wharton grad.
"I'm really interested in nonprofits with scale of impact," Swym says. "And to me the field of educational technology has a really interesting scale because not only are you supporting a wide range of students, you are supporting teachers."
Huebner continues to be Swym's mentor, helping to support her as she considers career options. "We've talked a lot about how to be successful in the nonprofit world," says Huebner, who lives in Los Angeles.
Connecting
Swym and Huebner found each other through Penn FLASH, a platform founded in 2019 initially to connect first-generation, highly aided students with Penn alumni that has since expanded to any student who is looking to build a supportive network. Penn FLASH is administered by the Albert M. Greenfield Intercultural Center, in partnership with University Life and the Penn First Plus Alumni and Penn Career Resources Initiative.
Penn FLASH also works with the student group Penn First, a community of those who identify as first-generation, highly aided. "The students said they didn't know what they didn't know regarding professional growth career opportunities," says Penn FLASH co-founder Valerie De Cruz. "They told us that they didn't have a network after they graduated like some other students. So we said, 'Let's start that network.'"
Nearly 400 students and 600 alumni are signed up for Penn FLASH, says De Cruz, director of Greenfield. Huebner is a key member and donor, she says.
"Leanne has been involved since the beginning," says De Cruz. "Leanne will sit with a student and start where they're at and begin to help them build rungs to that ladder of success. She's just incredible."
"Valerie spearheaded this effort and I'm happy to support Penn FLASH to ensure these students have access to build much-needed social capital," Huebner says.
On campus
On a blustery day in December, Swym and Huebner met each other in person for the first time. Huebner was visiting the campus to see her son John, a Penn freshman, sing the national anthem at a women's basketball game, and they all met for coffee.
"Leanne was trying to connect me with new people just today," Swym said just after they met. "As I'm considering applying to things, she has readily offered herself for advice, for recommendation letters, for discussions of the future. I'm very appreciative of that."
One topic of conversation was their rural background. Huebner grew up on a farm in southern New Jersey. Neither of her parents went to college, and she received substantial financial aid to attend Penn, she says.
"I think when you come to Penn, the wealth factor immediately hits you, this culture shock," Huebner says. "I think that you don't necessarily think of yourself as having less until you arrive. Even today, I recall that unsettling feeling."
Swym says she also had that feeling. She wasn't raised on a farm but was surrounded by farms. Her mother, Crystal, is an office manager at a local public utility company, and her father, Kurt, works as a metal machinist.
Finding Penn
When considering colleges, Swym says she had not traveled outside her local area and couldn't imagine being far from home. So she applied early decision to Penn. She wrote about the Kelly Writers House in her essay because the recruitment team had reached out to her, and it seemed like the kind of place she would thrive. She didn't have a chance to visit the campus until after she had been accepted.
"My mother loves to tell the story, well, loves and hates to tell the story, of the first time we actually did come to Penn," she says. "I had never even been to Philadelphia, let alone Penn."
Swym says she was nervous, and nauseous, and scared because she had committed to Penn, and was completely overwhelmed. She even almost got hit by a car as she crossed Spruce Street for the first time. "We don't have traffic lights where I'm from. No one really communicated to me how crosswalks work. A very nice passerby said, 'Don't fight the cars; the cars will win,'" she says.
But then she started to relax as she and her mother walked onto campus. "There was grass, and brick walks, and something tangible I recognized away from the skyscrapers and the sounds of the city," she says. "And then I started to calm down and realize I can do this."
Evolution
Swym says her years at Penn represent "a drastic evolution," and that she no longer feels limited by inexperience. She became part of the Kelly Writers House right away, and since her sophomore year has worked as the purchasing librarian, ordering books to have for sale when authors speak there and returning those that aren't sold.
"I know firsthand how skilled she is at organizing and planning," says Jessica Lowenthal, director of the Kelly Writers House. "As purchasing librarian, she buys all the books for our author events, which requires a sustained attention to detail, great problem-solving skills, and a commitment to getting stuff done on sometimes tight deadlines."
Swym is on the board of the Social Deduction Club, which was founded by her friend Ian McCormack, a May graduate who is recruitment assistant at the Writers House. "Gaming is the identity of the club, but the core of the club is offering a low commitment social outlet on this campus that isn't determined by pre-professional or academic interest," she says. "It's a comforting space."
She has also been integrally involved in theater at Penn, continuing after four years of theater in high school. She has been a leader in the Stimulus Children's Theater as community service chair for two years, communicating with local schools to arrange for the company to perform.
Laurie McCall, director of Penn's Platt Performing Arts House, says Swym has been a valuable member of Penn's theater community, both before and during the pandemic, especially for Stimulus Theater. "She helped the group find ways to engage children with stories and theater virtually. She worked tirelessly with her peers to make the best of the performing arts experience for each other as well as the community," says McCall.
Swym says she discovered she likes working behind the scenes. She has handled costumes for eight shows through Penn's Theatre Arts Council and is now the senior costume mentor for all seven of the Council's groups. She is also the executive communications director of the Penn student-run feminist magazine The F-Word.
"She is so passionate about the stuff she works on," says Lowenthal. "I've especially admired the way she thinks carefully and critically about the impact or potential impact of her various extracurricular commitments, like bringing theater to kids."
Gaining experience
All of those experiences were a match for the internship Huebner offered Swym at Minds Matter to help organize a four-week, virtual "marketing bootcamp" for high school students. The experience featured training presentations by more than 20 CEOs, professors and marketing experts to the 23 Minds Matter students who tuned in from 10 cities.
Swym wrote guides for volunteers advising the high school students and for the students about the program goals like building social capital. She also assisted two of the student teams with projects to create a pitch to the board of Minds Matter, including a new social media strategy and a new branding strategy.
"Rachel was absolutely essential to the program's success," says Huebner. "What I really like about her is that she's direct, hard-working, and reliable, qualities you want in anyone working with you. And she brought an element of youth understanding to this particular summer program."
Swym is the first Minds Matter intern from Penn, and Huebner says the experience was so successful that the nonprofit plans to invite Penn interns for future projects.
Looking ahead, Swym says she hopes she can travel abroad. The pandemic curtailed plans for a semester at Kings College in London through Penn Abroad. "Leanne is introducing me to some international opportunities," Swym says.
She is realizing the experience she gained through her extracurricular projects and the internship are now connected to the work that she sees in her future, she says.
"I found I already had the beginnings of leadership and maintenance and problem-solving skills that I could tap into more, especially those that come from theater," Swym says. "I've realized since coming to Penn that I really enjoy administration management. I really enjoy being the one who's maintaining all of the strings, who's looking at getting things done efficiently, who has the bird's-eye view of everything."