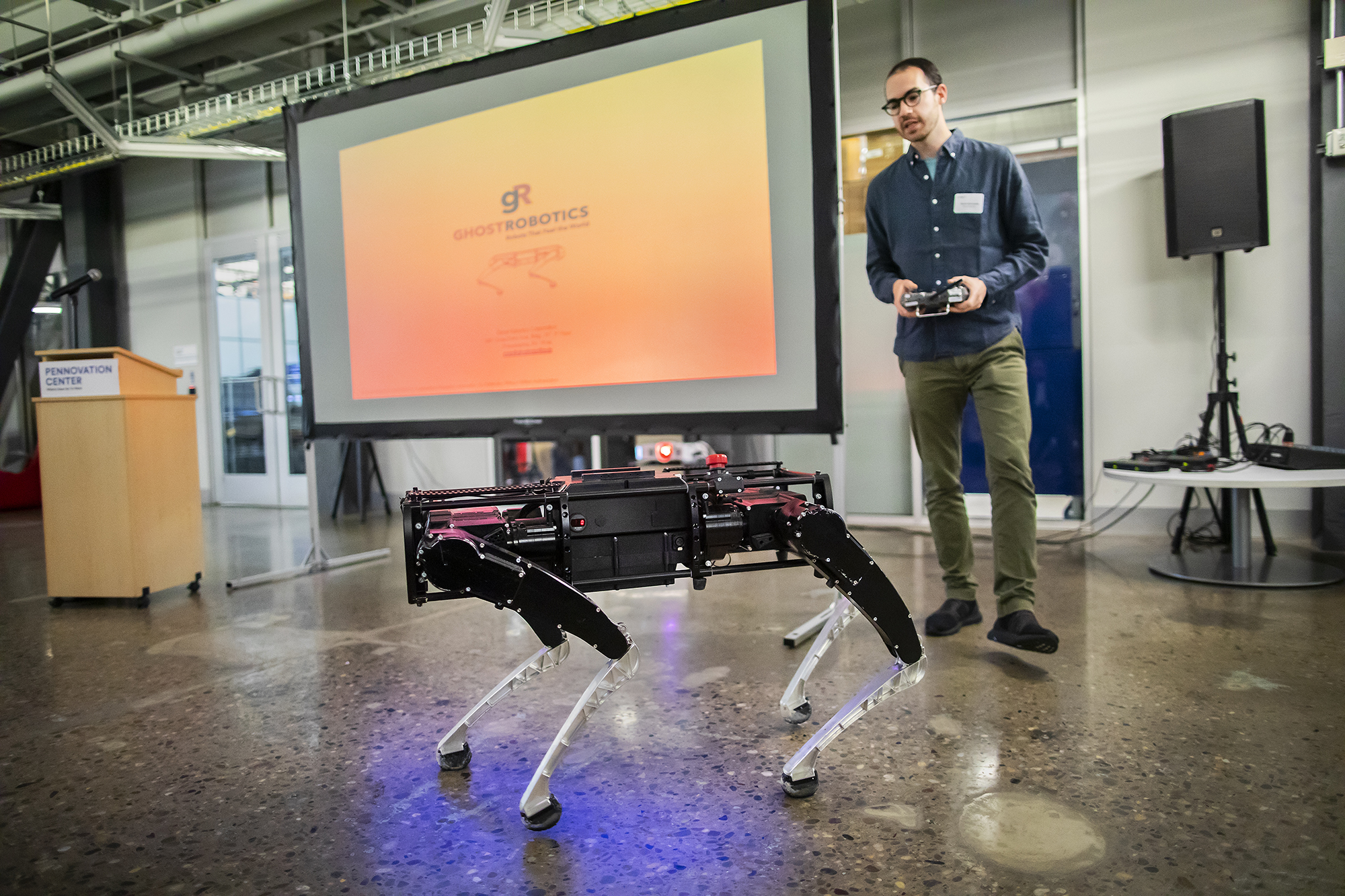 Gavin Kenneally is set to finish his Ph.D. in mechanical engineering soon, but when he stepped up to the podium yesterday before an audience of Philadelphia-area entrepreneurs and potential funders, he was wearing a different hat: co-founder of Ghost Robotics. 
The nascent company, which is already shipping its signature legged robots to customers, is a classic Pennovation Center story. Kenneally and his co-founder, Penn Engineering alum Avik De, worked together in Dan Koditschek's lab, spending plenty of time in the Penn Engineering Research and Collaboration Hub (PERCH), on the third floor of the Pennovation Center. 
Now, with the addition of CEO Jiren Parikh, the company has its office on site and often hires recent graduates. 
"Dan is one of our advisers for the company, but he's also my Ph.D. adviser," Kenneally says. "It's really great that there's all this talent sitting here."
That's the total package that the Penn Center for Innovation (PCI), the University's hub for commercializing technology, and its partner, the Philadelphia Alliance for Capital and Technologies (PACT), were showcasing at the Philly Tech Week event. And it's what the Pennovation Center is all about, as a local incubator with deep ties to Penn's world-class research. 
"Truth be told, some of the world's leading robotics minds are not just on this campus but in this building," says Dean Miller, PACT's president and CEO. 
Laurie Actman, chief marketing, communications, and program officer for PCI, says at least seven startup companies have emerged from PERCH, which brings together many strands of engineering to encourage collaborations. Two Penn Engineering startups that grew in this innovation ecosystem, Ghost Robotics and KMel Robotics, were represented at the event. 
Daniel Mellinger, who co-founded KMel, which has since been acquired by Qualcomm, talked about Qualcomm's research on automated driving. 
"It really does show you the commercialization process coming full circle," Actman says. 
Kenneally demonstrated one of his company's Vision robots, a four-legged, all-terrain device. He marched it around in front of the audience, explaining how it can dip to duck under obstacles, automatically adjust to changes in the walking surface, and even flip over and keep operating. 
Most of the potential applications, he says, revolve around letting a robot do something that might be too dangerous or onerous for a person to do, whether it's inspecting a pipe or doing reconnaissance for a military unit. 
"We want to make legged robots a commercial reality," he says. 
Kenneally says the team has worked closely with Camillo J. Taylor, a Penn computer and information science professor, especially on an ongoing challenge to develop robots that can explore underground. 
The audience also got a look at some of the groundbreaking work going on in the lab of engineering professor Mark Yim. He's a leader in PERCH and in the general robotics, automation, sensing, and perception laboratory at Penn (GRASP), along with Koditschek and the dean of the School of Engineering and Applied Science, Vijay Kumar.  
"Those of you who saw that, how many of you had this reaction: 'Oh, that's very scary?''' Yim asked the crowd.
We often see robots presented as somewhat nefarious, Yim says. But they're really just machines, like an everyday appliance. 
"This is like a refrigerator," he says. "It's a useful tool that just happens to walk around."
Graduate students from Yim's lab discussed the many different types of robots they're working on, from dog-like legged machines to modular bots that can change shape to better tackle a task. His group is also developing a range of different-sized drones, including the world's smallest self-propelled flying robot, the Piccolissimo. 
Yim says the interdisciplinary quality of GRASP and, now, the Pennovation Center has helped drive the research forward.
"The fact that we all work in the same place and are able to work so closely together lets us really do some amazing things."