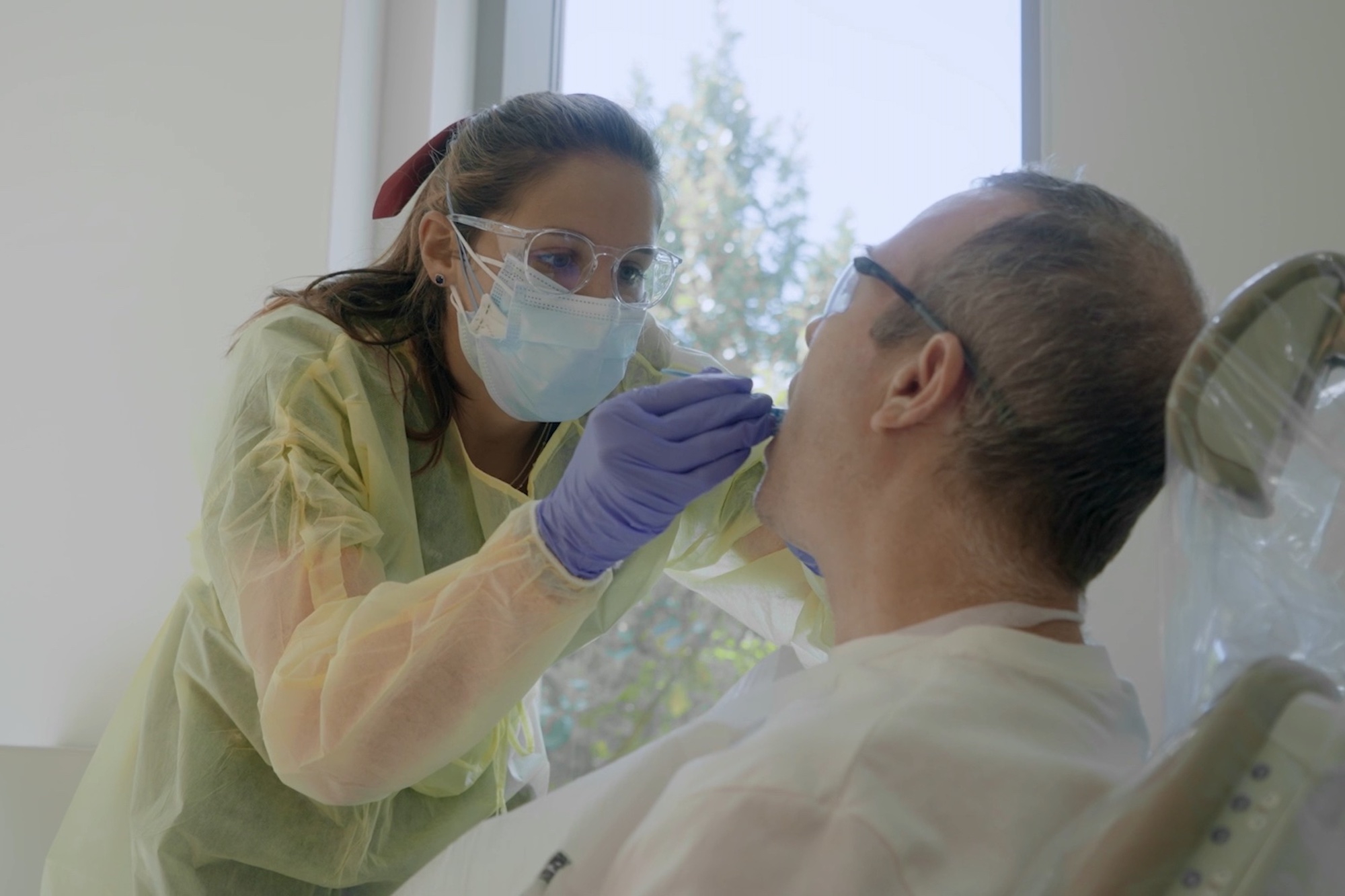 "Our goal, as we often say in dentistry, is to put ourselves out of business," says Miriam Robbins, director of the School of Dental Medicine's Care Center for Persons with Disabilities. "In a perfect world there would be no need for a center like ours; these patients would be getting care in the outside world."
The unfortunate reality is that many people with disabilities do not receive regular, comprehensive oral health care, and many general dentists do not feel equipped to manage the sometimes-complex needs of these patients. That fact has motivated the dental school to launch not only the Care Center but also to train students, working dentists, and caregivers around the globe to provide better care for people with disabilities.
"We see this as an opportunity to work with patients and caregivers to understand the barriers to care that they encounter and to find ways to break those barriers," says Mark Wolff, the Morton Amsterdam Dean of Penn Dental Medicine.
The Care Center is now in its second year, hitting its stride as patient load increases. Between September of 2021 and September of 2022, it has been "very busy," says Robbins, with 1,793 unique patients and 8,978 patient encounters. Outside the clinic's walls, the school is expanding teledentistry, presenting on best practices at conferences in the United States and abroad, providing continuing education for working dentists, and opening new community sites to treat people with disabilities and others.
"We have an amazing facility here," says Wolff, "but our mantra is that the vast majority of people with disabilities can be treated by a caring general dentist who looks for the accommodation that can make care possible for that patient. That's what we're working toward."
A facility that welcomes all
In early 2021, the 3,500 square-foot Care Center opened its doors, equipped from floor to ceiling with thoughtful and intentional features, from operatories that accommodate wheelchairs to a low-stimulation room to keep patients who are sensitive to bright lights or loud noises comfortable.
Although these "bells and whistles" ease care, Penn is striving to teach the students how to manage patients in the typical general practice setting, says Alicia Risner-Bauman, the Care Center's associate director. "Sometimes it's the littlest things" that can make a difference, she says, like how you position yourself to treat a patient in a wheelchair or the language you use to explain a treatment plan.
Starting in their third year, and ramping up in their fourth, dental students help deliver that care, learning alongside experts like Risner-Bauman, Robbins, public health hygienists, and other faculty. Third-year students start as assistants and then take more ownership of cases in their fourth year, picking up lessons in the technological, logistical, psychological, and behavioral modifications that can support oral health care delivery along the way.
All dental schools now require their graduates to have exposure to treating patients with disabilities. Penn, however, has been a leader, with students spending half a day a week the entirety of their fourth year in the Care Center.
"For a lot of the students this is a very new experience, and some are more hesitant than others," Robbins says. "It can be intimidating for a dental student if you have a nonverbal patient who may be yelling, because that is their way of communicating. But the students get a lot of support from us. And it's always wonderful when the student 'gets' it. That's a huge reason behind the center: to expose the students so that when they have their own practice, they'll be comfortable treating patients with disabilities."
Brooke Talsania, a fourth-year student, firmly believes in the power of these experiences for all dental students. Though she hopes to pursue a career in orthodontics, she has been heavily engaged in the school's efforts to serve patients with disabilities. She's involved in Penn Dental Medicine's student chapter of the American Academy of Developmental Medicine & Dentistry and joined Wolff and other students in presenting on the hands-on educational opportunities afforded by the Care Center at the national meeting in June in Orlando.
"It's been great getting exposure to different patients with all kinds of medical complexities," Talsania says. "A lot of patients come from two, three hours away, and they're so grateful to have that care. And each one is an individual. I have one patient who loves watching cartoons. I can get a full cleaning done while he's watching TV."
Fellow fourth-year Danielle Silver also joined the dean in Orlando and hopes to pursue a career in pediatric dentistry, a field from which many behavior management strategies are borrowed when it comes to treating patients with disabilities.
"What interested me at first about getting involved in the special care suite is that the bulk of dental providers who are providing care for young people with disabilities are in pediatric dentistry, and a lot of times those patients will stay with their providers, even as they get older," Silver says.
She's developing skills caring for patients with disabilities at the dental school that she knows will be valuable treating a variety of different populations in the future.
"I had a patient a few weeks ago who was blind, nonverbal, and in a wheelchair, and we weren't sure what the patient could understand," she says. "I was working with Dr. Alicia and one thing she said was that no matter what you think they can or can't understand, to treat them exactly like you would any other patient in terms of not just talking to their caregiver but also talking to them. That's something I've really worked on, the verbiage I use to talk to patient to make sure they understand what is going on."
As word has gotten out, patients have flocked to the Care Center, coming from New York, Maryland, New Jersey, and beyond. Wolff says he expects the clinic to see as many as 10,000 patients in the coming year with new partnerships with service providers and referrals from families and friends of patients who have already visited and been pleased with the care.
A ripple effect
In the meantime, the school is working to share new learnings about best practices for caring for this patient group to grow the number of providers equipped to offer it. Earlier this month, Wolff and a team of Penn Dental Medicine faculty as well as volunteer board members traveled to Israel, meeting with colleagues at Hebrew University about the role of dental schools in expanding knowledge of how to deliver care to persons with disabilities safely and with minimal use of general anesthesia. This past summer Wolff also traveled to Paris to present at the International Association for Disabilities & Oral Health on the same topic. More conferences and meetings are on his schedule for the coming year, to share updates about the strategies the school is successfully utilizing.
Because not all general dentists in practice currently had the same exposure to treating people with disabilities that up-and-coming dentists at Penn Dental Medicine are getting now, the school is helping get them up to speed—at no cost—by providing continuing education. The Center for Persons with Disabilities Presentation Series, with continuing education course credit funded by Delta Dental, offers expert teaching on a variety of subjects, from how to promote proper home hygiene practices to caring for older adults or patients with various medical conditions ranging from Alzheimer's to Parkinson's to persons recovering from a stroke.
Support from industry and foundations are enabling other outreach. The Eagles Autism Foundation, for example, is funding the production of a series of videos that will give patients and caregivers a sneak peek into what a visit to the Care Center may look like. Penn Dental Medicine students wrote the video scripts and served as actors in the videos intended to familiarize fearful patients, and caregivers, with the upcoming dental visit. The videos will be ready to roll out soon.
An immersion program supported by Delta Dental Foundation has enabled dental providers from Michigan and Ohio and their staff to travel to Penn, where they observe and learn from the Care Center staff and students about the systems and strategies they've developed to streamline and improve care. And the CareQuest Institute for Oral Health recently renewed a grant for much of the teledentistry care delivered by the Care Center, enabling dental students to acquire much of the medical history and necessary medical consultations and laboratory tests before patients make the trip to the Care Center.
Offering care in the community has long been a priority of the dental school, and this summer that care expanded through a partnership with Woods Services, a Pennsylvania-based nonprofit that serves children and adults with intellectual and developmental disabilities and acquired brain injuries. There, dental students and those enrolled in the school's Advanced Education in General Dentistry program will receive training and provide state-of-the-art oral health care in a newly renovated and expanded clinic.
Looking ahead, Wolff, Robbins, Risner-Bauman, and others hope to not only grow the number of people with disabilities that they and others serve but improve the techniques to serve them, by engaging in research to identify new evidence-based practices. Recognizing that health care systems can themselves be a burden for patients and their families, Wolff would also like the school to have a voice when it comes to policies related to disability care.
"If we as dentists can alleviate those pressure points that individuals and families face, that would be incredible," he says.
Providing care for people with disabilities has been a career-long mission for Wolff. Reflecting on a note he received recently from a former student, who shared her gratitude for the experience of training in the Care Center, Wolff smiles, seeing his ambitions begin to come to fruition: "This is meaningful, that we've had the opportunity to do this."
To learn more, visit the Penn Dental Medicine website or call 215-898-8180.
Alicia Risner-Bauman is associate director of the Care Center for Persons with Disabilities and an assistant professor of clinical oral medicine and clinical restorative dentistry in the University of Pennsylvania School of Dental Medicine Department of Oral Medicine.
Miriam Robbins is director of the Care Center for Persons with Disabilities and professor of clinical oral medicine and clinical restorative dentistry in Penn Dental Medicine's Department of Oral Medicine.
Danielle Silver is a fourth-year dental student at Penn Dental Medicine.
Brooke Talsania is a fourth-year dental student at Penn Dental Medicine.
Mark Wolff is the Morton Amsterdam Dean of Penn Dental Medicine.