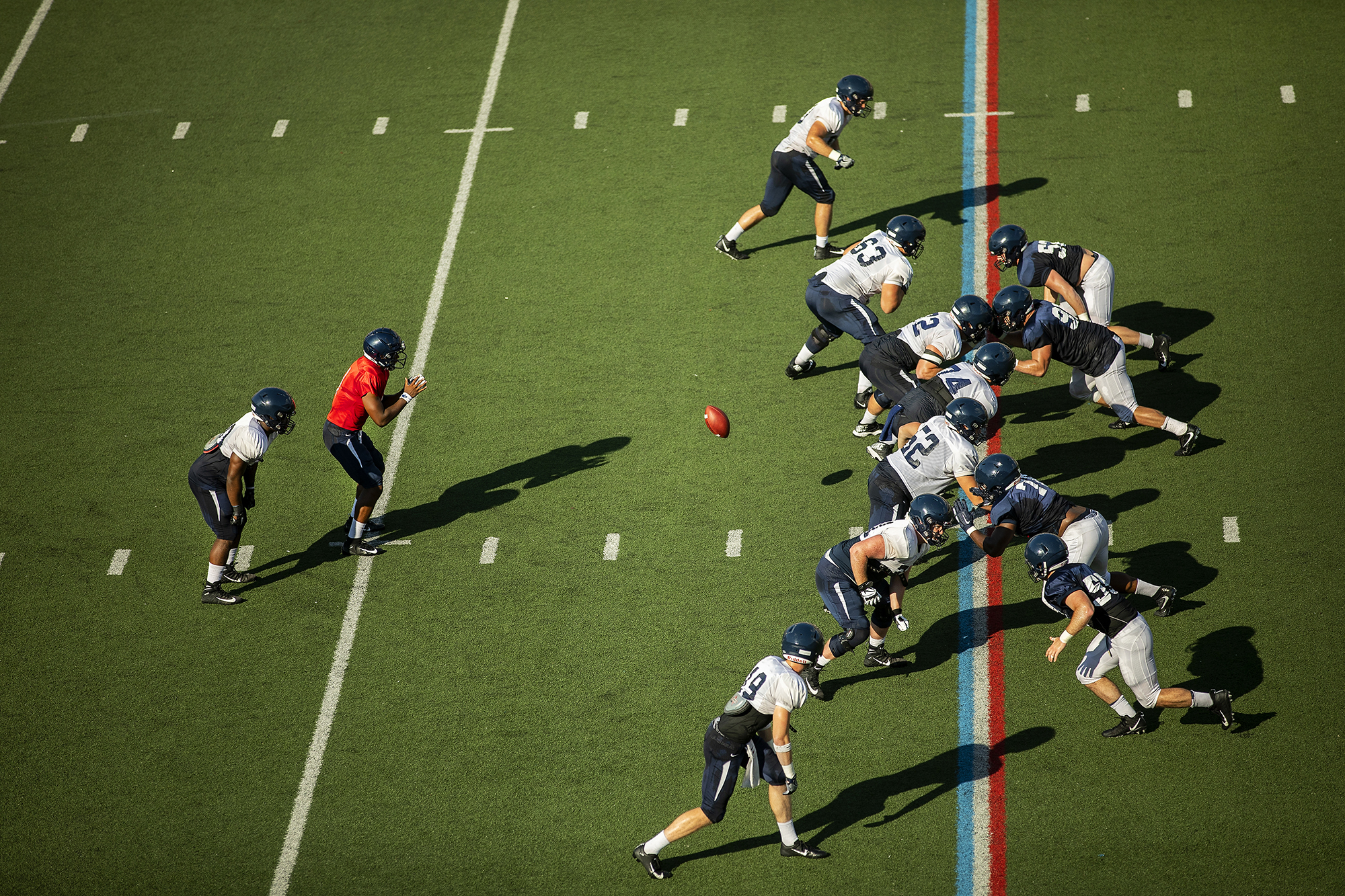 The 142nd season of Penn football kicks off on Saturday, Sept. 15, against Bucknell at 3 p.m. at historic Franklin Field. The Quakers enter the 2018 campaign with 845 wins, 11th all-time in NCAA history, 1,383 games played, the most in NCAA history, and on the hunt for their 19th Ivy League championship.
Seven All-Ivy players return from last year's 6-4 squad, including First-Team All-Ivy linebacker Nick Miller, First-Team All-Ivy kicker Jack Soslow, Second-Team All-Ivy offensive lineman Tommy Dennis, and Second-Team All-Ivy safety Sam Philippi. Upperclassmen have been joined by 27 freshmen. Miller, Dennis, and Philippi are team co-captains.
Ray Priore, the George A. Munger Head Coach, is toiling toward his third Ivy title in four years leading the Red & Blue. During his 32 years on the Quaker sidelines, he has been part of 12 Ivy championships.
Junior running back Karekin Brooks, the leading rusher on last year's squad with 840 yards on 125 carries and 9 touchdowns, says the team had a good preseason camp, forging ahead through the dog days of August. He says his goal is to win the Ivy League championship.
Replacing all-everything wide receiver Justin Watson, who is now playing for the Tampa Bay Buccaneers, is senior slot receiver Christian Pearson—who has no qualms about supplanting a legend.
Asked if he feels any pressure replacing Watson, Pearson quickly and confidently responded, "No, I do not. I'm ready. I've been working hard. No reason to be nervous when you're working hard, right?"
Pearson, who finished last season with 14 catches for 225 yards and 2 touchdowns, says his goals for this season are to win the Ivy championship, have 1,000-plus receiving yards and around 20 touchdowns, and for him and his teammates to have the best time they possibly can.
"Never forget to have fun while you're playing football," he says.
Dennis, the offensive line and co-captain, did not give up a sack last season. He says his goals for this season are to win the Ivy chip and continue the sack-less streak. 
"No sacks is our goal," he says. "We got to protect the guy wearing red. Just as an offense, we just want to be efficient, we want to produce." 
Practice, Dennis says, is the key to not giving up sacks.
"I think it's just trusting the protection," he says. "I think a lot of it is trusting the guys that you're on the line with. It's just repping in practice, building those relationships, kind of just trusting your team."
Penn and Bucknell have been playing each other since 1895. The Sept. 15 meeting will be the 35th matchup between the two.
The Quakers are 104-36-1 all-time in season openers. They enter their opening contest on a four-game winning streak, dating back to the end of 2017.