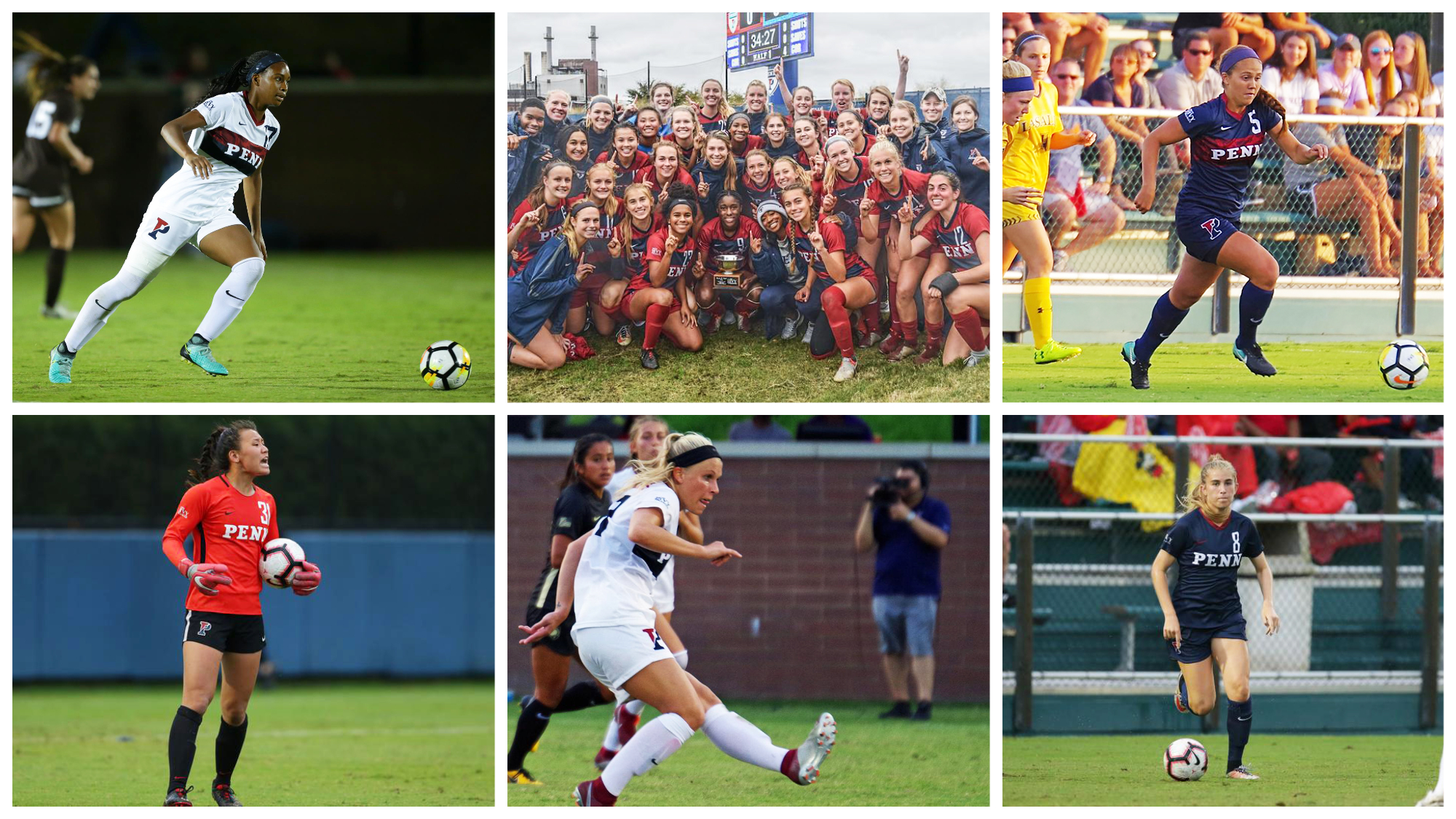 The defensive prowess of the 2018 women's soccer team was so prolific that that squad gave up only five goals across the entire season, the fewest in school history and the second-fewest in Ivy League history. They trailed just twice all year and surrendered only one goal at Rhodes Field.
Buttressed by third-year goalkeeper Kitty Qu, a First-Team All-Ivy selection, and fourth-year defender/center back Camillia Nwokedi, the conference Defensive Player of the Year, the Quakers shut out 12 opponents, second-most in school history, on their way to a 13-2-1 overall record and a 5-1-1 league mark. Their 13 wins rank second-most in school history and their two losses are the second-fewest in program history.
Qu stockpiled 52 saves during the 2018 campaign. Her .912 save percentage is tops in school history, and her 0.35 goals against average is No. 1 in program history and No. 2 in conference history. Fourth-year goalkeeper Kiera Towell contributed six saves and two wins, and second-year goalkeeper Ashley Gabor supplied two saves. Neither Towell nor Gabor gave up a goal.
Offensively, third-year forward Emily Sands was the Red & Blue's top scorer. The First-Team All-Ivy honoree scored eight goals and dished out two assists for a team-high 18 points. Fourth-year midfielder Allie Trzaska led the team with seven assists.
Penn won its first two games of the season against Mount St. Mary's (5-0) and Army West Point (1-0) before falling to No. 13-ranked N.C. State (0-1). They then went on an 11-0-1 unbeaten streak—tied for the longest in school history—blanking Delaware (2-0), UMBC (2-0), Towson (1-0), Harvard (0-0 in double overtime), Cornell (2-0), Columbia (1-0), Lehigh (1-0 in double overtime), Dartmouth (1-0), Delaware State (6-0), and Brown (2-0).
The final game of the regular season pitted the 5-0-1 Quakers (13-1-1 overall) against 4-1-1 Princeton (10-3-2 overall) in a showdown at the Tigers' Sherrerd Field at Class of 1952 Stadium. The Tigers were the 24th-ranked team in the country. A win or draw by the Quakers would propel them into the NCAA Tournament. Qu made a season-high eight saves and the Red & Blue outshot Princeton 12-9, but the Tigers prevailed 1-0. Penn and Princeton shared the Ivy League title; Princeton advanced to the Tournament based on the head-to-head tiebreaker.
Six Quakers earned All-Ivy recognition and four were awarded United Soccer Coaches All-East Region honors, the most in school history.