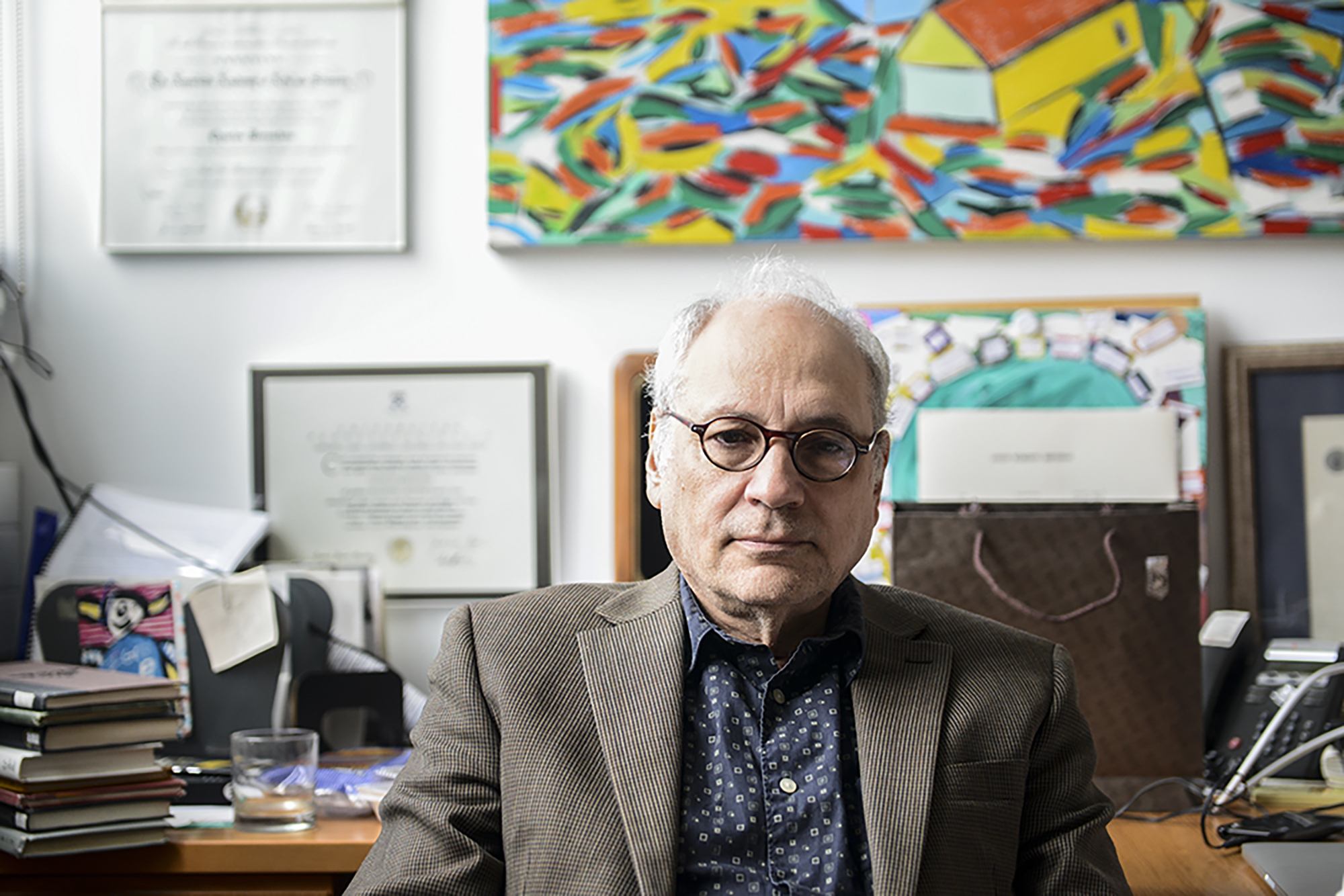 University of Pennsylvania Professor Charles Bernstein has been named the winner of the 2019 Bollingen Prize for American Poetry awarded by Yale University. The prize is among the most prestigious prizes given to American writers. 
The Bollingen Prize is awarded biennially to an American poet for the best book published during the previous two years, or for lifetime achievement in poetry by the Yale University Library through the Beinecke Rare Book and Manuscript Library. Established by Paul Mellon, the first prize was given in 1949 to Ezra Pound, a Penn alumni. The prize today includes a cash award of $165,000.
Bernstein is the author of numerous books of poetry, including "Near/Miss," published last year, "Recalculating," and "All the Whiskey in Heaven: Selected Poems," among many others. His collections of essays include "Pitch of Poetry," "Attack of the Difficult Poems: Essays and Inventions," and "A Poetics."
"The Bollingen is the ultimate American poetry prize, and the honor of this award turns to pure delight when I acknowledge the award committee," Bernstein said. "I am overwhelmed at being in the company of my fellow Bollingen winners, who include so many poets whom I read with supreme astonishment. How great that "Near/Miss" has been so warmly welcomed into the world."
Bernstein is the 51st poet to be honored with the award and joins a list of past winners that includes W.H. Auden, Marianne Moore, Wallace Stevens, Louise Bogan, Léonie Adams, Robert Frost, and Robert Penn Warren, as well as contemporary poets Susan Howe, Charles Wright, Louise Glück, Nathaniel Mackey, and Jean Valentine.
"As poet, editor, critic, translator, and educator, Charles Bernstein's decades-long commitment to the community of arts and letters reflects a profound understanding of the importance of language in the business of culture-making," the three-member prize judging committee said. 
"His extraordinary new collection of poems, "Near/Miss," finds Bernstein deploying his characteristically incisive satire and sharp wit to dismantle the clichés driving public speech. Yet, in moments treading close to heartbreak, the work sounds the depths where the public poet must find the words for private grief. Bernstein's work interrogates, restlessly, seemingly word by word, language and its performative nature."
On Penn's faculty since 2003, Bernstein is the Donald T. Regan Professor of English and Comparative Literature in the School of Arts and Sciences. He is also known for his translations, collaborations with artists, and libretti. With Al Filreis Penn's Kelly Family Professor of English, Bernstein is the co-founder of PennSound, an extensive archive of recorded poetry, which also features a robust library of Bernstein poetry readings. 
"Penn has provided the ideal place for me to write and teach poetry and poetics. Conversations with fellow writers, researchers, teachers, and especially students—graduate and undergraduate—have so deeply enriched my thinking and work that I can't imagine that I could have won the Bollingen without them. The English and Comparative Literature departments, and the astounding Kelly Writers House, along with PennSound, have been my intellectual home. Part of this prize surely goes to them," Bernstein said. 
"We are thrilled that the 2019 Bollingen Prize judges have honored Charles Bernstein, a poet whose creative and critical work has for decades enlivened American poetry and poetics," said Bollingen Prize Director Nancy Kuhl, curator of poetry for the Yale Collection of American Literature at the Beinecke Library. "The poems in his latest book, "Near/Miss," explore the very nature of poetry."
Bernstein was elected a Fellow of the American Academy of Arts & Sciences in 2006. Other awards and honors include Janus Pannonius Grand Prize for Poetry, the Münster Prize for International Poetry, a John Simon Guggenheim Memorial Fellowship, and a National Endowment for the Arts Creative Writing Fellowship. 
The three-judge panel included poet Ange Mlinko, Yale Professor of Poetry Claudia Rankine, and Rutgers English Professor Evie Shockley. "Throughout his career, Bernstein has facilitated a vibrant dialogue between lyric and anti-lyric tendencies in the poetic traditions we have inherited; in so doing, he has shaped and questioned, defined and dismantled ideas and assumptions in order to reveal poetry's widest and most profound capabilities," they said.  
"Contemporary American poetry thrives through its small scale and radical differences of form," Bernstein said. "Its freedom is grounded in the diverse approaches of its practitioners and in its resistance to market-driven popularity. Poetic invention is as fundamental to our democracy as the bill of rights—something to celebrate with exuberance and pleasure."
Media Contacts: 
Louisa Shepard at 215-573-8151 or lshepard@upenn.edu
Michael Morand at 203-432-2977 or Michael.morand@yale.edu